Order Swag Today
Big Fish Expeditions Hammer T-Shirts
Whether you are a big animal diver, a shark fanatic, or just someone with great dress sense, now is your chance to pick up hammer tee shirts and decals.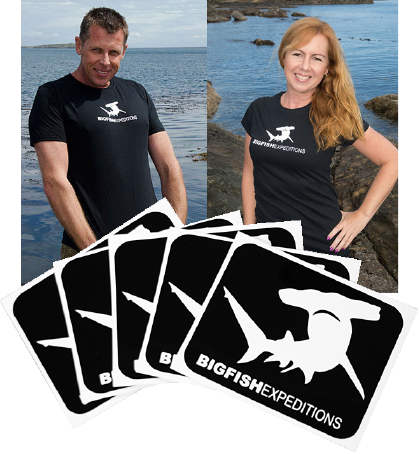 T-Shirts
COLORS
Black with white hammerhead logo.
SIZING
WOMEN
Small, Medium and Large.
MEN
Medium, large, extra large and double extra large.
Our tees are fitted rather than square cut. Female cut tees have capped sleeves and are made to 'cling' so If you're looking for something a little looser, we recommend that you opt for a men's style which is slightly squarer.
PRICE
$20 plus shipping
SHIPPING
North American Shipping
$5 per shirt
International Shipping
$10 per shirt
PAYMENT
We use Paypal to process  transactions. If you don't have a Paypal account that's ok. When you place your order, Paypal will send you a payment request that you can pay with a credit card if you prefer.
Stickers
Cool, waterproof and very sticky! Slap one on your car, another on your laptop, one on your pelican case, one on your front door, one on your scuba tank…
COLOR
Black background, White hammer logo.
SIZE
Approx 5.5" x 4.3" / 14cm x 11cm
PRICE
$2 each. Minimum order 5 decals
SHIPPING
Free Shipping