Gorilla Trekking and African Safari
"The Best of Africa including Gorillas and the Big Five"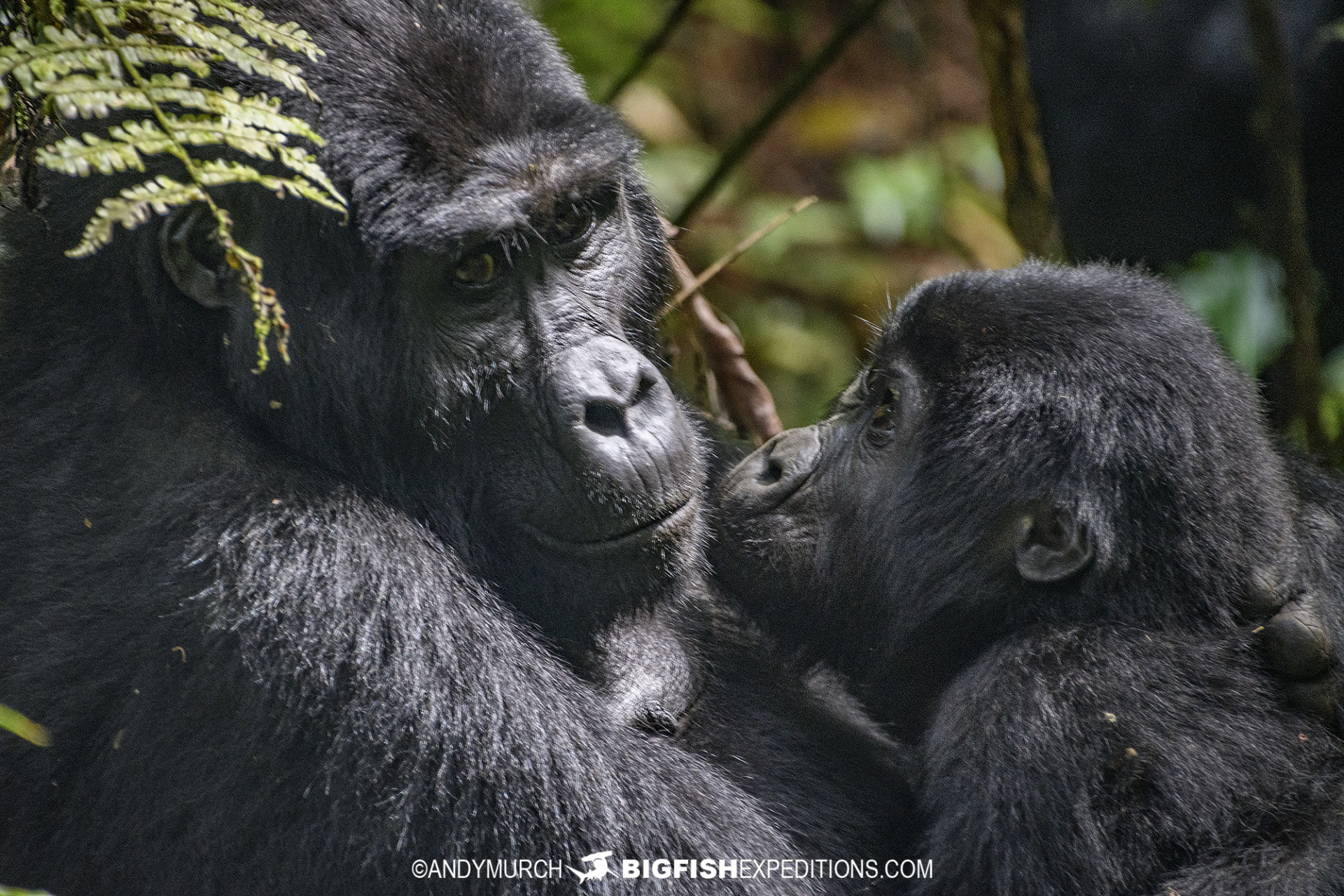 Imagine spending a wonderful morning walking through the Central African cloud forest. The sounds and smells of the pristine jungle fill your senses. Birds fly overhead. Perhaps a few small primates swing in the branches above you. Rounding a corner on the trail your guide calls for quiet. Ahead of you the forest floor is filled with large dark shapes, vaguely human but bigger.
You hunker down and quietly marvel at the troop of Mountain Gorillas – some of the few great apes left in the wild. The gorillas are relaxing, feeding on leaves and grooming each other. There is no hostility but you move slowly and carefully so as not to disturb them.
The enormous dominant male silverback comes over to look at you. You can feel his gaze upon you and you look down submissively. Satisfied that you pose no threat to his family, he moves on.
This is the encounter you have dreamed about for so long. The pinnacle of an unforgettable 9 day adventure through Uganda's many national parks and reserves. You have seen lions sleeping in trees, elephants crashing through the bush, huge troops of playful chimpanzees cavorting in the forest and a dozen other primate species. It has been an incredible trip but this single defining moment will stay with you forever.
THE ENCOUNTER
Safari focusing on mountain gorillas, chimpanzees and Uganda's other endemic primates. Plus lions, elephants and much more!
REQUEST MORE INFO
DATE
June 21-30 3 SPOTS AVAILABLE
PRICE (USD)
$6,495 per person double occupancy
---
$7,995 per person single occupancy
LEADER
Andy Murch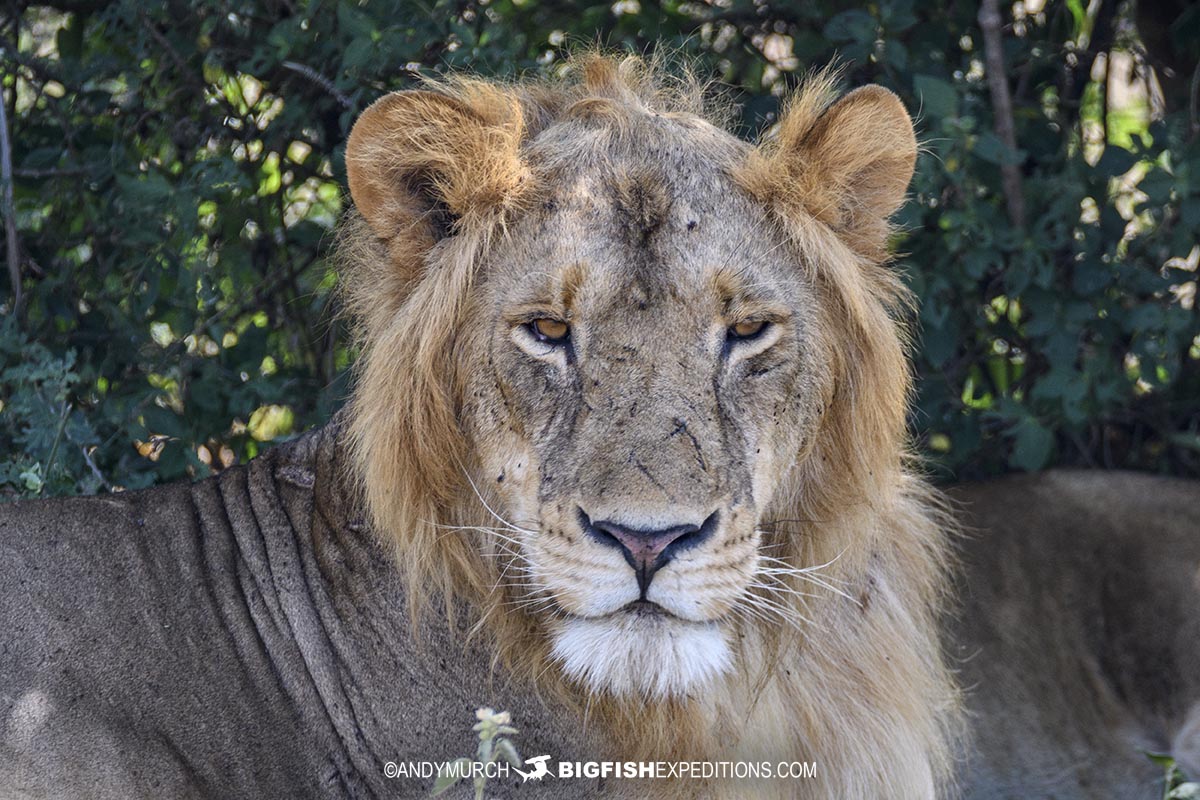 DATE
June/July TBA 6 SPOTS AVAILABLE
PRICE (USD)
$TBA per person double occupancy
---
$TBA per person single occupancy
LEADER
Andy Murch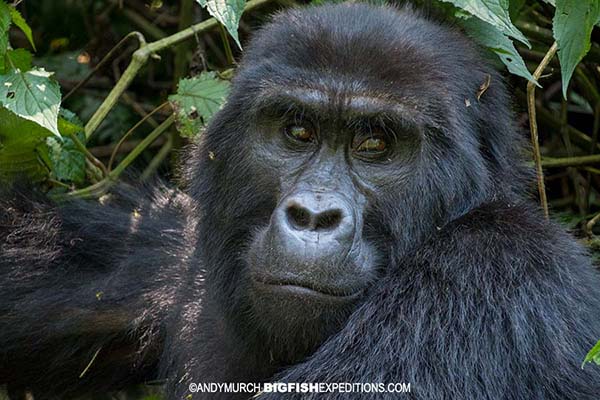 ACCOMMODATION
Midrange lodges around Uganda
FITNESS LEVEL
Some strenuous jungle walks plus jeep and river safaris. Porters can be arranged to carry packs or even you.
WHAT'S INCLUDED
Ten day tour in a comfortable chauffer driven safari vehicle
9 nights accommodation in mid-range double occupancy lodges (single room upgrades available)
All meals once we leave Entebbe (breakfast, lunch and dinner)
All park entrance fees including government taxes to sites, reserves and parks
Gorilla tracking permit
Chimpanzee tracking and habituation permit
River Boat hire
Services of expert local guides
Photography coaching
Day 1: Arrival day in Entebbe. Transfer to Two Friends Guesthouse, relax, and prepare for the adventure ahead.
Day 2: We will leave Entebbe at 7:00am and head north. Our ultimate destination will be Murchison Falls National Park but this will not just be a travel day! After a quick breakfast on route, we will stop at Ziwa Rhino Sanctuary where a guide will lead us into the bush to walk with rhinos; an experience you won't soon forget.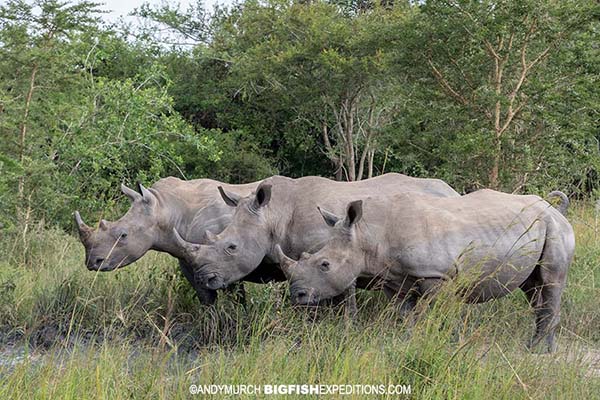 After Ziwa we will stop at a nearby restaurant for lunch and then continue into Murchison Falls National Park. Before arriving at the lodge, we will make a detour to Murchison Falls; a spectacular waterfall where the upper Nile River rushes through a rocky gorge before continuing on its long journey to the Mediterranean Sea.
After settling into the lodge, you will be served a delicious dinner, before relaxing for the evening around the fire, or socializing at the bar.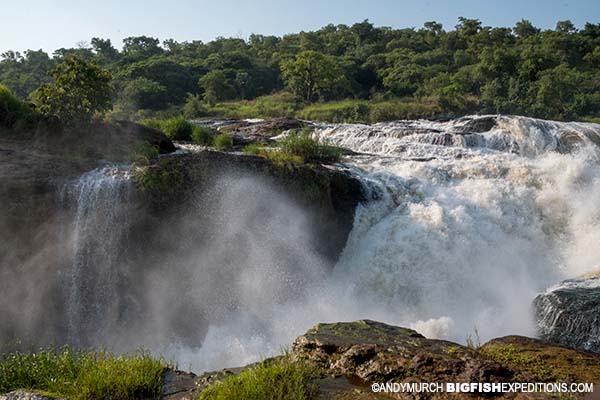 Day 3: After an early breakfast at the lodge, we will cross the Nile to explore the north side of Murchison River National Park. Almost immediately you will start seeing large herds of Uganda cob, oribis, waterbuck, buffalo, and elephants. Murchison is one of the jewels of central Africa. It is enormous, diverse, and incredibly rich in flora and fauna.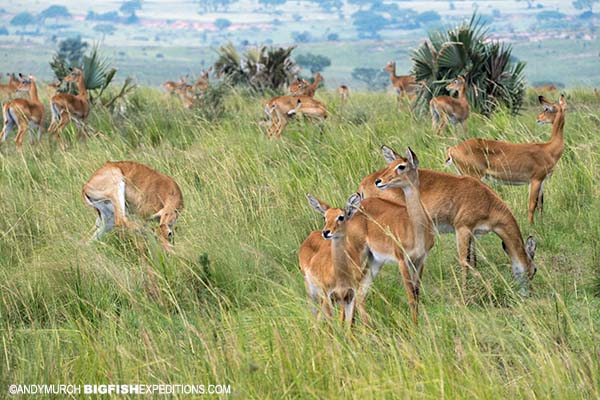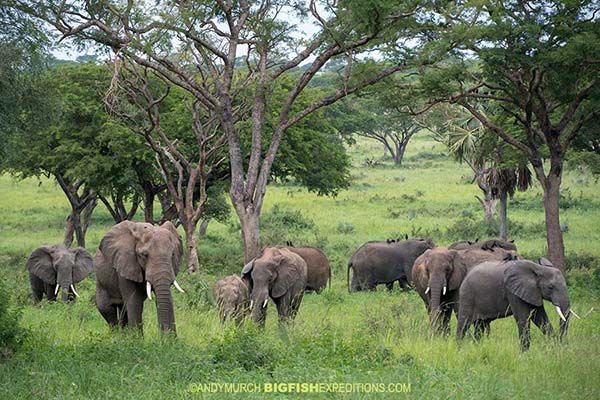 We can stop the vehicle whenever you want to photograph the wildlife but in the early morning we want to go deep into the park as soon as possible in order to look for predators as they return from their nocturnal hunts.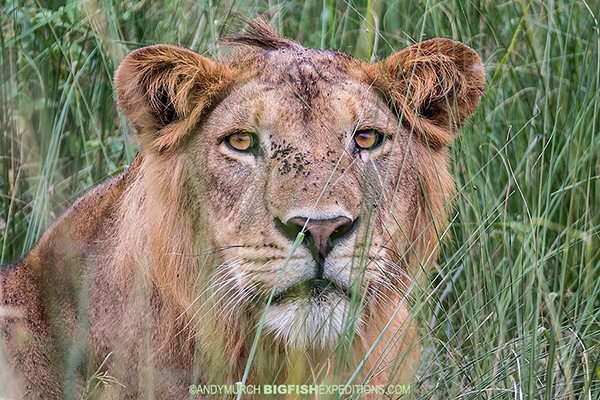 A pack lunch will be served at the side of the Nile in the company of Warthogs, Olive Baboons, and Yellow-headed Agama Lizards.
In the afternoon we will head into a different section of the park to spend more time among the herd animals. We will also keep an eye open for troops of lanky Patas Monkeys (this is after all a primate safari). Unlike other primates, Patas monkeys inhabit the savanna where there are few trees. To avoid predators, they can run at 50km per hour!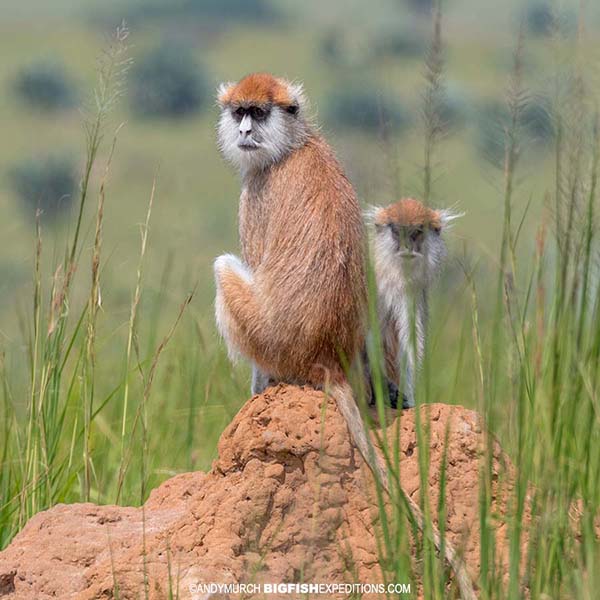 We will return to the lodge for dinner but don't put your camera away! Once darkness falls, we will drive back into the park to watch the nocturnal hunt. We may see lions, leopards, or hyenas, as well as many smaller nocturnal predators such as civets and genets. Return, sleep!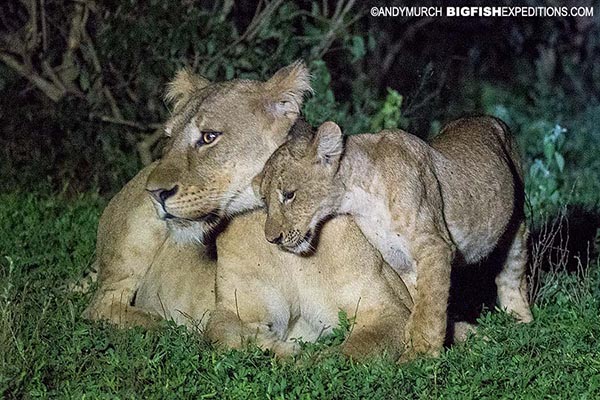 Day 4: After a relaxed breakfast we will load the trucks and head south to Kibale National Park. It's a long trip between parks but the terrain is varied, starting in the dusty lowlands, then winding up into the hills, through tea plantations, and eventually into lush Kibale Forest. Kibale has a fantastic assortment of primates from large troops of chimps to black and white colobus monkeys, beautiful redtail monkeys, and tiny, bug-eyed, nocturnal galagos and pottos.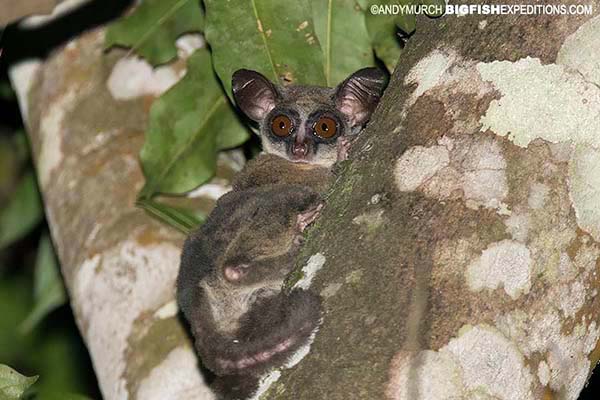 We will have lunch on route and dinner at the lodge. After dinner, a guide will take us into the forest on foot to look for nocturnal primates. There are three types of big-eyed Galago Monkeys that we may encounter and if we're lucky, a rare East African Potto. Its not unusual to also see genets and other small nocturnal predators looking for their breakfast.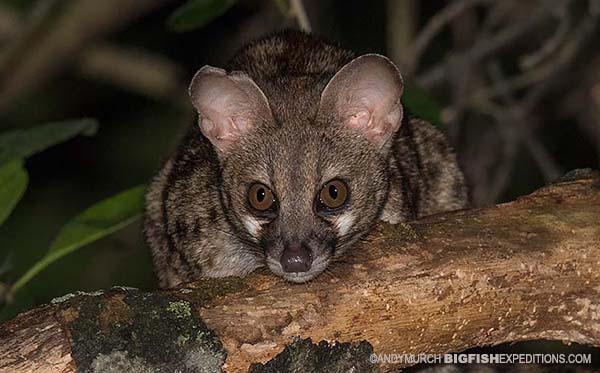 Day 5: Today we will trek into the heart of Kibale Forest to spend time with chimpanzees. Staring into the eyes of our closest living relative is an extraordinary feeling. Sometimes the chimps split into family groups. Sometimes they come together to form a super-troop with more than 100 chimps in one spot.  Either way, watching their behavior is a fascinating experience.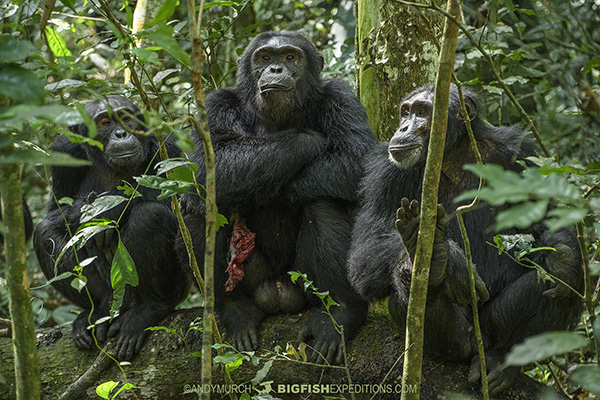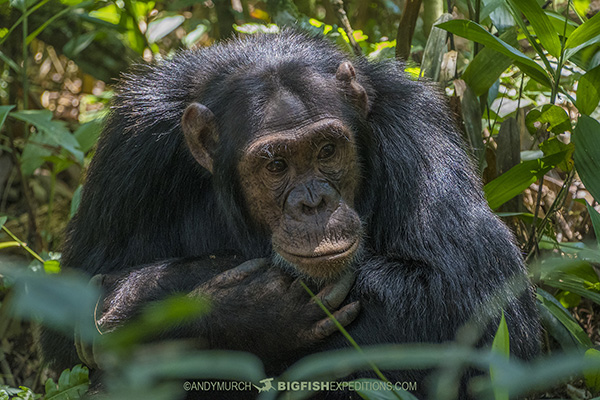 Along the way we will look for other primates, exotic bird species, countless moths and butterflies, and keep a wary eye out for forest elephants.
After dinner at the lodge, we will head back into the forest to look for more nocturnal primates.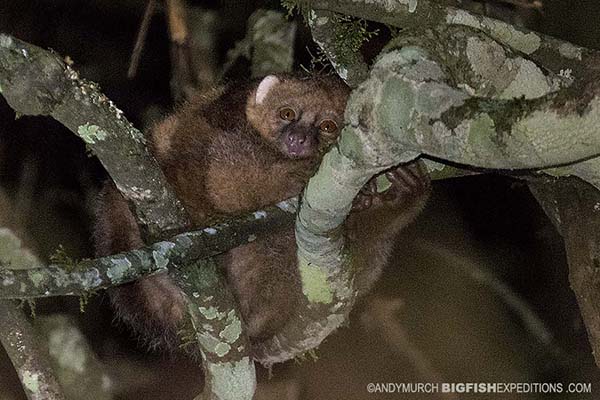 Day 6: This morning we will take you on a dry-swamp walk on the edge of Kibale National Park. Although you will be in a swampy area, the trails will be dry and easy to navigate. This region of the forest is home to more monkeys than anywhere else in Uganda so this will be your best opportunity to enjoy quite close encounters with redtail monkeys, Guereza colobus monkeys, Ashy red colobus monkeys, Ugandan crested mangabays, L'Hoests monkeys, Vervet monkeys, and possibly more.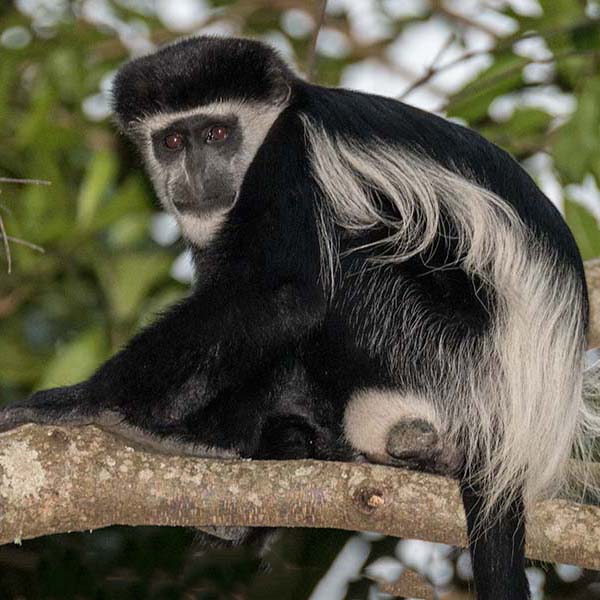 We may also see a few chameleons, and the bird life in the swamp is exceptional.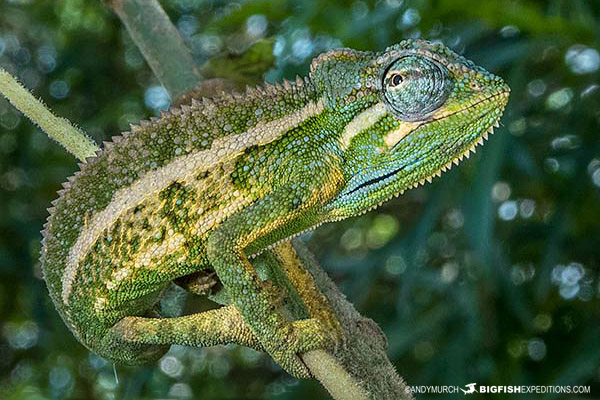 In the afternoon, we will head south to Queen Elizabeth National Park.  and settle into the luxurious Park View Lodge. The lodge's rooftop bar is a great spot to relax for the evening with views of the park below.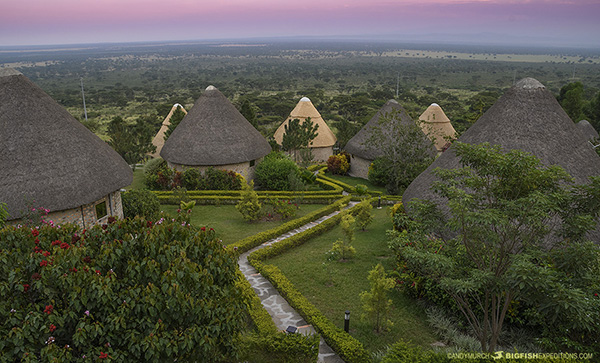 Day 7: An early start! After a quick breakfast we will go on an early morning game drive at the north end of Queen Elizabeth National Park. Expect enormous herds of Uganda Cob, Bush Elephants, and Cape Buffalos. Potential predators you may see include lions, hyenas, and leopards.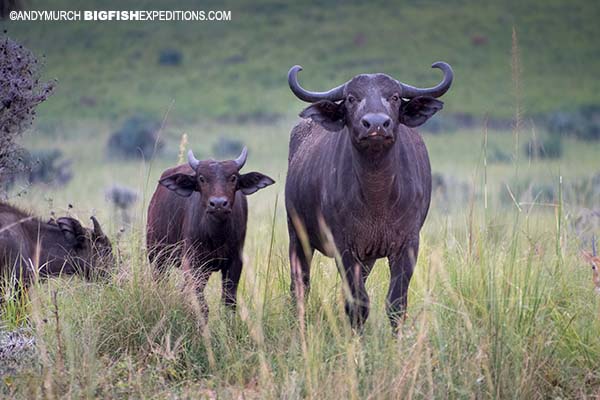 For many, the highlight in this park is a riverboat safari along the Kazinga Channel. You will undoubtedly see rafts of hippos, wallowing buffalos, bathing elephants, lots of Nile crocodiles, and so much more. You'll be shocked at the sheer abundance of African megafauna crowding the riverbank for water to sustain them through the heat of the day.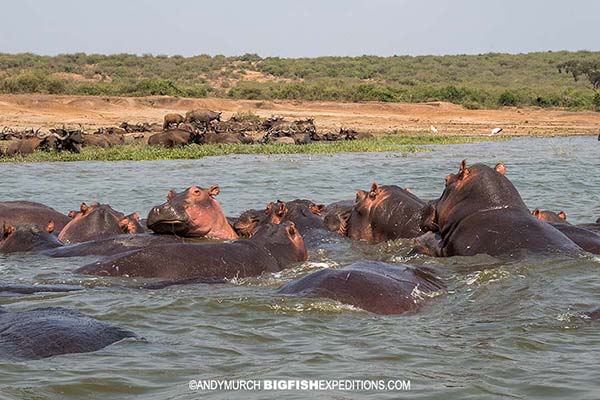 If they're around, on the way back to the lodge we'll pay a visit to a habituated 'mob' of banded mongooses that have taken up residence in Kashaka Village; always a fun side trip 🙂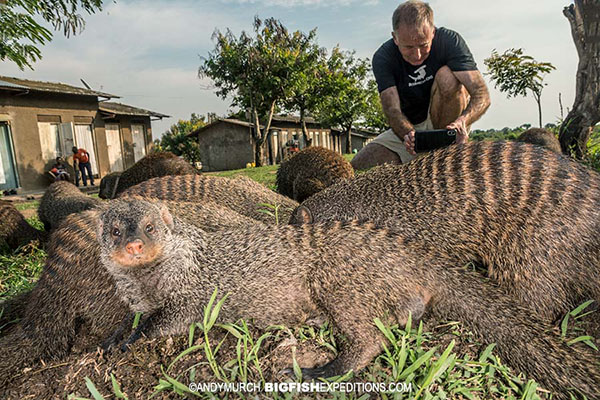 Day 8: Today we will transfer to Bwindi Impenetrable Forest. However, Queen Elizabeth National Park is enormous, so for most of the morning we will be travelling through the southern reaches of the park; home to many of the same game species seen previously, plus small herds of Topi Antelope and maybe a few black-fronted duikers and other rarer animals. We usually see large troops of baboons and family groups of tantalus monkeys as well.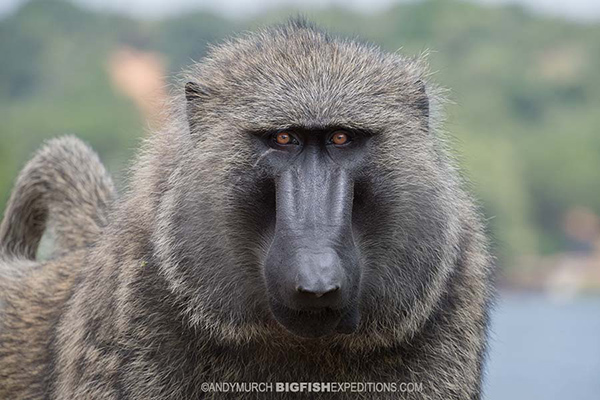 We'll stop for a pack lunch at the south end of the park and then head into the hills to Silverback Lodge in Bwindi.
If we arrive early enough, we will take a walk in the lower forest to look for monkeys. We will likely see a number of species but this is our best spot for seeing Blue Monkeys; a type of Sykes monkey that is only found around Bwindi.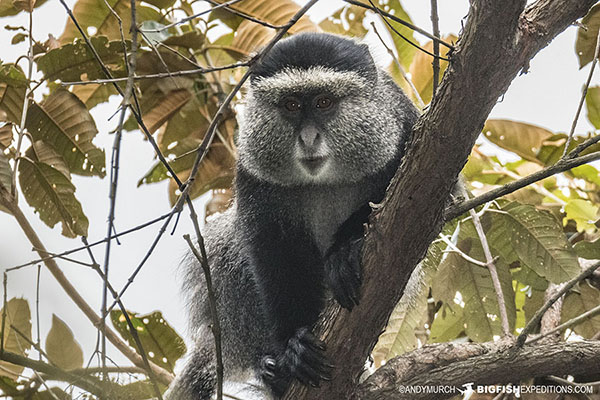 Day 9: This is the day you have been waiting for! Today you will trek deep into Bwindi Impenetrable Forest to spend time with a family of wild Mountain Gorillas. To give the gorillas time to live out their peaceful lives away from humanity, only one small group is allowed to visit the troop each day.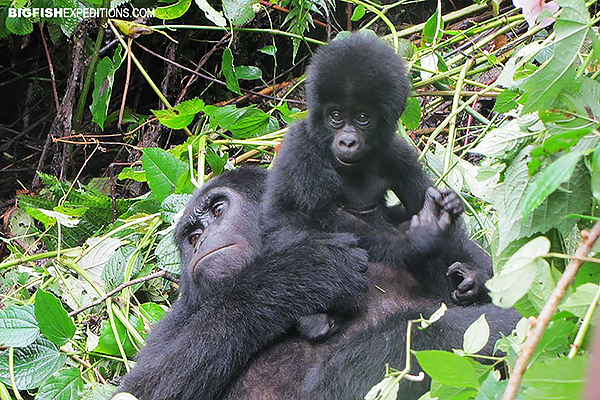 To reach the gorillas, we will trek high into the forest. The trail is demanding but porters are available to carry your pack and lend a helping hand when needed. If you have mobility issues, you can even hire a dozen porters to carry you on a mounted chair the entire way to the gorillas; don't feel weird about this, they do it every day and the compensation helps support their entire village.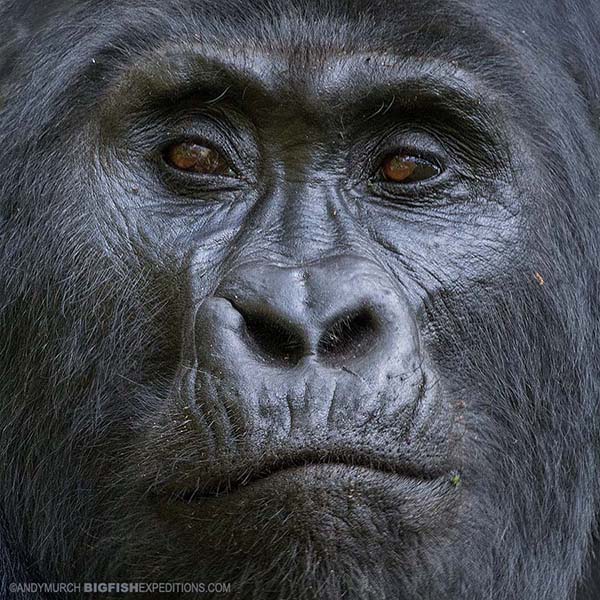 Once you reach the gorillas it is important to follow the instructions of our expert guide. The gorillas often come very close and may even touch or brush past you as they move from one feeding spot to the next. Watching gorilla infants play-fighting together is especially enchanting.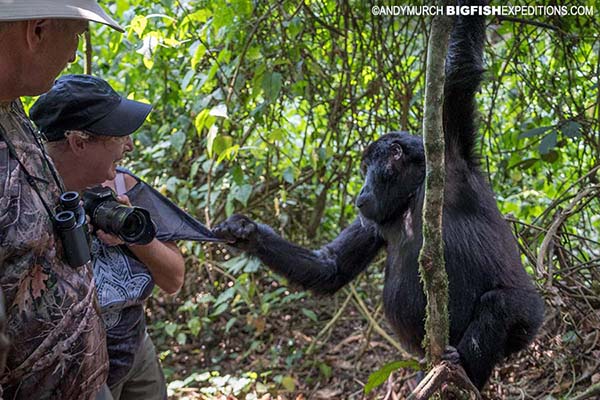 There will be plenty of time to take hundreds of photographs during your visit. Keep shooting, don't miss a moment. You can delete the bad ones later. After an hour of quality time with the gorillas we will leave them in peace, and head back down the mountain, arriving at the lodge in time to freshen up before a delicious final dinner.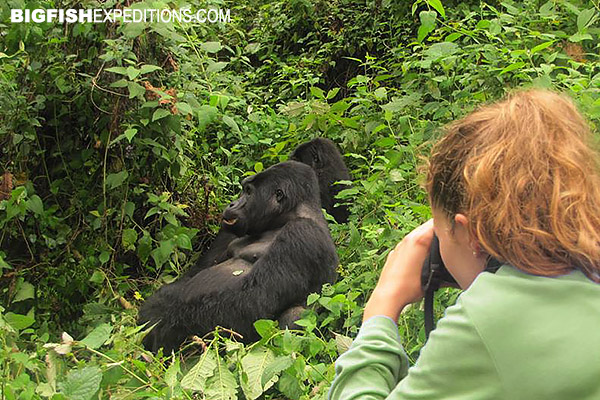 Day 10: Time to load up and return to Entebbe, but of course we have a few surprises on route! Mid-morning we will make a short stop to watch a huge colony of roosting Straw-coloured fruit bats; a type of flying fox.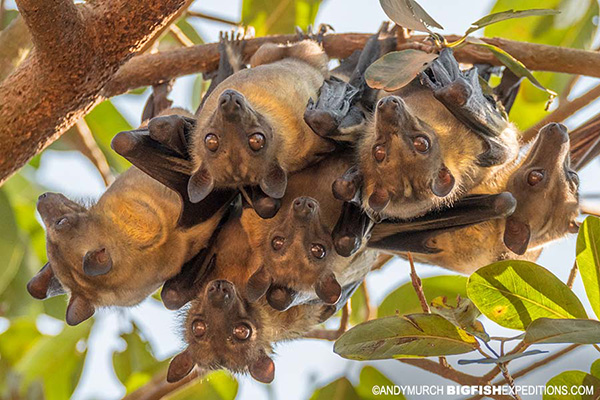 Then at lunch time we will stop for a picnic near Lake Mbaru National Park where we often see zebra foraging in the bush. And later in the afternoon we'll stop for a group pic at the equator; kind of a touristy way to finish the trip but still fun 🙂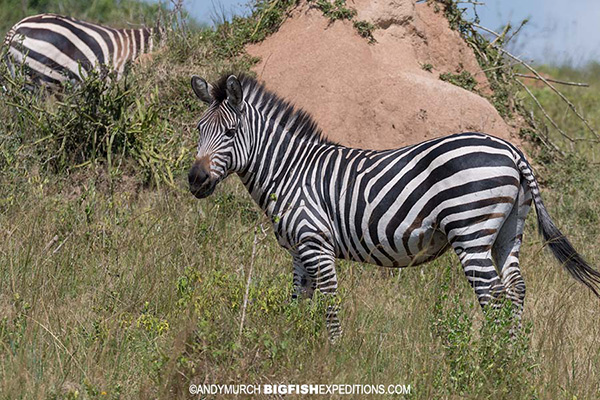 We should be back in Entebbe by late afternoon but we recommend you don't fly out until the following day in case of delays on route; this is Africa!
Our mission is to bring you back to Entebbe elated and exhausted, filled with great memories you will never forget. Uganda is an incredible country. We can't wait to show it to you.
Ready to sign up or have a question about this trip?
Contact Big Fish about this Expedition