Location: Victoria, Vancouver Island, Canada.
Vancouver Island Macro Diving Adventure
Scuba diving with the world's biggest nudibranchs and much, much more!





Big Fish Expeditions Vancouver Island Macro Diving Adventure
Join us on beautiful Vancouver Island on Canada's rugged west coast for an epic week of marine wildlife diving and photography. Diving pioneer Jacque Yves Cousteau said that Vancouver Island has the best cold water diving in the world and we don't disagree! This is your chance to join a small group of divers to see/photograph an incredible assortment of western Canada's exotic invertebrates and iconic marine mammals. From nudibranchs the size of sea cucumbers to rambunctious steller sea lions, Victoria (on the southern tip of Vancouver Island) has so much to offer, and who better to dive with that two of Vancouver Island's most experienced resident photographers: Andy Murch and Scott Stevenson.
THE ENCOUNTER
Diving with Vancouver Island's incredible diversity of marine invertebrates including giant pacific octopuses, stubby squids, crustaceans, and scores of brightly colored nudibranchs.
SIGN UP NOW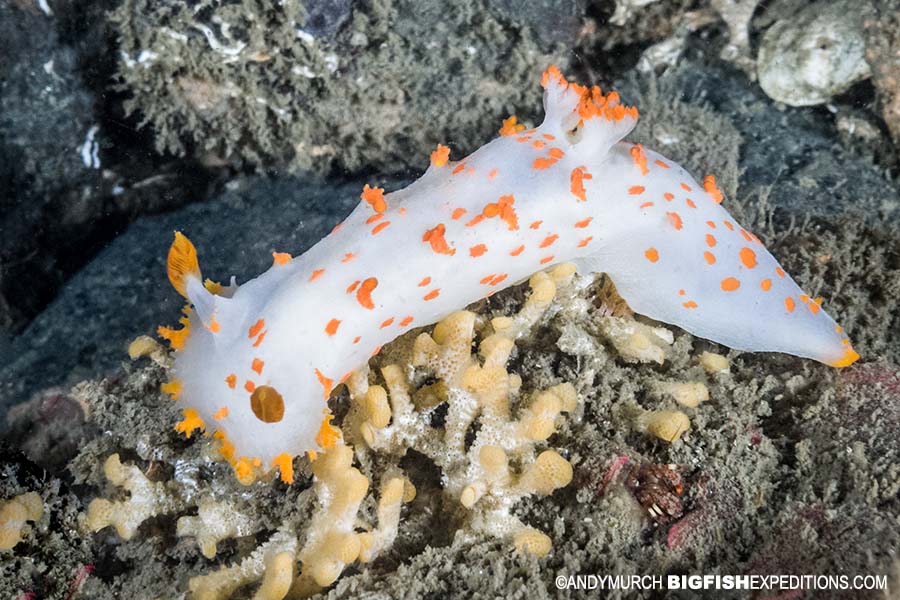 ACCOMMODATION
Luxury hotel on Victoria's inner habour
EXPERIENCE LEVEL
Open water diver with cold water experience
CONDITIONS
Water Temp: 10-12º C (2 piece 7 mm wetsuit or drysuit recommended)
Water visibility: 5-20 meters
WHAT'S INCLUDED
6 Nights hotel accommodation
Transfers from Victoria Airport (YYJ)
2 days of boat diving (2 tanks each day)
3 days of guided shore diving (2 tanks each day)
1 night dive to hunt for chimaeras and stubby squids
Land transportation to dive sites
Professional experienced Dive Guide
Tanks and weights
NOT INCLUDED
Flights
Meals
Alcohol
Dive gear
Crew / Dive Guide gratuities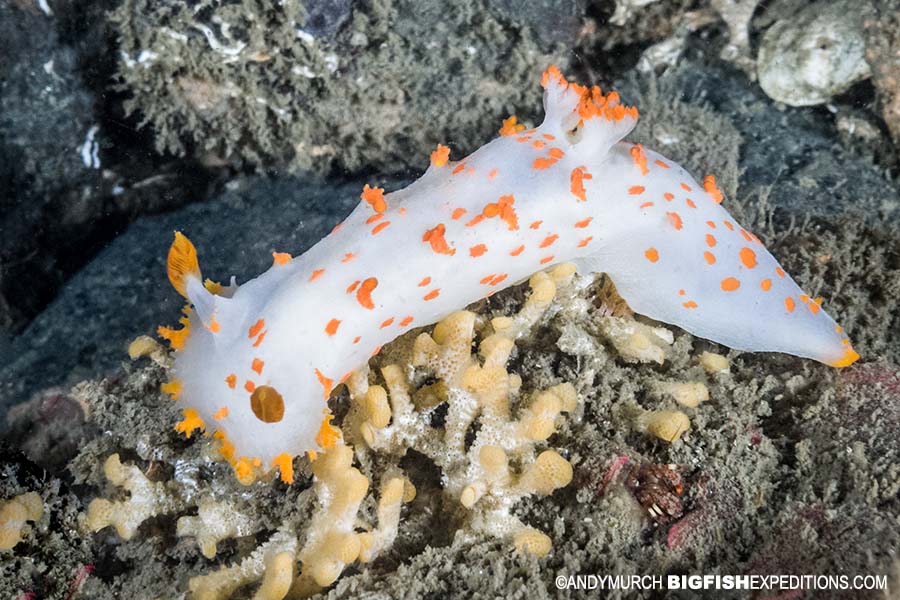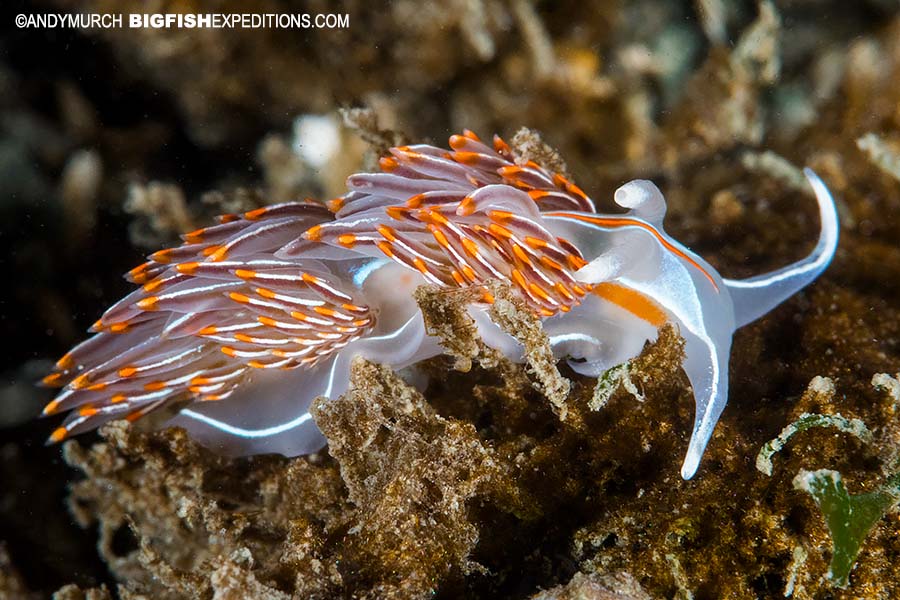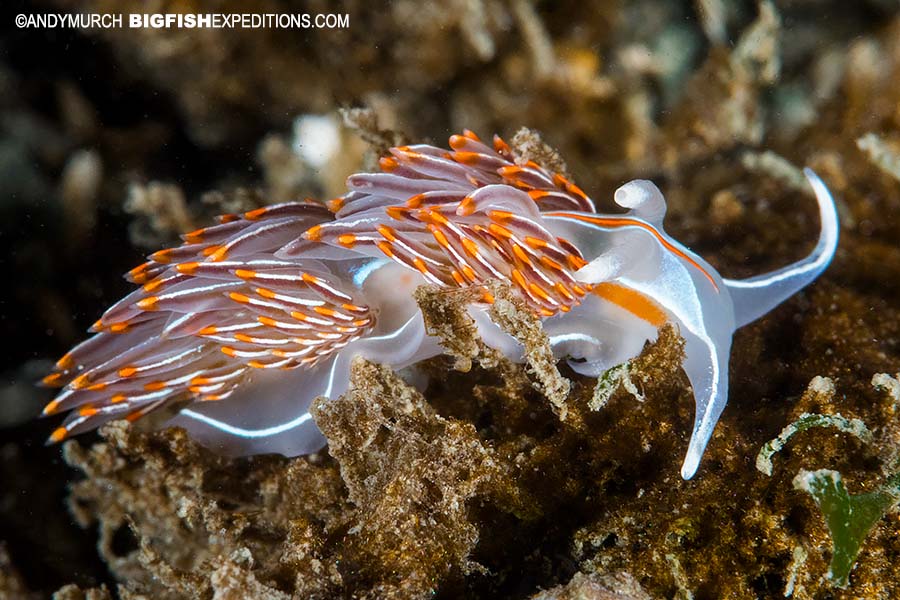 Join the Slug Fest
Vancouver Island's Nudibranchs range from tiny opalescent nudibranchs that resemble sea slugs from the tropics, to giant dendronotids the size of a loaf of bread. You can expect to see more than 20 different species of all shapes and sizes, many of which, live nowhere else on earth.
During the trip, we will visit a variety of marine habitats; from rocky reefs, to kelp forests and seagrass beds. Our experienced guides understand the food preferences of each species and consequently, where each species is likely to be found.
Day 1
Meet at Victoria Airport (flight not included). Transfer to the historic City of Victoria. Check into your luxury Hotel on the inner harbour and relax.
Day 2
Your first day of shore diving will consist of two easy dives at Clover Point; an excellent macro photography site with an easy shore entry, shallow diving and a wealth of nudibranch species to hunt for.
Day 3
For your second day of diving we will take you to Saanich Inlet; the only true fiord on the west coast of North America. Here you will enjoy two boat dives which may include a dive on the famous white glass-sponges that grow to enormous proportions and contain lots of small invertebrates to photograph if you want to concentrate on macro. Your second dive will likely be a vibrant reef that holds numerous nudibranchs of all shapes and sizes.
Day 4
Today we will take you to another great shore diving site named Henderson Point. This site has a variety of sculpins and other small fishes and endless invertebrate species but it is most famous for its giant dendronus nudibranchs that can grow to more than 20cm long! This is one of the only spots where you can photograph sea slugs with a wide angle lens!
After two day dives you can relax at the hotel for while but stay prepared. After dinner, we will head to Ogden Point for a night dive with stubby squids; a beautful species of bobtail squid that can only be found along our coastline.
Day 5
Today will be your second day of boat diving. This time we will take you far offshore to a very special dive site named Race Rocks. This is a great place to play with steller sea lions or enjoy the kelp forests. It is an ideal place to shoot wide angle but the macro life is world class too!
Day 6
Your last day of diving in western Canada. Today we will take you shore diving in Finlayson Arm. Two sites we may visit are Deep Cove and Mackenzie Bight; both excellent places to find even more macro subjects including a variety of west coast nudibranchs, pipefishes, sculpins, octopuses, rockfish and more.
Day 7
After fond farewells, we will bring you back to Victoria International Airport for your trip home. If you want to stay longer to go whale watching and enjoy more of Vancouver Island's natural wonders, we can help with that too. Just let us know when you book your spot on our very special Vancouver Island Macro Dive Adventure.
Ready to sign up or have a question about this trip?
Contact Big Fish about this Expedition
TRIP REPORTS
Our first Vancouver Island Macro Expedition Trip Report will be available in October of 2020.