A Big Fish Expeditions Trip Report
Bimini 2018 in a Nutshell
We nailed it again in Bimini. Excellent encounters with great hammerheads all week long plus nurse sharks, bull sharks, blacknose sharks, Caribbean Reef Sharks and a new (possibly resident) Tiger Shark!
Perfect Shark Diving Weather
One of the biggest factors in diving with sharks in Bimini is the weather. If its windy then you're limited in what you can do. If its calm, you can do it all, and we did!
Of course we started with a full day of great hammerheads. They are the Bimini's rock stars and the main reason for our trip. As usual, our friends at Neal Watson's Scuba Center did an excellent job of delivering encounters all week long.
Triangle Rocks
We dove with hammers everyday but we also did some of our special side trips to different reefs in order to dive with other species of sharks. One spot that we always head to is Triangle Rocks where the resident Caribbean Reef Sharks put on a show and sea fans dominate the shallows.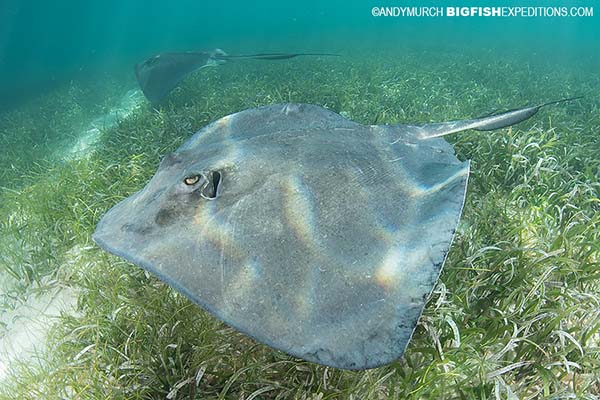 Blacknose Sharks and Stingrays
We also took the boat over to Gun Cay; a great shallow spot that is ideal for hand feeding stingrays.
It is also a great place to get up close and personal with tiny blacknose sharks – a species that is usually difficult to approach.
In the past, we have had random fly-bys of different shark species on our Great Hammerhead Dives but this year was different. A 9ft tiger that the locals have named Joker, showed up and stayed all day.
Joker was first spotted a month before we arrived. For some groups she was there all week. She was a bit disruptive and eventually scared off the hammerheads so I'm glad she was only there for one day during our trip. That was enough time to get some dynamic images as she was a great model.
Bull Sharks at Big Game Club
We generally see a handful of bull sharks on our great hammerhead dives but we don't let them get close because they become aggressive around the bait box. However, there are no shortage of bull sharks back at the dock. Between dives, while most of our guests were enjoying lunch, I tried a bit of hand camming off the swim step of the boat. The bulls were not shy!
Hammerheads at Night
We like to squeeze in as many different encounters as we can during a week of diving. So, one day we went out quite late and dove with hammers during the afternoon and into the evening.
The great hammerheads and omnipresent nurse sharks look spectacular during the day but they really stand out against an inky black backdrop.
Perhaps the highlight of the night shark dive was when a hammerhead picked up one of the nurses by its tail and dragged it away. The hammers do not attack the nurse sharks – they are way too big to eat. I imagine that it thought it had a piece of bait in its mouth, but the resulting image looks rather like the hammer is dragging the nurse shark out of the way 🙂