Tiger Beach 2018 in a Nutshell
Another awesome trip to Tiger Beach! Tiger sharks, lemon sharks, bull sharks, Caribbean reef sharks, nurse sharks and great hammerheads 🙂
Windy conditions kept us from shark diving on day one but the rest of the week was fine. The shark action continued to build all week long.
I think we had six tigers on the busiest dives but it was hard to be sure with so many other sharks to keep track of.
As always, we started at Tiger Beach Wreck – the shallowest spot where our divers can get used to the sharks and fine-tune their buoyancy.
Enter the Tiger Sharks
On Day Two we moved to Fish Tales – a slightly deeper site where tigers are abundant and more than happy to share a close up moment or two! 🙂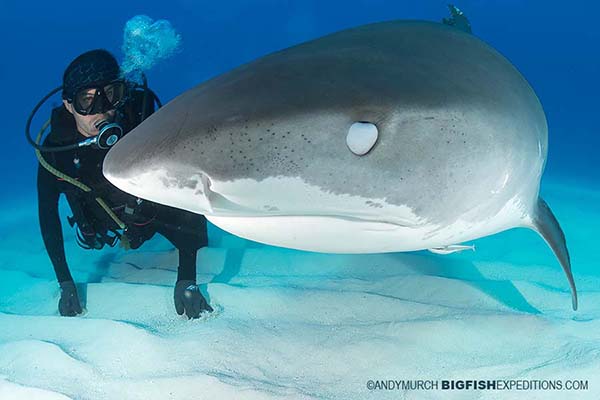 Well Behaved Bull Sharks
This year the bulls were back. Bull sharks have now firmly moved in to Tiger Beach but fortunately, they are not creating any problems. This is likely because we never feed them. The tigers get the snacks (and so does the occasional sneaky lemon or nurse shark) but we make sure that the bull sharks always go hungry. That sounds a little unfair but his stops them from becoming too aggressive and driving off the other species.
Nurse Sharks and Southern Stingrays
There are always a few nurses kicking around at Fish Tails. This year we had a couple at Tiger Wreck as well as at the Sugar Wreck; a shallow wreck dive that we have started to sneak into our itinerary.
Other noteworthy elasmobranchs (sharks and rays) included a handful of southern stingrays. I am always amazed how these large 'flat sharks' swim nonchalantly among the big boys, even though they would be easy pickings for the tigers and they're a favorite food of the great hammerheads.
Great Hammerheads
Our resident great hammerhead that the crew call Patches has been in the general Tiger beach area all season. The crew saw a second hammer on the edge of the feed while we were there but it wouldn't come in to feed. Patches had no such concerns 🙂 She was more than happy to feed alongside the tigers and actually muscled a few of them out of the way to be the first in line. She has become a total rock star and everyone wanted to get their picture taken with her!
Caribbean Reef Sharks in the Blue
I sometimes feel bad for the reef sharks. They are largely ignored by the feeders. Of course they don't care as long as they get the occasional fish, but they are beautiful sharks. In my opinion, Caribbean reef sharks are the quintessential shark. Robust yet streamlined, casual cruisers on tjhe reef but ever vigilant, ready to change speeds whenever an opportunity arises.
They are residents at fish tales so we always know that we will see 20 or more circling as soon as we drop anchor. This year was no exception.
Night Tigers!
With so many potentially aggressive sharks around, we generally remove the bait boxes before anyone jumps in after dark but that doesnèt mean they leave the area. Removing the bait simply stops the sharks from getting exciting and makes the night dive much safer.
This year, slipping in at dusk, we were immediately visited by all the players: tigers, bulls, lemons and the omnipresent reef sharks.
I confess that I get a kick out of watching the divers nervously dropping in at night. An irrational fear of the dark combined with a very reasonable fear of sharks, puts everyone on high alert. After a few minutes, everyone calms down of course but watching their worried expressions during the initial descent always makes me chuckle – I can't help it 🙂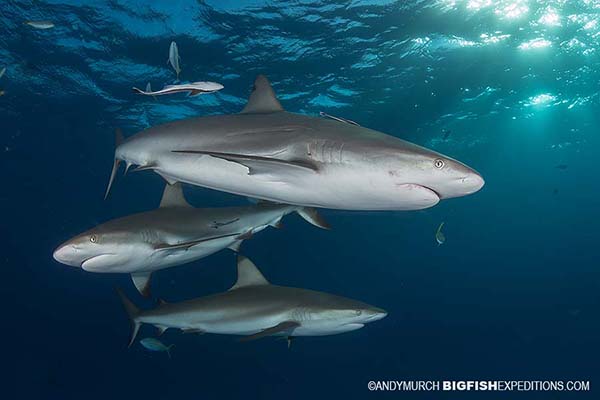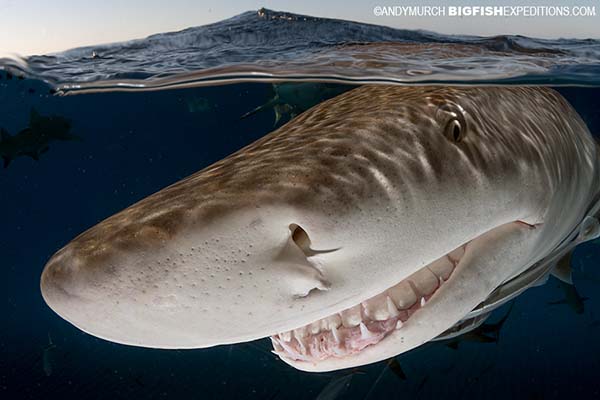 Diving the Mountains
To break things up a bit, on our fourth day we motored over to dive a beautiful site called Mountains. This gorgeous reef is essentially a large coral outcrop that rises dramatically from the sand.
It was a nice change of pace and still quite sharky because truly healthy reefs are usually patrolled by reef sharks.
As we weren't feeding the sharks, they were a little more standoffish than at other sites on the trip but this gave me a chance to get creative with the corals and sponges with sharks in the background.
Back to Fish Tales
After mountains we did a quick wreck dive and then headed back to Fish Tales to finish off the trip among the rock stars of the shark world. All the players were still there; tigers, lemons, bulls, reefies, nurse sharks and our resident great hammerhead Patches. The wind completely dropped out so the ocean was like a lake and the encounters were world class.
Awesome Guests – swimming with sharks!
Out of time, we wrapped up the week with a group picture of our excited guests and headed for Florida. I would like ton add a special thank you to this years 'live bait' for joining us on our yearly Tiger Beach Shark Diving Adventure.
This year was particularly interesting because we were joined by Garrett Gee and many of his friends. Garrett is a brilliant young social-media influencer that spends his year traveling the world with his family; better known as the Bucket List Family. You can follow their fascinating adventures on Instagram and Facebook. He is easy to find! lol.
More Tiger Beach trips to look forward to
This November, I am leading our second Tiger Beach trip of the year. This extended trip will focus on great hammerheads as well as tiger shark diving so we will look for hammers at Tiger Beach and then move to Bimini if we decide we want even more hammer action.
My next regular Tiger Beach trip is next April. No special missions and no photo workshops. Just lots and lots of world class shark diving.
If you'd like to join either trip, please let me know! info@bigfishexpeditions.com
Until next time,
Andy Murch