I am always surprised by how much the same adventure can change from one year to the next. Last year's Socorro Expedition was packed with manta's on virtually every dive. This year (2013) turned out to be all about sharks! Although we had manta encounters on probably half of our dives, the highlight was definitely the quantity and diversity of sharks that showed up to entertain us at every site that we went to. From schools of hammerheads out in the deep blue, to ledges piled high with whitetip reef sharks, to shy Galapagos and silvertip sharks that eventually allowed us to close the gap for some excellent shark portraits and a school of parading silky sharks.
One night we also did a little silky shark wrangling off the swim step of the liveaboard. The silky sharks circled the boat every night as we lay at anchor. As soon as we threw some scraps into the water, they became very excited, rushing towards our cameras as they were lowered off the swim step. I ended up with a few scuffs on my camera's dome port, but the unique images of silky sharks framed against the darkness more than made up for it!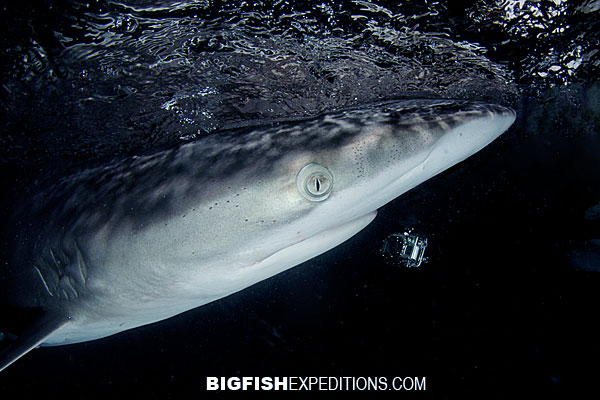 The most spectacular location was definitely Roca Partida; a volcanic monolith that breaks the surface miles from any significant land mass. Roca is only diveable in calm seas because it affords no protection from the relentless Pacific swells but when the weather cooperates it is a spectacle you won't want to miss!
Not only did we see lots of sharks on every dive at Roca Partida including whitetips, hammers, Galapagos sharks and silkies, there was also a school of 30 or so gigantic yellowfin tuna that circled the islet tirelessly darting in and out of the thick schools of smaller fishes.
Last year the winds were too strong for us to make it to Roca Partida. I'm very glad that this year we were able to go there and uncover a few of its secrets. The life around the island is organized in layers: above water the rock is inhabited in boobies and gulls. Just below the surface, creole fish form large disorganized schools. Below them, tightly packed bigeye jacks swirl around each other in an ever changing twister of fish. Below the bigeyes, giant trevally wander around in groups of five or ten and below those, galapagos and silky sharks cruise slowly against the current.
Deeper still, below a subtle thermocline, scalloped hammerheads form polarized schools except when individuals break formation to approach cleaning stations populated by bright orange triggerfish and clarion angelfish. What lives down at 100m where the monolith touches the sand, is anyone's guess. Perhaps next year I'll bring some extra equipment and find out!