A Big Fish Expeditions Trip Report
It's hard to believe that this year could be better than last year's whale shark expedition to Isla Mujeres but thats exactly what happened!
During July and August we took six small groups of divers out to see the whale sharks and no one went home disappointed. We had one slowish day but even then there were still a handful of whale sharks gliding by. For 16 days straight, we swam with hundreds of whale sharks and witnessed all sorts of behaviors from vertical feeding to whale shark trains (nose to tail swimming).
That in itself would have been spectacular enough but this year we were also inundated with hundreds of Caribbean mantas! There were so many one day that I could count 20 or more at once just by looking straight down.
We also had mobula rays and cownose rays that would swim by in small groups throughout each day. It was a big animal diver's heaven out there!
Each day I tried to upload a new image and comment onto Face Book and looking back, those posts really tell the tale. I've reposted all those pics and comments here so that you can see how incredible it was. If you missed it this year, don't despair! We have dates loaded already for next season but the boats are filling fast so please book while you can: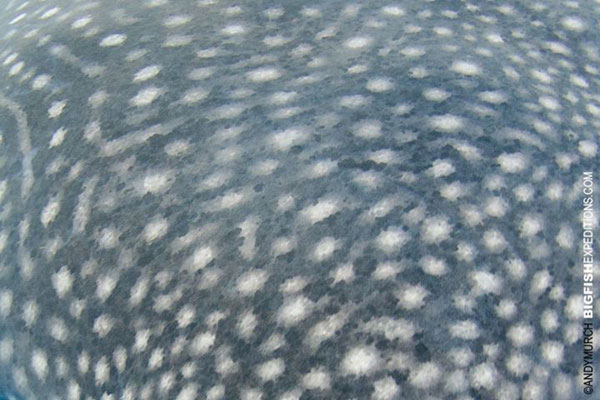 THIS YEAR'S DAY BY DAY ACTION
ISLA MUJERES WHALE SHARS DAY ONE: An amazing first day on the water. Whale sharks everywhere! And there are mantas here this year!
ISLA MUJERES WHALE SHARKS DAY TWO: More crazy whale shark action today. Conditions a little bumpy but no one seemed to mind with all the action underwater.
ISLA MUJERES WHALE SHARK EXPEDITION DAY THREE: Today we had another killer day at sea with hundreds of mantas and whale sharks plus some mobulas! It was a little bumpy out there making split frame shots a little challenging!
ISLA MUJERES WHALE SHARKS DAY FOUR: Last day in the water with our first group But … more great action today! Vertical whale sharks bobbing at the surface, 'flocks' of mantas and some killer photo ops!
ISLA MUJERES WHALE SHARKS DAY FIVE: Need I say more?
ISLA MUJERES WHALE SHARKS DAY SIX: Today was amazing! Lots of whale sharks and even more mantas than we've seen before. Manta trains all over the place, mantas barrel-rolling constantly, mantas and whale sharks swimming together and Atlantic mobula rays swimming with their giant manta cousins. Awesome … JUST AWESOME!
ISLA MUJERES WHALE SHARKS DAY SEVEN: It just keeps getting better! The sharks have been consistently good and the manta action just keeps getting better!
ISLA MUJERES WHALE SHARKS DAY EIGHT: There were manta trains all over the place today. So many mantas that I completely forgot about the whale sharks until I had to get out of the way of them 🙂
ISLA MUJERES WHALE SHARKS DAY NINE: Wonderful whale shark encounters today. Super clear water and countless sharks!
ISLA MUJERES WHALE SHARKS DAY TEN: It's monotonously good out there Whale sharks, mantas, mobulas and a lone cownose ray that stayed with me for hours but refused to come close enough to photograph. I had a lot of fun shooting manta mouths today.
ISLA MUJERES WHALE SHARKS DAY ELEVEN: Finished another epic day by hanging out with this vertical whale shark!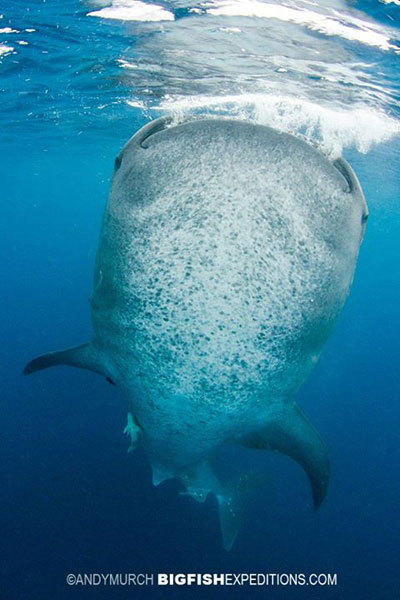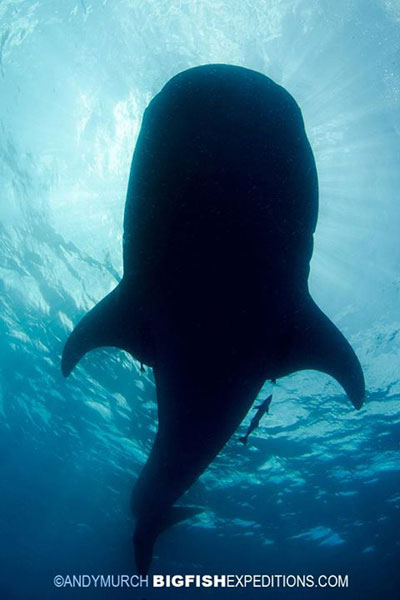 ISLA MUJERES WHALE SHARKS DAY TWELVE: What a great last day with our third group of guests. The day started a little slowly then the whale sharks rose up to meet us in clearer than normal water. Tried to head to a relaxing reef this afternoon but we hit a current line filled with mantas and spend our last couple of hours photographing them. Down below (deeper than I normally free dive) a squadron of cownose rays swam back and forth. Never thought I'd make it down there for this shot!
ISLA MUJERES WHALE SHARKS DAY THIRTEEN: First day with our last group and we nailed it again! Whale sharks everywhere plus mantas, mobula rays and those illusive cownose rays. Bit bumpy out there today for silhouettes but that just adds to the challenge 🙂
ISLA MUJERES WHALE SHARKS DAY FOURTEEN: Wow! Killer day on the ocean. Hundreds of whale sharks and endless mantas all afternoon. Two weeks at sea and I'm still finding new angles to shoot these awesome creatures.
ISLA MUJERES WHALE SHARKS DAY FIFTEEN: The whale sharks were stacked three or four deep today. It was insane! One more crazy day and its all over till next year 🙁
ISLA MUJERES WHALE SHARKS DAY SIXTEEN: Perfection. Whale sharks bottling (vertical feeding) all over the place, mantas breaching, manta trains and multiple whale sharks in the same shot. Can't wait to get back here next year and do this again!
SOME OF THE GUEST COMMENTS ABOUT THIS YEAR'S TRIP:
"My group had an AMAZING time!!!! I can't wait to go on another trip! Not only was the shark diving amazing but you guys make the trip fun and easy going. Everything seemed very well organized and the quality of the trip as a whole was top notch! I liked staying at Na Balam much more than I would have at a large traditional hotel. I never imagined we would see so many sharks AND mantas! The mobula rays were a nice surprise as well. I have no complaints or improvement suggestions…. just envy that I can't do what you all do for a living ;-). Hopefully we'll see you again soon! Thanks again for an unforgettable trip!"
Briauna Azan, Missouri, USA
"I know I speak for myself and everyone in my group when I say that everything about the whale shark trip was absolutely amazing! Great shark diving, great people, great service. Andy and Laura are friendly, passionate about what they do, and work hard to make sure everything runs smoothly. It was a fantastic experience and I would highly recommend it to anyone. I can't wait to take more Big Fish trips in the future!!" Chuelo Arias, USA
"…planes, busses, ferries, taxis, dive boats, through every aspect of our trip, Andy and Laura were there making sure things went smoothly. It made the trip much more enjoyable, as their experience from many previous trips made our trip flawless, even laid back! . We are going back next year, that says it all"..
Nicki Miller 2013
"I have been on many Dive trips over the year's, and the attention to detail on our Big Fish Expedition was noteworthy. The knowledge that Andy shared about the animals, and photographing them far exceeded my expectations. I can't wait to go back next year!" Steve Miller 2013
"When it comes to Big Fish trips, your Whale Shark adventure was second to none. Christine and I had a blast. Thank you for all your preparations".
Kathy Cope, USA
"I had the pleasure of returning to Isla Mujeres with Andy Murch of Big Fish Expeditions for the Whale Shark trip this year. It was one of the most enjoyable expeditions I have been on. I like to photograph big animals underwater and have been with Andy on several other trips. Andy works very hard to make sure you are presented with every possible opportunity to get shots of the targeted species. In this case, the Whale Sharks. Not only did we have the appearance of hundreds of Whale Sharks this year, but also many Mantas. When you were waiting for a Whale Shark to swim by, and those waits weren't long, you could swim with the aerobatic Mantas as they looped and whirled around and under the Whale Sharks.
On this trip as with others I have done with Andy, he and his staff work with local, experienced, providers to get you into the best situation to interact with the animals. In Isla Mujeres, Andy made sure we were first on site in the morning and had the peak time of day to shoot stills and video of the sharks. Unlike other trips I have been on, Andy ensures you maximize your time in the water rather than getting just a few short and very controlled encounters. Also, the accommodations were clean, comfortable and affordable. If you are interested in top notch photographs or the emotional high of being very close to such large animals, then Big Fish Expeditions is the operator to go with."
Dustin Hurbut, USA
"Thanks Andy for a totally amazing whale shark trip. You and your boat captains were very professional and so helpful with every aspect of the trip. If anyone ever wonders who is is the best company to see the whale sharks with it has to be Big Fish Expeditions, sign up now for a trip of a lifetime!"
Christine DiCurti, Fairbanks, Alaska