Another fabulous Isla Mujeres whale shark trip! You can't beat this formula: fly in, meet the guests, sleep, have a nice breakfast, jump on the boat, chat for about an hour while heading to the whale shark grounds, swim with hundreds of whale sharks, have a bite to eat, swim with hundreds more whale sharks, chat for another hour and then disembark in time for happy hour. Repeat daily and then fly home.
It kinda sounds too good to be true but that is exactly how it was this year. During eight days at sea we only had one really slow day. There were still a handful of whale sharks at the surface but we were so spoilt that we decided to go snorkeling on a nearby reef instead. The other seven days were fantastic.
Check out this great video by Andrew Adams and Barbara Rocci: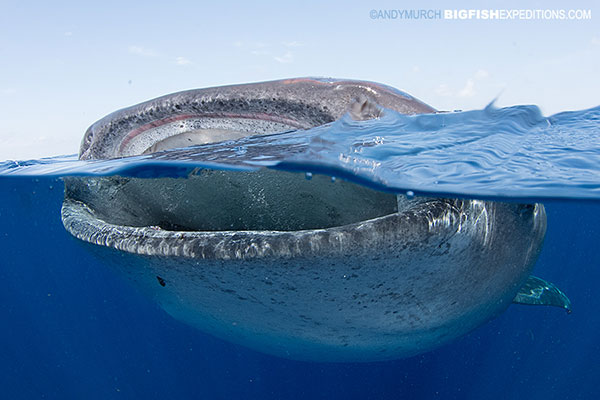 It wasn't just that there were plenty of sharks. The conditions this year were absolutely amazing! It was a real treat swimming all day with whale sharks in flat, calm, crystal clear, blue water.
To be fair, I have been running this trip for four years and its almost always good. We have never had a problem with storms or high winds when we are swimming with whale sharks but this year's calm seas allowed me to nail all sorts of shots that I have not been able to achieve in previous seasons. For example, I snapped hundreds of split frame (over/under) shots that are usually quite challenging in the open ocean. This year they were almost too easy.
When I got bored with shooting splits, I concentrated on double shark splits. When I had enough of those in the bag, I even tried to capture triple shark splits. Maybe the image shown below is not one of my best compositions from the trip but it certainly gives you an idea of how many sharks were present.
On some days we also bumped into schools of cownose rays and a few Caribbean manta rays. Some guests reported seeing sailfish including a small group of pint sized juveniles. I am not sure why sailfish sometimes mingle with the whale sharks because they definitely don't feed on the tuna eggs that the whale sharks are vacuuming up. Sailfish are more commonly seen here during the winter and early spring when huge shoals of sardines migrate along the coast of the Yucatan. If you are looking for a fast paced, high seas adventure, a Sailfish Bait ball Diving Expedition is hard to beat.
We encountered one brave manta that fed among the whale sharks for hours and was not shy around the camera.
On week two, some of us took a day off from whale sharks and dove a distant reef named Manta Valley. It was a lovely vibrant reef that reputedly has manta cleaning stations but no mantas showed up while we were there. Even without the stars of the show, Manta Valley is a lovely place to spend a day. I had no idea that such healthy reefs still existed within range of Cancun. I consider Manta Valley good enough to warrant another visit next year so if you're keen to give it a try, you can sign up for a combined Whale Shark Snorkeling / Manta Valley Diving Expedition instead of spending your whole vacation in the company of whale sharks.
We timed this year's trip to coincide with the full moon. Some people say it is critical for good whale shark encounters and some say it makes no difference. I'm undecided but it certainly appeared to help this year. Towards the end of the trip there were so many sharks that they kept getting in each other's way.
All in all it was a wonderful two weeks. One of our guests commented that on his last day he counted 400 close encounters with whale sharks. That equates to one whale shark encounter every 45 seconds for five hours. Maybe thats a new record 🙂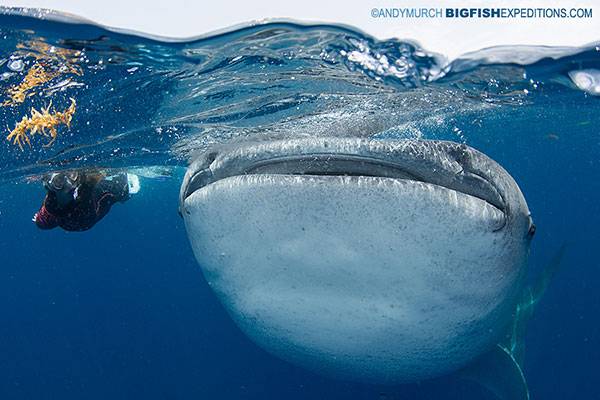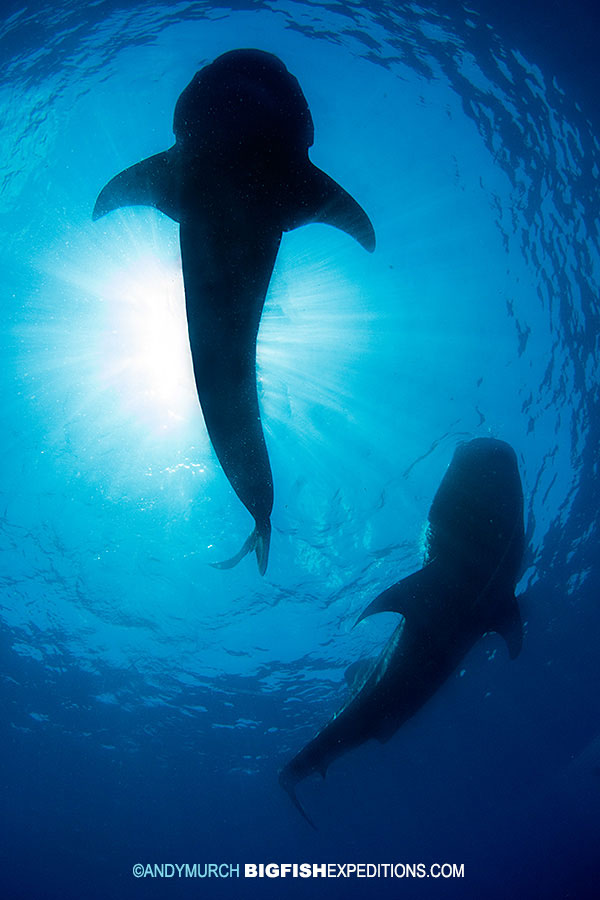 If you would like to swim with whale sharks, please join us next year when we return to Isla Mujeres: Swim with Whale Sharks in 2016
FROM SOME OF THIS YEAR'S GUESTS
The 2015 season of whale sharks with Andy exceeded all expectations. I chose Andy because he is a true expedition leader, not a tour guide. If you are there to enjoy and participate with the sharks he is your guy. We arrived on site before the other boats and remained afterward to have "alone time" with them. On one day alone I counted over 400 shark encounters. Another reason for choosing Andy was for me to discuss his other wonderful adventures. I am now trying to narrow down the next location from his many wonderful choices. And I am not ruling out returning to see these graceful sharks. The only way to go enjoy these sharks is with Andy and his team.
Ed Downing, New Orleans, Louisiana
First experience with big fish expeditions, great experience. Will be back for other trips. Good accommodation and great boat crew. Amazing experience with the whale sharks.
Senevilay Malichanh, Montreal, Canada
This was our first trip with Big Fish Expeditions but it certainly won't be our last! Everything was professionally organized and handled, from early communications to transportation to and from the airport (which involved vans, ferries, and taxis, so it was by no means a simple endeavor), to the local boat captains and guides. Of course nothing is guaranteed when you're talking about wild animals, but the Big Fish team did everything they could to ensure amazing encounters. We swam with more sharks than we could have imagined! Once you're out on the water and see how other operations run their trips, you'll be VERY glad to have chosen Big Fish. We spent so much more time with the sharks than we would have with one of the day boats, and our small group was perfect. No "cattle boat" feeling on this trip! Not to mention that we got a treasure trove of information about sharks, mantas, whales, and other marine creatures from Andy and other guides. We also did the add-on Manta Valley dive and highly recommend it to certified divers. We were worried about missing a day with the whale sharks, but we had so many encounters on the other days that in the end it wasn't an issue at all. Whether you see mantas or not, it is a unique experience to go to such a pristine site that is not regularly frequented by divers. All in all, this trip truly exceeded our expectations. We can't recommend it highly enough!
Barbara Rocci, USA.
As a professional underwater photographer, I was thrilled with my recent trip to Isla Mujeres and time in the water with the whale sharks. Thank you so much for all the time and effort put into planning and leading the trip through Big Fish Expeditions! The accomodations were wonderful! The charter boat crews were helpful and the best at locating the whale sharks and, most importantly, giving us so much time with them in the water! The entire experience was everything and more that I expected! I look forward to future trips with both of you!
Richard Apple
Applecorps Photography, Jupiter FL
Whale sharks 2015 in Isla Mujeres was a trip of a lifetime. We fell in love with the island, and could not believe the accessibility to the huge numbers of whale sharks. We usually have mediocre luck with adventure trips but this one delivered big time! Once all the splash-N-dash operators left the area it was not unusual to be the only boats on the 100+ sharks. Day 1 had an estimated 200 sharks! It was also not unusual to have to get out of the way of an oncoming shark while swimming with another one. Once everyone on the boat agreed, and only when everyone had had their fill, we'd return to the magnificent beach on the island and relax at one of the beachfront bars drinking inexpensive (but not weak) frozen beverages and tell stories of the day's activities. The village at Isla Mujeres is home to many charming shops, bars, restaurants, street vendors, and great local inhabitants easily within walking distance. We had a terrific time, and as was the plan, the experience will be one that will stay with me as long as I live. Thanks Andy, for the great trip!
Don Hyde, Andros, Bahamas