Our 2016 Mexican Whale Shark Expedition in a Nutshell
Another great year with plentiful whale sharks and lots of manta rays. We had a bit of weather to contend with this year so we spent a day diving cenotes but overall we had a great trip.
Cenote Diving
Diving in two beautiful cenotes (Mexico's submerged caverns) wasn't such a bad way to wait out the storm. We picked cenotes relatively close to Cancun so that we didn't have to drive too far to get wet. The cenote day was fun and although we were all pining for whale sharks, a lot of our guests mentioned that they were happy to have finally had the chance to dive or snorkel in a Mexican cave.
The limestone caverns formed many thousands of years ago when soft layers of rock were dissolved and washed away by the passage of water. When the water table dropped, the caves were exposed and over a period of time, stalactites formed. Then, as the water table rose again, the formations were again submerged resulting in underwater stalactites. They were lots of fun to explore!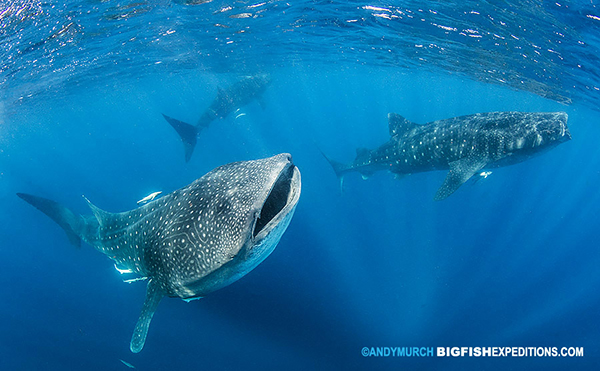 Whale Shark Wonderland
When the winds died down, the whale sharks were waiting for us. Some days there were maybe 20 or 30. Other days the sharks were in their hundreds. On our last day in Isla Mujeres, I would guess there were at least 250+ sharks. Its not easy to count them but if you stand on the bow of the boat and there are 20 right in front of you, and then you look at how far the action continues into the distance, you start to get a pretty good idea of the overall number. However many there were, no one went home disappointed 🙂
Mantas Galore!
This year we were all thrilled that the mantas had returned! We haven't figured out yet why they are there in great numbers some years and virtually absent during the same timeframe on other years. This year was great for mantas.
Caribbean mantas are a little different from the other two manta species. They are most like Oceanic mantas – Manta birostris – but they appear to have slight morphological differences so they are currently listed as Manta c.f. brostris which is scientific lingo for 'Its a manta but we're not quite sure if its a separate species or not'. Time will tell.
The mantas formed feeding trains, swam in loose aggregations, hung out on their own, barrel fed, breached now and then and generally did all the things you would want to see a manta do other than possibly giving birth! It was a very special experience.
By the end of week two, everyone with a camera or GoPro had more manta and whale shark shots than they knew what to do with. Other than it being a bit windy, it was a great year.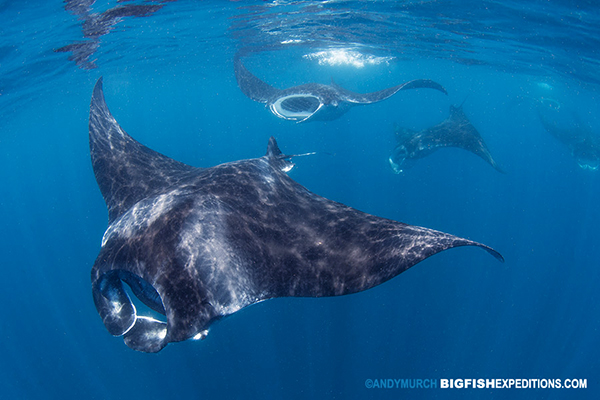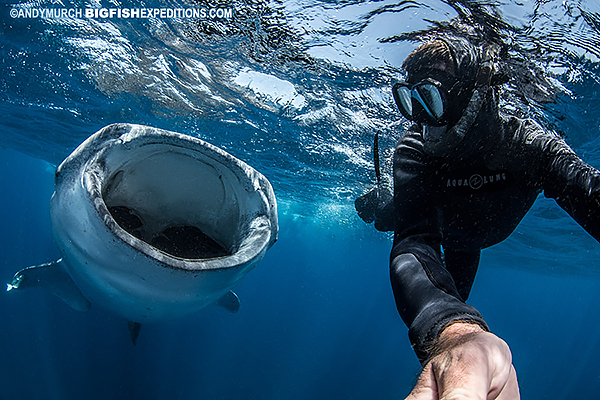 Join us and Snorkel with Whale Sharks in 2017
I'm starting to get a little cavalier about whether we'll see whale sharks. I know there is a theoretical chance that we'll get skunked one year but so far the sharks have been so consistent that its looking very unlikely they won't be there when we want them to be. Join us next year and see if I'm right! 🙂
Swim with Whale Sharks (and possibly mantas) in Mexico
Feedback from some of guests on the this year's whale shark trip
A truly remarkable experience which exceeded all of my expectations. I have always wanted to snorkel with the whale sharks and this was absolutely the best way to fulfill that ambition with a world class company. Andy and Laura are awesome!
Alan M. Aliskovitz. Pittsburgh, PA, USA
Andy's whale shark dive had been on my bucket list for awhile. Although my husband and I dive quite often, and I have been fortunate enough to have traveled many exotic places, the whale shark has always eluded me. NO MORE!! Thanks to Andy and Laura I can check that one off because we had the best days ever! There were hundreds of whale sharks and too many mantas to count. The water was warm and the most beautiful color of blue I have ever seen. We were able to stay in the water with them until we were so tired we couldn't lift another fin. My husband flew his drone and got some very exciting footage. As with all of our trips with BFE, we were well taken care of and had no worries at all. We are counting the days until Socorro!! Book early, and go, this is the easiest trip and by far one you will never forget!!! Thanks BFE!!!
John and Bobbi Dickinson, Jupiter, FL, USA
The 2016 Whale Shark trip was undoubtedly one of the best vacations we have taken. From arrival at the airport to departure, Andy and Laura go out of their way to insure everyone is happy. As for the sharks, they are all that, and abundant also! It was a true bucket list experience to swim with them and the manta rays that showed up everyday to play. We sincerely plan to attend another Big Fish Expedition and recommend them to all.
Duane Allen, Florida
I have been on 3 Big Fish Expeditions trips by now and surely more to come. After THE trip of my life in Socorro, we went to Isla Mujeres to watch whale Sharks. We had plenty of them but in addition a fantastic show of Mantas. It's been a tremendous week. Thanks Laura and Andy
Andre Savard, Montreal