Our 2017 Mexican Whale Shark Expedition in a Nutshell
Stormy on our first trip but with a great finish. On week two we had abundant whale sharks everyday plus scores of mantas! Great encounters!
Cenote Diving
It's been a challenging year for weather all over the tropics. Fortunately, the Mexican Riviera is a natural playground so when you have to skip a day at sea, it's easy to find an alternative. We organized some fun inland cavern dives for our guests. Most had not had a chance to dive in a cenote (water filled cave) before so everyone enjoyed the adventure.
A Day on the Inshore Reefs
We also snuck in a day of diving on Cancun's inshore reefs before the wind completely abated. Although Cancun is a busy port, the reefs are surprisingly healthy with an abundance of fish.
We even managed to find some 'big fish' to keep the mega fauna addicts happy 🙂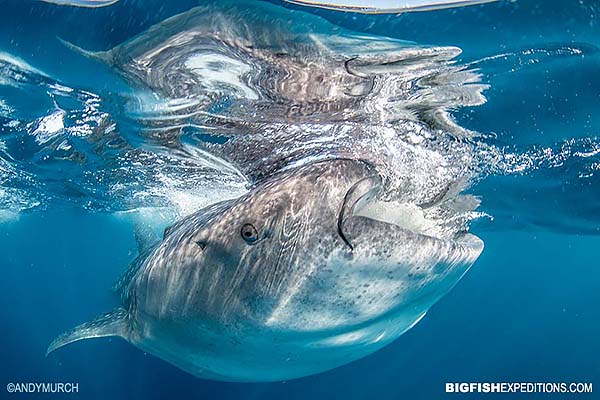 Making up for Lost Time
When the storm subsided, we headed out to the whale shark grounds and the sharks were waiting. Making up for lost time, we swam with the sharks from early in the morning until late in the afternoon. As usual, we were the last boat to leave the sharks by more than an hour. This is one of the things that make our whale shark trips special.
Wall to Wall Whale Shark Action on our Second Week!
Week two could not have been more different. The weather was great so our guests spent hour after hour in the company of huge but harmless whale sharks.
Bottling Behemoths
Most of the time, whale sharks simply swim along near the surface vacuuming up thousands of eggs in each enormous gulp. Now and then they stop swimming and let their tails drop so that they are floating in a vertical position. They probably do this to let air trickle out of their stomach cavities.
The Mexicans call this behavior 'bottling'.
This year, there seemed to be bottling sharks everywhere we looked so everyone got to witness it from close quarters.
Mantas!
On the first day we were completely preoccupied with the whale sharks but later in the week we targeted areas with whale sharks and scores of mantas too. The mantas are not always in the same region so it was a nice bonus to see them gorging themselves on fish eggs right near their cartilaginous cousins. Some of the mantas were swimming solo and others stayed in groups of 5 or 6 animals. It was a pleasure to see them gracefully flying through the water.
Selfies and Silhouettes
With so many sharks around, it was easy to get images from virtually every angle. After shooting some nice portraits of the whale sharks feeding, I moved on to some other classic pose such as: Silhouettes, Head Shots, And of course a few whale shark selfies 🙂