Our 2018 Mexican Whale Shark Expedition in a Nutshell
A great trip! Excellent whale shark and manta encounters everyday. Bumpy seas on day one but smooth sailing for the rest of the trip.
Plenty of Sharks to go around.
Believe it or not, I still worry that the whale sharks might not show up. Its silly because we have never been skunked. Over the years we have had an occasional slow day when the action is a little sporadic but we have never been skunked.
As usual, this was another year with lots of sharks. I estimate we had at least 50 sharks on day one (our slowest day) and 100-150 on the other three days at sea.
That translates into lots of great encounters like this one!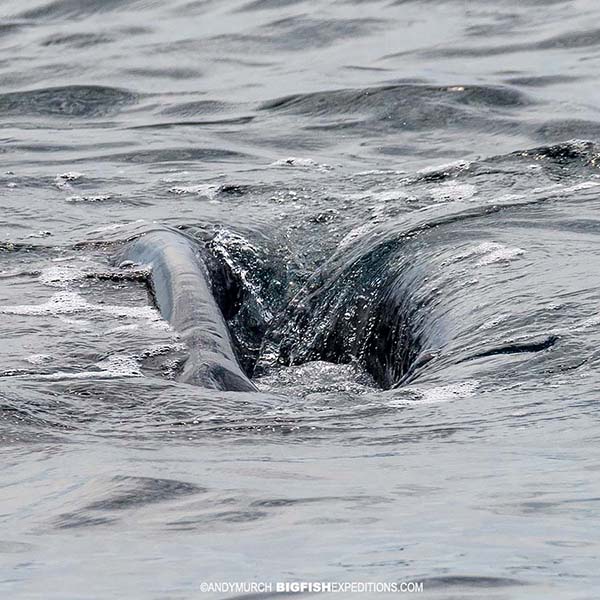 Bottling Sharks
It seemed as though the sharks were vertical feeding for longer than they have on other years. One shark stayed vertical for almost an hour even though it was surrounded by snorkelers.
I'm convinced that sometimes the sharks stand on their tails to expel air that is trapped in their cavernous bellies but sometimes they are obviously vertical so that they can let just the very surface layer of water into their mouths; the layer that is full of invisible eggs. This surface shot demonstrates the process well.
Whale Shark Image List
The image above was a new perspective for me; something that is harder to get each year that I go, but always a fun personal challenge.
I like to share my best pics with the guests so I always try to get a nice variety of whale shark images that I think our guests will like. With so many sharks in attendance, it was easy to tick all the usual boxes:
The classic feeding whale shark
Monster Mouth
Multiple Sharks
A nice Split Shot with the boat in the background
And a silhouette of a whale shark blocking out the sun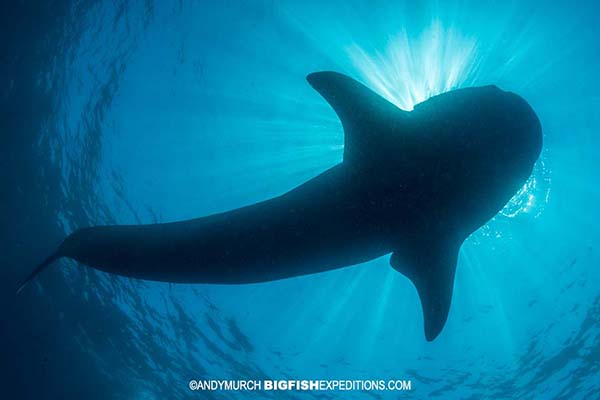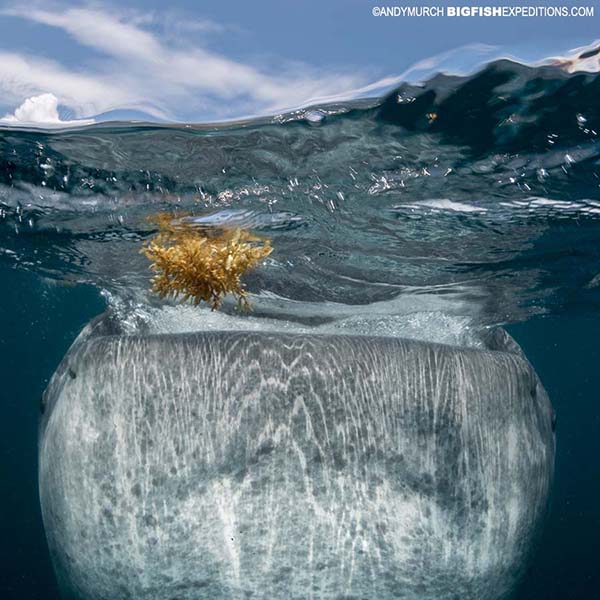 Caribbean Mantas
It was also a good year for manta encounters. We saw plenty of individuals and small groups forming Manta Trains where each manta follows the one in front. Mantas don't let you get as close as the whale sharks do but if you're stealthy, you can get some nice close passes 🙂
Topside photography
Now and then, a manta would breach (jump completely out of the water). Sometimes they breach twice in a row so there is a chance to get a pic of the second breach once you have seen where they are going to jump. I spent a lot of time sitting on the roof of our boat, hoping to nail the shot but it is even harder than it sounds!
While waiting for the mantas to breach, I had lots of time to take topside images of the sharks cruising by.
Next Stop Crocs
Before we knew it, the trip was over and we were on our way to the next adventure which for us was American Crocodiles further south in the Yucatan. We left with great images, fantastic memories and lots of new friends that we hope to see again soon.
Swim with Whale Sharks next year!
Some trips come and go but this one will continue forever; as long as the sharks keep showing up.
So, if you would like to encounter the world's largest gathering of the world's largest fish, join us next August for our 2019 VIP Whale Shark Adventure