A Big Fish Expeditions Trip Report
In a Nutshell
Great hammerheads, great conditions (most of the time) and great company!
Yet again, Bimini delivered! We have enjoyed three straight years of exceptional hammerhead shark encounters. In my humble opinion, Bimini Island deserves to be included in the top ten shark diving destinations in the world. The hammers show up like clockwork, there are plenty of other species you can see and our Bimini based operator (Neal Watson's Dive Center) continues to provide us with safe, professionally handled shark interactions, day in, day out.
The hammerheads remain around Bimini in the winter and early spring. The Bahmas can be stormy at that time and we heard reports of other dive groups getting weathered out earlier in the season but I am happy to say that out of two solid weeks of diving we only had one day that was too windy to head out to sea. On that one windy morning, rather than waste a day sitting in the resort, we snorkeled in the mangroves and then visited Bimini Shark Lab for a hammerhead research presentation in the afternoon.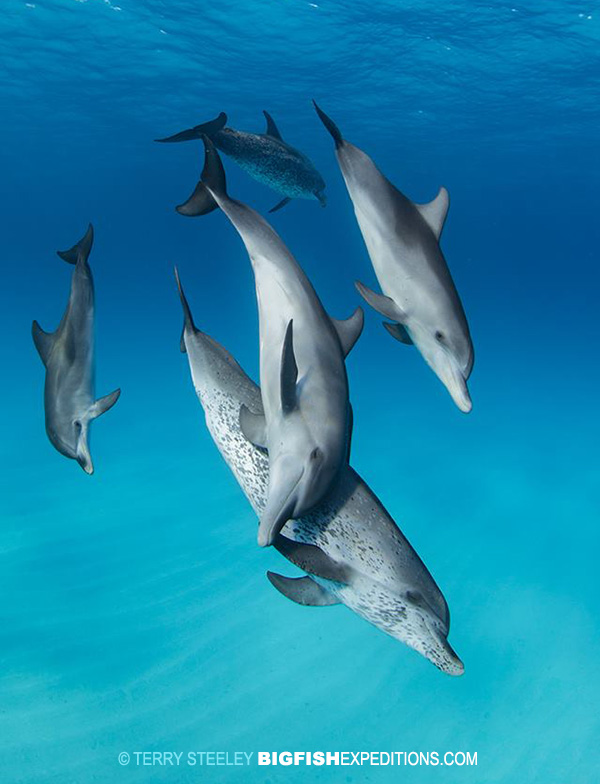 To mix it up, each week we also scheduled some dives at Triangle Rocks with Caribbean reef sharks. Triangle has about 20 or reef sharks that are used to divers due to a study that is being conducted by the shark lab in that area. When there is a little chum in the water, the reef sharks are more than happy to hang around for photos.
On our second week we also snuck in a trip to Cat Key to dive with the stingrays and even a day cavorting with playful Atlantic spotted dolphins.
On our best day, 11 different great hammerhead sharks showed up at the feed. Other notable attendees included more nurse sharks than we knew what to do with, a few bull sharks that we never feed because they get too rowdy, and a fly-by from an 8ft long smalltooth sawfish. Sawfish encounters are very rare in Bimini (or anywhere else for that matter). This one was a frustratingly fleeting glimpse so no one managed to get any images. Fortunately, we have a dedicated sawfish trip to Andros Island (also in the Bahamas) later in the spring, so we expect to get some longer sawfish interactions then.
One evening on each week we also extended the encounters into the night. Under the cover of darkness, the hammers moved much faster, quickly materializing out of the inky water, snatching the bait and then dissappearing back into the night. It was a challenge photographing them without peripheral vision but it was a fun new perspective that everyone enjoyed participating in.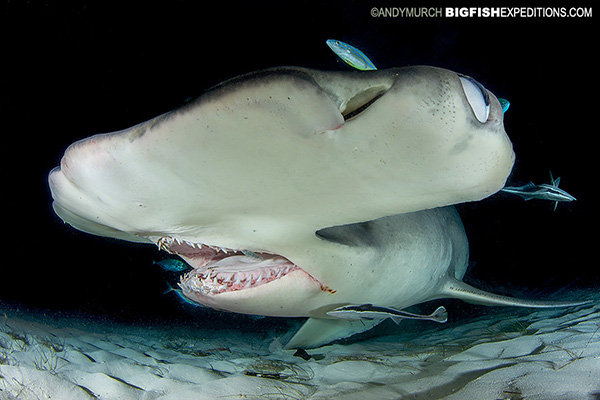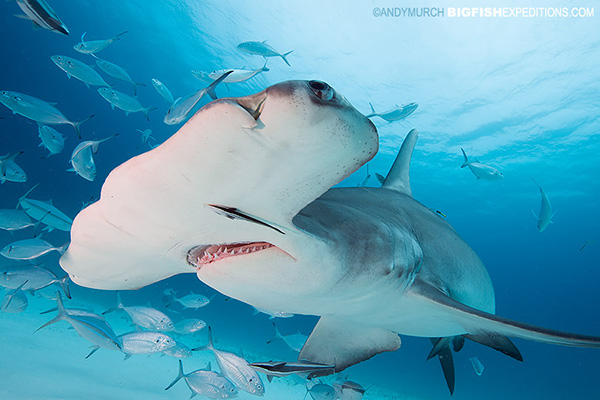 All told, it was an very sharky couple of weeks in the Bahamas. Other than if we get caught in a storm, I see no reason why our Bimini hammerhead trips should not continue to delight divers for years to come. Maybe next year we will even photograph that illusive sawfish 🙂