Socorro March 2018 in a nutshell: Great conditions, World class Manta action, plenty of sharks, friendly dolphins and rivers of yellowfin tuna.
San Benedicto Island
As usual, our first dives were at the The Canyon; a sharky dive site off San Benedicto Island. San Benedicto is the closest of the three islands that we visit so its a good first dive if you just want to get there and get wet.
The highlights on our first day included getting buzzed by silky sharks, our first manta fly-by and an encounter with an enormous longtail stingray that was surrounded by whitetip reef sharks.
After the dives we snorkelled off the back of the liveaboard with around a dozen silky sharks. This led to some excellent photography opportunities as the sun sank into the Eastern Pacific.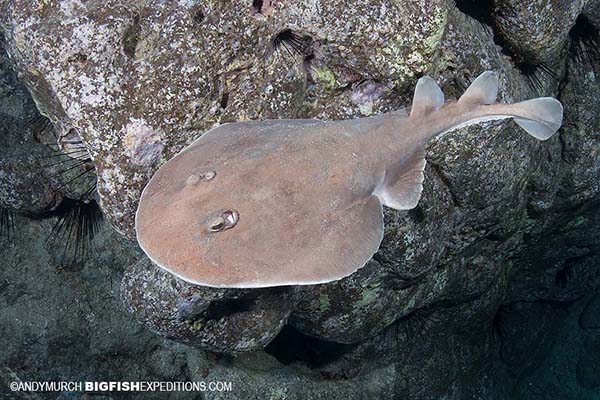 Roca Partida
We knew the weather was supposed to deteriorate as the week went on on, so we sailed overnight towards Roca Partida; an exposed pinnacle that is great for pelagics but not so great when the seas pick up.
The action around the rock was pretty good; quite a few Galapagos and Silky Sharks and scores of resident whitetip reef sharks that swarmed the pinnacle.
Whitetips are very social sharks. When not hunting, they settled onto small rock ledges and took naps together.
We often see large yellowfin tuna hunting at Roca Partida. This year was no different except that there were enormous individuals chasing schools of jacks and a monster school of smaller yellowfin tuna that swum in a river of fish at the edge of visibility. It was a refreshing spectacle to see so many tuna in one place. Hope for the future!
While I was chasing tuna the DM took the group out into the blue to look for schooling hammerheads. The hammers were there but stayed deeper than usual, perhaps in response to warmer water which they are not fond of.
Close to the surface, I found a layer of large wahoo hunting in small groups. Other than the hammers, it felt as though everything was a bit easier to approach on this trip.
When the sun was low, I also tried my hand at blackwater photography. This is the art of shooting critters that rise from the depths every evening. This nightly event is considered the largest migration of animals on earth. It wasn't actually dark so I was limited towards what I could shoot but these salps made for some fun photo subjects.
Isla Socorro
After two days at The Rock, we moved on to Socorro Island; the largest landmass in the Revillagigedo Archipelago. We dropped anchor at Cabo Pearce; a famous spot with multiple manta cleaning stations. It is also a great place to bump into friendly bottlenose dolphins.
Neither species disappointed us 🙂
After two dives with the mantas and dolphins we relocated to Punta Tosca. Exploring a new site in the shallows, we came across some large silkies and a few very cute baby Galapagos Sharks.
While exploring the area, I also stumbled on a couple of giant electric rays. Although they are called 'giants' most are only 50cm long.
As the sun sank into the sea, we jumped in again with the silkies. This time, I concentrated on seeing how many sharks I could fit in a single shot.