Socorro January 2018 in a nutshell: Great Manta action, plenty of sharks, extremely friendly dolphins and perfect conditions in which to enjoy them in.
No Shortage of Mantas
Socorro is a great place to watch sharks, dolphins, and migrating humpback whales but the stars of the show are always the mantas. I doubt there is anywhere in the world that offers such personal, close-up interactions with giant mantas. And when I say interactions, I men just that. The mantas at the Boiler and other great dive sites throughout the island chain, come to specific spots to have their parasites removed by cleaner fish, but when they see divers, more often than not, they swim up to them for a closer look and play in their exhaled bubbles. One might think that this is idle curiosity but they return time after time, perhaps relishing in the feeling of the bubbles rolling over their sensitive skin.
Mantas are extremely smart marine animals. They have sophisticated brains compared to other fish and sharks so it is not unreasonable to think that they actually enjoy the interactions. We certainly do!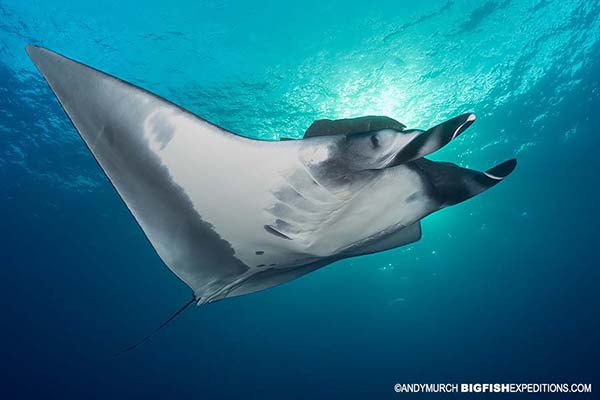 Six Species of Sharks
There are some sharks you expect to see at Socorro: Galapagos sharks, Silkies, Scallopped Hammerheads, whitetip Reef Sharks and usually a few silvertips. This year we saw all of the usual suspects plus a large dusky – at least I think it was a dusky. I've never seen a dusky in the Eastern Pacific before but I know they're there. The crew also saw a Tiger Shark but I missed it so I'm not counting that one 🙂
Extra Friendly Dolphins
Every year the dolphins get friendlier at Socorro Island. We don't always see them because they're wild animals and sometimes they're off hunting or doing other stuff that wild dolphins do, but when they show up they are such a treat to dive with. They used to just come and check us out but now they swim right into the group and let the guests rub their bellies and flanks. I try to be objective and realistic about why they do this but there is no other explanation – they just like it! 🙂 They obviously get a kick out of visiting the strange looking monkeys that fall out of the sky.