Socorro February 2017 in a nutshell: Good Manta action but this particular trip to Socorro was dominated by sharks. Another great week long adventure on the high seas!
Great Expectations
On the overnight crossing from Cabo San Lucas to San Benedicto Island – the closest of the four islands in the Revillagigedo Archipelago – I regailed the guests with stories of enormous mantas at a dive site named the Boiler. Arriving in the early afternoon, we headed straight for that fabled site and dove into an empty ocean, the fish life was nice and some guests did see a distant manta and even a hammerhead but it was an off day such a normally spectacular site. Skipping the second dive we tracked humpbacks around the islands and then headed onwards to Roca Partida.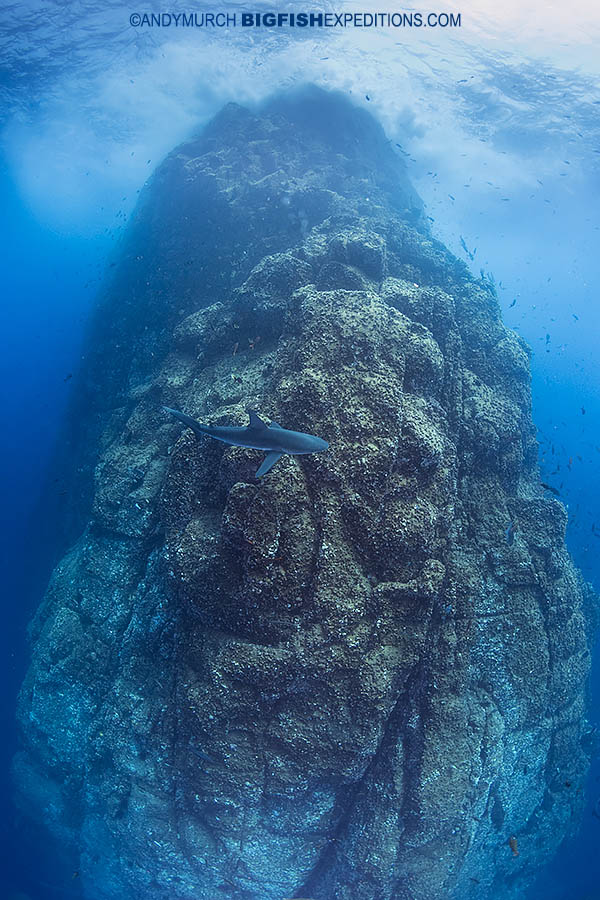 A Shark Infested Pinnacle
Fortunately, 'The Rock' could not have been busier. Roca Partida always has great fish life including resident schools of bigeye jacks, multiple aggregations of burfish, snappers galore and pacific baracudas by the boat load. Today was not exception but there was also a huge school of bonito enveloping one side of the pinnacle. I estimate that the bonito school may have been 20,000 strong, perhaps more. And where there were fish, there were sharks aplenty!
On every dive there were Silkies, Galapagos Sharks and Silvertip Sharks working the school. They swam around its permiter keeping it pinned against the rock wall and then made dashes into the thickest areas, drilling holes and snatching weaklings along the way. It was a wonderful sight to see so much health and vitality concentrated into this small but well protected Mexican marine reserve.
Numerous times I ventured out beyond the immediate action and spotted a wall of scalloped hammerheads in the distance. Perhaps 200 hammers wove among each other as they continued their relentless circumnavigation of the pinnacle. Perhaps they were there to mate, or they could be using the cleaning stations to rid themselves of parasites, or perhaps these shy animals were simply waiting for us to vacate the area so that they could come in to feed on the smorgasbord of bonitos and other food fishes.
A few hammers peeled off from the school to have a better look at me and I followed them back to the main group. Snapping away with a super wide angle lens but I still could not get all of the sharks in my viewfinder at once.
While chasing hammers I missed an encounter that the guests had with a large oceanic mobula ray. That was a blow as I have yet to photograph that species but the hammerhead encounters were worth it 🙂
We spent our afternoon dives mostly among the bonitos watching the hunting sharks or making visits the the small ledges that are always covered in dozing whitetip reef sharks. If you spend a little time hovering near the shark ledges you start to develop a sense of their comings and goings. The whitetips don't actually rest for that long. A dozen or so crowd onto each ledge and try to relax but real estate is at a premium on this lonely pinnacle so when more sharks arrive, the ones that have been resting for a while take off and circle a few times before coming back to the ledge to dislodge another one of their brethren. It's an absorbing shark watching opportunity that can quickly burn up an entire tank of air if you're not careful.
Isla Socorro
We spent the entire day diving at Punta Tosca close to a cleaning station where we got our first serious giant manta action. There were three mantas at the surface and two of them seemed happy to swim loops around our group while we lit up the water column with a barrage of camera flashes.
The shark action was also pretty good with lots of whitetips and juvenile Galapagos sharks in attendance.
The following day we switched to Cabo Pierce. Among Socorro's many dive sites, Cabo Pierce gets the most action both from mantas and sharks. Immediately upon entering the water we were visited by a pair of mantas, one of which was completely black except for a flash of white on its belly. Clinging to rocks to secure ourselves against the tug of the currents, we watched the mantas effortlessly hover next to us us while clarion angelfish swam out from a coral head and picked parasites from the manta's back and gills.
Towards the end of the dive we spotted hammers in the distance and drifted off into the blue in the hopes of catching up with them. On the final dive of the day, some guests spotted a small tiger shark swimming past the cleaning station; a sight that has become increasing common over the last few years.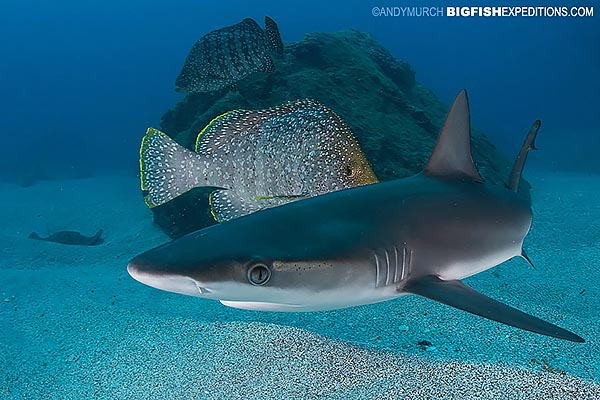 Farewell Dolphin Dive
Overnight we returned to San Benedicto for our last couple of dives before crossing back to Cabo San Lucas. The wind had picked up and caused the visibility to drop but that did not perturb a resident pod of bottlenose dolphins from coming to visit us.
The dolphins rounded out our encounter list and we sailed back to the mainland sated for another year but the urge to return to this world class destination will no doubt return long before our next trip in January 2018. Until then, we will just have to watch our videos, thumb through our manta images and dream of the volcanic grandure of the San Benedicto, Socorro and Roca Partida.
Until next time,
Andy Murch
Andy is a professional photographer, author and the founder of Big Fish Expeditions.