Socorro February 2017 in a nutshell: Great Manta action, lots of sharks, friendly dolphins and mother and calf Humpback Whales at Roca Partida!
The Revillagigedo Archipelago
The Socorro Islands are an isolated group of islands some 400km/240 mi SW of Cabo San Lucas, Mexico. The isolated nature of the islands provides a unique sanctuary for big animals. The only traffic these islands receives is from liveaboard dive boats that visit the islands from Nov.-June.
Day 1 Isla San Benedicto
Our first stop was Isla San Benedicto, a now dormant volcano. It last erupted in 1952 but the remnants of its activity still remain. The cone of the volcano creates a beautiful site as we approach. We decided to start our dives at El Canyon which had great visibility at about 75ft/25m. We started seeing sharks right away with white tip reef sharks patrolling the reef.
Not bad for a check out dive! Morays dotted the reef like bread crumbs leading to the cleaning station. The cleaning station was covered in fish, mostly creole fish but we caught our first glimpses of hammerheads. A single here, then a single there and more. We even saw a silvertip circling. Our second dive led to more hammerhead sightings with a few people in our second group getting a quick view of a small school of twenty or so. Our group waited on the cleaning station watching massive amounts of fish and white tips circled us for the entire dive. As we went up for our safety stop a manta came in for a look and swam away. I can't believe we have already seen so much on our first day. What a great way to start the trip!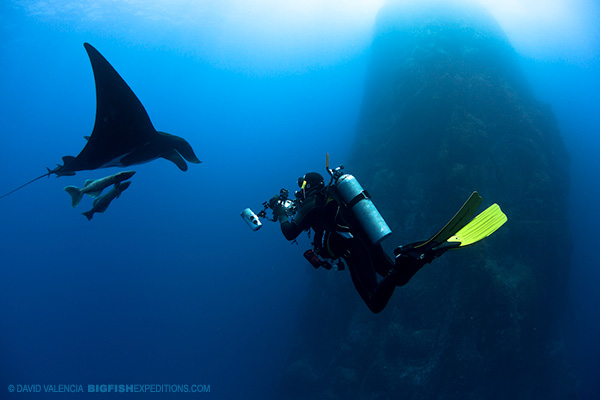 Day 2 Roca Partida!
The weather was fantastic so we traveled to Roca Partida over night. We awoke to an isolated islet covered in birds…nothing else in sight. Our first dive started immediately with a huge school of bonito churning around us like a tornado. Silkies hunted from below and around the massive school, it was impressive. It was a bit deep so we couldn't stay for too long. We also caught a glimpse of a manta but it didn't want to play. Too early in the morning for the mantas I guess.
Dive two started with us checking the ledges for white tips. There they sleep during the day waiting for nightfall when they hunt. Some of the ledges had more than 10 all cuddled together. Who ever thought of sharks as cuddlers? Not long after, a manta showed up. It was the same individual from the first dive but this time wanted to play. It swam circles around all of our divers and soaked up all our bubbles. This manta was so friendly she wanted to spend the entire dive with us. We took turns swimming underneath her and taking photos. It was so much fun to see everyone get to interact with the manta and see what manta diving in Socorro is all about.
While we were waiting for tanks to be filled, we watched a baby humpback start breaching around the boat and in front of the rock. So I told everyone to get ready for some whale snorkeling. We prepped and headed out on the pangas. The baby was pretty energetic so our first few attempts were useless. After a time the baby slowed down and they started resting. This is the behavior we were looking for. As we jumped in the baby was below the momma some 15m/45ft. just resting. But the baby doesn't stay down for long and comes up to the snorkelers, takes a couple of passes and goes back down to momma. When momma is ready to breath, usually around 15 min, the pair will move a ways away and settle back down. As they come up for the breath is when we got to see just how big momma was , she was gigantic at 45ft/15m long more or less…HUGE, especially when she's right next to us. Then they moved maybe 200yds/200m to the next resting spot and so the session went. It was fantastic. Everyone got a close look and for many their first time seeing a whale underwater. ☺ A special birthday present for one of the Big Fish Expeditioners, Carlo, who came all the way from Puerto Rico. A birthday to remember.
Dives three and four treated us to more friendly mantas with the occasional Galapagos and silvertip. Of course whitetips were still prevalent and we even spotted some monster yellowfin tuna, one of my personal favs.
Day 3 More Action at the Rock
Our first day at Roca was so good we stayed another day. Our dives were filled with sharks and mantas: White tips, Galapagos, Silvertips, even some silkies. But the highlight was the mantas. On the third dive we had two mantas swimming around our divers for the duration of the dive. The mantas went from diver to diver and as we went up to do our safety stop they followed us up. While we were in the boat we could see their shadows on the surface expecting us to jump back in. They will have to wait till next dive.
Day 4 Isla Socorro
The sunrises here are incredible. They all seem bright and full of color and so clear. We traveled at night to Socorro and awoke to a beautiful bright sunrise. We are anchored in this protected bay near our dive site, Cabo Pearce. Upon entering the water for dive one you notice the uniqueness of the structure of the reef. It's a finger of jagged lava leading away from the island, which can leave us exposed to the strong currents. For dive one we explored the many cracks and crevices to find octopus, scorpionfish, Green Morays, and whitetip reef sharks. We spotted one manta but it didn't stick around. Our next dive we ventured a little further on the reef, even with the strong current. Lots of life on the reef but no mantas. Finally we saw a manta far out from our starting point, but the current was strong. So it was hello and goodbye as we drifted away from the reef to do our safety stop. However, the manta followed us and as we floated there in the blue, he circled us again and again. Our third dive here had strong current as well. We were limited to certain parts of the reef because it was ripping so a few of us drifted off the reef and the mantas showed up….two during our prolonged safety stop. That was all we wanted and we all agreed next time we will all start our safety stop 5 minutes into the dive. For our final dive here we wanted to dive a different part and hide from the current so we dove on the inside of the wall. We were treated to baby Galapagos, baby silvertips, large diamond rays, and one group even caught a glimpse of a tiger shark. It was a good option and we all enjoyed the change in scenery and the amount of sharks.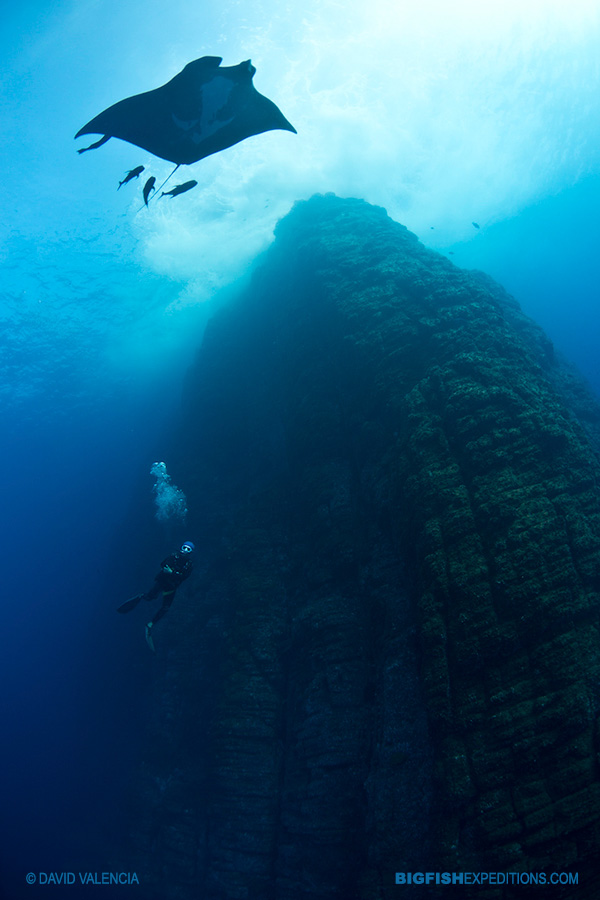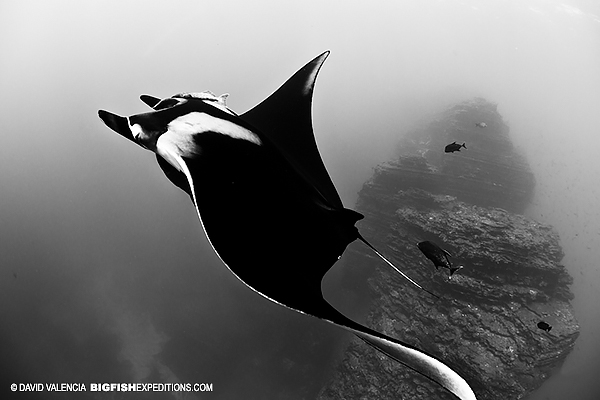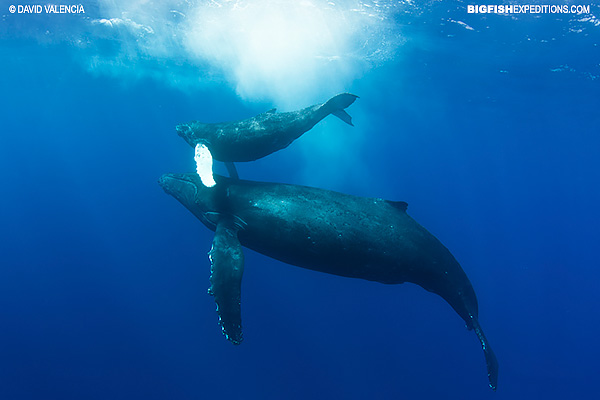 Day 5 The Boiler
Back to San Benedicto, we were hoping for good conditions and we got them. Nice and flat on the water and decent visibility – it looked like 75ft/25m or so. Our plan was to spend all day at the Boiler- named for the boil the water makes as the pinnacle almost breaks the surface. It also known for the cleaning station that mantas frequent. Our first dive started with dolphins on the surface surrounding the dive site, so we were all excited. We entered the water searching for the dolphins, but we didn't here any of their characteristic chirps and clicks. We circled the pinnacle surveying all sides and then I spotted shadows in the blue. As I kicked out I could see 15 or so in a tight school, but they were on a mission and it didn't look like they were going to come in close. So I turned everybody back to the white tips, green morays, and lobsters that make the boiler their home. Not long after a friendly manta showed up. It was a giant, looking to be almost 20ft/6.5m. For the remaining three dives at the boiler we had mantas on every dive cruising around the divers and visiting the cleaning station. This is exactly what makes the boiler, the boiler—the mantas!
Day 6 Last Splash at El Canyon
Our first two dives were so memorable at the Canyon from the first day, we tried our luck again. Mostly we were hoping for hammerheads. We did a total of four dives and on each dive we had hammerheads. Sometimes singles here and there but in the blue we kept seeing schools. Everybody was seeing them this time. It was exciting. You had to keep high alert watching in every direction because we were seeing hammerheads above us, below, behind it was a lot of fun. We were also seeing a few mantas, but not like the boiler where they were playing. We saw a few Galapagos and silvertips and during one of the dives we found a green sea turtle, which is rare for us on this particular dive site. On the final dive I had separated a bit from the group wanting to stay on the cleaning station and as I started to kick back to the group, I saw a large tiger shark swim from the periphery to the reef. Once he saw that I noticed him he slowly started to fin away. I was hoping to get closer for a photo, but I just enjoyed being in the presence of such a big fish. As I finished the dive arriving to the rest of the group they were beaming as a manta had followed them for the last 15 min of the dive as if to thank them for visiting. That's what makes Socorro so great, all the close interactions with Big Animals. Thanks to our Big Fish Expedition crew: Bob, Richard, Emilie, Vincent, Glenn, Elaine, Juan, Carlo, and adopted big fish crew Mel and Danny. What a fantastic trip with great company. Until Next time …
David Valencia
David Valencia is a professional photographer, travel writer and trip leader for Big Fish Expeditions.