Big Fish Expeditions Blog
It's been an amazing year; from enormous whale shark aggregations in Isla Mujeres to epic giant manta encounters in Isla Socorro. Then, after all the guest trips were over, I snuck in an Elasmodiver Expedition to Central Chile to photograph even more sharks 🙂
Chile may not be a shark diving mecca but I was after a rarely photographed little catshark that lives in Central Chile's shallow bays and wraps its eggs around stunted kelp trees. I'm happy to say that it was a successful trip. Follow this link for more Redspotted Catshark Info.
LOOKING AHEAD TO 2013
Next year is shaping up to be the biggest year so far for shark trips. Unofficially, the shark season kicks off at Socorro Island during our Manta Trip. I expect that we'll bump into at least 3 species of sharks at Socorro but the first dedicated shark expedition will be at Tiger Beach in April. Shark magnet and award winning film maker Joe Romeiro will be joining me on the boat; adding some extra magic to the shark encounters. We'll be visiting all the best spots like Tiger Beach, Fish Tales and other sharky reefs and probably exploring some new ones. Grab the last spot if you'd like to join us: Tiger Beach Expedition or join our second Tiger Beach trip next October.
OCEANICS
After one day back in Florida, BFE's final oceanic whitetip expedition starts in Cat Island, Bahamas. This year's oceanic expedition was outstanding with more oceanics than anyone expected plus some silky sharks mixed in just for fun. We also pioneered some unique split frame photo ops with the resident nurse sharks right in the marina.
With so many new adventures on the books, this will be our last chance to dive Cat Island for a while (sad but true) so join me if you can: Oceanic Odyssey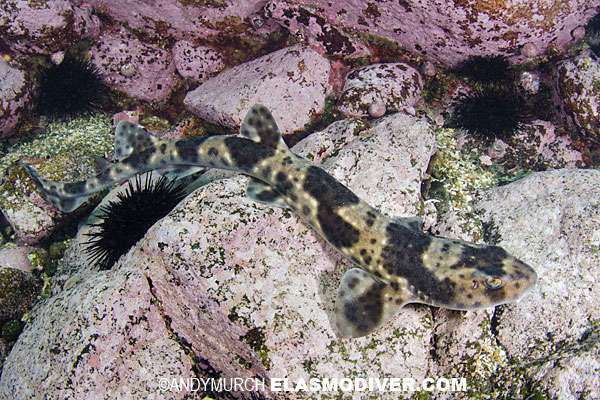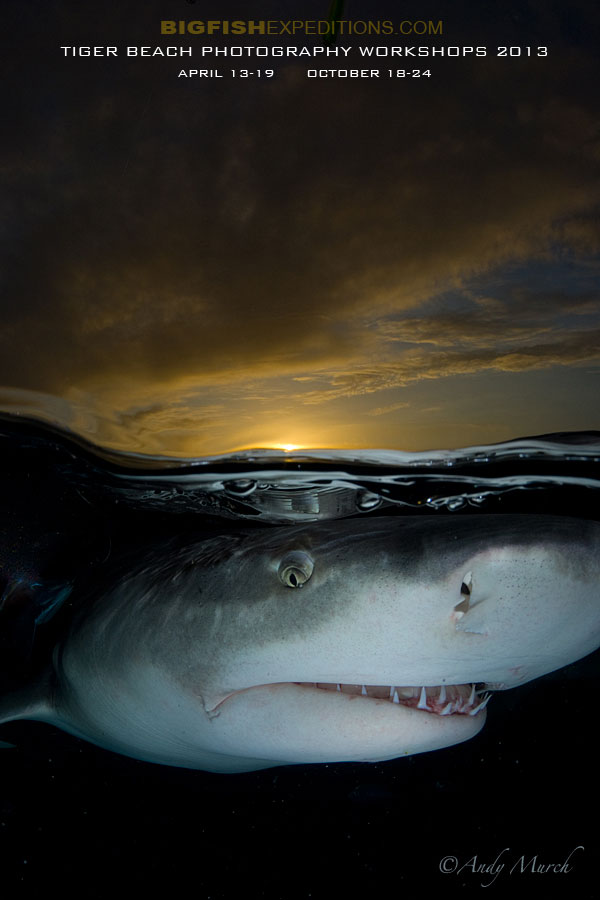 SOUTH AFRICA
Then, Big Fish Expeditions heads to South Africa for a sold out Shark Safari of epic proportions. 14 species in 11 days. Now that's an expedition!
BASKING SHARKS
Two weeks later, we will be in bonnie Scotland chasing basking sharks. We have an amazing week planned in the Inner Hebredes swimming with giant sharks and diving with grey seals. Incidentally, if you've already signed up for this one, I'm staying for an extra day at the end of the trip to visit a puffin colony. Contact me if you want to tag along: Basking Shark Expedition
Here is a beautiful video shot by Simon Spear in the area that we're heading to:
WHALE SHARKS
I'd like to stay longer in Scotland and shoot some little British catsharks but the Whale Sharks will be congregating in Mexico. Next year's Isla Mujeres whale shark boats are almost full. If you want to swim next to the biggest fishes in the sea, this is your chance. Don a mask and fins and jump into an encounter that you'll never forget: Whale Shark Encounter.
RHODE ISLAND BLUES, MAKOS AND SPINIES
Then in August, a well established shark encounter with an interesting new twist! Big Fish is running a mako and blue shark trip with Joe Romeiro in Rhode Island. That alone would be a great adventure but on our third and final day we're planning to tie up to one of New England's fish filled wrecks and lay down a chum slick for smoothhounds and spiny dogfish sharks. Spear-fishermen regularly complain about being harassed by dogfish on their wreck dives so imagine what will happen when we bring a little shark attractant of our own 🙂 Join the trip and find out what happens: Rhode Island Shark Safari
THRESHER SHARKS
And finally, next December I'm putting together a thresher shark trip. I've wanted to photograph threshers for a very long time but I've been put off by the no-flash photography rules and dwindling encounters at Malapascua in the Philippines.
Fortunately, there is a new hotspot for thresher sharks. After fairly consistent reports of sightings at 'Brothers Reef' in the Red Sea I have decided that it is worth an exploratory liveaboard trip. I don't have a page on BigFishExpeditions.com for this trip yet but I can tell you that we'll be heading there next December and its a surprisingly affordable place to dive. Email me if you'd like more info: info@bigfishexpeditions.com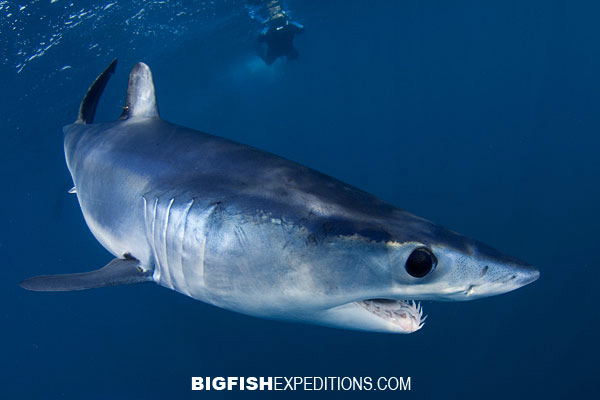 2014 WHALES
In Jan 2014 I have an already sold out Blue Whale Expedition to Sri Lanka. If that sounds like a dream trip, well… it probably will be. If you'd like to be put on the waiting list please let me know.
And, I have one cancellation on the Jan 2014 Killer Whale trip to Norway. Let me know if you're coming!
2015….
I know it's a long way off but this is a big ticket trip. Join me in February 2015 for leopard seals in Antarctica!
Don't let your gills dry out over Christmas!
See you down there,
Andy Murch