A Big Fish Expeditions Trip Report
Great Hammerheads 2019 in a Nutshell
Of course, our Bimini Great Hammerhead trip was a success as always. This year we had encounters with great hammerheads all week long plus nurse sharks, bull sharks, blacknose sharks, Caribbean Reef Sharks and Southern Stingrays.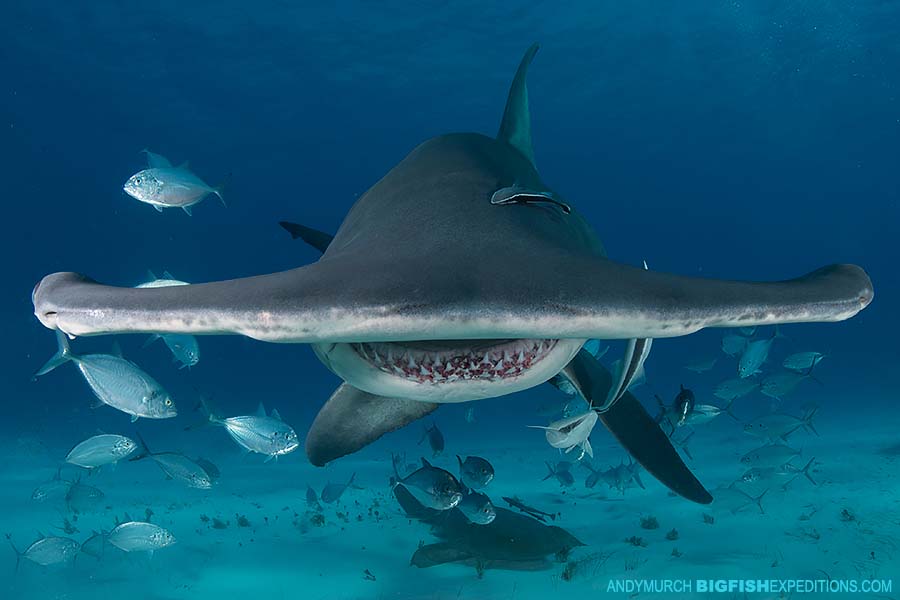 Great Hammerheads
Even though there was a full moon during our trip, there wasn't much current on our great hammerhead spot this year so the number of hammers that we encountered was slightly less that previous years but there were still plenty to go around. I think on our best day we 6 or 7 so it was still a great trip.
The hammers were huge and hungry. It always amazes me how much these enormous animals can eat. Although we spent all day with them on the first couple of days, they never tired of snacking on the bait that we offered them. Consequently, we had endless world-class photo ops.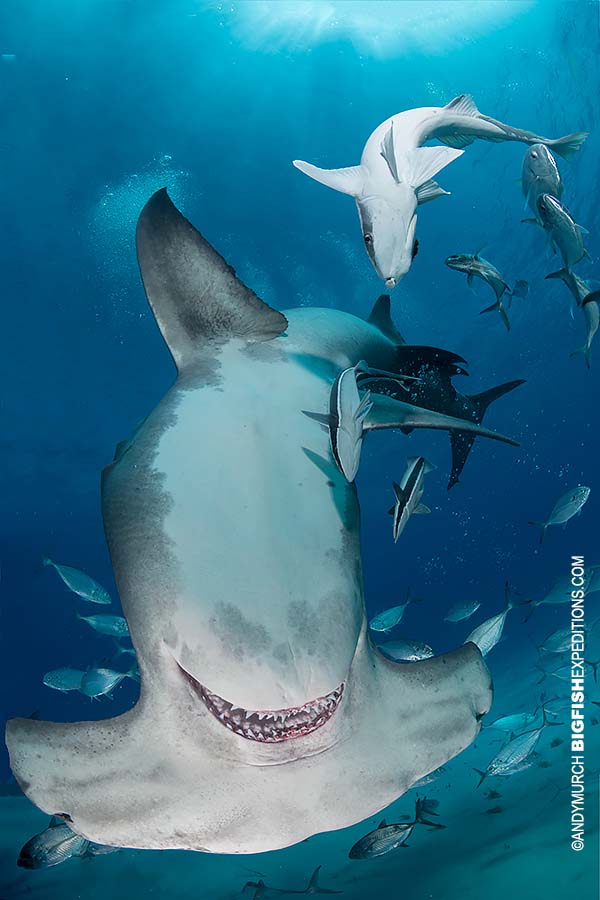 Bull Sharks at Big Game Club
We saw bull sharks everyday at our Great Hammerhead dive site but we never feed them around the hammers because it makes them too aggressive. Back at Big Game Club it was another story. We have a cage in the marina where guests of the hotel can jump in with bull sharks for a small fee (free for our group). But rather than get in the cage, I set up a feed next to the dock so that the photographers in the group could sit on the dock and try their luck at split shots. Over unders are challenging shots to pull off but after some perseverance, most shooters went home with some respectable images.
Splits are my favorite type of photography so I have had a lot of practice. Consequently, I managed to snap some fun images of the bulls lunging for the bait just below the surface.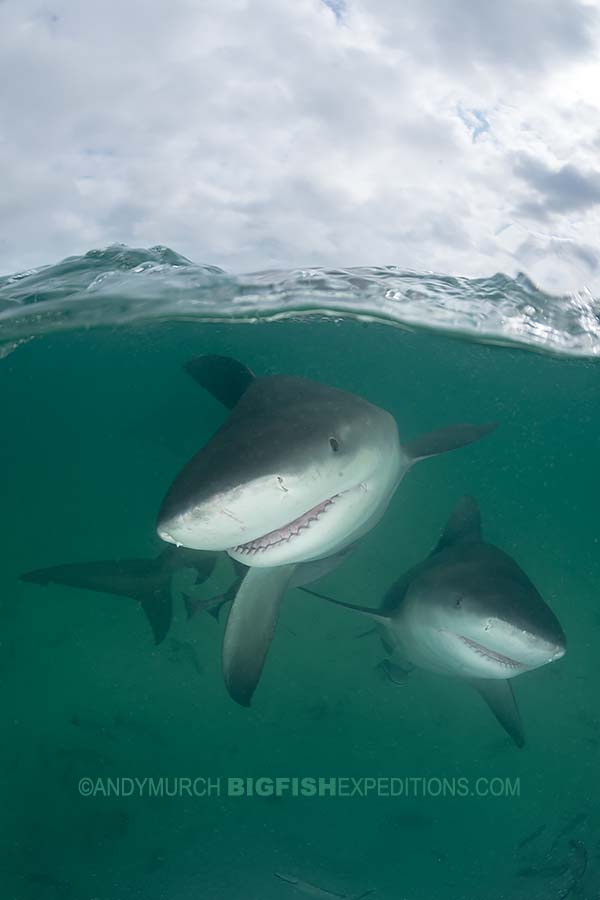 Nurse Sharks
Largely overlooked because there are so many on the hammerhead dives, I wanted to get some interesting nurse shark shots that were different from the ones I've taken on previous years. Initially, I tried to see how many I could fit in one frame. I counted 18 nurse sharks at one point but they were too spread out to fit in an image. The picture here was from the back of the boat while we were waiting for the sun to set so that we could do a night dive with the hammerheads.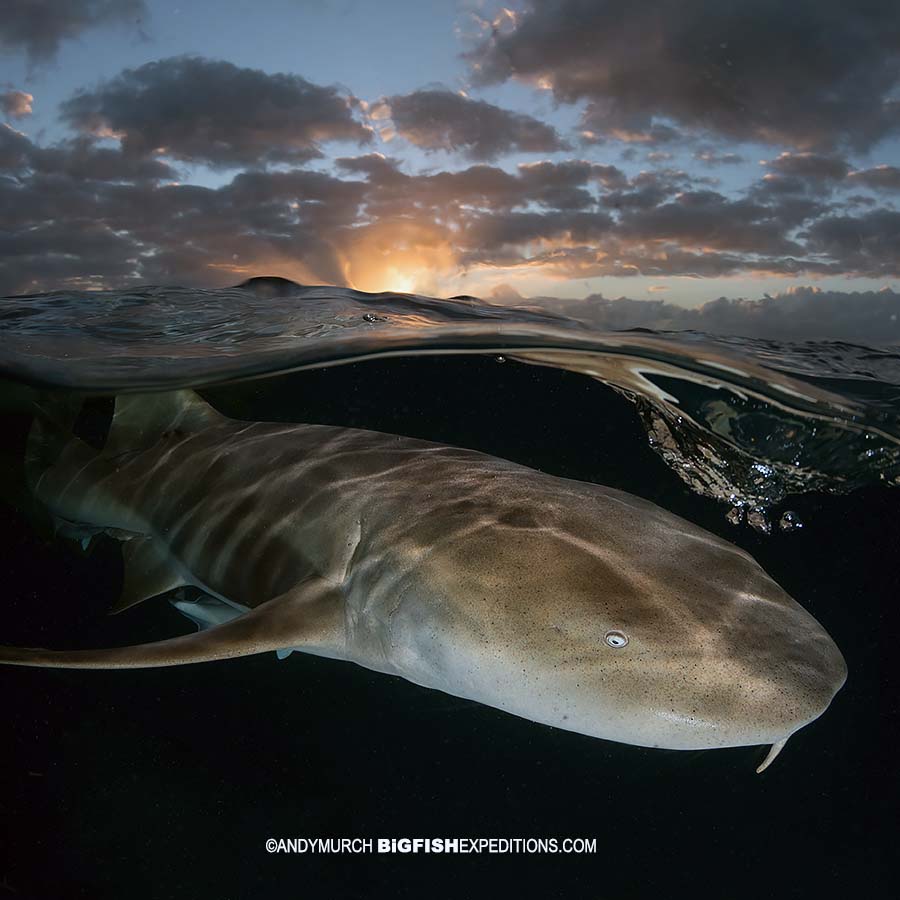 Caribbean Reef Sharks
On our third afternoon of hammers, some green water drifted over our great hammerhead diving spot, so we decided to pull anchor and head to Triangle Rocks; a great place to find Caribbean Reef Sharks and Blacknose Sharks.
The reefies were exactly where we expected them to be. We stayed with them until it was completely dark so that we could watch them disappear into the night.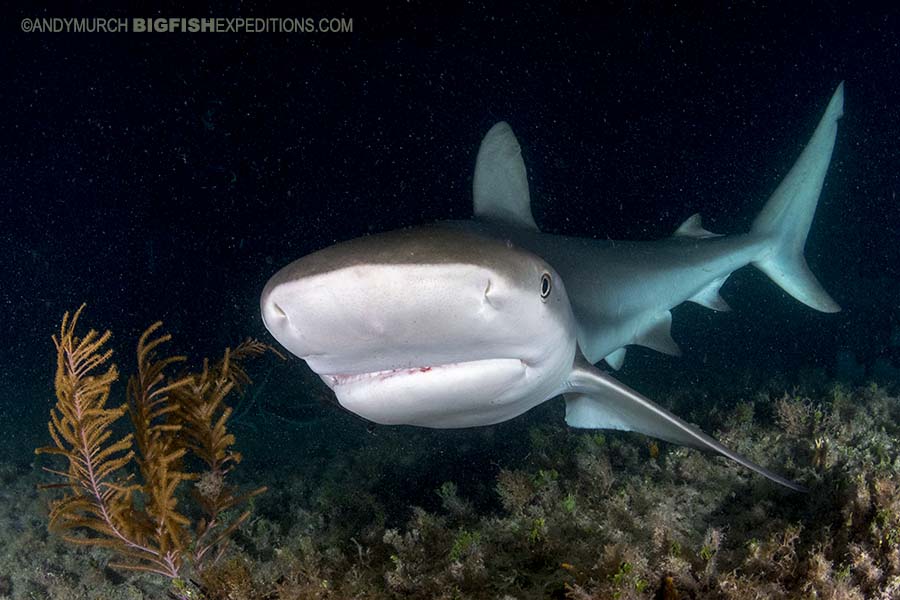 Blacknose Sharks
Blacknose Sharks are tiny reef sharks that are usually very secretive but we see quite a few of them at Triangle Rocks. At most places in the Caribbean, they are virtually unknown. This is partly becauise they have a small range but also because they quite shy and unlikely to approach divers unless there is a little fishy smell in the water. And of course, we always carry some tasty treats to bring them close enough for images.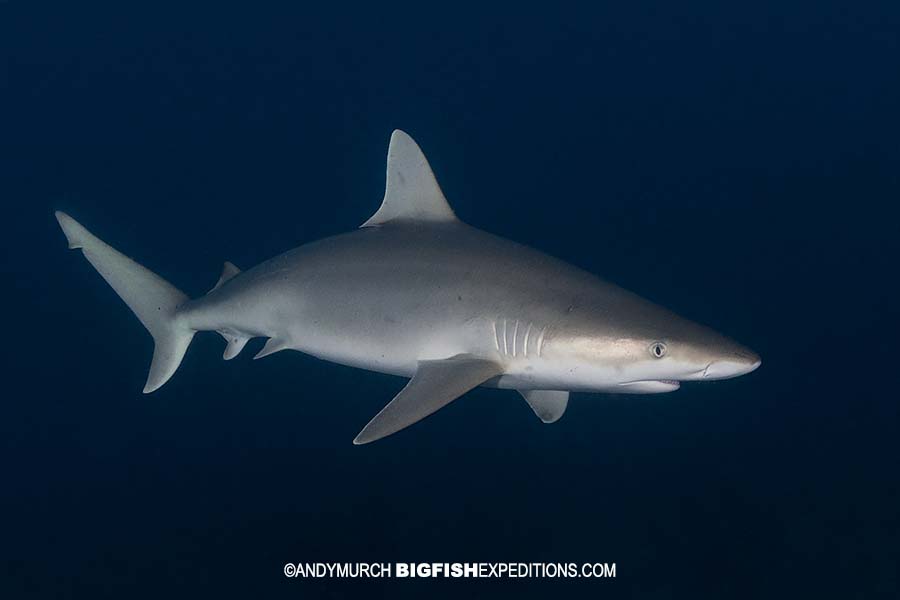 Southern Stingrays at Gun Cay
On our last day, we did a hammer dive and then ran up to Gun Cay to play with the southern stingrays. In contrast to our hammerhead spot, there was a ripping current around the little island so it was a challenge to stay put even while wearing lots of extra weight. Once I made it into the shallows, I was able to stand my ground and enjoyed a nice long photoshoot with scores of hungry, playful stingrays. As usual, I was keen to get some split shots with the island in the background. After more failed attempts than I care to admit, I finally nailed some great over/unders of the rays approaching me from the beach 🙂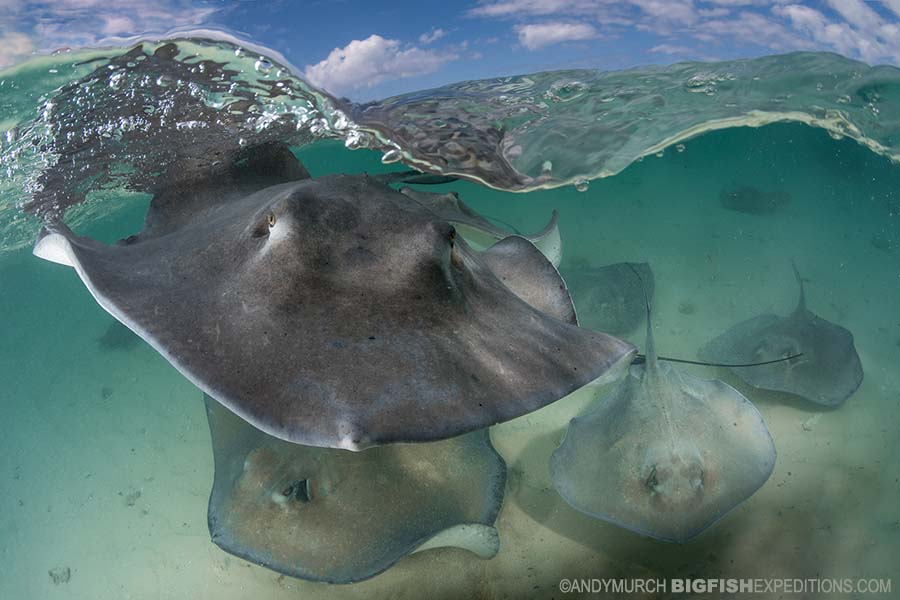 Come Great Hammerhead Diving with us next February!
I really enjoy this trip and so do our guests. So I am happy to say that we're running another great hammerhead shark safari in February 2020. This is an excellent trip for big animal photographers and for shark fans that want to see 5 or 6 iconic shark species crammed into one excellent week of shark diving. If you haven't been to Bimini yet (or even if you have) join us next year for our 2020 Great Hammerhead Expedition to Bimini.