We have just wrapped up another fantastic week photographing majestic Polar Bears on the Canadian tundra. In late October and early November, hundreds of polar bears gravitate to an area east of the town of Churchill in the remote subarctic. Once there, the bears wait for the ocean to freeze, so that they can begin their winter hunt for bearded and ringed seals.
From our base in Churchill, we spent 6 days driving along the shoreline of Hudson Bay, exiting our 4WD vehicles regularly to enjoy fabulous ground-level encounters with the world's largest land predators.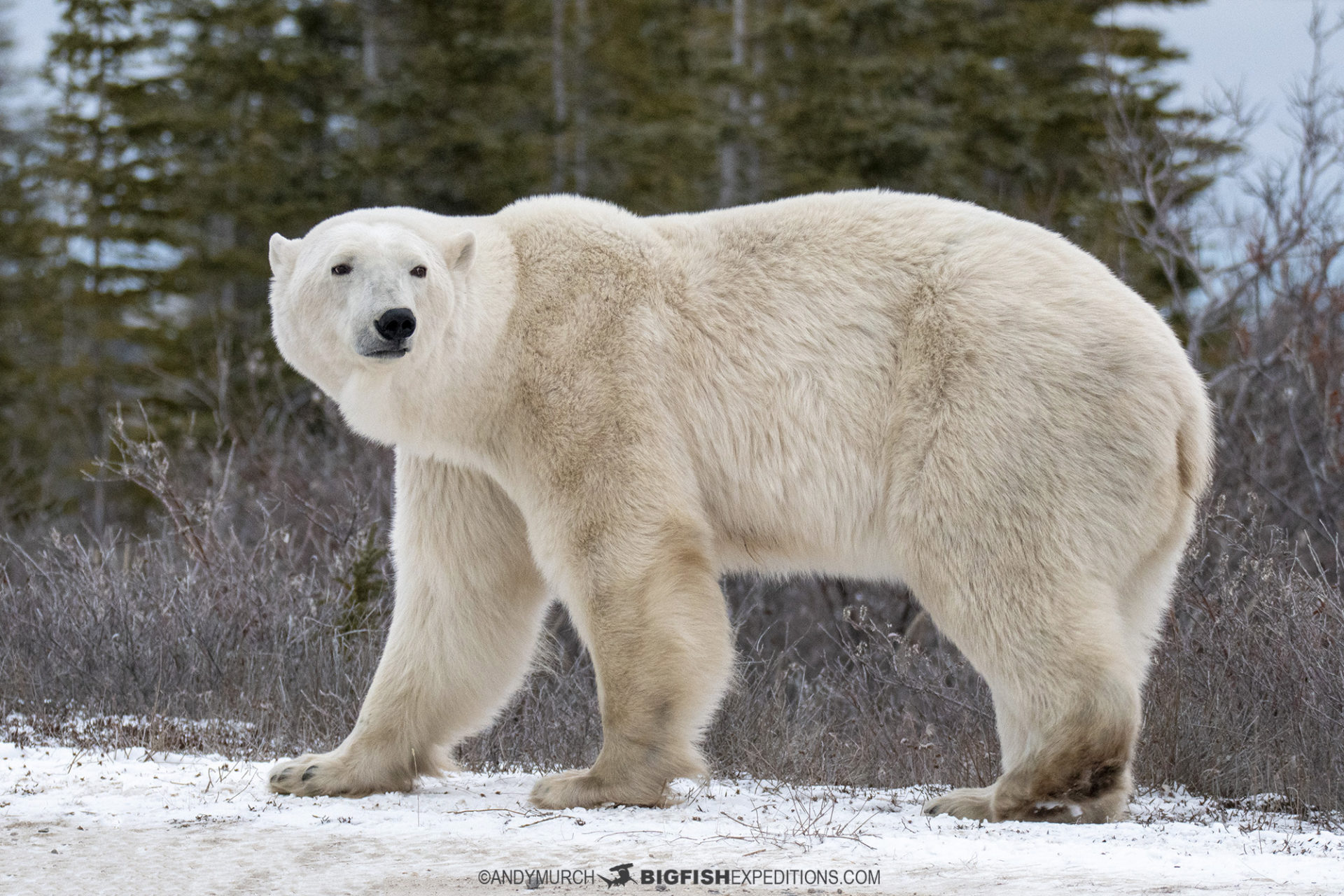 This year, the weather was surprisingly mild which meant that sometimes we photographed bears on snow, and sometimes we were able to capture images of them in beautiful rocky tundra landscapes.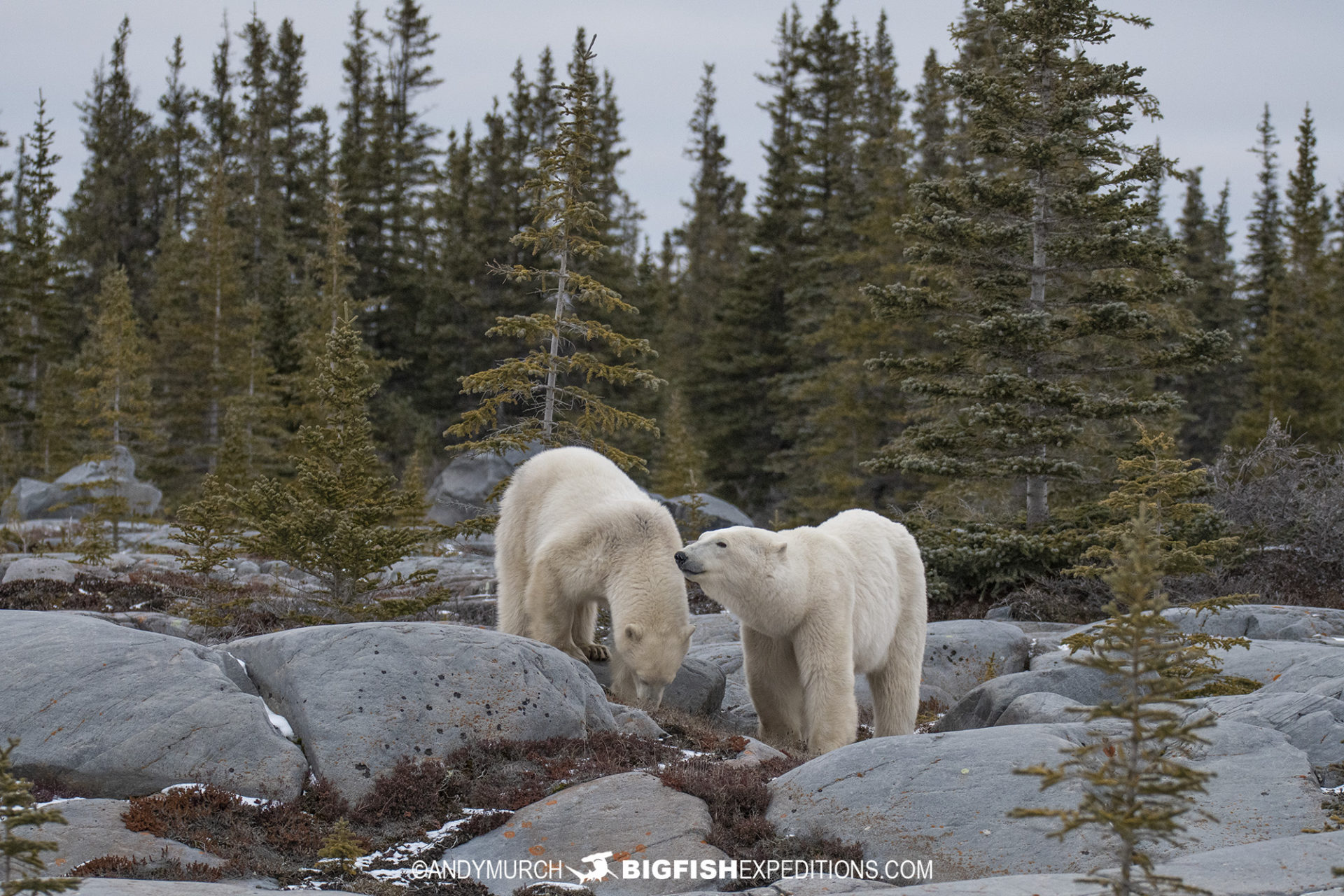 Many of the encounters lasted for hours at a time, affording us unique glimpses into bear behaviour. One of the most endearing scenes was of a 2yr old cub that began nursing from his mother directly in front of us.
The duo had been foraging in the intertidal zone for some time, when the mother started raking the frosty crust from a ridge of kelp that had washed in on the tide. Once she had excavated a comfy spot, she sat back on her haunches. While her precious cub consumed a meal of much needed, protein rich milk, she kept a wary eye on on her surroundings; far more fearful of attracting the attention of a passing male polar bear than that of our small group of photographers.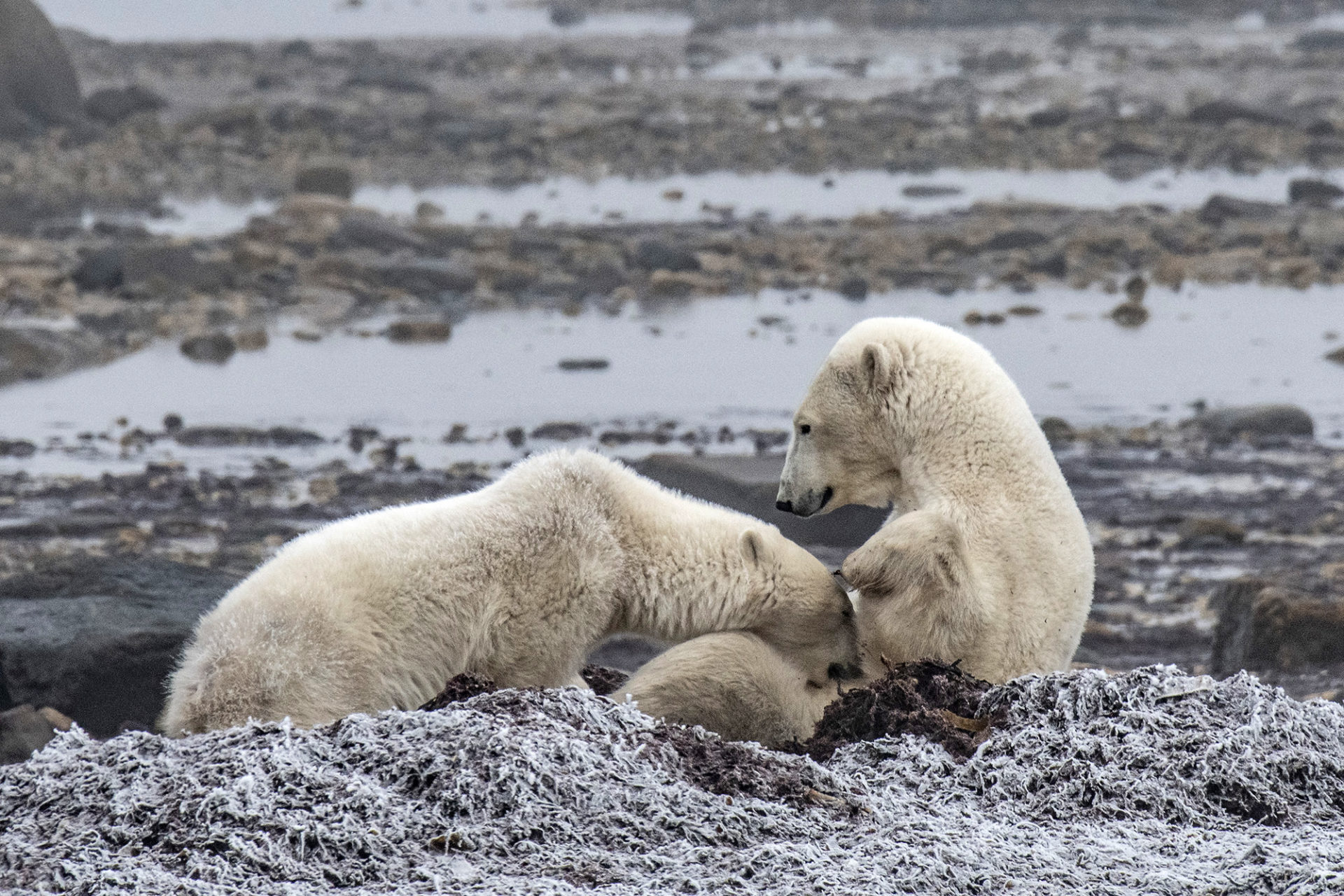 Every day of the expedition was special in its own way. On our third day, as well as seeing numerous polar bears, we came across a gorgeous arctic fox curled up on a rock against a striking backdrop of dark granite.
The fox remained quite relaxed, so we were able to enjoy it from about 10m away. For the better part of an hour, we gazed upon its ghostly form, as it rose, stretched, explored the vicinity, climbed back on its rock, and went right back to sleep; a wonderful encounter with a magical arctic apparition.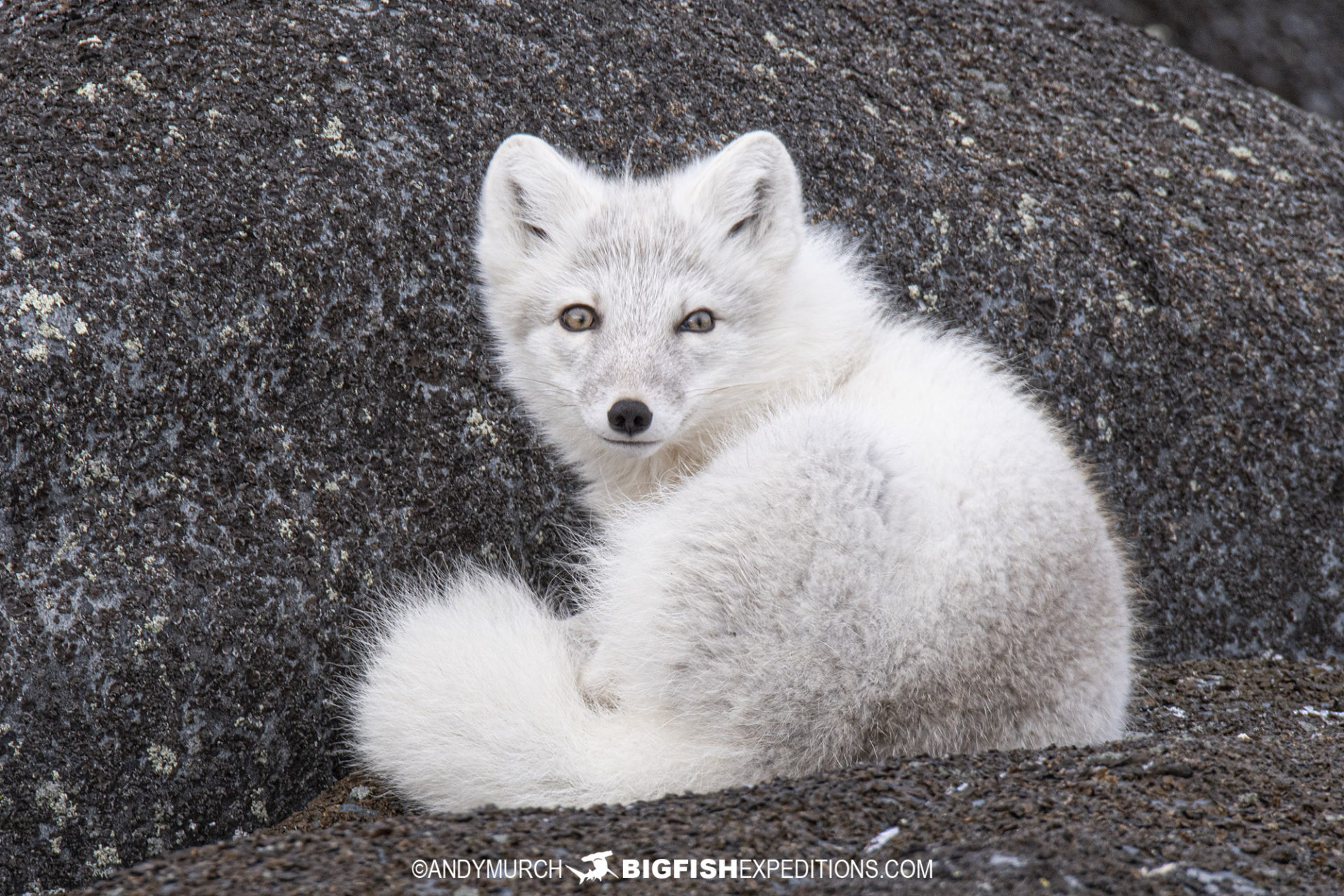 A decade or two ago, arctic foxes were relatively abundant, but in recent years, sightings have dwindled. As global temperatures creep higher, red foxes are encroaching from the south, displacing, and in some cases predating on their smaller arctic cousins.
Although I have mixed emotions about seeing red foxes on the tundra, their beauty is undeniable, so I was happy that during the week we had some nice encounters with red foxes too.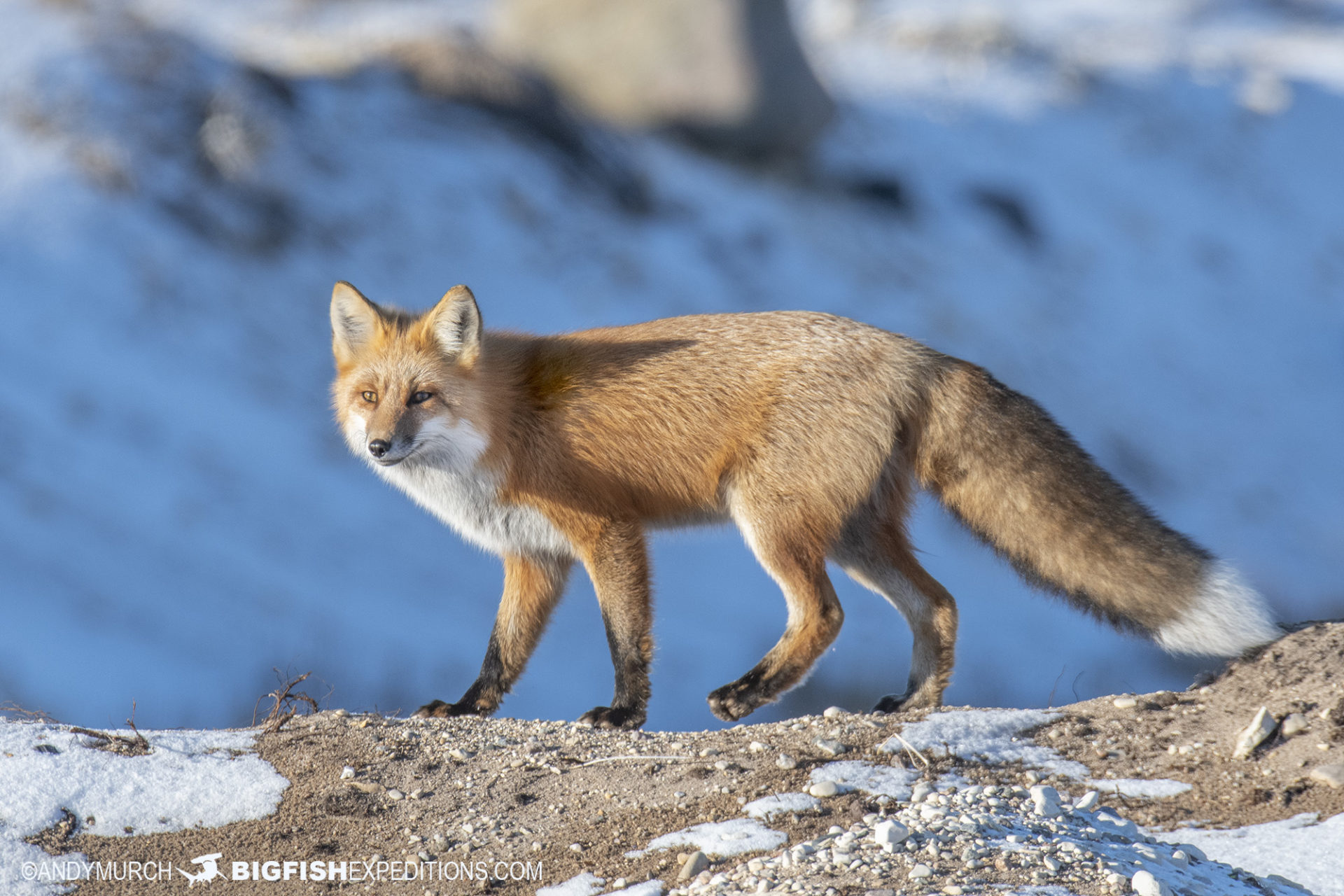 The tundra is also home to a handful of smaller arctic animals, including arctic hares. Further north, they remain white year round but the hare population around Churchill moults in the spring; an adaptation that protects them from foxes and numerous birds of prey that migrate to the area during the summer.
This particular arctic hare was sheltering under the canopy of a large spruce tree. Known for their boldness, this one held its ground even though we could practically have reached out and touched it.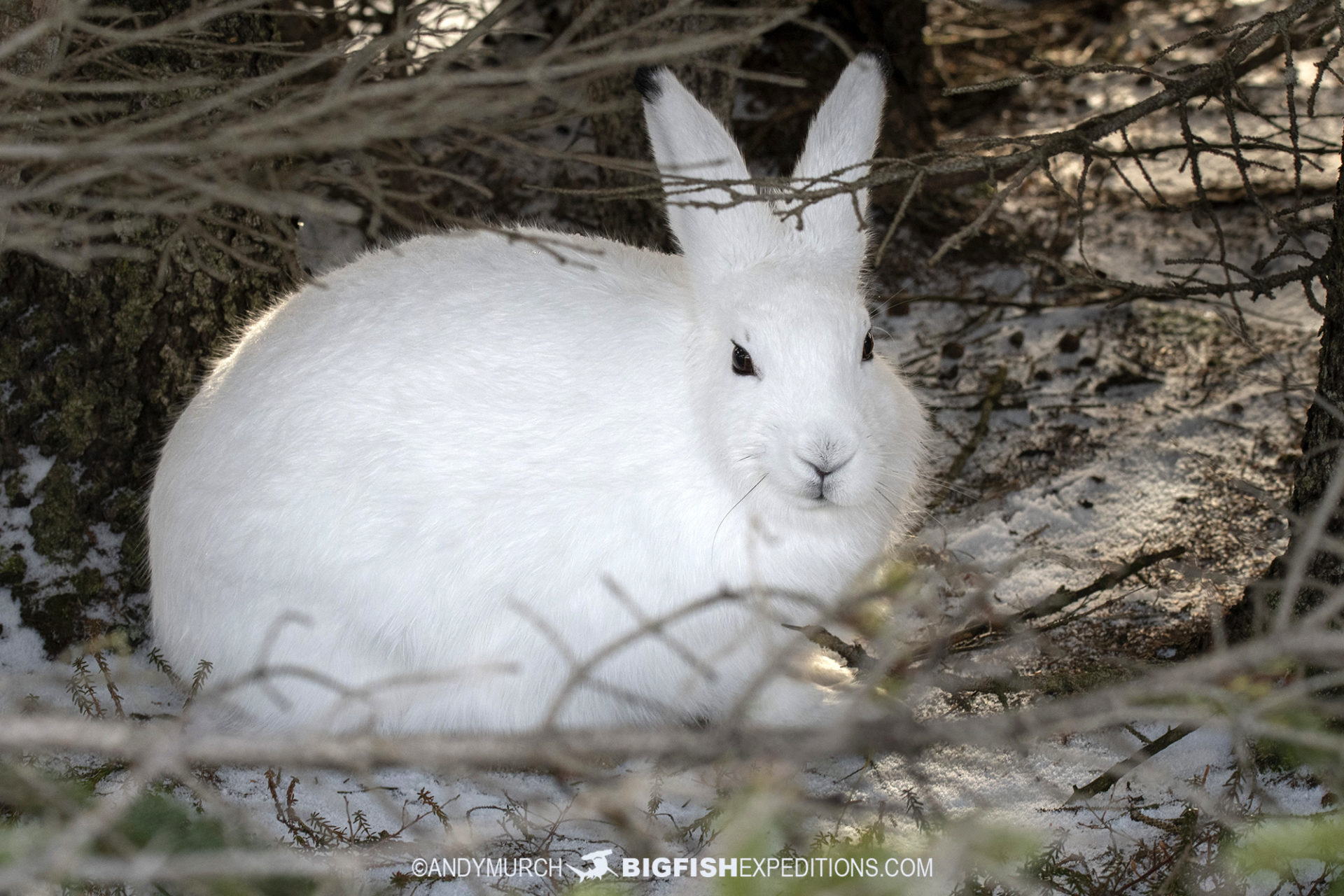 The following day we stumbled upon a large male not far from the edge of town. Soon after, we saw a mother and cub relaxing on a rocky ledge among stunted spruce trees, but our most productive encounters were with a solitary male that we followed for some time along the coast.
One of the main reasons we travel in a small 4WD van (instead of a huge, slow moving tundra vehicle) is maneuverability. Whenever the bear wandered into tall grass or climbed over a high ridge, we were able to jump in the van and zip to the next location where the bear was likely to appear again. This led to many excellent photographic opportunities that we would otherwise have missed.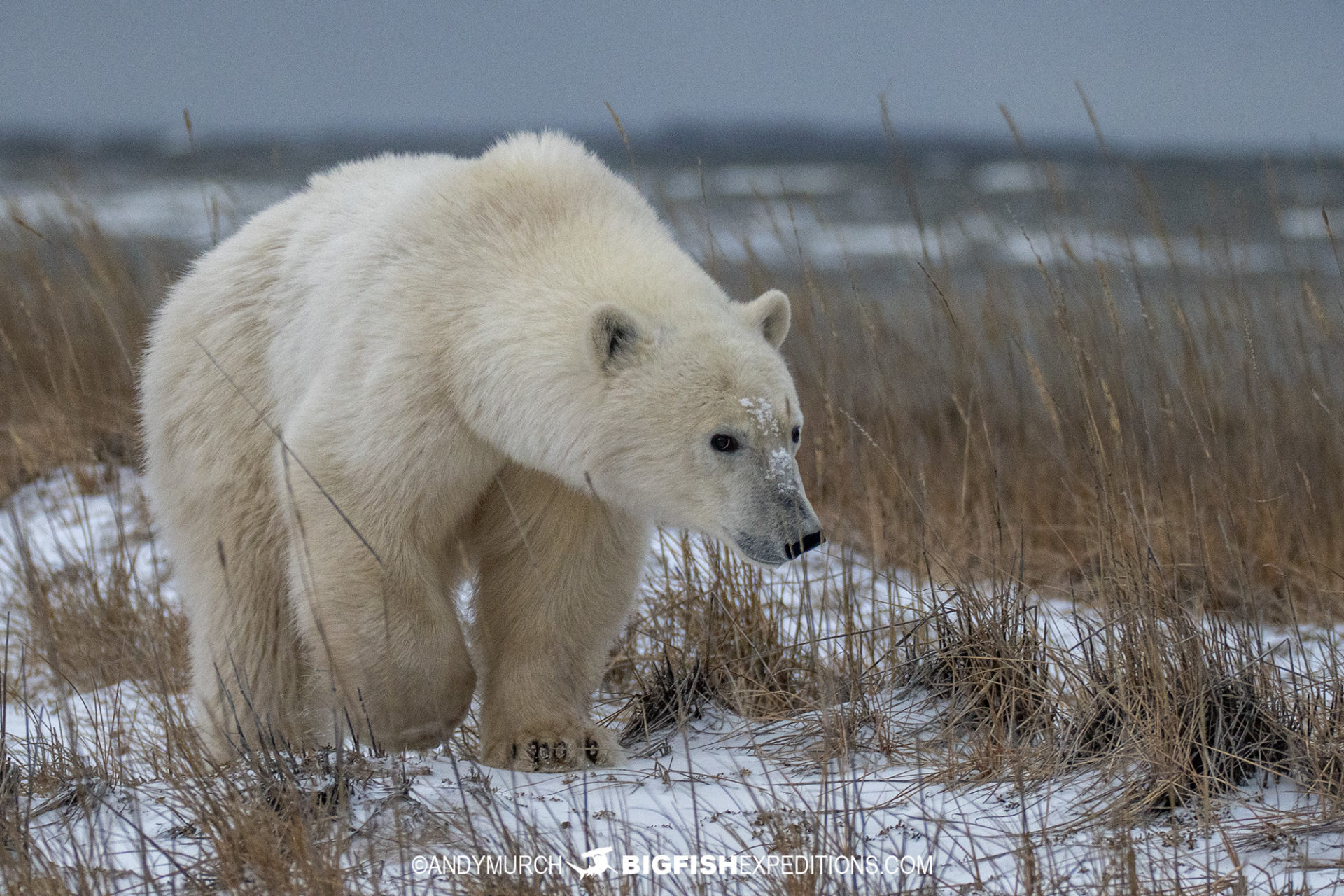 That evening the sun threatened to pierce the grey veil that shrouds the tundra at this time of year.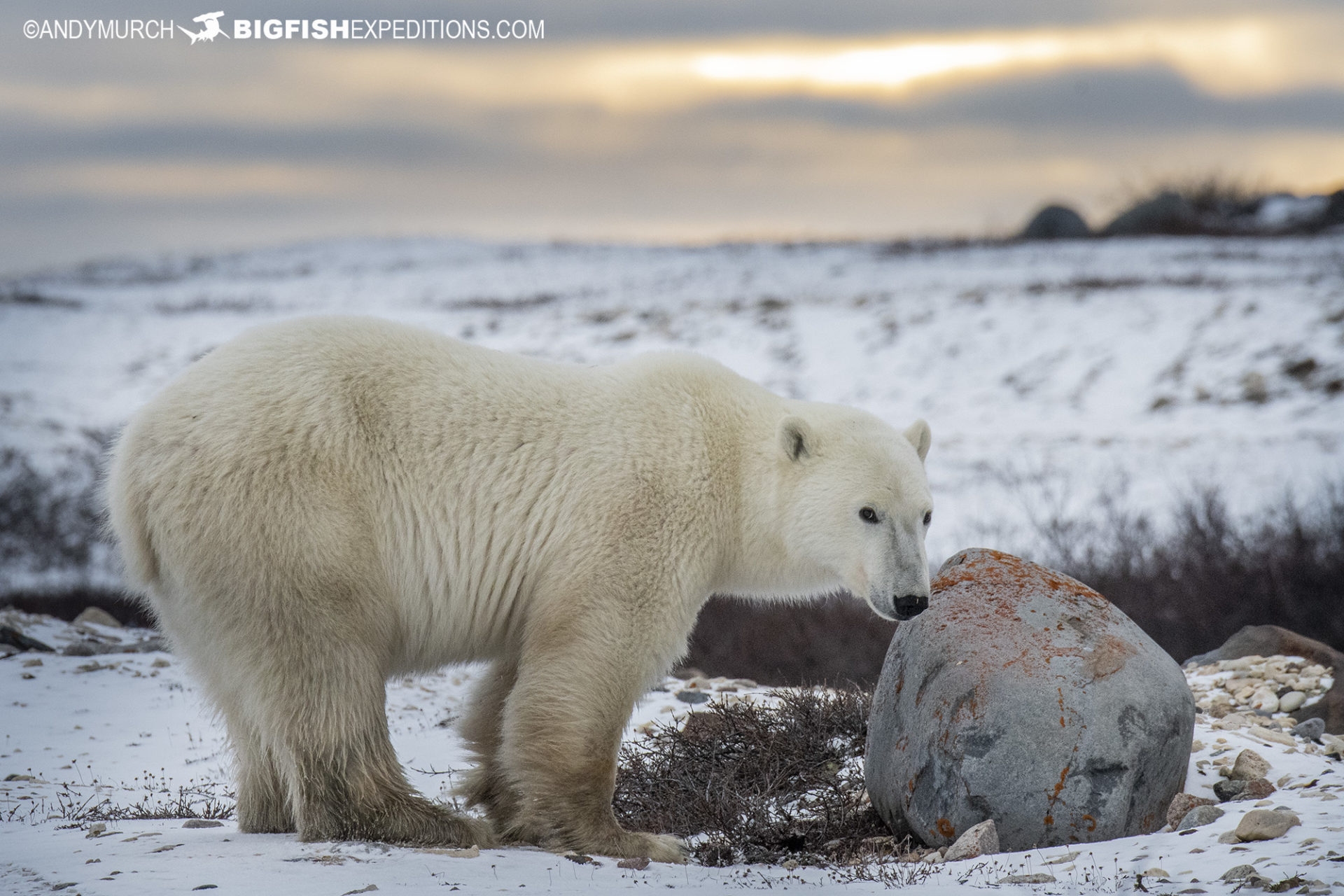 The next day (our fifth day on the tundra) brought bright blue skies and sunshine that quickly melted the thin covering of snow that had accumulated over the previous few days. Watching a mother and cub forage in the intertidal zone reminded me of our warm summer beluga photography trips, during which, we often encounter bears foraging for tern eggs or swimming in the bay to stay cool. But of course, the temperature in early November remained close to freezing.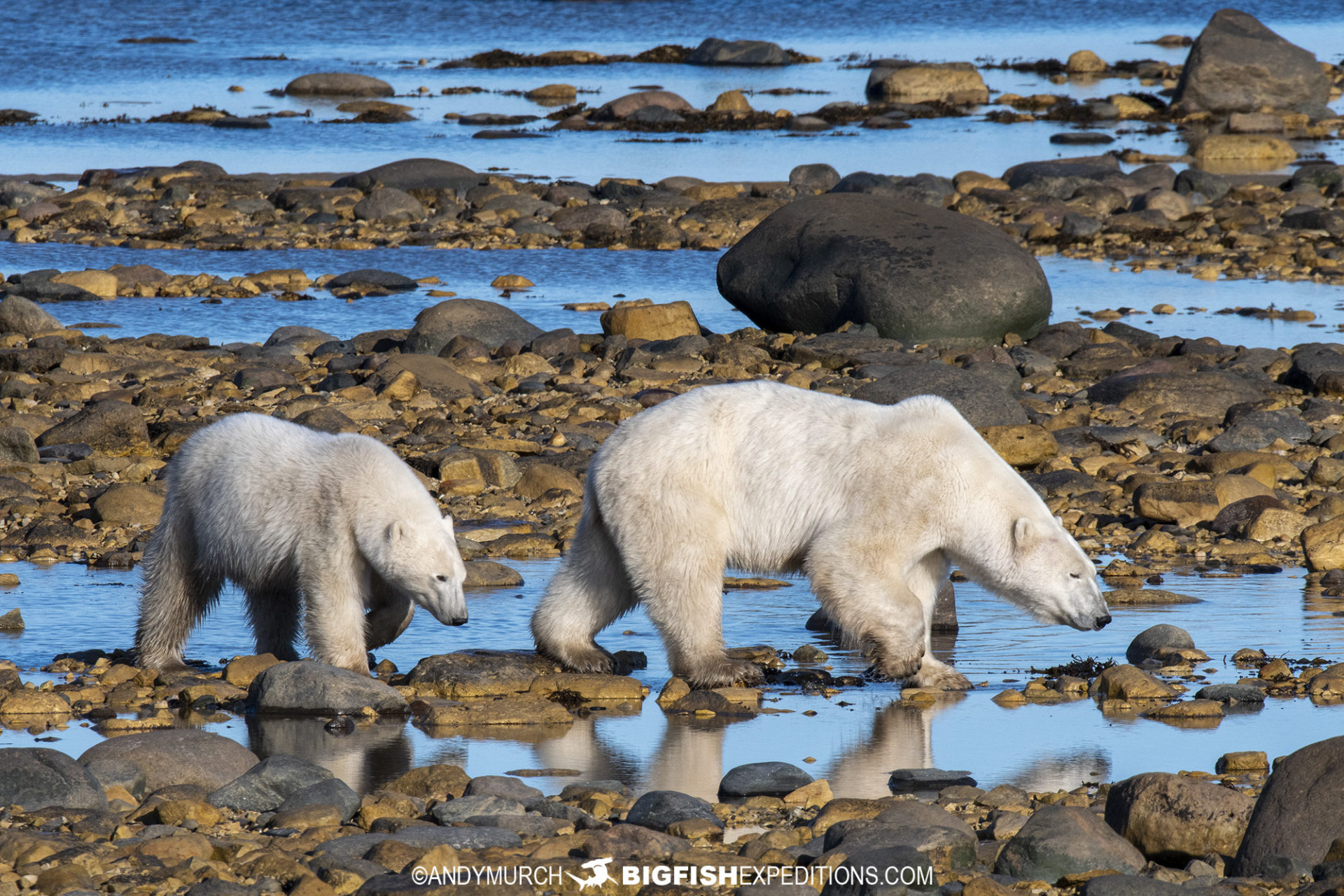 The weather remained excellent, so we decided to drive deep into the Wildlife Management Area; a remote region that most guiding companies are not permitted to explore.
The boulder strewn trails in this part of the tundra are so wild that many of them are virtually impassable.
Avoiding massive rocks and fording rivers of indeterminate depth, we arrived at a beautiful stretch of virgin tundra and spent our time watching a distant polar bear wandering along a line of willows, and generally enjoying the desolate beauty of the great white north.
That evening there was a MASSIVE solar storm. Auroras are not uncommon around Churchill, but this particular aurora was very, very special. The geomagnetic activity was so intense that stargazers as far south as Pennsylvania were able to see it. Up in Churchill, it was mind-blowing. According to the news reports, it was the largest burst of solar radiation in a decade. And we were there.
The fact that we had unseasonably clear skies that night, was as shocking as the lights themselves. So after a quick 'how to shoot auroras' to get everyone prepped for the event, we drove out to Miss Piggy; a freight plane that crashed on the tundra in 1979, and set up our cameras for the light show.
Over the next few hours, the northern lights danced and spiralled across the heavens in shades of green and red. Accompanied by two armed guides who remained vigilant for bears, we moved around the area painting the landscape with light,  or simply stared at the sky in awe.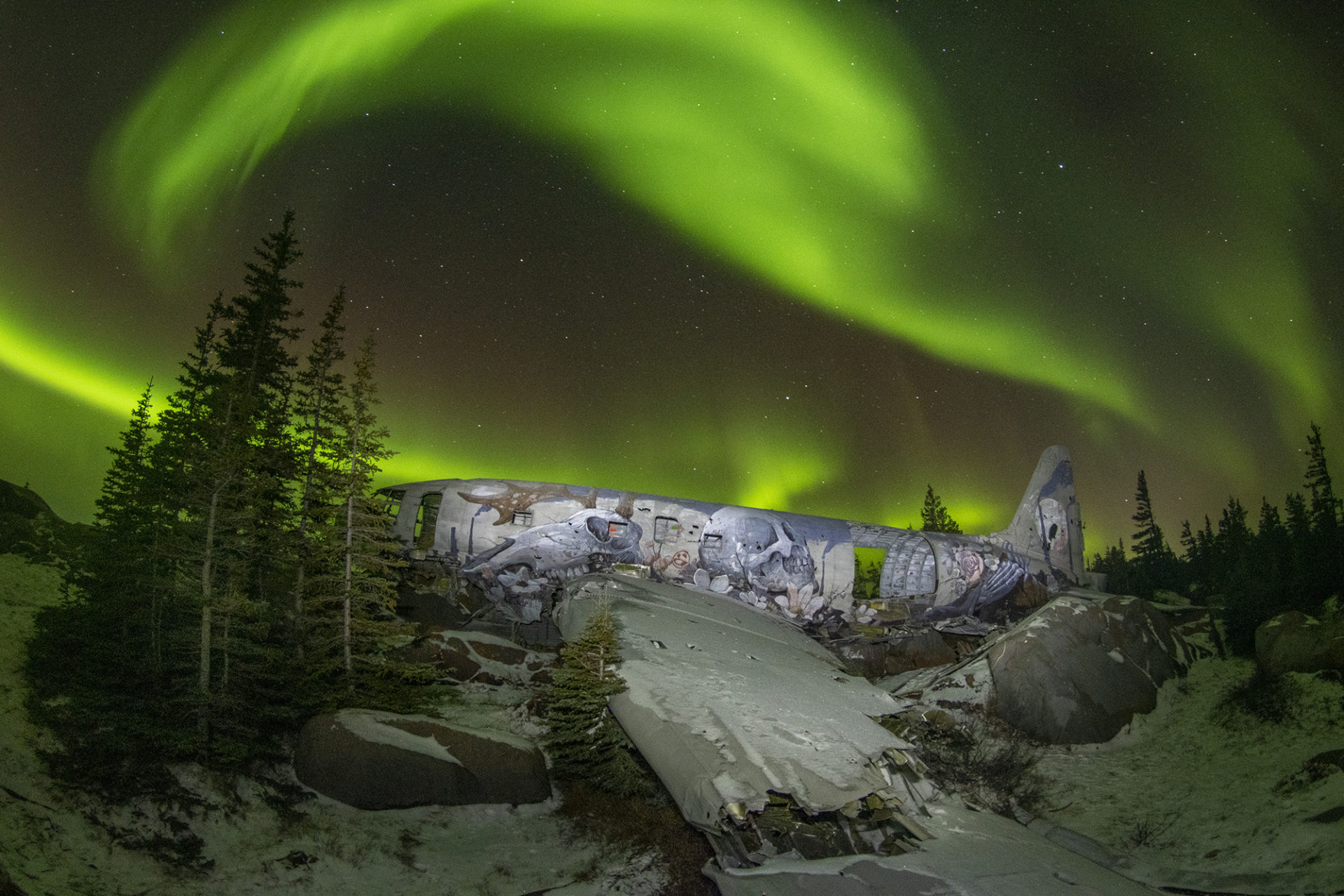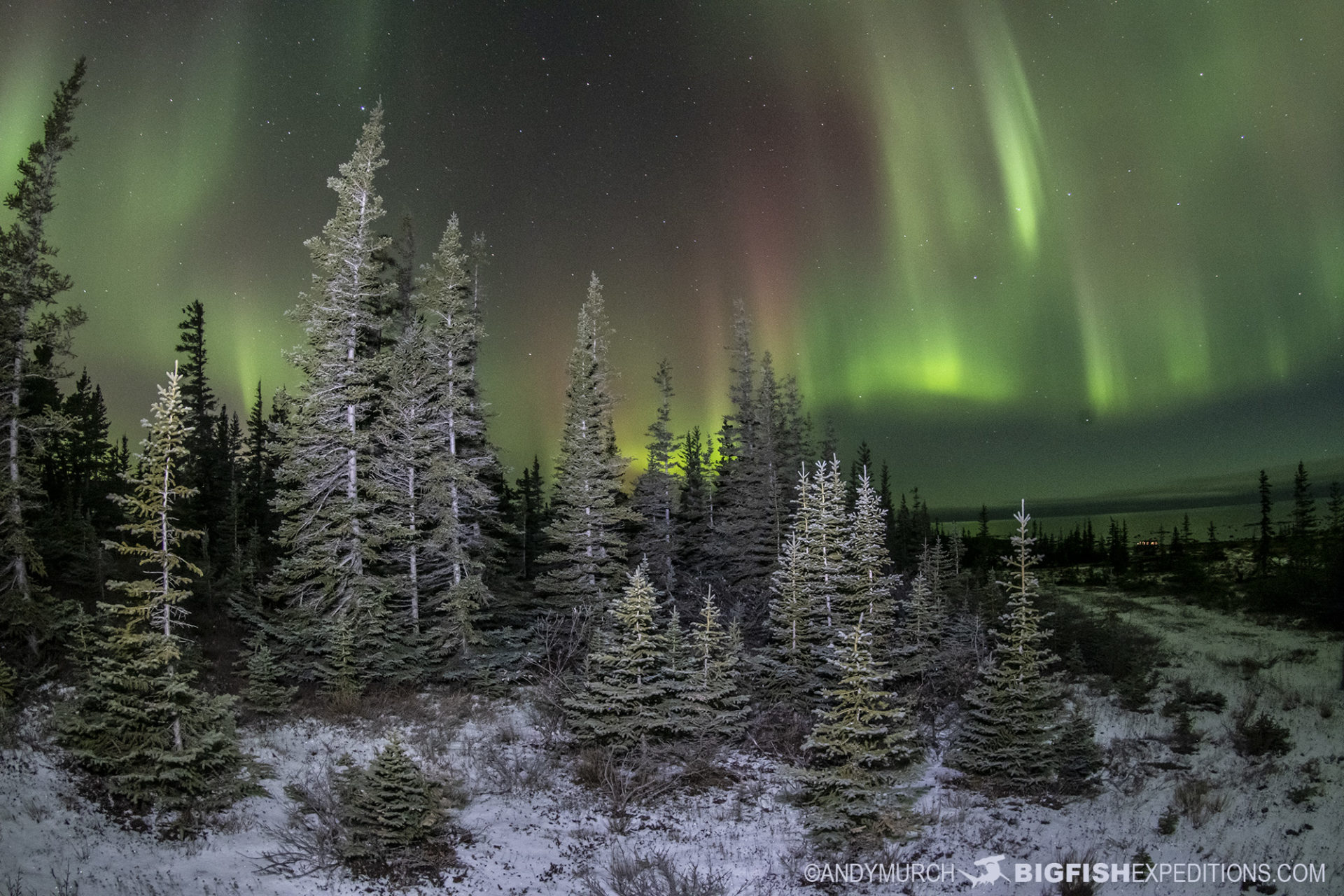 During the night, the temperature plummeted back into the minuses and the world turned white again.
We spent the next morning watching a mother and cub clambering over rocks, and foraging on the hight tide line. Every now and then, mom would look out to sea, perhaps wondering how many more days it would take for the ocean to freeze solid enough for her to move north to their winter hunting grounds.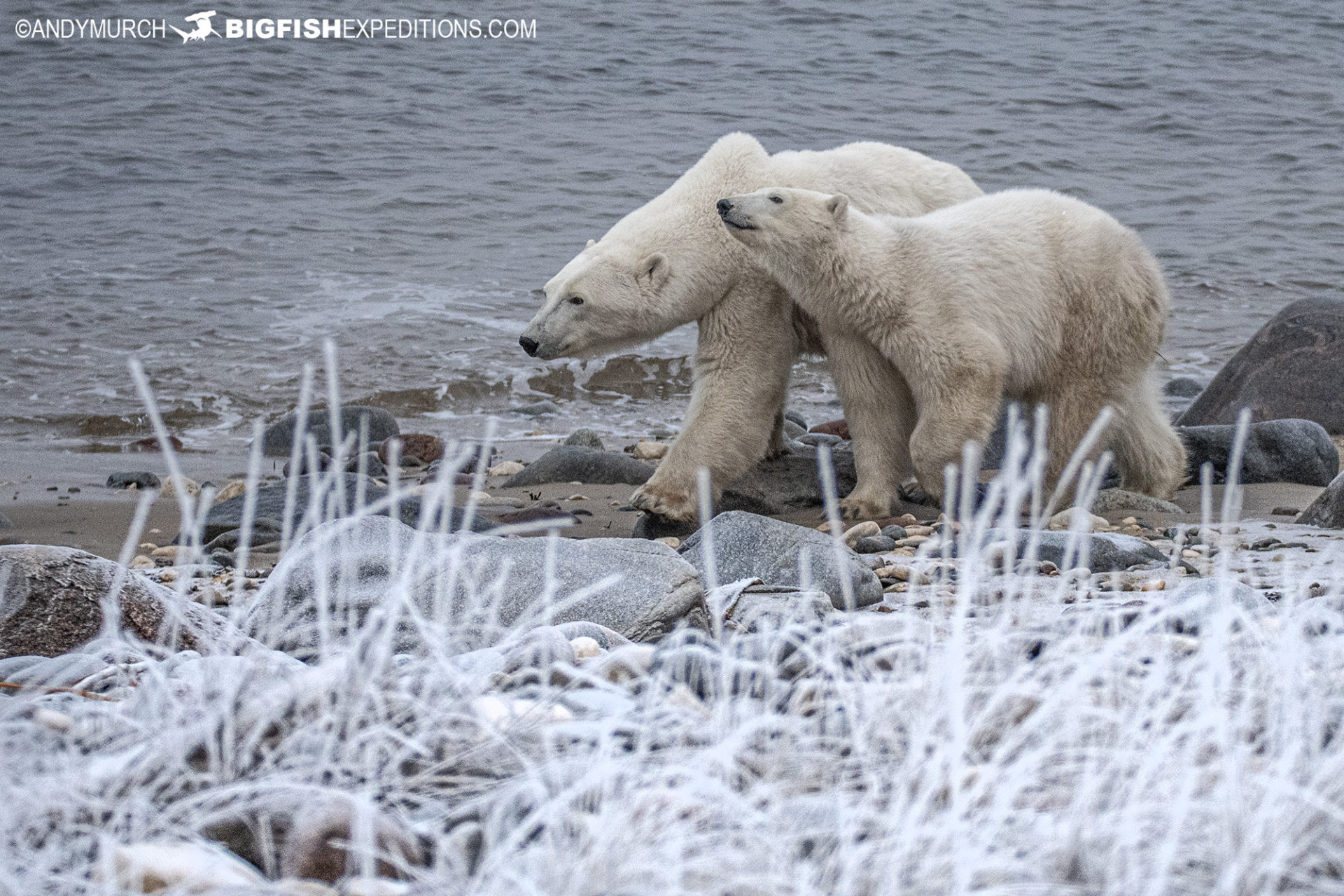 In the afternoon we followed another big male until we lost him in thick fog that descended over the bay. Later we learned that he was spotted by a film crew with a seal carcass in his jaws; an impressive testament to his prowess as a hunter.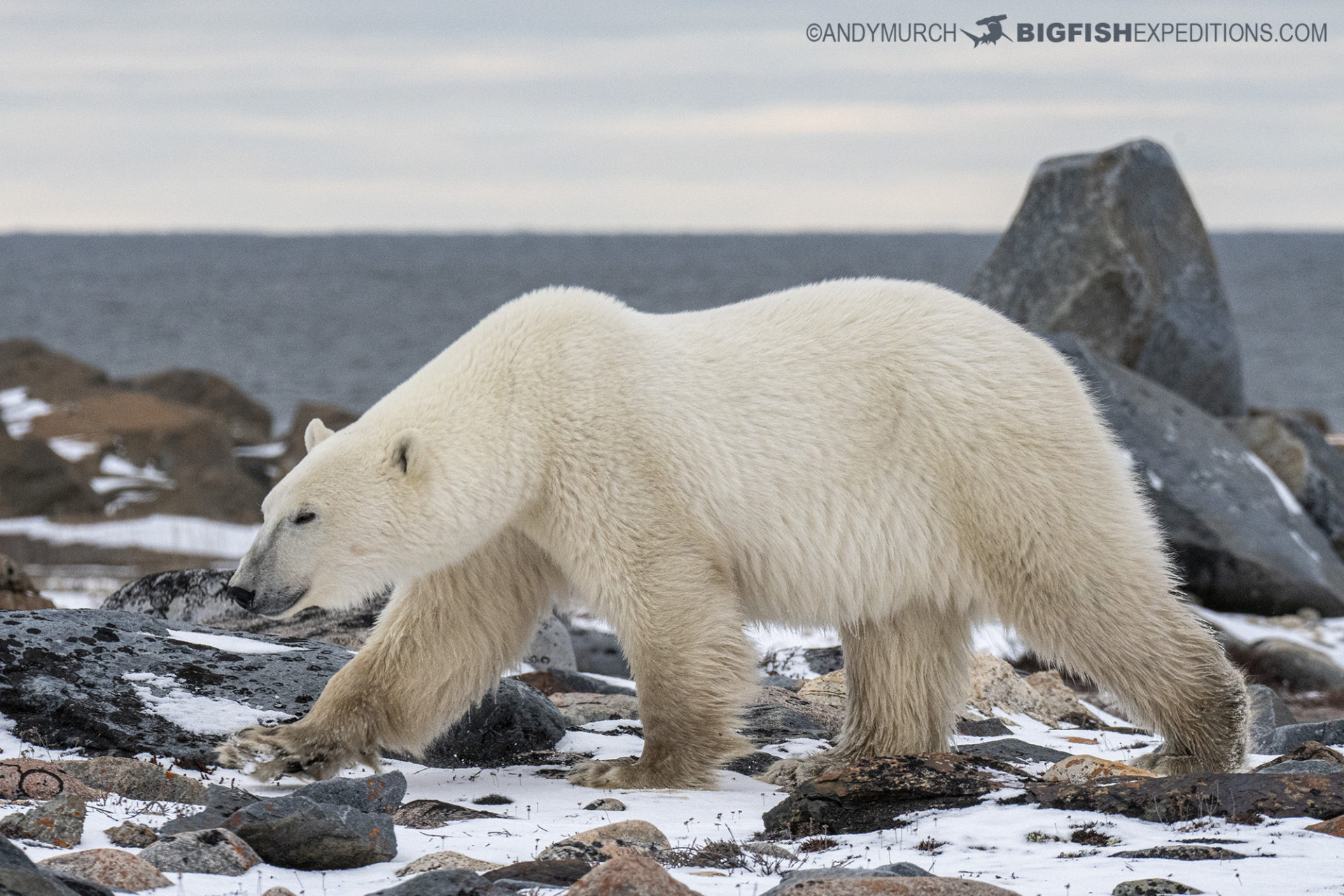 As the sun set on our sixth and final day with polar bears, I stowed my long lens and tried to capture the subtle shades of golden light and sheer vastness of the tundra landscape, but images can only convey so much. To really appreciate this special place, I invite you to join me next year for six days with polar polar bears on the 2022 Great Canadian Polar Bear Migration.