Wild Patagonia
Patagonia has a well-deserved reputation as being one of the few, truly-wild places left on Earth, and this year's Southern Right Whale Expedition lived up to that moniker, with both unexpected wildlife encounters and weather. We schedule our whale trips for August, as it is the best time for Right Whale encounters, but also because August is statistically the driest month of the year, averaging less than 10mm of rain. Unfortunately for us the peninsula seemingly received its entire monthly allotment of rain on the day before our arrival.
As the first day was weathered-out, we traveled to the nearby town of Puerto Madryn to photograph the pink flamingos which had recently been spotted along the city's waterfront. Typically these birds would be found further from civilization, but this year they decided to come closer to the hustle-and-bustle of Puerto Madryn.
Text and all images are from our 2023 Southern Right Whale Trip by Trip Leader Julian Gunther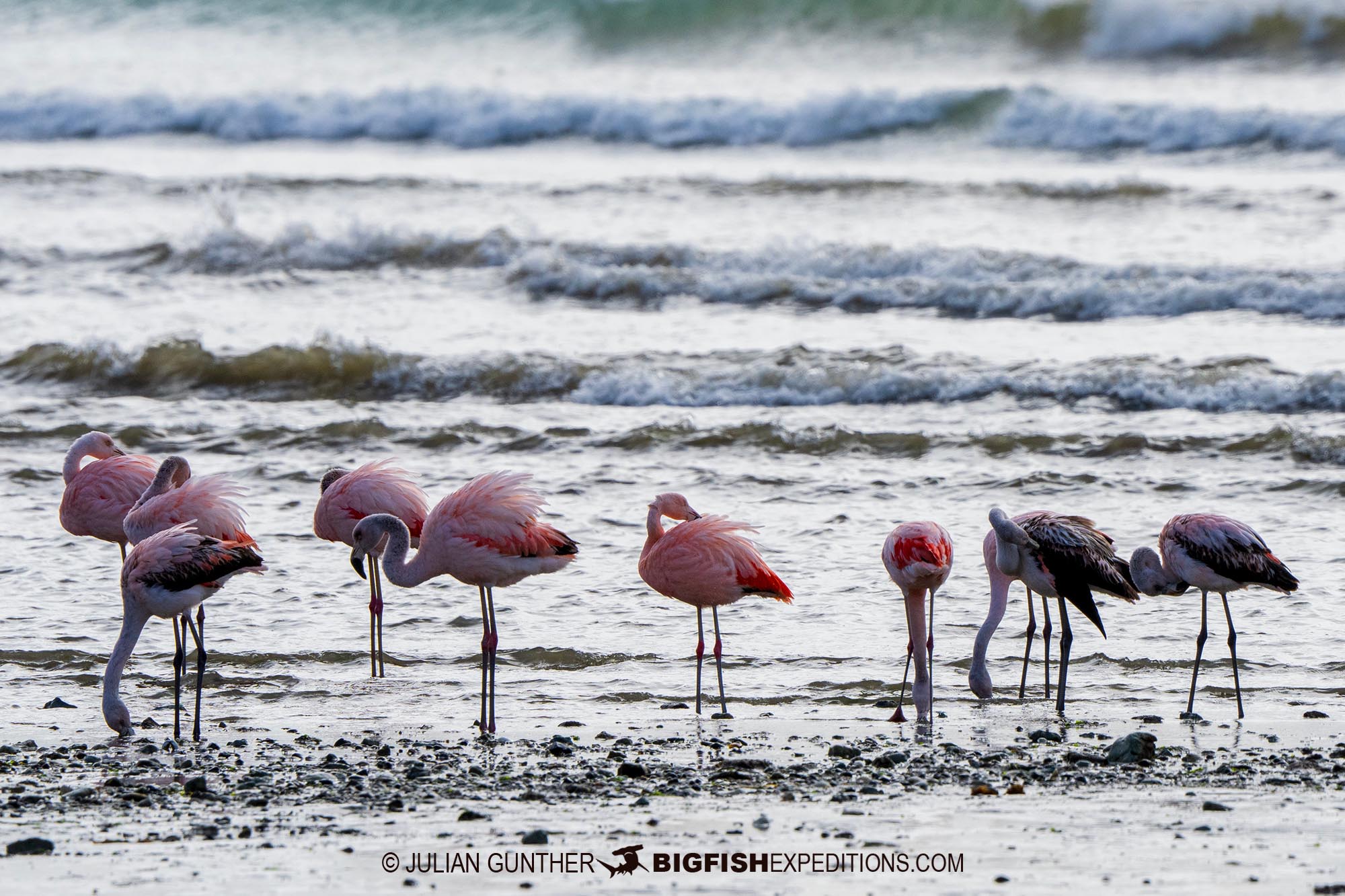 Babysitting Southern Right Whale Calves
Thankfully for us, the weather was expected to settle down over the next several days and allow us to photograph and film the sociable behemoths that inhabit Peninsula Valdes' two bays. On day two, we left early in the morning and immediately headed west across Golfo Nuevo, staying close to shore in the hopes of encountering friendly mothers and their inquisitive calves. Surprisingly, none of the mothers seemed particularly interested in us; however, we encountered several groups of 3-4 juveniles engaged in friendly rubbing and social interactions that allowed us to enter the water and get close. Approaching a group 30ft (9m) whales is both exhilarating and requires additional attention. It was not uncommon to be filming two-or-three whales and then suddenly realize there was a fourth or even fifth one that was appearing from your periphery or even from underneath. Many divers bemoaned the fact they weren't able to fit all the animals into a single frame, a wonderful problem to have.
In addition to the whales, we were also treated with the occasional swim-by from some of the peninsula's other residents, including Magellanic Penguins and Southern Sea Lions. One particular Sea Lion took extreme interest in some of our divers and supplied them with some entertaining b-roll video footage.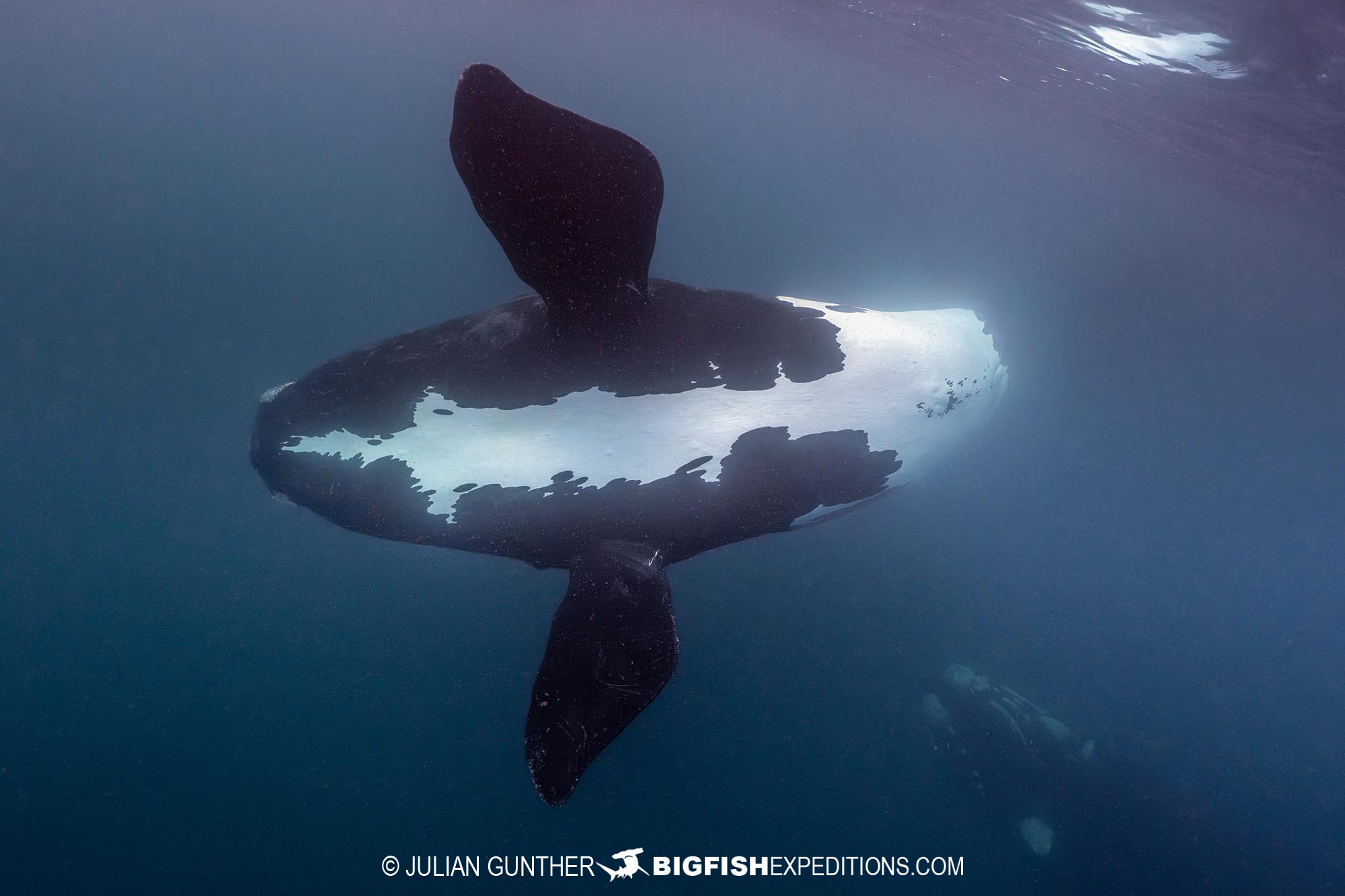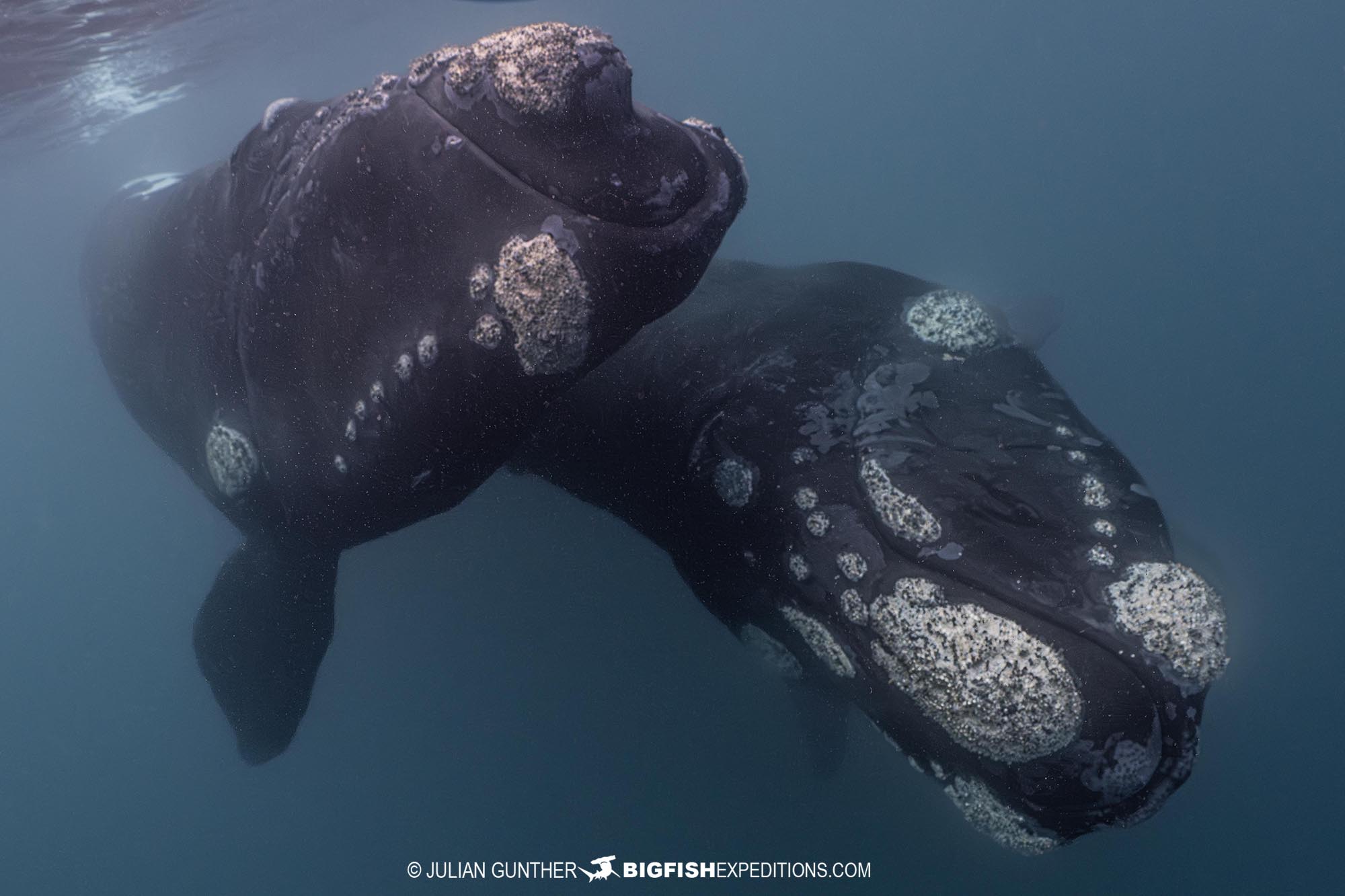 Southern Right Whales putting on a show
The third day was a continuation of the action from the day prior, as the mothers were disinterested in divers and chose to shelter their young, but groups of rambunctious juveniles could easily be found. In addition, we found numerous aggregations of adults engaging with pre-courtship interactions. Once again, our divers were amazed at both how curious these juveniles and adults could be and at how if the animals disappeared from view, it was usually only a matter of seconds before another one would come into view. Later in the afternoon, the group even spotted one of the rare white calves; however, as our first group entered the water, its mother quickly ferried her offspring away. The divers in the water got some underwater video of the encounter and those on the boat were also able to see this extremely rare Right Whale color-morph from topside.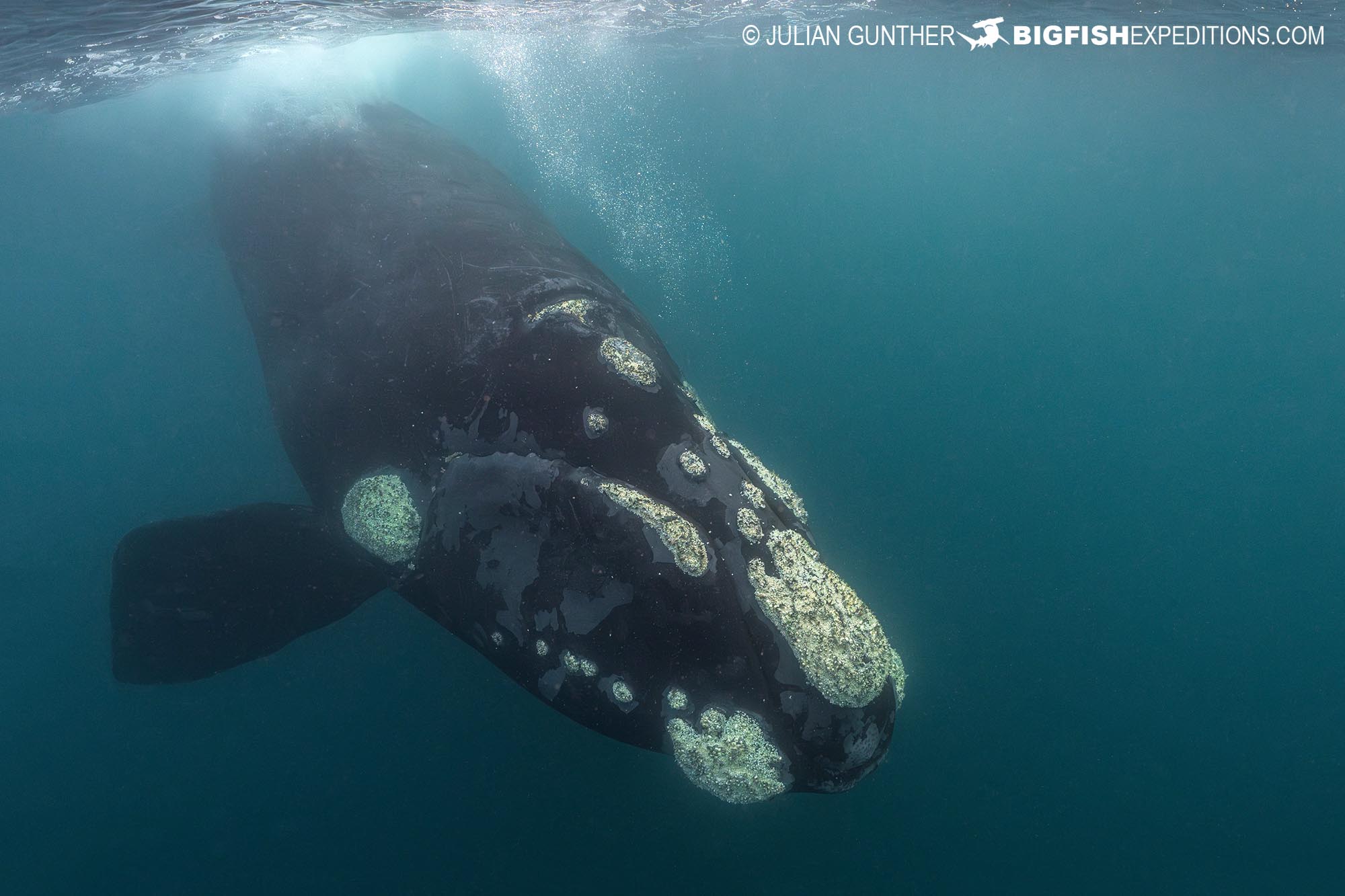 Deep Whales!
Our fourth day was set up to be challenging as wind and waves were expected to build in the afternoon. We set off to the less explored, eastern part of Golfo Nuevo, as it was going to be more sheltered from the building swell and would afford us the most time on the water. Once again, the mothers and calves had little interest in our divers, but our luck held that small groups of juveniles and individual adults expressed curiosity. As the surface chop got stronger, the whales increasingly spent time in mid-water and cruising the seafloor. Thankfully, we spent most of the morning in depths of 40ft (12m) or less, so most were still able to dive to within a respectable distance of even the deepest whales.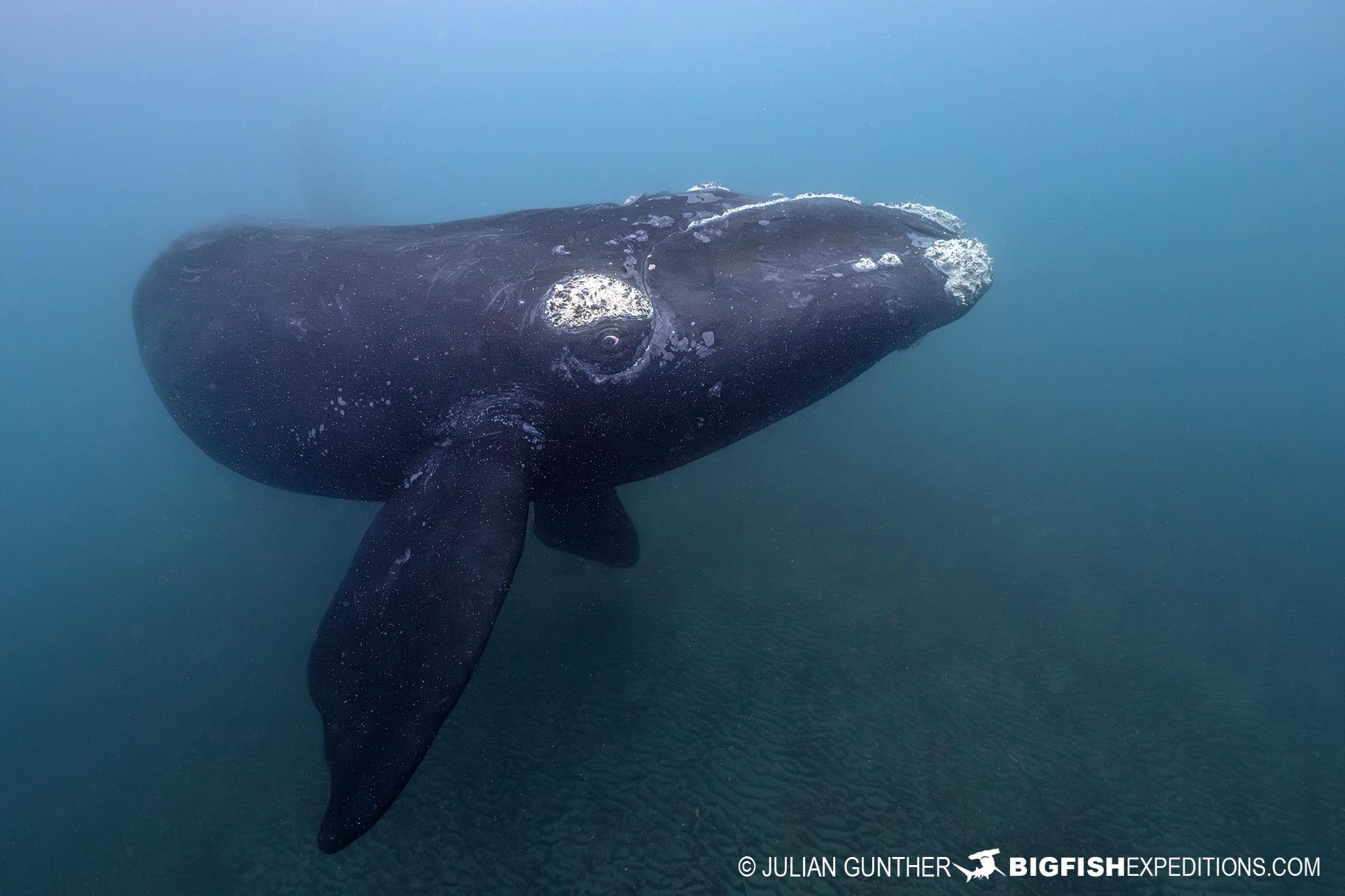 Spectacular Sunsets
After a short surface interval and time to change into warm, dry clothes, we once again headed offshore to shoot the whales from topside and attempt the coveted sunset breaches and tail slaps. Patagonia sunsets are a sight to behold, the entire sky lights up in transcendent hues of orange, red and purple. The photos are breathtaking, but it is also recommended to pull yourself away from the viewfinder, if only for a moment, to truly appreciate the experience.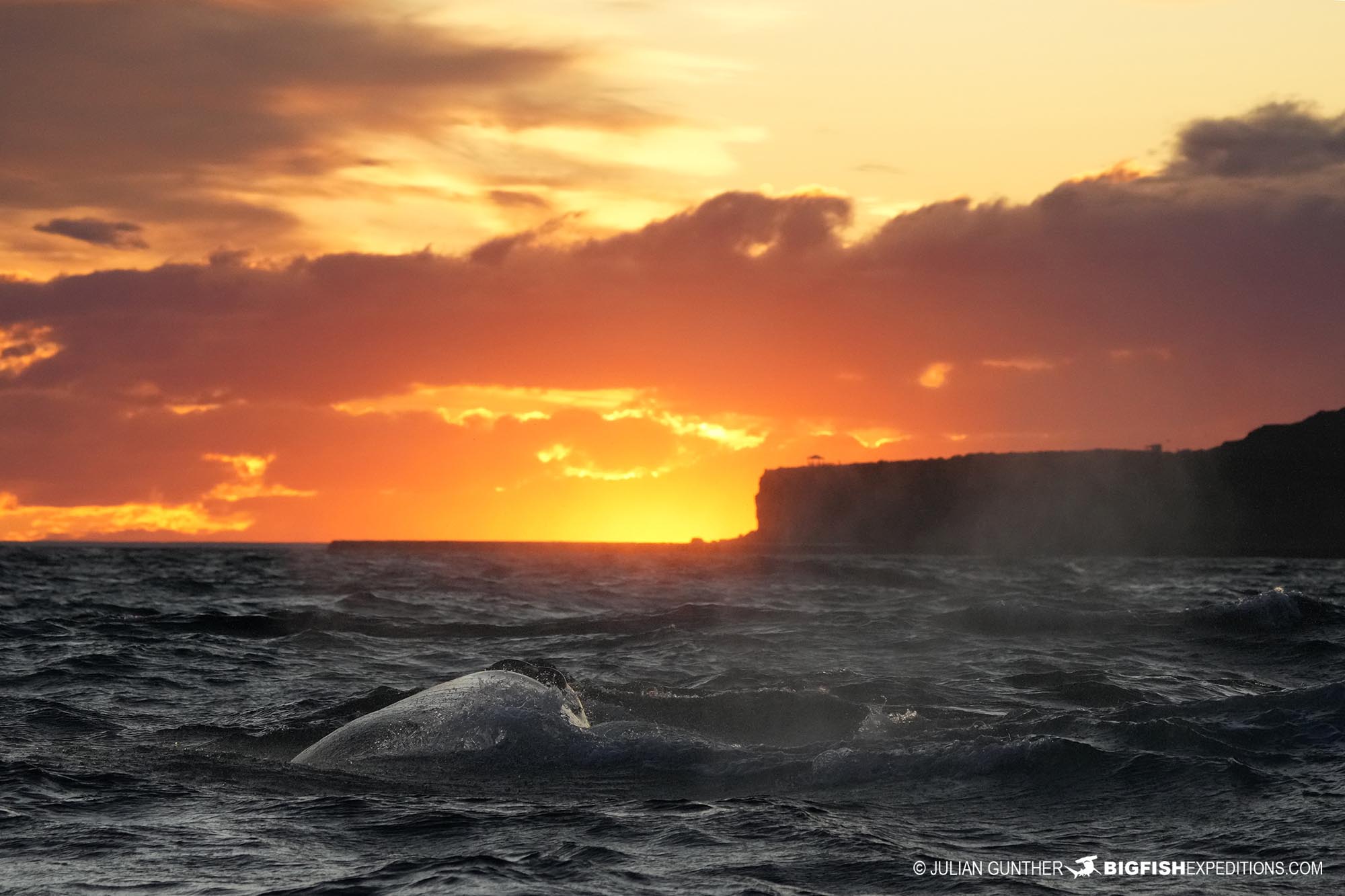 Southern Elephant Seals
On our final day, we received much-coveted special permission to approach Southern Elephant Seals in Punta Norte, on the north end of the Peninsula. Many of the peninsula's other aquatic inhabitants start returning from their migrations in late August and early September. Although there were numerous Elephant Seals, Punta Norte's beaches were not yet overflowing with them, thus allowing for our extreme approach. Led by our local guide, our group was brought within about 20ft (6m) of a group of resting individuals. We were also shown the inlets where the resident Orcas hunt Southern Sea Lions and Elephant Seals. Peninsula Valdes' Orcas are world-famous for charging through the surf-break and coming onto the beach to snatch unsuspecting pinnipeds right off the sand. On prior trips we had seen several Right Whales with semi-circle bite marks on the flukes, indicative of Orca harassment. However, the Orcas' beaching predation is most commonly witnessed in March, April and November, in conjunction with the birth cycles of the local pinnipeds.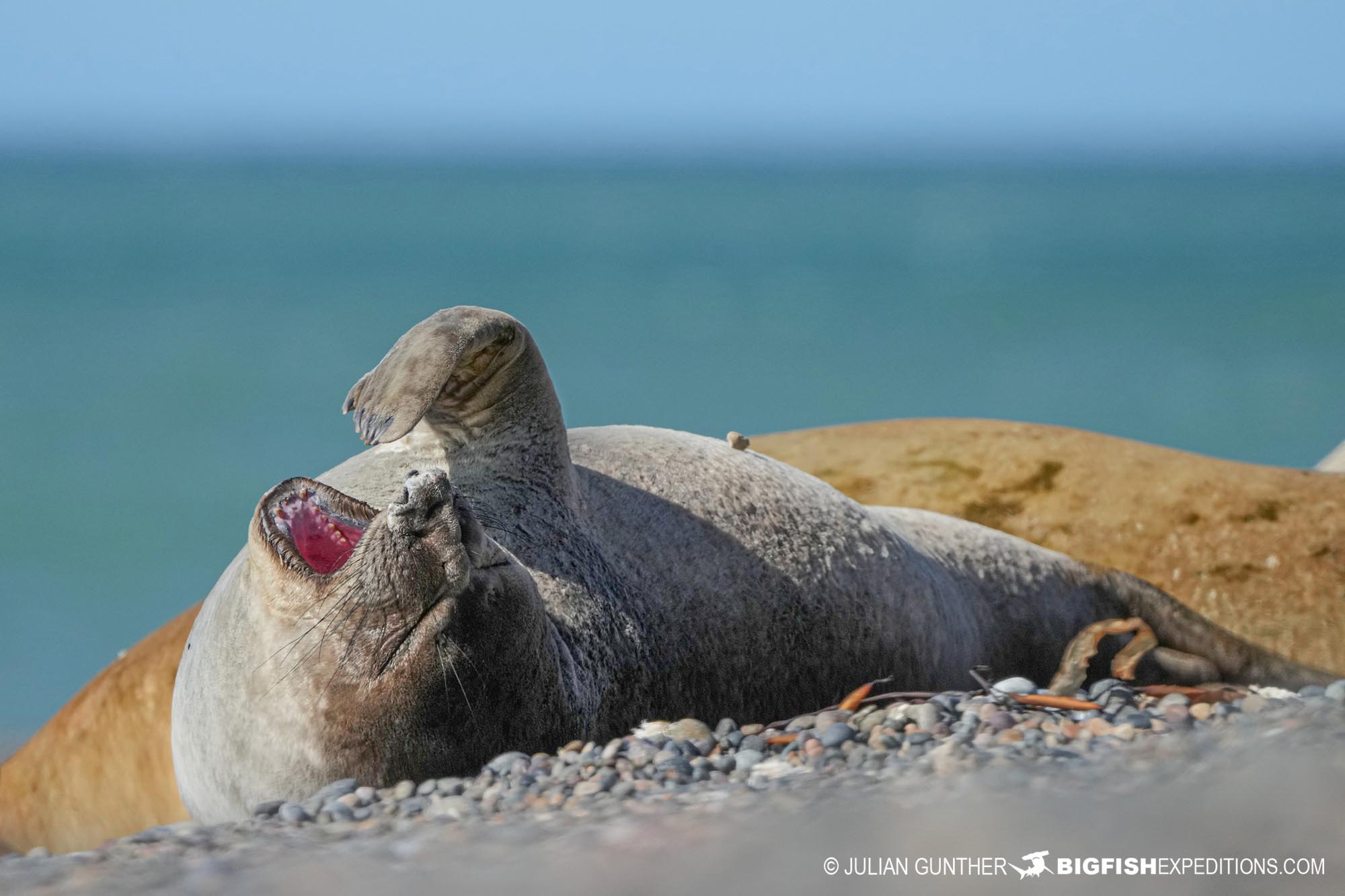 Breaches at Sunset
Following our close encounters with Elephant Seals, our local guides and some local residents invited us to a typical Argentinian barbeque, or assado, that evening. There was an open flame with both lamb and beef ribs, plus plates overflowing with cheese, bread and other finger-foods, and of course enough wine and beer to satiate even the thirstiest of attendees. Inevitably, the conversations surrounded the local whales, history of the peninsula and questions about when our guests would be planning their return visit.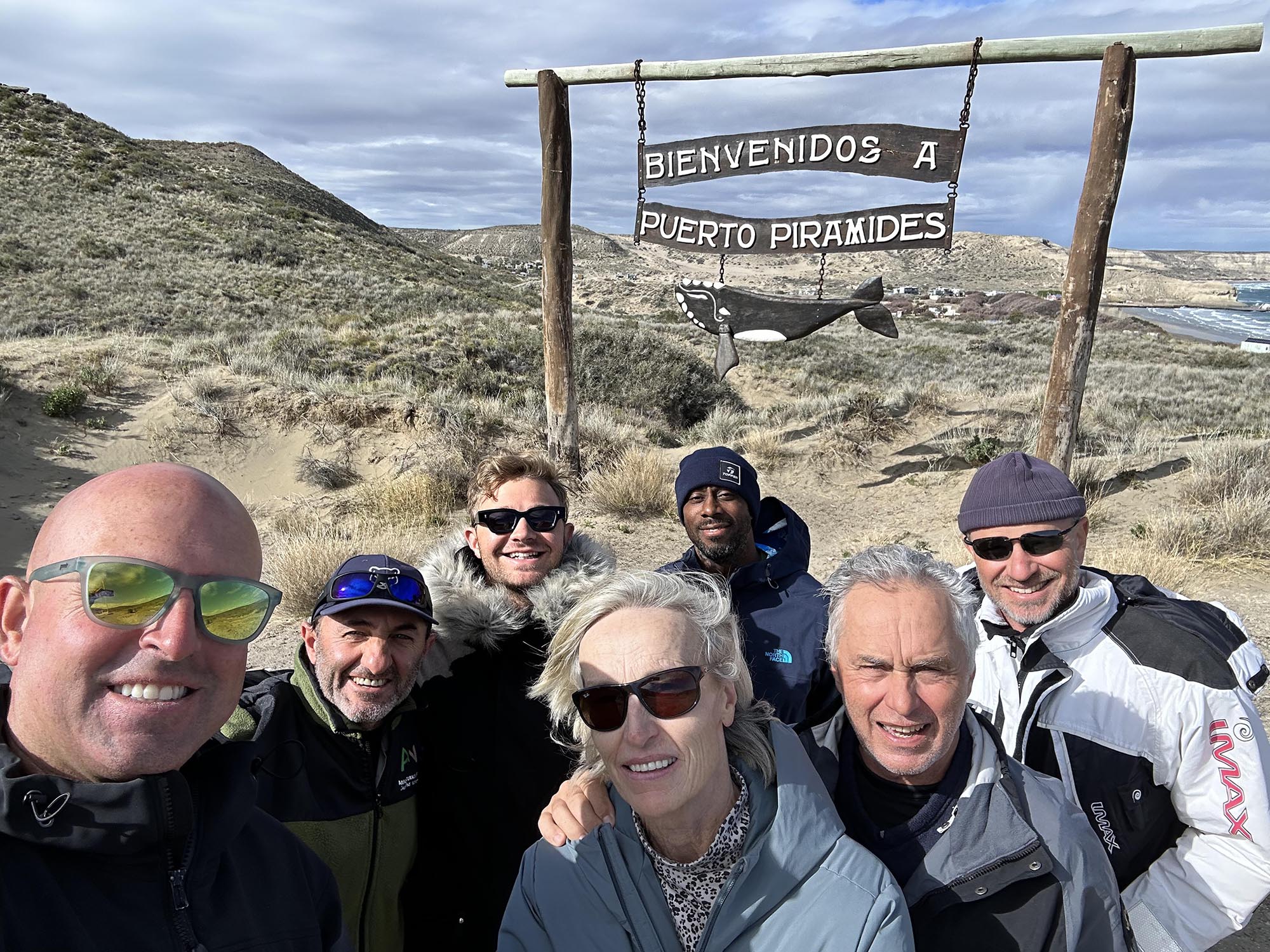 Snorkeling with Southern Right Whales with Big Fish Expeditions
Our trips are designed for professional and 'serious amateur' photographers and are conducted under special permit. During our trips in Patagonia, our small group of 5 guests (plus our guide) are the only people legally allowed to snorkel with Southern Right Whales in all of South America. We feel very lucky to have this very special privilege!
If you would like to join one of our future expeditions to photograph southern right whales underwater, please let  us know: Snorkeling with Southern Right Whales