Our 2017 Beluga and Polar Bear Expedition in a Nutshell:
Visibility was sometimes challenging but there were plenty of friendly belugas, great polar bear encounters and an epic heavenly light show!
Endangered Belugas? Not in Churchill!
One of the main reasons we conduct our beluga trips in Churchill is the shear number of belugas that visit Hudson Bay each summer. This year was no exception! Each day on the water we saw many individuals, lots of family units (4 or 5 adults with 1 or 2 young) and numerous socializing pods of 10-20 animals. There is nowhere else in the world where you can find such consistently high numbers of belugas.
Chasing Clear Water
As I already mentioned, visibility wasn't always great in the river so we had to head out into the bay to find clearer water. However, even in the river (where the belugas are usually thickest) there were still days with decent water clarity where portraits of belugas swimming over the river bed were possible.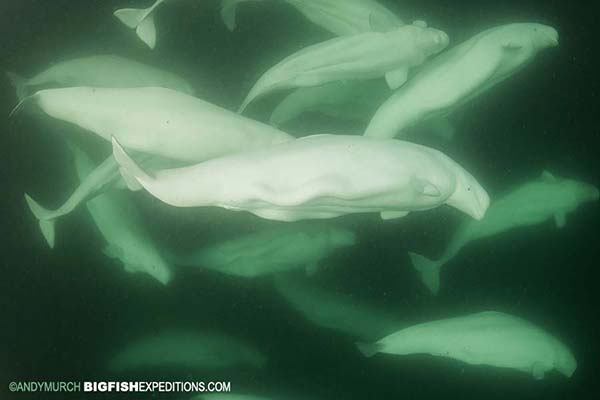 Very Friendly Whales!
The key to successful encounters, rests with finding the right pod to interact with. Many pods are aloof, preferring to hunt for capelin (their favorite food fish) in private. So, we usually drive from one pod to the next seeing if they are curious and want to intact with the boat. If they do, then we slip in.
Another Good Year for Polar Bears!
Its always a shock to me, how many bears we see in the summer time. Before I started running trips, I thought you had to be extremely lucky to see a summer bear. Although I wouldn't want to 'guarantee' bear sightings, the bears have been consistently good during all of our summer beluga trips.
This year we were fortunate to see them from the zodiac, the Tundra Buggy, and numerous times while we drove our trucks around on the tundra before or after our beluga swims.
Touring the Tundra
We like our beluga trips to be well rounded. We spend four mornings or afternoons (depending on the tides) playing with belugas. We also spend a full day on the tundra buggy. That still leaves us some downtime so we rent trucks and drive around the tundra looking for bears, photographing belugas from the shore and generally enjoying the unique vibe of this pristine part of the sub-arctic. Here are some of the OTHER highlights:
Bald and Golden Eagle spotting
Exploring the wreck of the 100 year old Ithica
Visiting the last remaining Canadian Eskimo Dogs; an ancient breed that has almost gone extinct except for here in Hudson Bay.
And, visiting an Arctic Tern Colony.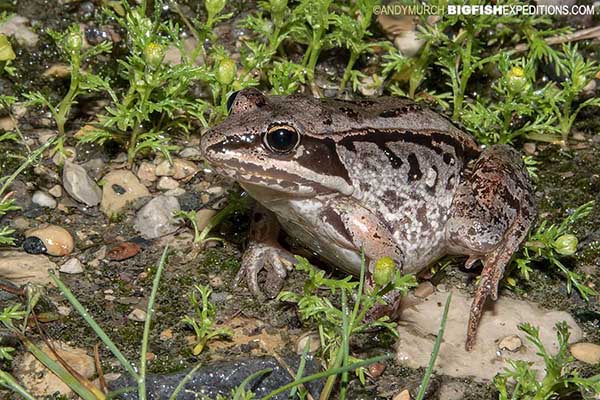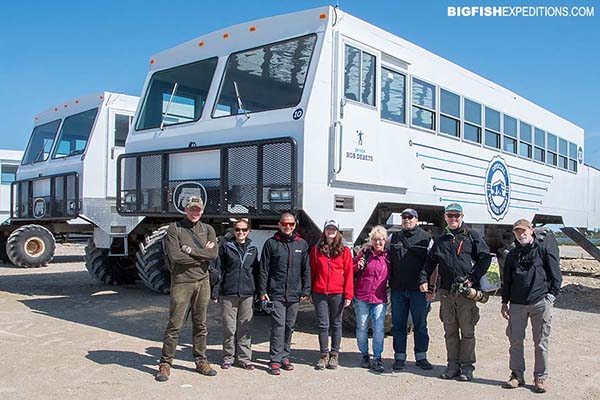 Solar Storm!
There were faint auroras most nights during the trip but on our last night, we were treated to an incredible heavenly spectacle!
Encouraged by the intensity of the solar storm, we drove out of town to an area far from any light pollution and spent the night trying to capture the unforgettable aurora borealis.
To make the images just a little more creative, I spent sometime painting with flashlights in the foreground. In my opinion, this resulted in some very nice new images.
A shot of some of our intrepid guests during a lull in the solar activity 🙂
Frozen Frog!
Although our focus (as always) was on big animals, I was thrilled to finally see a wood frog in the arctic. This fascinating species freezes solid during the winter and then thaws again completely unharmed during the brief northern summer. To do this, it has a type of antifreeze in its blood that allows it to survive in a dormant state during the long harsh arctic winters. A truly incredible adaptation!
One More Encounter I have to mention…
I had to share this beluga image. On our last day, high tide was quite late in the day so we stayed out until the sun has almost set. I've always wanted this opportunity when the light dances on the surface and send shafts of colour into the deep green water. Fortunately, the belugas were in a particularly playful mood as well. This image is the best I could do to sum up the scene. Its not surprising photographers call this The Magic Hour.
Join us for Belugas and Bears in 2018
Needless to say, it was another dreamy trip and we will do our best to repeat it, or maybe even improve on it next year. 2018 is almost full already but you still have a chance to join us if you would like to experience the belugas of Hudson Bay