Our 2018 Beluga and Polar Bear Expedition in a Nutshell
As usual the visibility was challenging but there were plenty of friendly belugas once you duck dived under the surface layer and the polar bear encounters were excellent. On our second week we also had some very close encounters with arctic foxes in their blue-grey summer coats.
Plenty of Whales
In July-August, Hudson Bay is packed with belugas so it is a bit redundant to say that we saw plenty of belugas. But, for the record, we did 🙂
As mentioned, the water clarity was challenging, particularly on our first week, but the visibility generally improves the deeper you go. Near the bottom of the river mouth, it was virtually crystal clear.
Fortunately for those in our group that were not experienced free-divers, even at the surface, some of the whales came extremely close so they were able to get a good look at them through the misty water. It is quite a surreal experience to float on the surface and watch a beluga materialize right in front of you!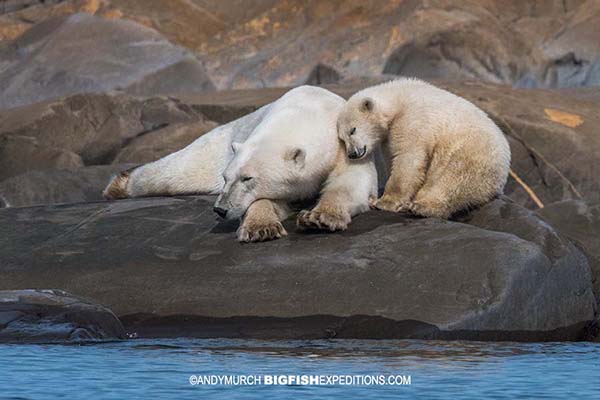 Great Polar Bear Encounters
Each day after (or before) our beluga trips we headed out onto the tundra to search for bears and generally enjoy the rugged Tundra Landscapes. Our first destination on our daily excursions is usually Miss Piggy; a freight plane that lost an engine in 1979 and crashed onto the tundra.
Last summer to commemorate Canada's 150th birthday, the town commissioned a series of murals and Miss Piggy was one of the landmarks that received a new coat of paint.
The Polar Bear Jail also got a new look.
On one tundra foray we found a mother polar bear with a cub, snoozing on some rocks by the shore. After a while the mother stood up and her two year old cub ducked under her belly to suckle. It was a lovely intimate moment that is rarely seen especially in the summer.
Each week on the zodiac we spotted bears at Eskimo Point – a favorite hang out for bears during the summer. This mother and cub gave us some particularly good photography opportunities.
Hike to the Ithaca
As usual, we times the tides and walked out to the wreck of the Ithaca. I donèt recommend you try this alone as there are often polar bears hanging out in the wreck to avoid the summer sun. I have never had to fire my shotgun but I always go armed – just in case.
Tundra Buggy Tour
At the end of each week we traded in our zodiacs for a ride on the world famous Tundra Buggy. Both trips were very enjoyable. The highlight of the first trip was a very close polar bear encounter.
Our second Tundra Buggy tour afforded us some close views of two gorgeous Arctic Foxes; a species that I was thrilled to finally get some good images of.
In the winter, arctic foxes have pure while fur that allows them to virtually disappear against the snow.
Conversely, during the summer, they sport a beautiful blue-grey-brown pelage that helps them blend into the rocky tundra landscape.
Its not just mammals that change colour from summer to winter. Ptarmigan completely shed their brown summer plumage in order to hide from predators once thee snow starts falling.
We also stumbled upon a few Barren Ground Caribou. They do not herd during the summer but its cool to see them foraging on the tundra.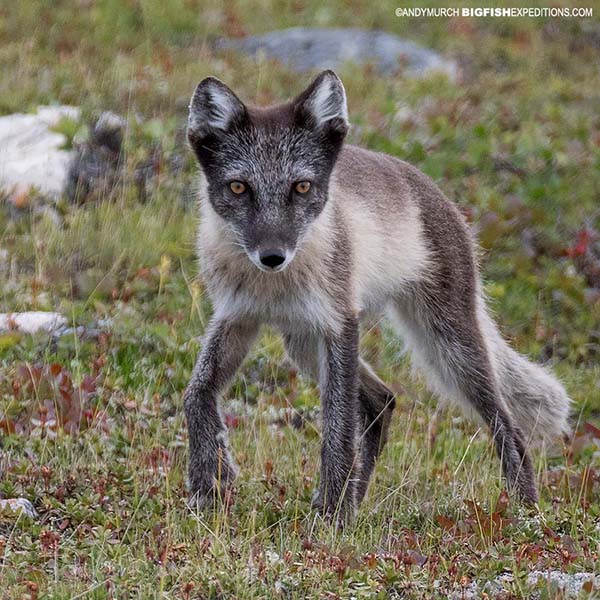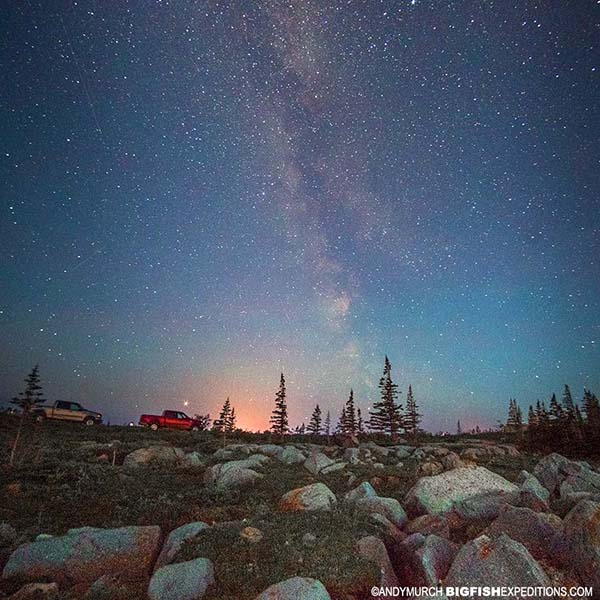 Fire from the Gods
Our second week was overcast but our guests on week one were treated to some fabulous Northern Lights.
To make the most of the activity, we drove deep into the tundra where there was no light polution from the town. Using flashlights to light up the ground, we were able to capture some very compelling images.
Even when the activity was low there were still fantastic views of the Milky Way.
The Many Moods of the Tundra
I am always looking for new angles and ways to capture the gorgeous tundra landscape. This year I took my housing out on the truck rides. This is first attempt at Tundra splits. I'll work more on this next year.
That is pretty much how 2018 unfolded. We will be back next year and I hope that you can join us for our 2019 beluga Whale Expedition.