The quaint Scottish town of Tobermory on the small island of Mull is the destination for our 2016 basking shark adventure. Built in the late 18th century as a fishing port, Tobermory is a living, breathing picture-postcard. The brightly painted buildings and busy fishing harbour delivers a wonderful energy and once captured the imagination of the writers of the BBC; choosing Tobermory as the setting for the popular British TV series for preschool children 'Balamory'.
Considered one of the prime locations in the UK for watching wildlife, Tobermory attracts thousands of nature spotters from all around the world each year. Some visit to catch a glimpse of the rare and unusual golden and white-tailed eagles, corn crakes and abundance of other birds; others stop for the opportunity see the Mull otter and common seals.
For ocean lovers, the seas off the West coast of Mull are magical. Each year from May to September, the plankton rich waters attract whales, dolphins and basking sharks. In fact, a 4 year satellite tagging study has suggested that an area of the Sea of the Hebrides is highly important and may well be a breeding ground and nursery to these gentle ocean giants.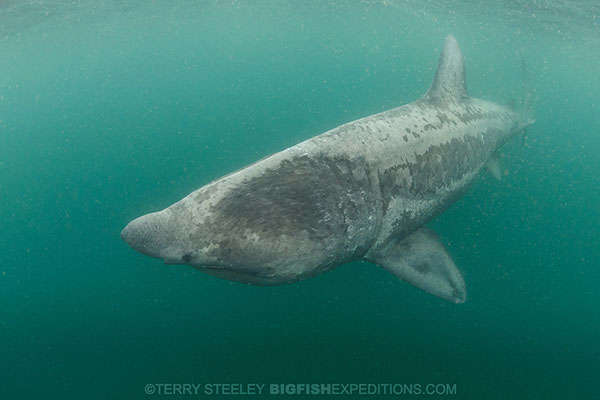 All aboard
Most adventurers looking for basking sharks spend long days cramped on bouncy wet zodiacs or ribs. Our trip did have a zodiac, but we only used it for manoeuvring our small group to a better location for entering the water alongside the basking sharks, or for excursions onto the many uninhabited islands.
From dawn to dusk, we travelled in style aboard the über comfortable 'Bold Ranger,' a Nelson 42ft motor cruiser affectionately known as 'Boldie'. Breakfast, lunch and occasionally supper was all prepared and cooked aboard our floating home. It's fair to say, that sunbathing on the bow or aft deck whilst looking for basking sharks does significantly enhance the experience.
Looking for basking sharks can be challenging
The wind is our enemy and even a light to moderate wind can make spotting a feeding basking shark difficult. Optimistically, we hoped for flat calm seas and blue skies and we were not to be disappointed. With the exception of one day, our time steaming around the Atlantic Ocean was gifted with fabulous weather. We even enjoyed a couple of days that touched 30˚C (86˚F) as the UK celebrated an unexpected heatwave.
Sightings of basking sharks were frequent and met with obvious excitement. We spotted breaching sharks, feeding sharks, young sharks and schooling sharks. At best, we shared the ocean with more than thirty basking sharks throughout a single day. The more we saw, the fussier we became; constantly pushing for that classic gape encounter as the feeding shark approaches.
Under the stars
After a fabulous afternoon's snorkelling with basking sharks in the shallow, clear waters of Gunna Sound, we decided to camp on the beach of this stunning private island, toast marshmallows and relax under the stars.
Our night on the island was unforgettable, but basking sharks at breakfast once again stole the show.
Iconic Puffins
No trip to Mull is complete without a visit to Lunga, the largest island in the Treshnish Isles. It's a two hour steam from Tobermory but can easily be a dogleg detour from the Isle of Coll after a busy day on our return to the harbour.
Home to more than 6000 birds during the breeding season, we visited this special island late one evening to enjoy the comical Atlantic puffins. However, guillemots, razorbills, kittiwakes, fulmars, shags and skuas all reside here too. We timed our arrival to coincide when all the other visitors had finished their tours and departed. Having the island all to ourselves made the time that little bit more memorable.
Puffins are bizarrely tame and absolutely fearless. Living in burrows on the island cliffs, these 12 inch high pelagic seabirds are captivating and were one of the many highlights of our week.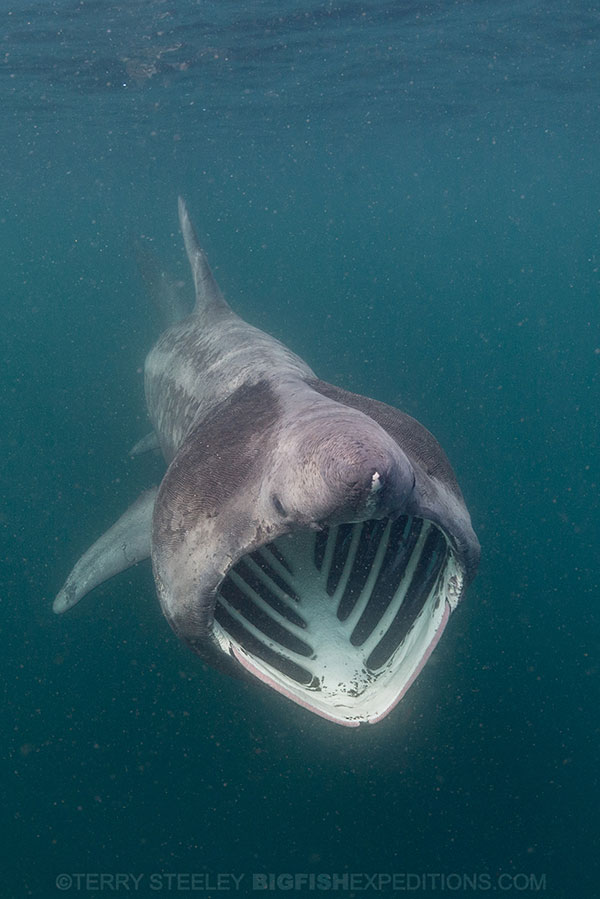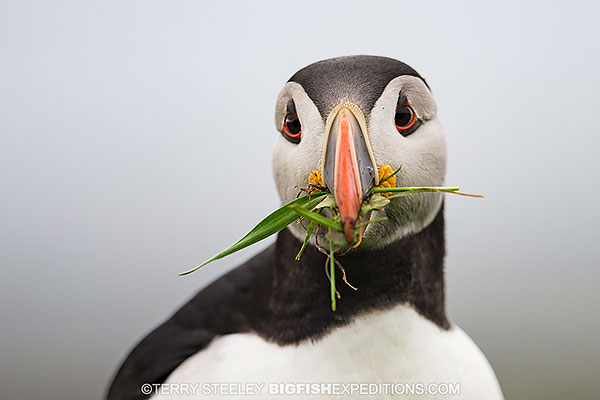 Bucket list adventure
Our week searching for Scotland's basking sharks was a huge success. With endless in-water encounters, it was a remarkable adventure that will be reflected on by all for many years to come. If you have the passion to join an experience that is truly epic, sign-up for:
Big Fish Expeditions 2017 Basking Shark Adventure.