Success!!! We brought two groups to bonnie Scotland this year and each week we were able to locate and swim with basking sharks!!!
When we arrived in sunny Tobermory, the news was mixed. The basking sharks were definitely around so we had timed our expedition perfectly but the sharks were much further from shore than expected. Normally you can find them in the Inner Hebrides within 20 miles from Tobermory but this week they were feeding around St Kilda; a beautiful, rugged and extremely remote archipelago 120 miles from our base camp.
Undaunted we waited on Mull for a good weather window and then headed west and camped on Hirta, the largest island in the St Kilda group.
On route to the island we were accompanied by minke whales and playful common dolphins!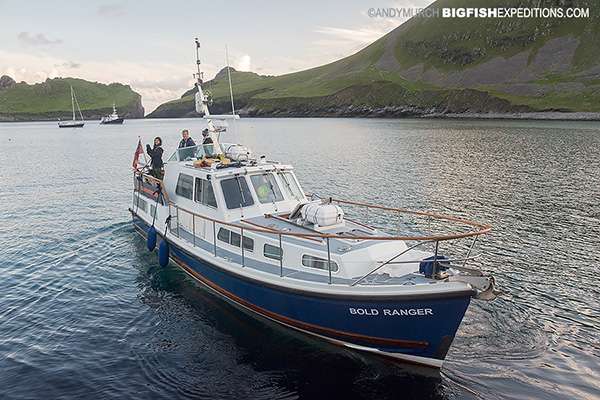 Hirta could not have been a more picture perfect Scottish isle to visit. A haldful of weathered buildings hugged the coast below a sweeping green valley studded with traditional stone storage huts abandoned by the ancient Kildans.
After a fitful night's sleep, we began weaving between the islands until we finally spotted the unmistakable slate grey fins of basking sharks. Minutes later we were in the water among them. The water was surprisingly clear and after a short period of trial and error, we figured out how best to approach them and spend the daylight hours trying our best to keep pace as they loped past.
Eventually the wind picked up and drove us back to more sheltered waters but our expedition was officially a success!
Week Two
At the beginning of our second week, the wind was a too strong to return to Kilda so we played with the puffins on the sheltered Isle of Lunga. This was my first trip to lunga but now that I know how amazing the bird encounters are, I will make an effort to bring the guests there on each expedition. There are thousands upon thousands of nesting puffins and razorbills that have no fear at all of humans. We were able to sit on the cliffs and watch them hop around us within touching distance. It was a great distraction while we waited for the sharks.
While we were preparing for another long run through the Outer Hebrides, the word came in that basking sharks had been spotted much closer to shore where they are normally encountered. This was great news, but frustrating for me personally as I had an unavoidable scheduling issue and had to miss the boat – argh!!!!
More importantly, my guests got to experience some of the best basking shark encounters of the season.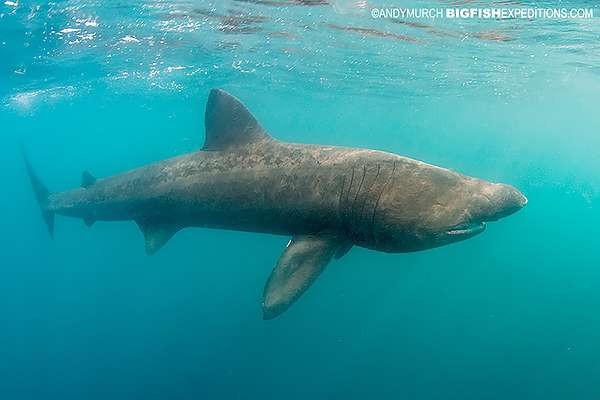 Meanwhile in the Deep
As is usual on our basking shark trips, we didn't manage a lot of scuba-diving. But while we were hunting for basking sharks around Coll and Tyree I did try to drop the deep cam now and then (my remote underwater SLR that can be deployed in 425ft of water). On one drop, this Norwegian lobster found the bait and guarded it against all comers. That included a coule of catsharks that I would have liked to watch attacking the bait but even this guy was a nice find 🙂
The basking shark diving continued right through the end of week two. The encounters we had this year in Scotland I will remember forever. If you missed out on this extraordinary event, we'll be back in Tobermory in July 2016 to see if we can top this year's adventures. So please join us for our 2016 Basking Shark Diving Adventure