A Big Fish Expeditions Trip Report

Although this trip didn't go quite as planned, it was definitely a success! We planned to snorkel for two days with blues and makos and then try a completely experimental shark feed on an inshore wreck to see if we could entice a school of spiny dogfish sharks up to our cameras.
The wind and chop made our first day on the water a bit challenging but we still managed to bring a couple of makos and a blue shark up to the boat. The first mako was much smaller than the second and although it was tiny by mako standards, it hung around for quite a while chomping on the bait. The second mako was a respectable 6ft animal. Here is a shot of that one from the swim step:
A friendly blue shark showed up later in the day and stuck around for some good encounters but eventually the wind picked up even further and we were forced to run for shore.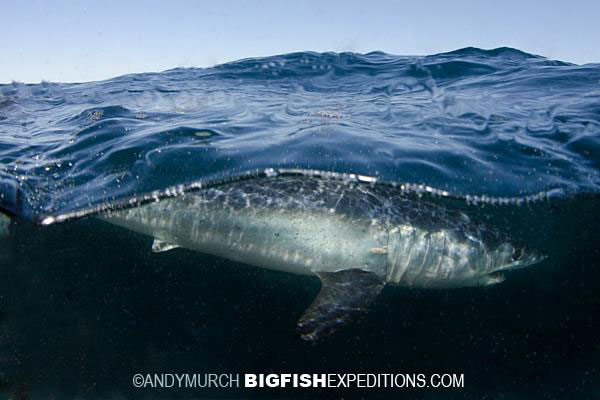 The next day dawn clear and calm but tragically, our Captain informed us that the boat had to come out of the water because of a cracked cooling manifold. That was frustrating for all of us but we managed to arrange a different boat for day three and continued on as planned.
In more windy weather we hooked onto to the wreck of the Idean which lays in 85ft of water off the coast of Block Island. Our fearless Dive Master from Giant Stride Dive Shop carried down a full bucket of chum and attached it to the bucking anchor line to help spread the scent trail.
By the time we had followed him down, the first dogfish sharks had arrived and were sniffing around on the sand. We spent that dive dialing in our cameras and looking for good angles to shoot the little sharks.
Back on deck everyone seemed pretty excited to head back down regardless of the enormous swells that were buffeting our dive boat from all directions. When we over-armed back down the anchor to the wreck, the sea bed was covered in pint sized sharks! I counted around 50 sharks when I first hit the sand.
The sharks were much bolder on this dive. One of them even launched into a tug of war for the menhaden (fish) that I was waving around; great fun! I was very happy that this experimental dive went as I had hoped. And the shots that we took of the dogfish sharks are some of the best I've seen of that species so this was a great day all around.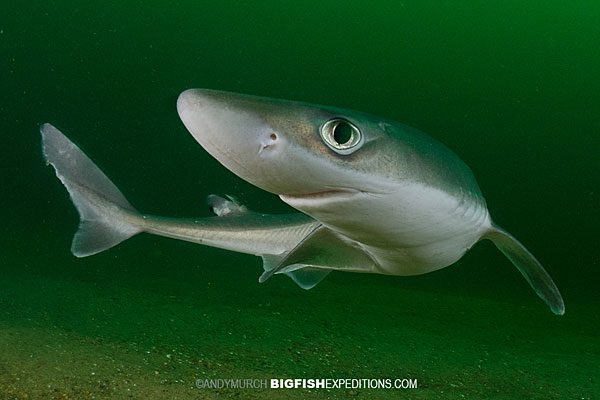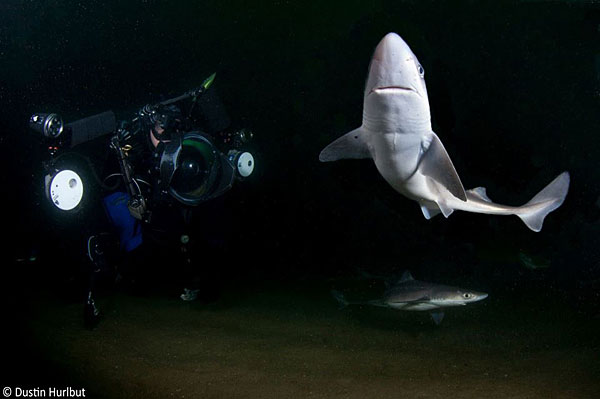 That was supposed to be the end of our trip but a couple of our guests were able to stay longer until our blue/mako boat was back in the water. In better weather we sailed out to a great spot and spent the day with 6 or 7 blue sharks.
Although it wasn't always smooth sailing, we came home with some great images of blues and makos but the highlight in my opinion was those awesome little dogfish sharks!