A Big Fish Expeditions Trip Report
Socorro was an adventure that I'll never forget. This was the first time that I had taken a group to the Revillagigedo Archipelago and I was concerned that being so close mainland Mexico, the islands would have been picked clean by fishermen. However, I couldn't have been more wrong. The mysterious volcanic islands have a military presence and strict park enforcement with heavy penalties for illegal fishing. While we were there enjoying fantastic diving we didn't see a single fishing boat and rarely encountered lines or other tackle on the critter infested reefs.
The humpbacks were there in force. Moms and calves were visible on the surface almost everywhere we went but underwater whale encounters were not as easy as I had hoped. Two of our guests did get a quick visit from a mom and calf underwater but most of our whale encounters were topside. Fortunately the topside action was great. Lots of close activity including breaches and tail slapping. Underwater we could hear the haunting whale song nearby which really added the mysterious feel of these exotic islands.
Of course the stars of the show were the giant mantas. Unlike most places around the world, the mantas at Socorro (and its sister Island San Benedicto) crave contact with divers. All we had to do was fall in at the right spot and the mantas found us. If you haven't been in the presence of these enormous creatures its hard to understand the emotion it conjures up when a 14ft wide manta swims over to you and you can see its eye flickering in your direction.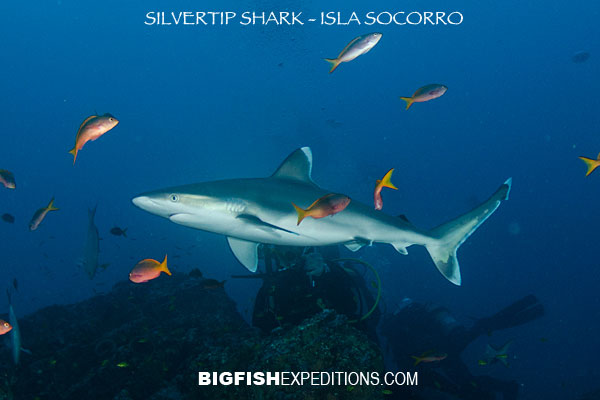 Everyone in the group had fantastic giant manta encounters. For me, the highlight was when my dive buddy Rasmus and I swum off into the blue, lured by the beautiful whale song. When we made our way back to the rocky reef a massive jet black manta came into view and spent the better part of an hour circling us both. We had seen groups of big mantas on other dives that some might find more impressive but this solitary giant was there just to hang out with us. It was a very special time:
One evening just as the sun was setting we jumped in to snorkel with feeding mantas at the surface in a bay where the plankton was ramping up against the shore. Surface feeding is something that doesn't occur that often at the islands so it was another very special experience that we were all able to enjoy. The mantas look very different in feeding mode as their cephalic lobes form a scoop to funnel more water over their gills and their chests deepen to accommodate the incoming plankton rich liquid. By the time I got out of the water it was more or less completely dark but the mantas (maybe 30-40 in total) continued to scrape the surface and we had to be careful that the pangas did not bump into any as we wove our way back to the mother ship.
We split into two small groups each morning so that when we went in search of hammerheads they would not be as spooked by our presence. As always, they were still very hard to approach but we saw some impressive schools (probably 100 or more strong) which I didn't think existed north of Cocos Island and Malpelo anymore.
Other sharks included silvertips on the deeper dives, small groups of whitetips resting under ledges and aggregations of silkies and Galapagos sharks out in the blue. There were rays too including large longtail stingrays, guitarfish and giant electric rays down on the sea floor.
Of the fishes (aka shark food) that we saw, the most interesting encounter was a pair of bloody or sanguine frogfish. I would never have been able to see them if the octopus I had been following hadn't frightened them into repositioning themselves.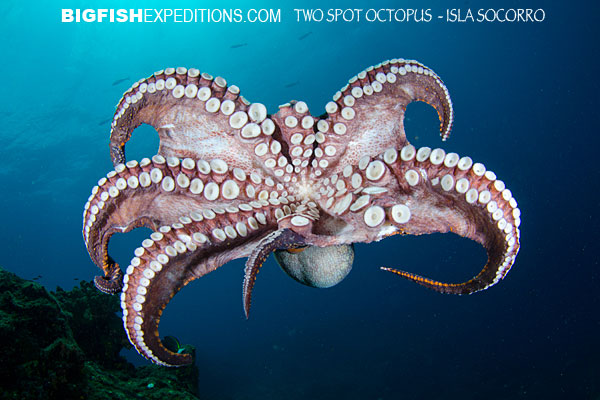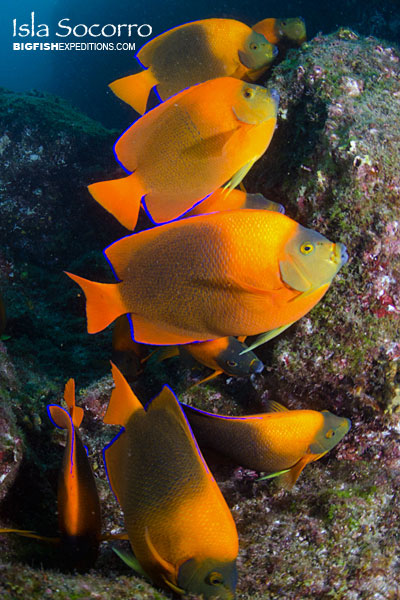 Speaking of octos, the reefs around Socorro are like octopus condos! On one dive I counted 14 twin spotted octos; all of them out and about during the day. I'm sure I would have seen even more if I had not spent most of my time looking out into the blue.
On our early morning dives we were visited by friendly pods of bottlenose dolphins. They would swim up to our group as though to say good morning and then after a few minutes they would disappear back to hunting and we wouldn't see much of them again until the next day.
Being visited by friendly marine life is a concept I am not used. Most animals swim away unless you have bait in the water but the mantas and dolphins of Socorro showed us a side of the natural world where humans are not feared by everything that moves. Witnessing the genuine curiosity of friendly wild animals was a fantastic and humbling experience.
All in all it was a great first trip to Socorro. Unquestionably, the islands are more than worthy of a second trip so I have loaded dates for Socorro 2013. Join me if you can!