Big Fish Expeditions Madagascar Wildlife Photography Tour 2022
Trip Report by BFE Trip Leader Andy Murch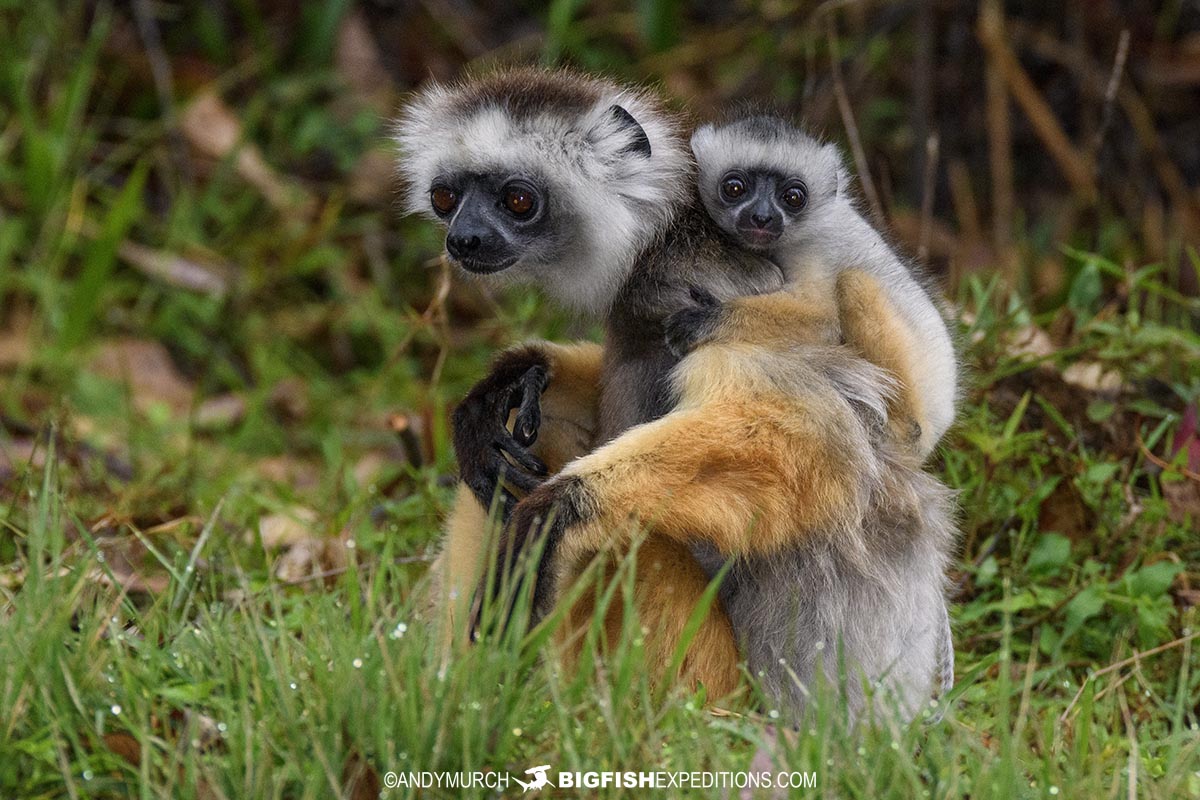 Our first opportunity to return to Madagascar since 2019 was fantastic. I'm happy to report that if anything, on this trip the wildlife was even more abundant and easy to approach than in previous years. During our 13 day expedition, we encountered 23 species of lemurs, 9 species of chameleons, countless frogs, lizards, geckos, and a kaleidoscopic variety of exotic birds, all of which are found nowhere else on earth.
The flora was also spectacular, from old growth rainforests to deserts sprinkled with mighty baobabs, new photographic vistas awaited at every turn.
Madagascar is a large country with a huge variety of climatic zones. After leaving the capital, we visited the central highlands for a few days, then relocated to Kirindy Dry forest in the Western Lowlands, then Ranomafana Rainforest Region, and finally the arid deserts and dry forest of the southern region.
Each region has its own unique species of flora and fauna, which we were able to enjoy while trekking with eagle-eyed, knowledgeable local guides.
WILDLIFE OF THE CENTRAL HIGHLANDS
Vohimana Reserve
After a meet and greet at the Grand Hotel Urban in the old city of Antananarivo, we drove northeast, into the mountains that surround Andasibe; our first base for visiting the many parks and reserves in that area. In the afternoon, we visited Vohimana reserve; a hilly park which is home to a small population of rarely seen lance-nosed chameleons.
We also found a few Parson's Chameleons (the largest chameleon species in the world) and some unidentified sheath-tailed bats hanging from the roof of a rocky tunnel.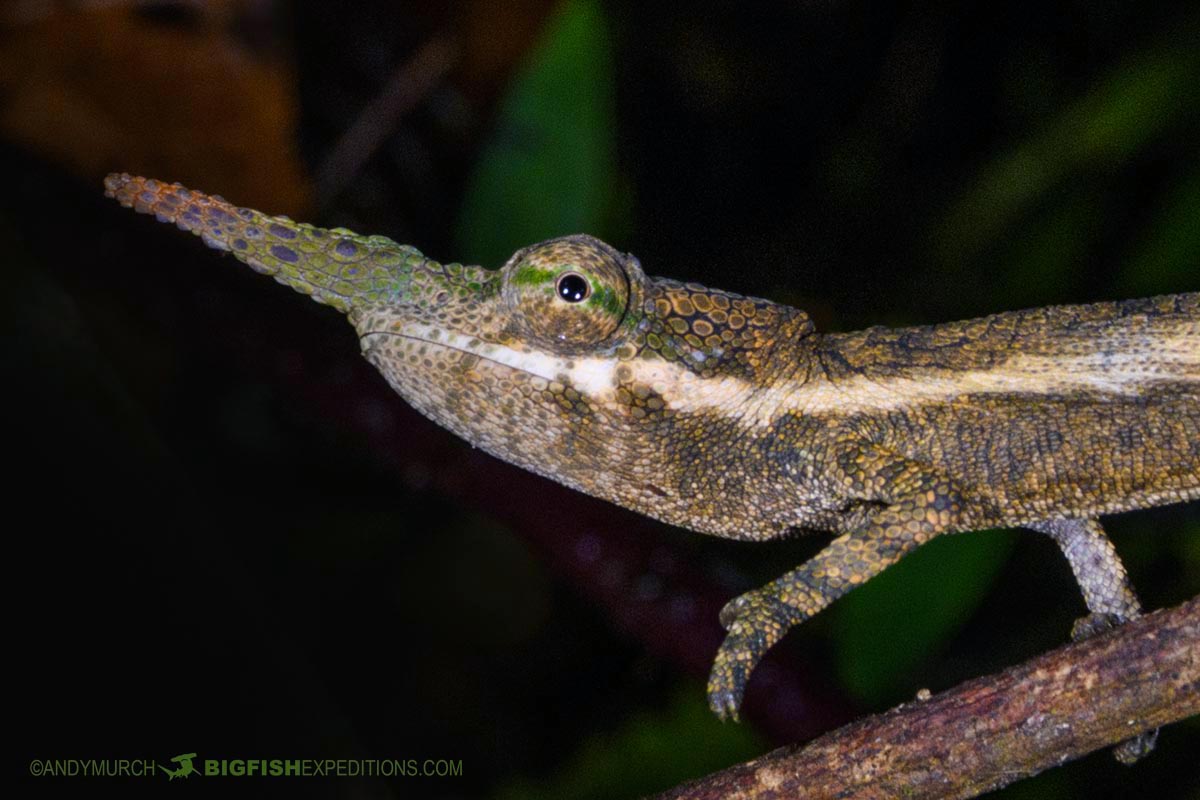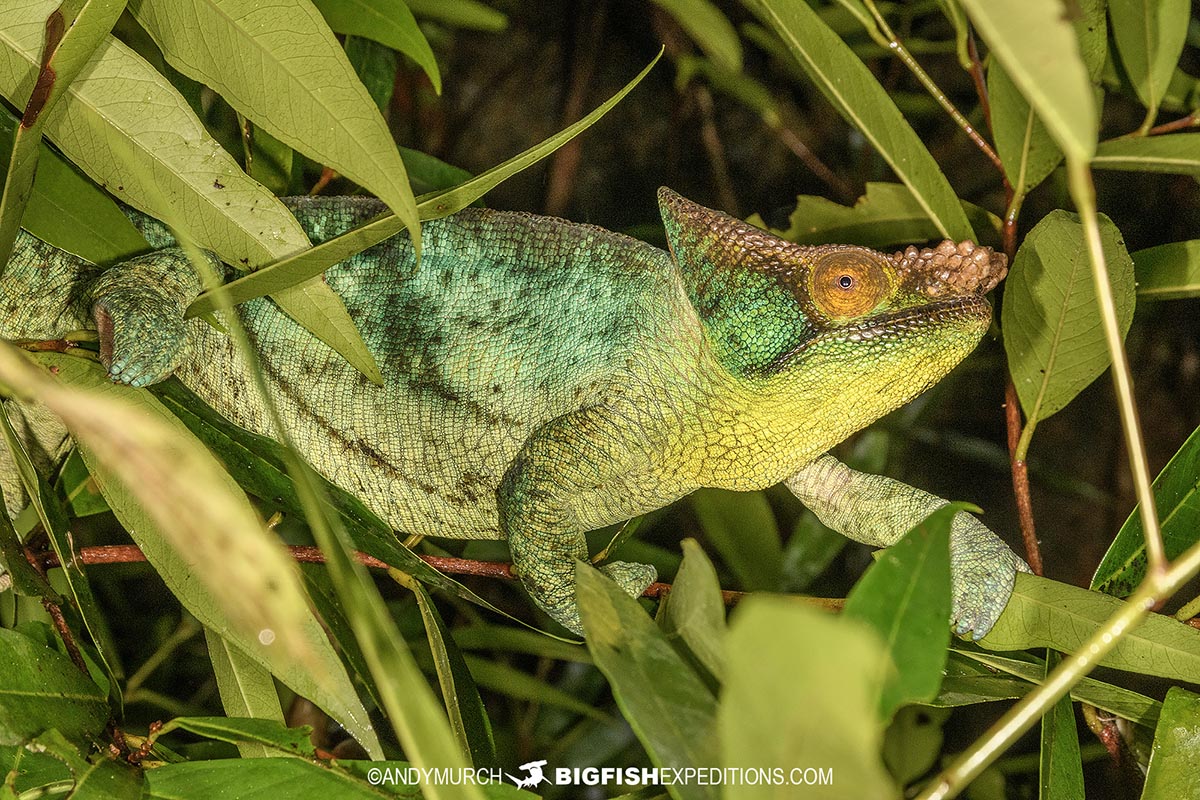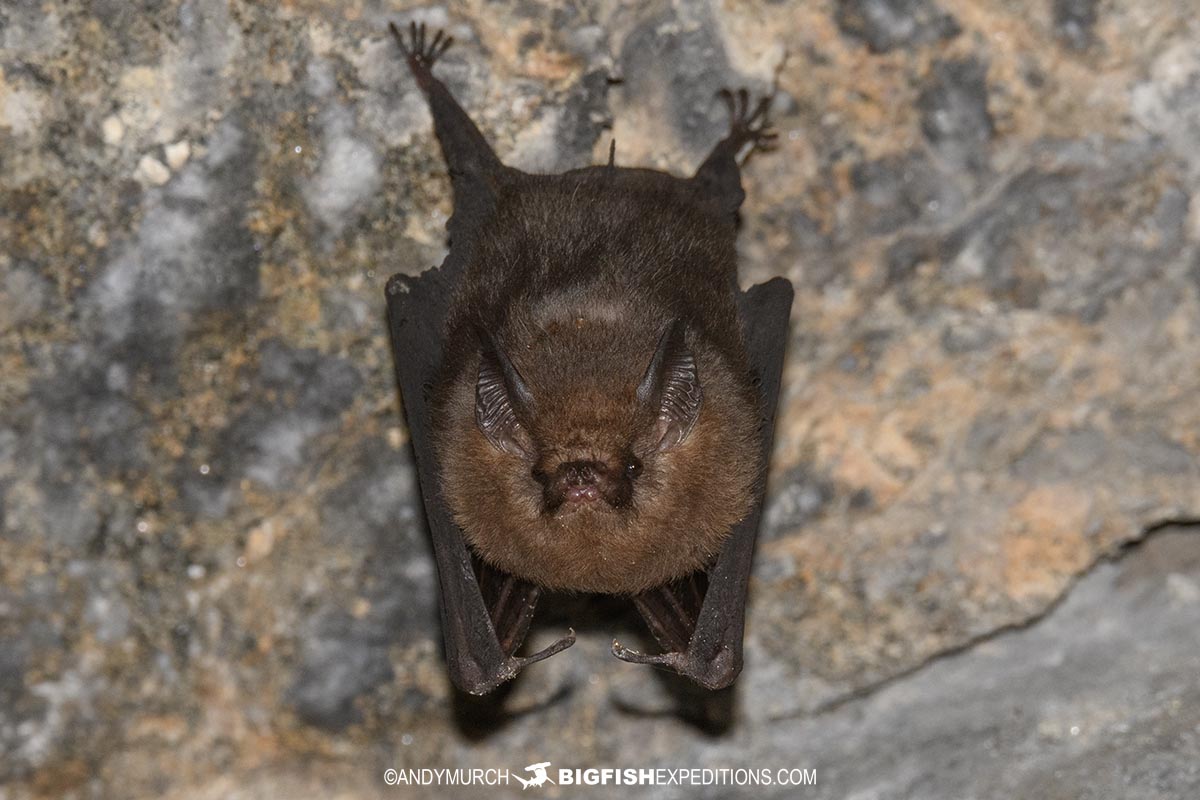 Andasibe by Night
In the evening, we went on our first of many night walks to look for nocturnal lemurs, and other denisens of the dark forest.
The first lemurs we saw were Goodman's Mouse Lemurs. I imagine everyone was surprised to see how close they could get to these tiny primates.
Among many other things, we also saw some Brown Leaf Chameleons, lots more Parson's Chameleons, Elephant-nose Chameleons, and a very cool Mossy Leaf-tailed Gecko.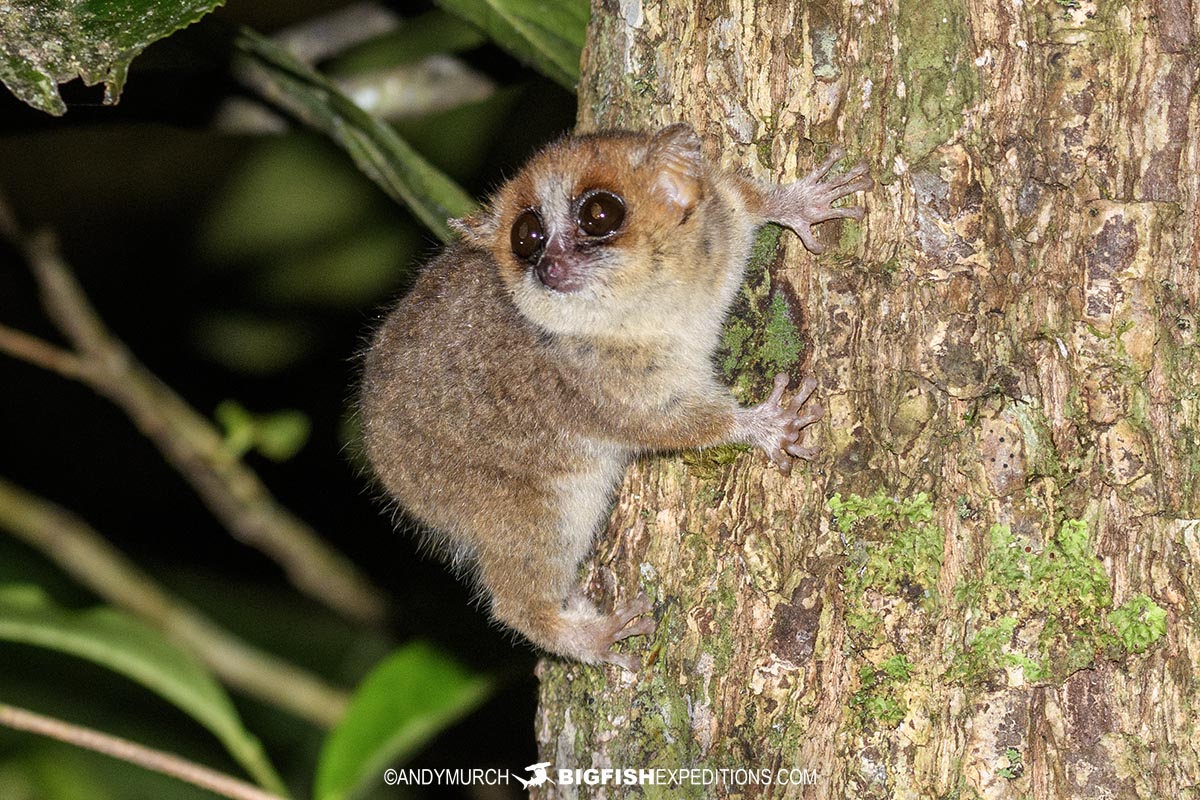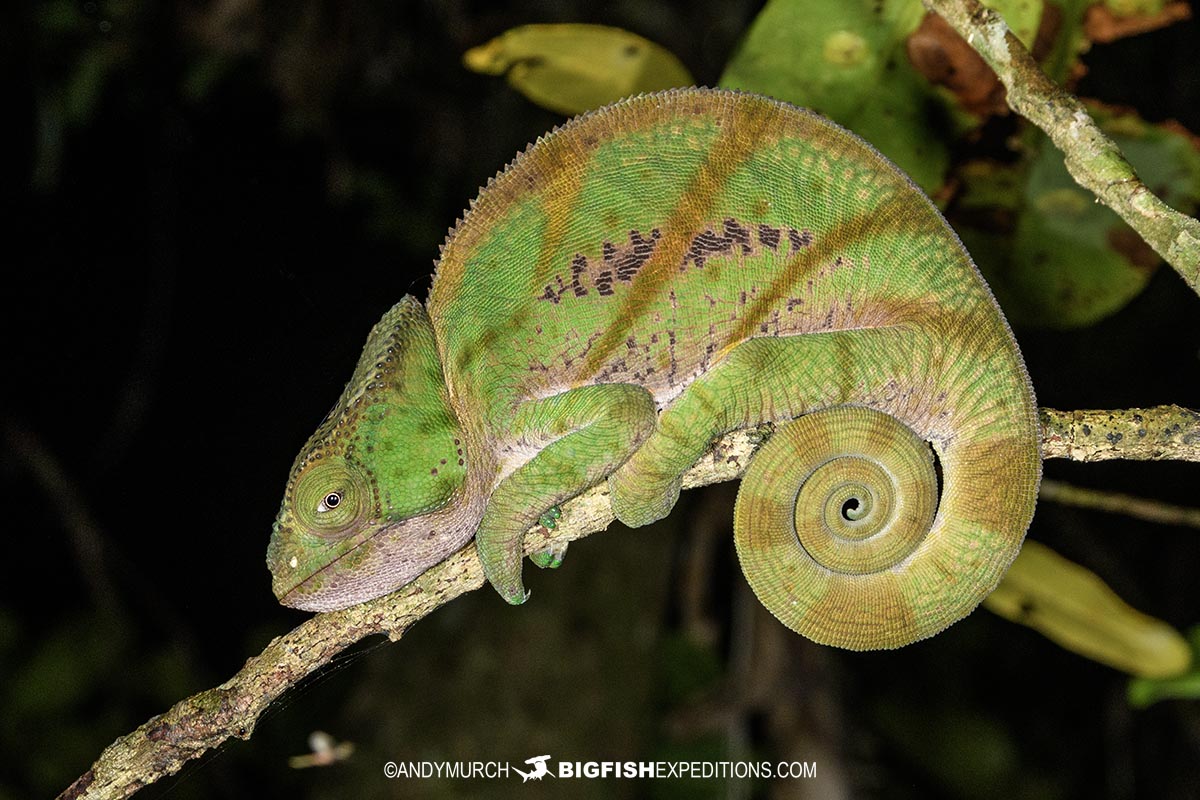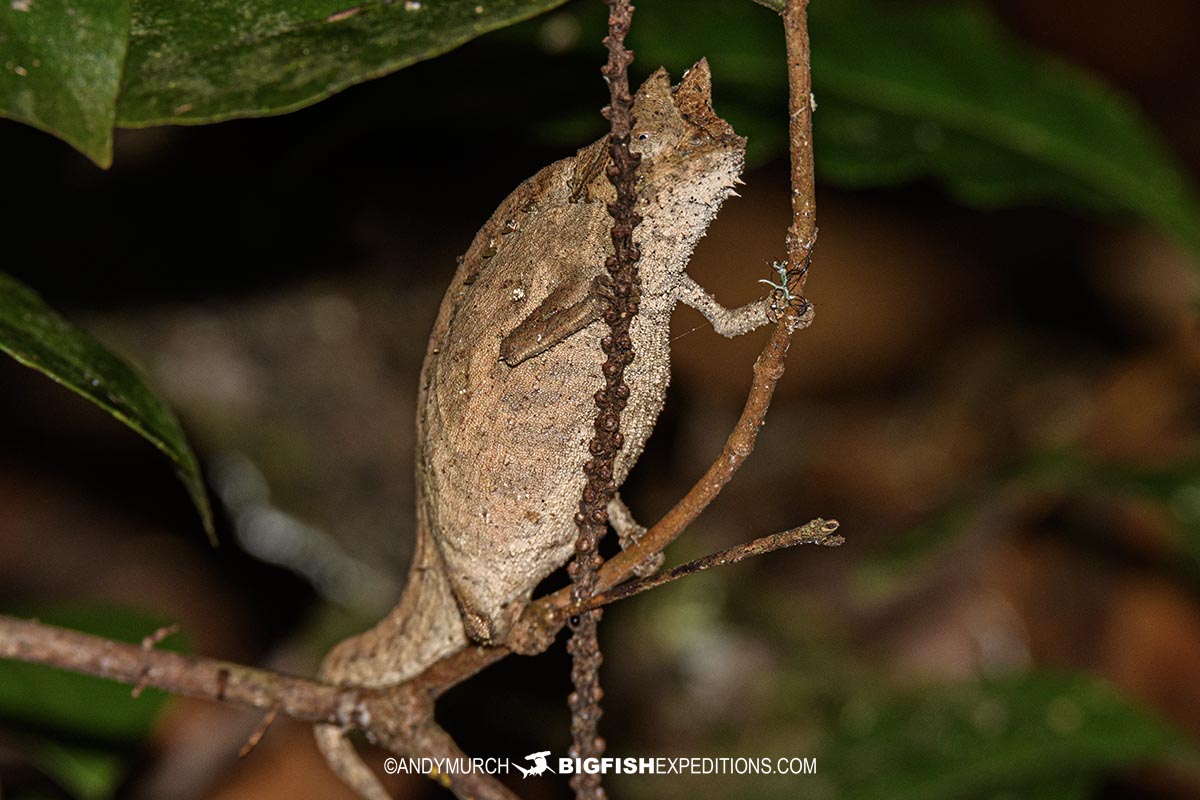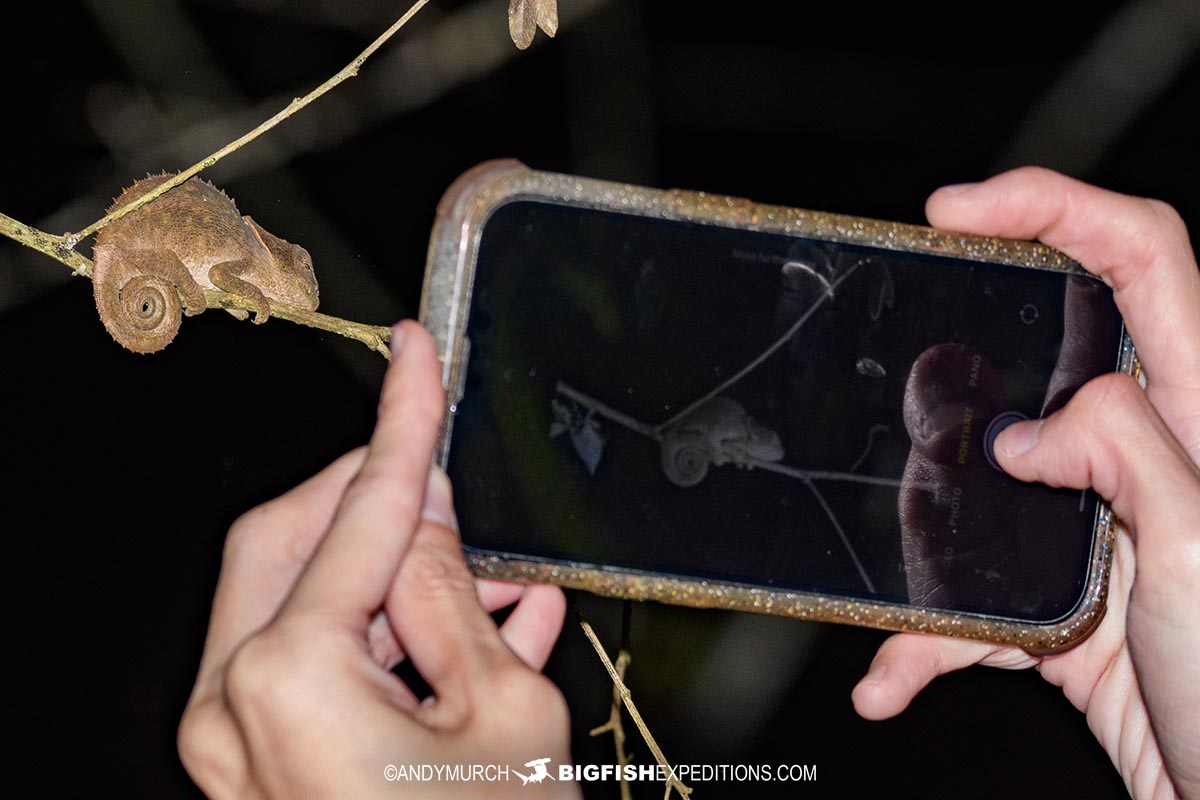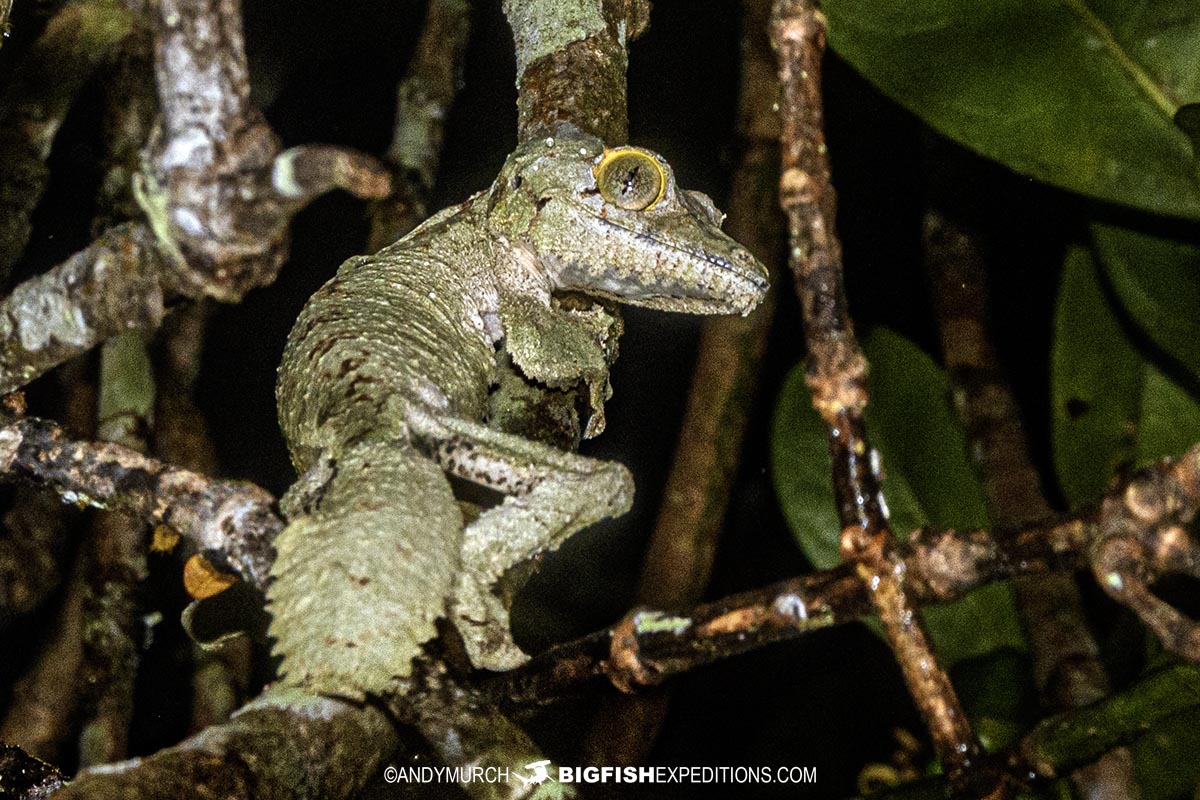 Analamazotra National Park
The next morning we awoke to the haunting sound of Indri's calling to each other across the canopy. Indris' are Madagascar's largest primates; about the size of a chimpanzee.
We spent the morning trekking in Analamazotra National Park where we were able to get close to a family of indris and a troop of Diademed Sifakas, a beautiful lemur species with an orange coat. We also saw grey bamboo lemurs feeding on bamboo shoots in the forest.
While photographing the sifakas, our guide spotted a small red tree boa coiled on a twig. We also came across a Madagascar long eared owl.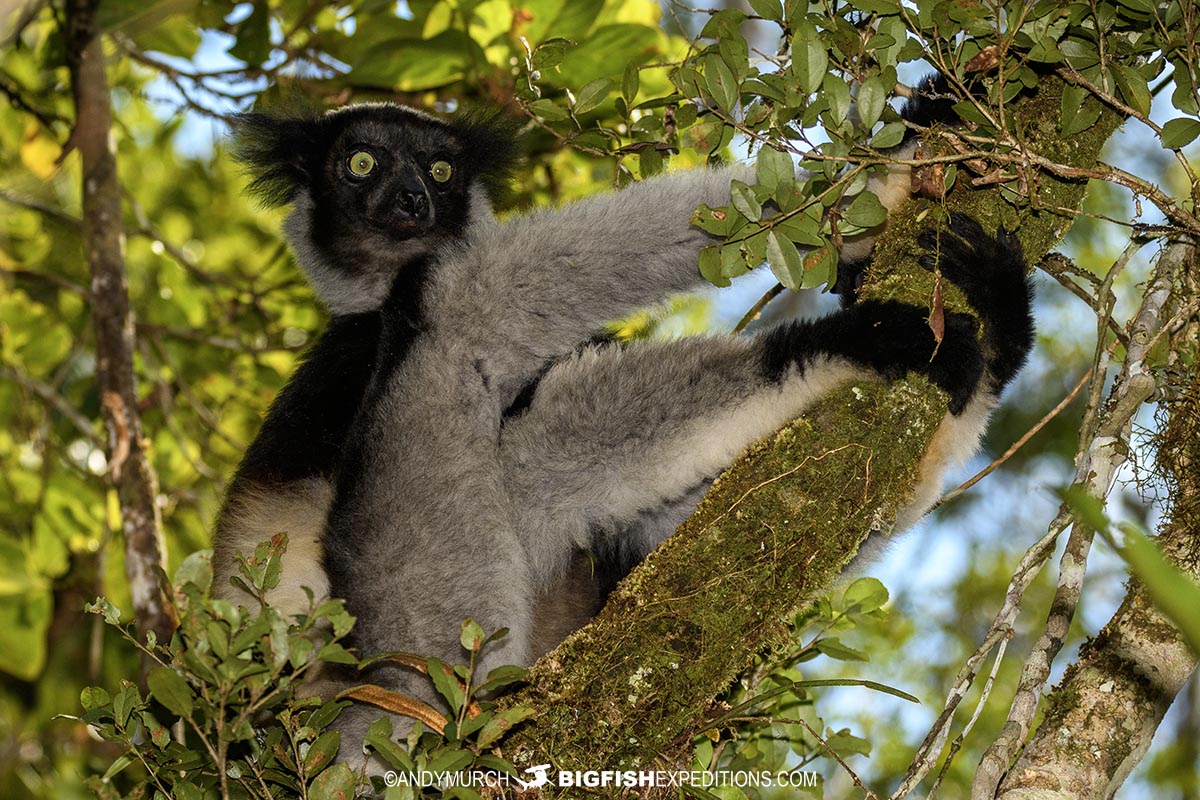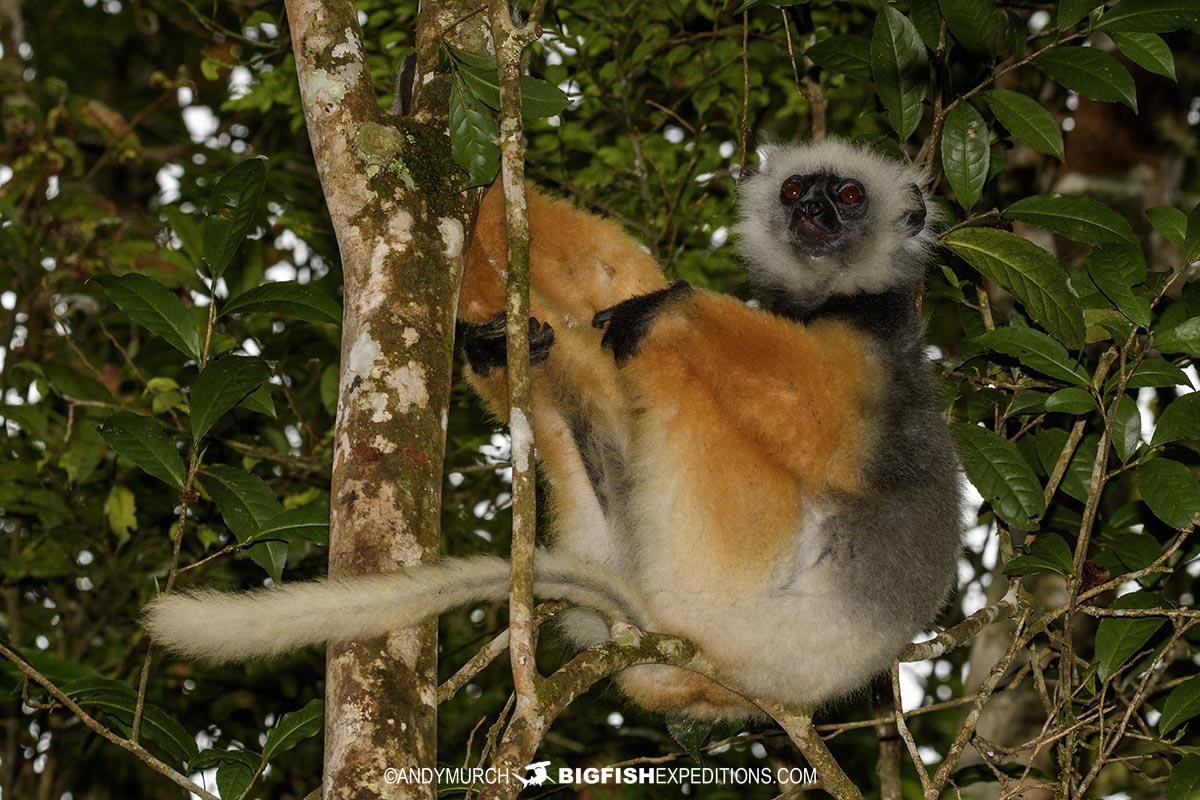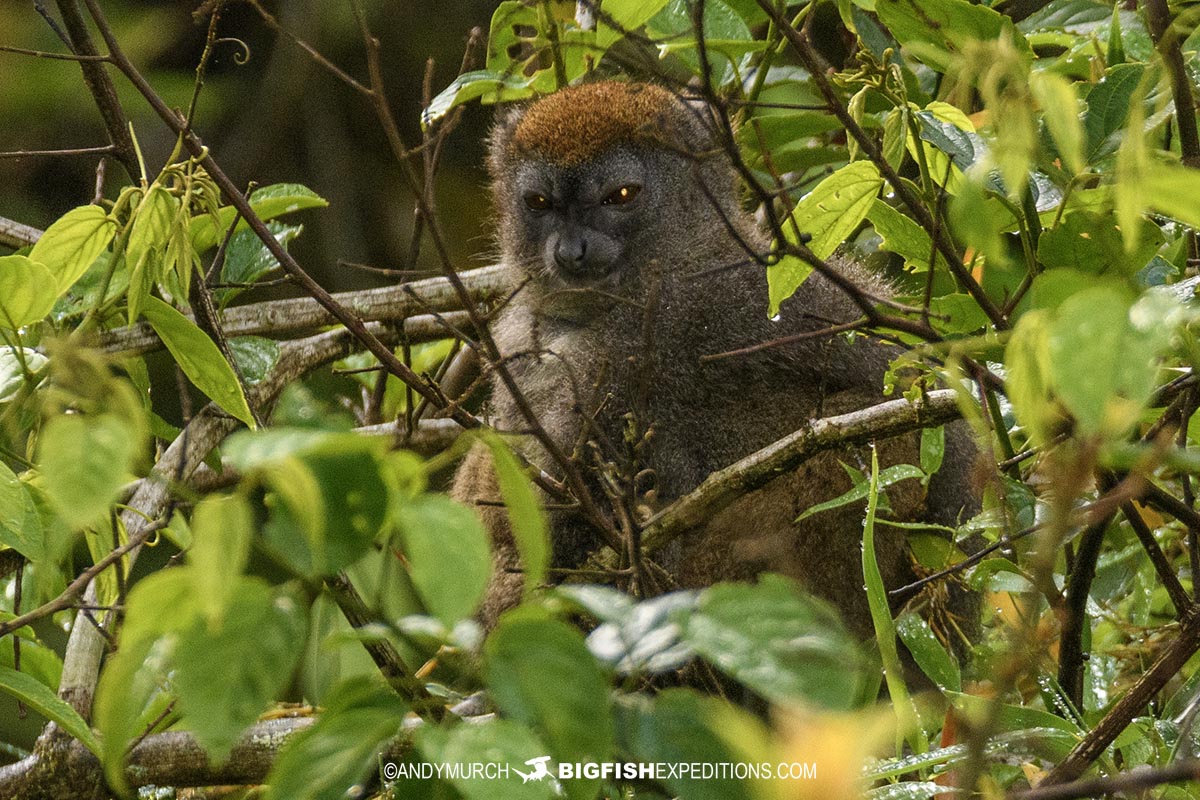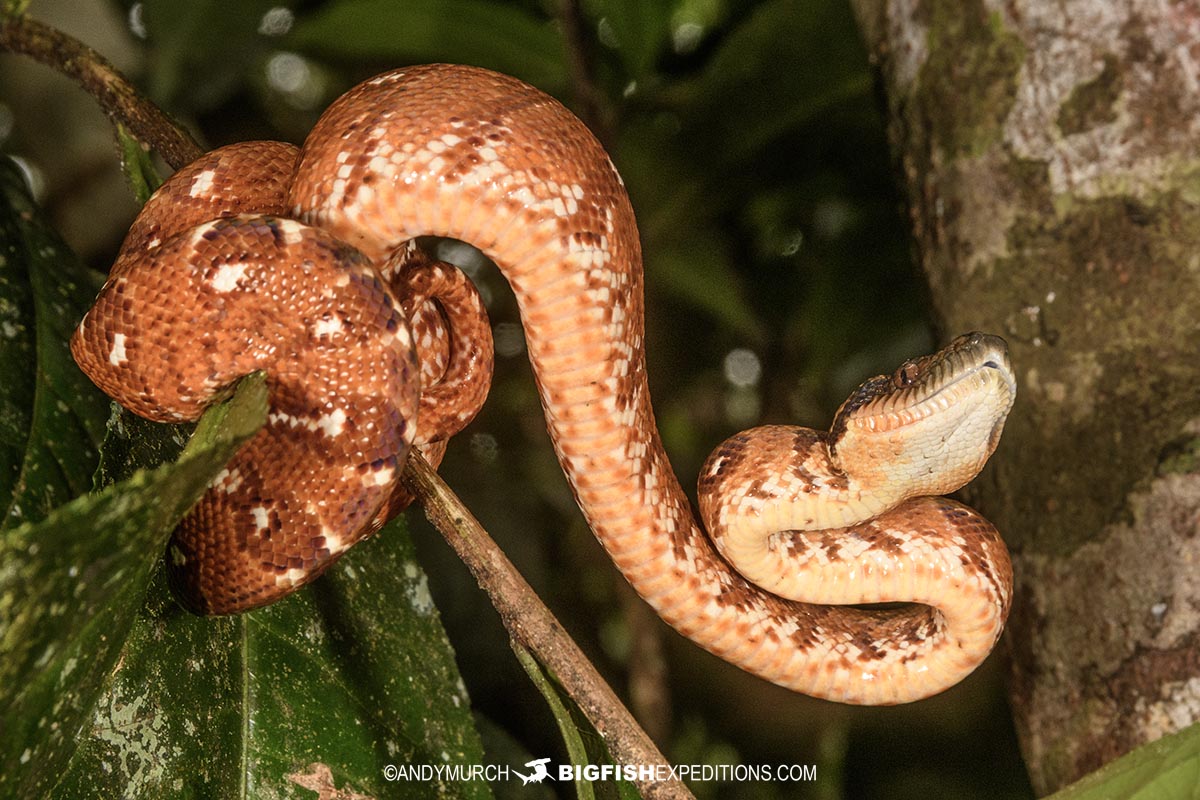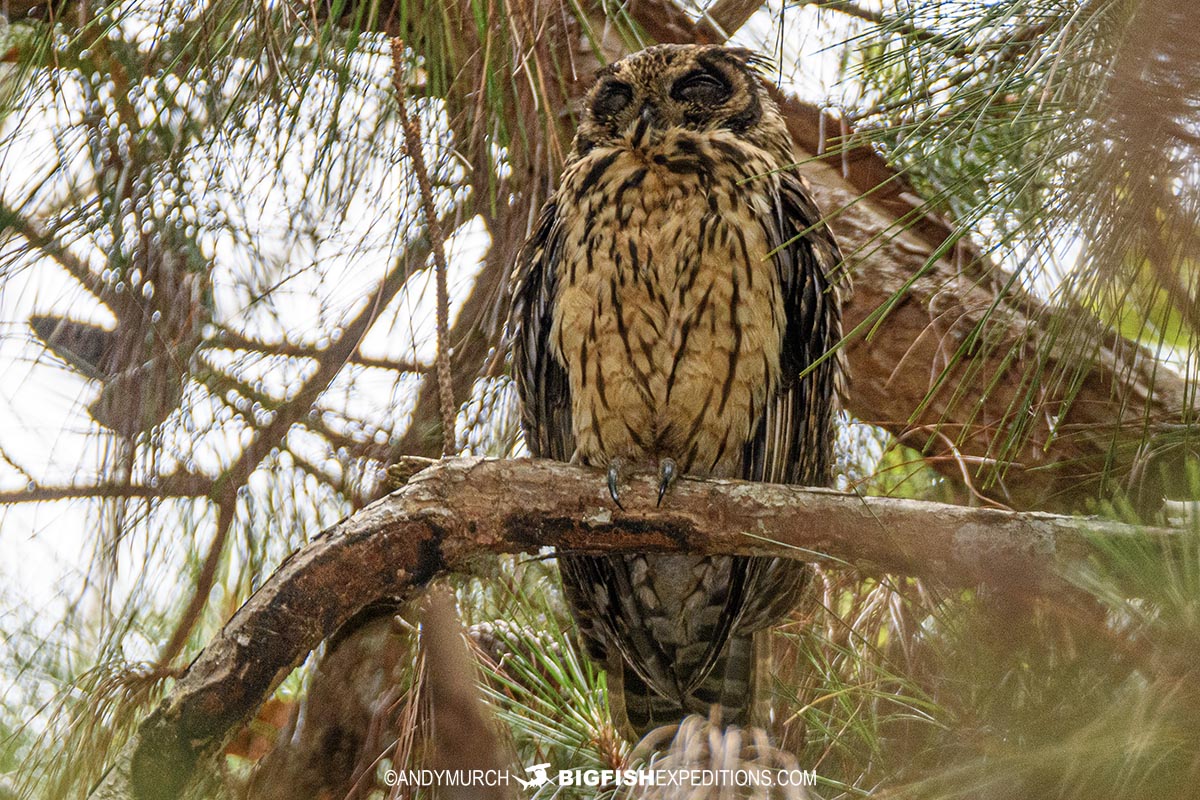 VOI
After lunch, those of us with energy left, went for a hike in VOI; another of Andasibe's forested reserves. We spent time with a large troop of Black-faced Brown Lemurs and saw a number of interesting bird species including a Paradise Flycatcher on its nest and Madagascar Scops Owl roosting in some bushes close to the ground.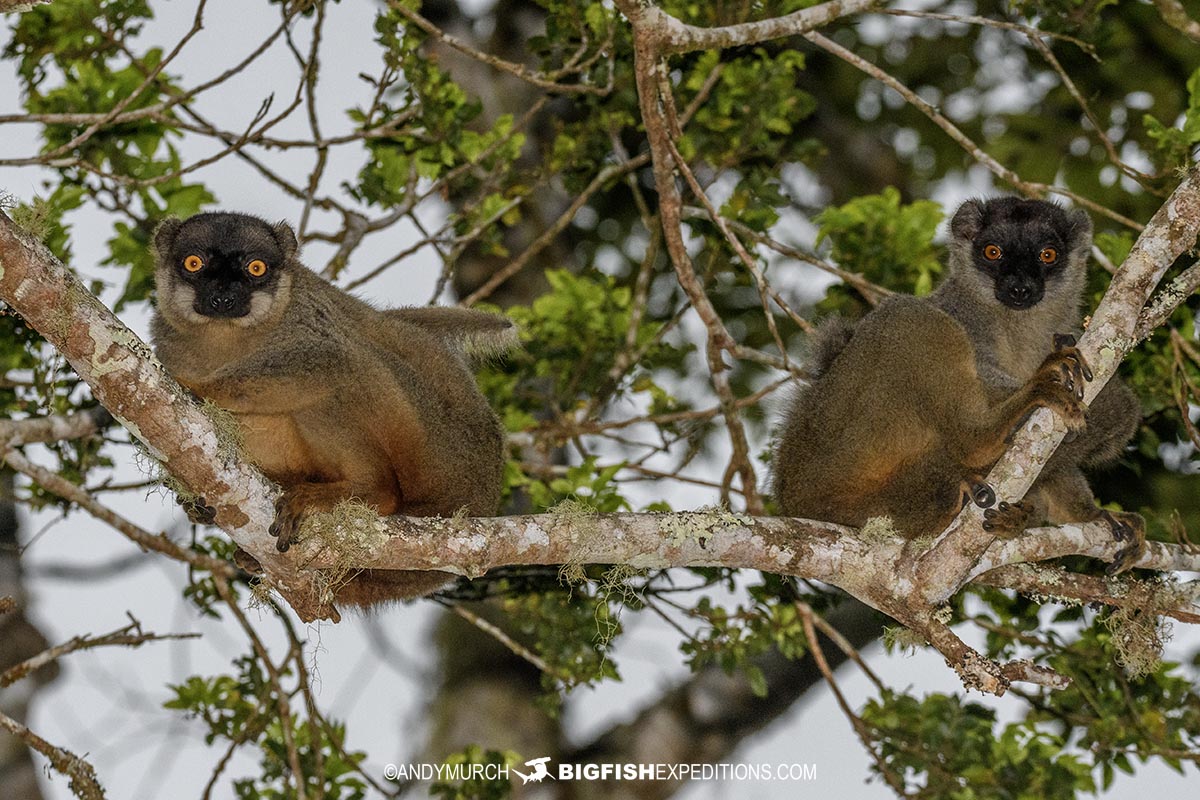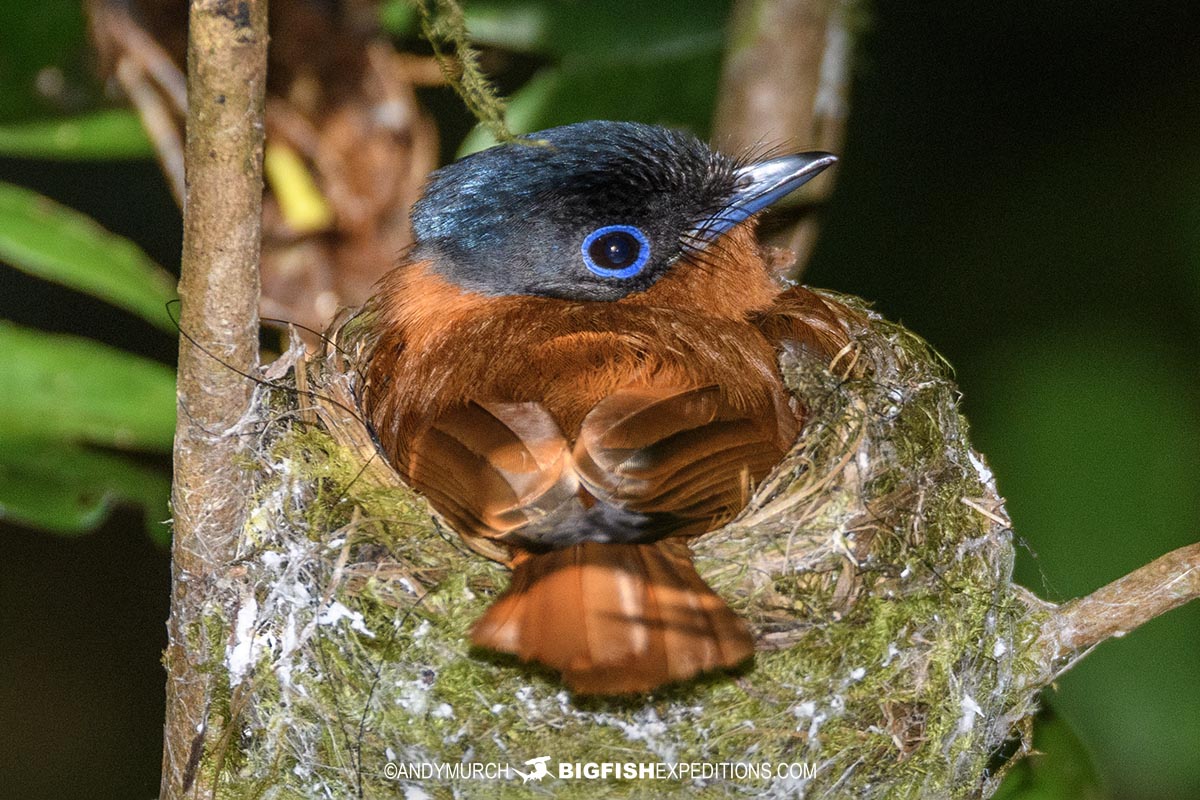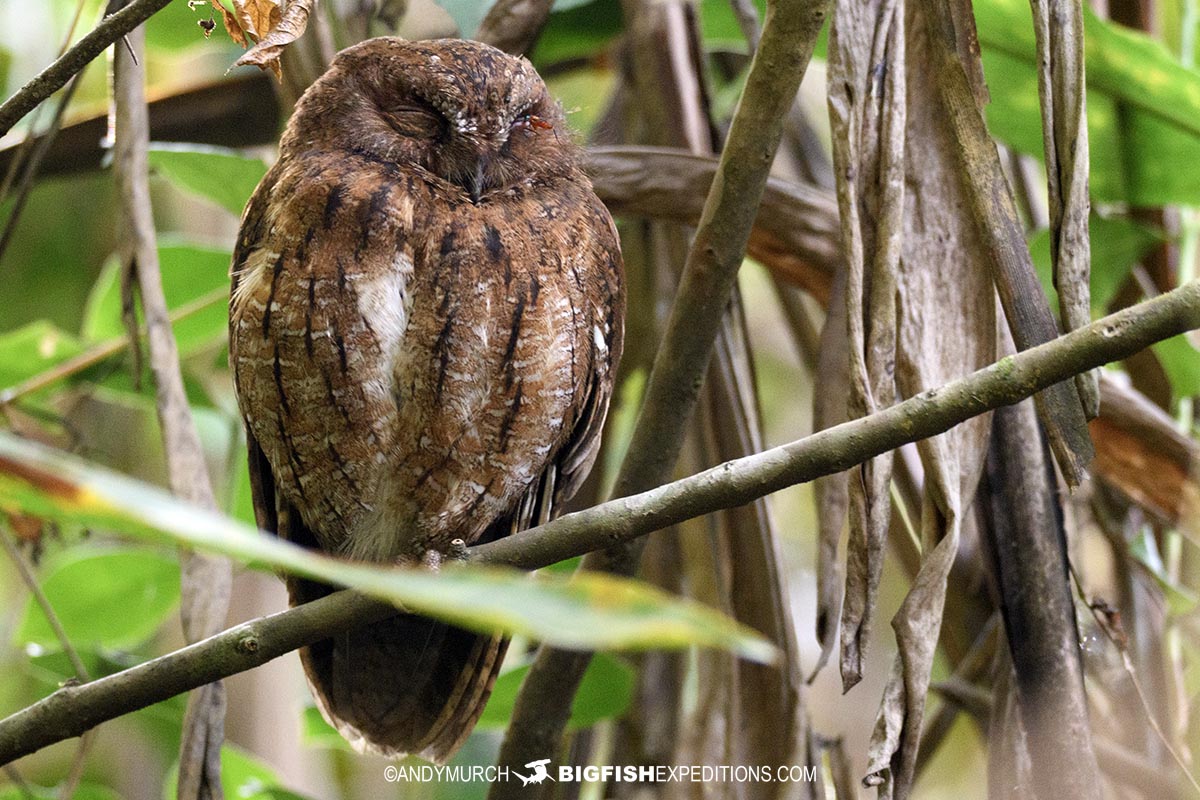 Mitsingu Reserve
That night we did a night walk in Mitsingu Reserve, where we encountered a handful of Crossley's Dwarf Lemurs. Our guide called them Fat-tail Dwarf Lemurs but those do not occur in the Andasibe area so theymust have been Crossley's.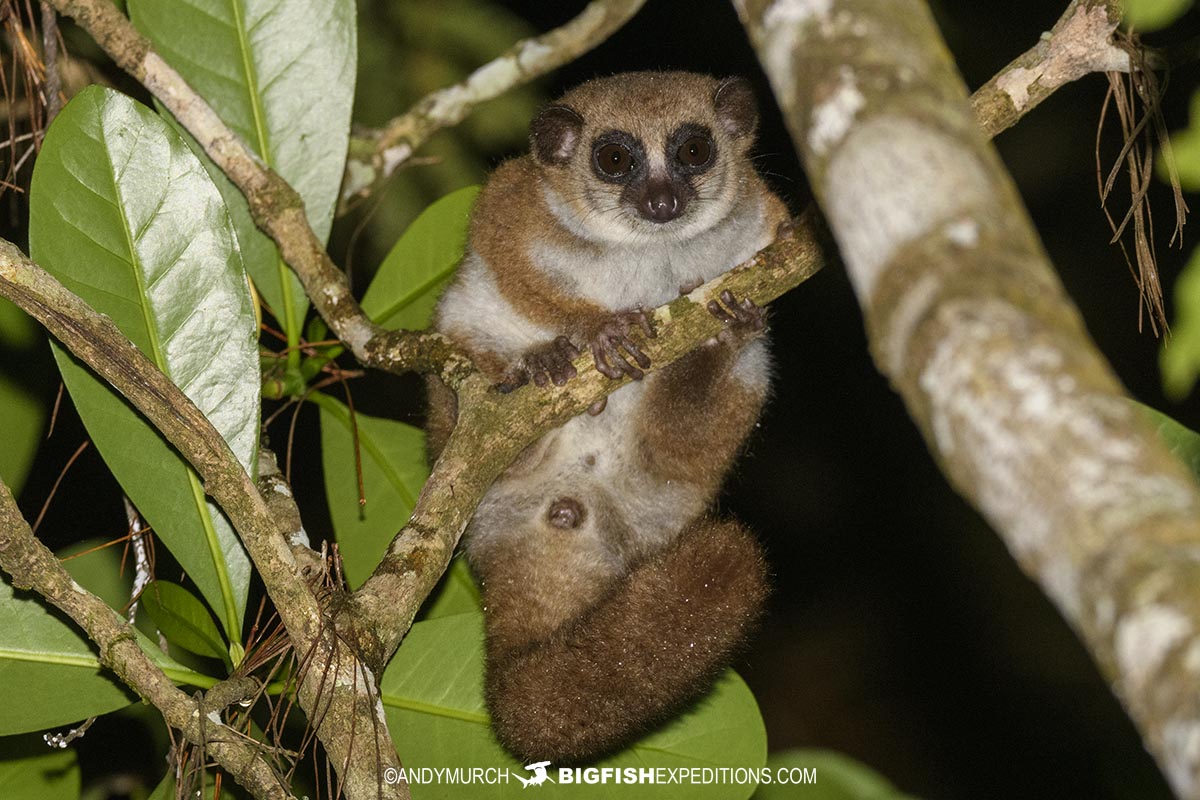 Mantadia Reserve
The next morning we visited Mantadia; a remote park that see's very few tourists. Here we found our first Black and White Ruffed Lemurs foraging high in the canopy. We also saw more Indris and brown lemurs but the ruffed lemurs barking ferociously at each other were the highlight.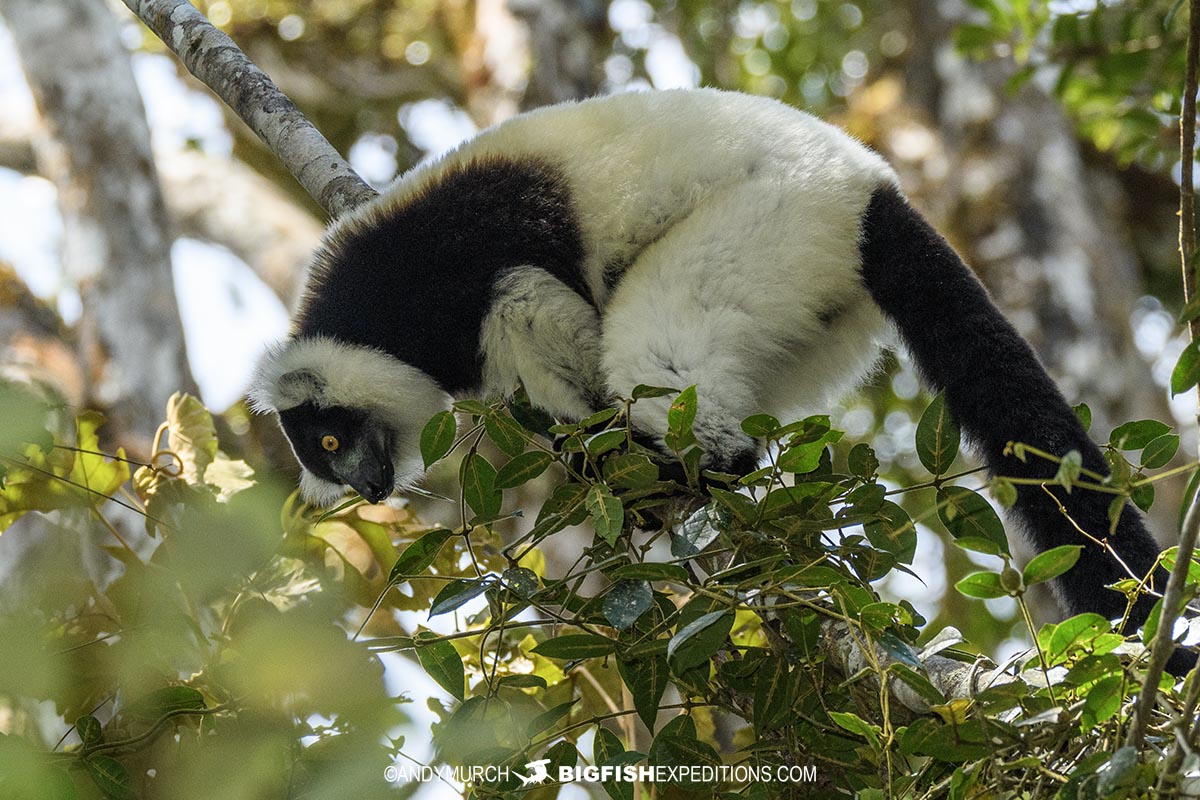 The Orchid Garden
On our final night in Andasibe we returned to a part of VOI known as the orchid garden. Here we saw many more Goodman's mouse lemurs, juvenile Parson's Chameleons, and lots of Boophis tree frogs that I will not even attempt to identify because there are lots of species and their markings can be rather cryptic.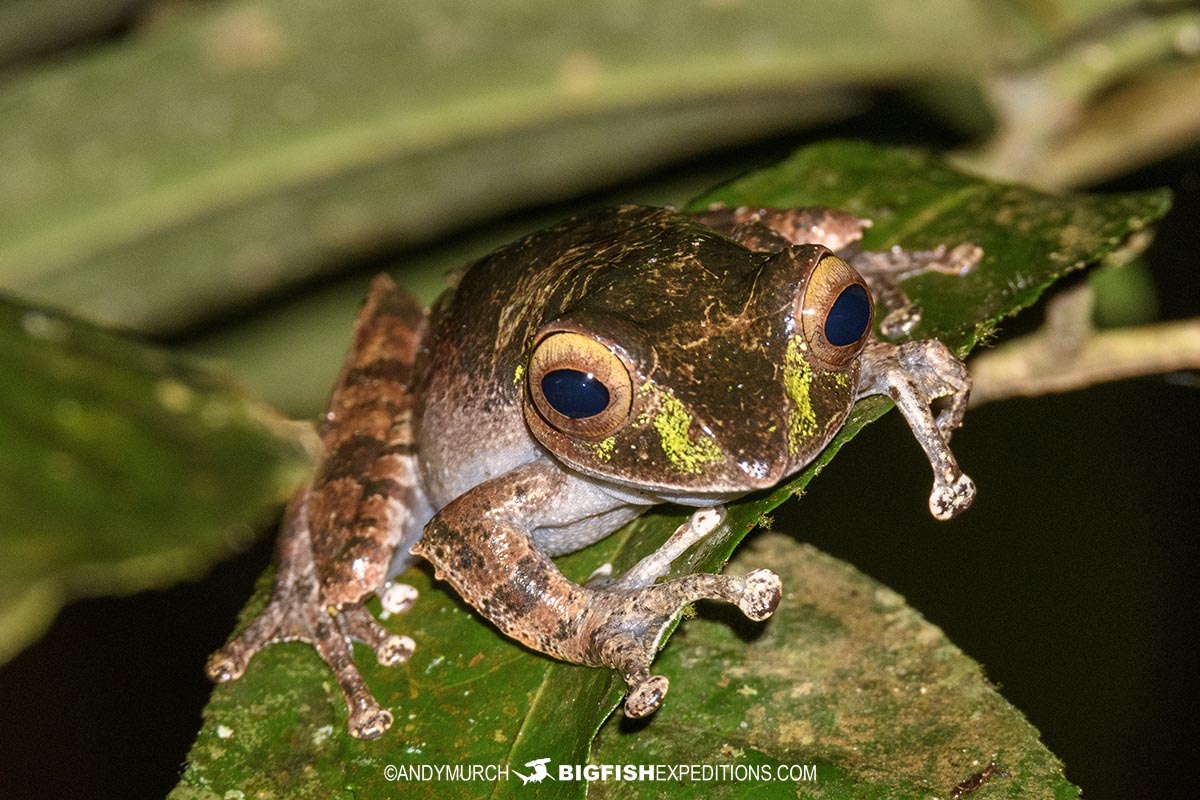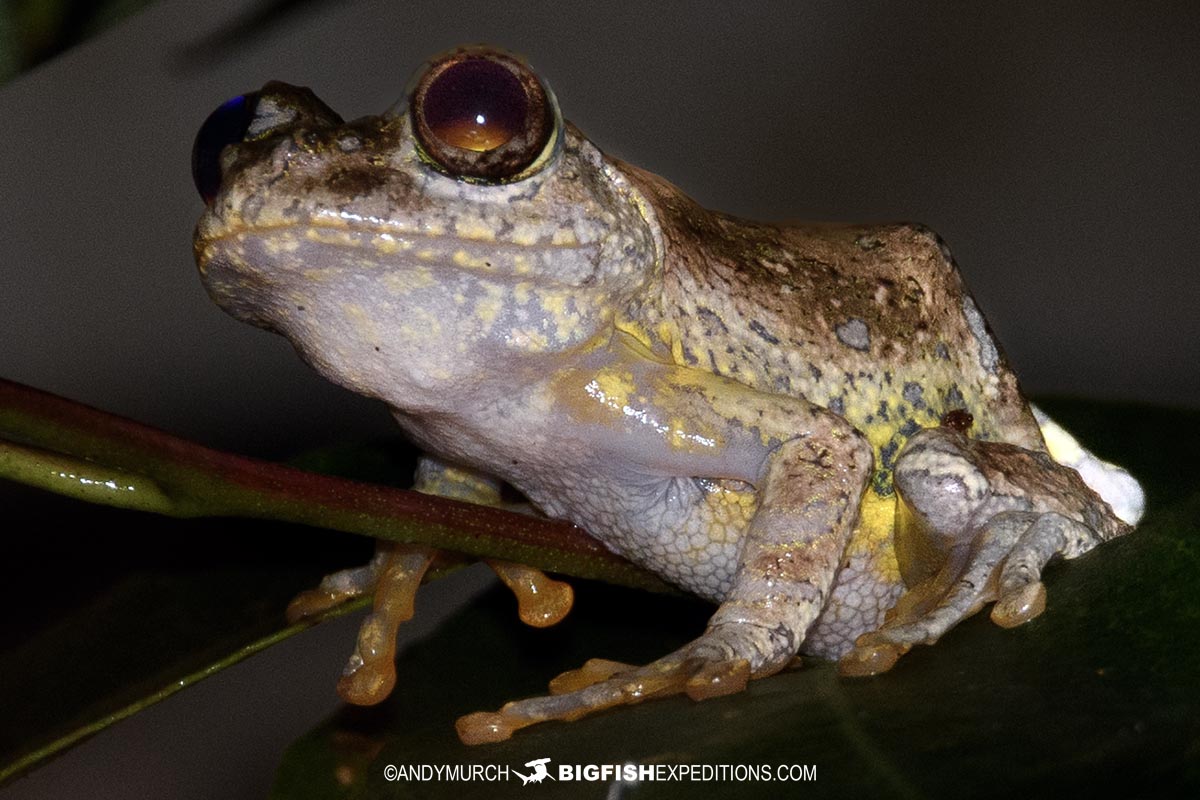 Vakona
On our final morning in Andasibe we visited Vakona, aka Lemur Island. The island is surrounded by water and only reachable by canoe, so the lemurs within are quite tame but essentially in a zoo. Still, this was a chance for our guests to see a couple of new lemur species including Red-ruffed Lemurs and Rufous Brown Lemurs. As well as to watch Sifakas jumping around and get some great shots of Black and White ruffed lemurs at close quarters.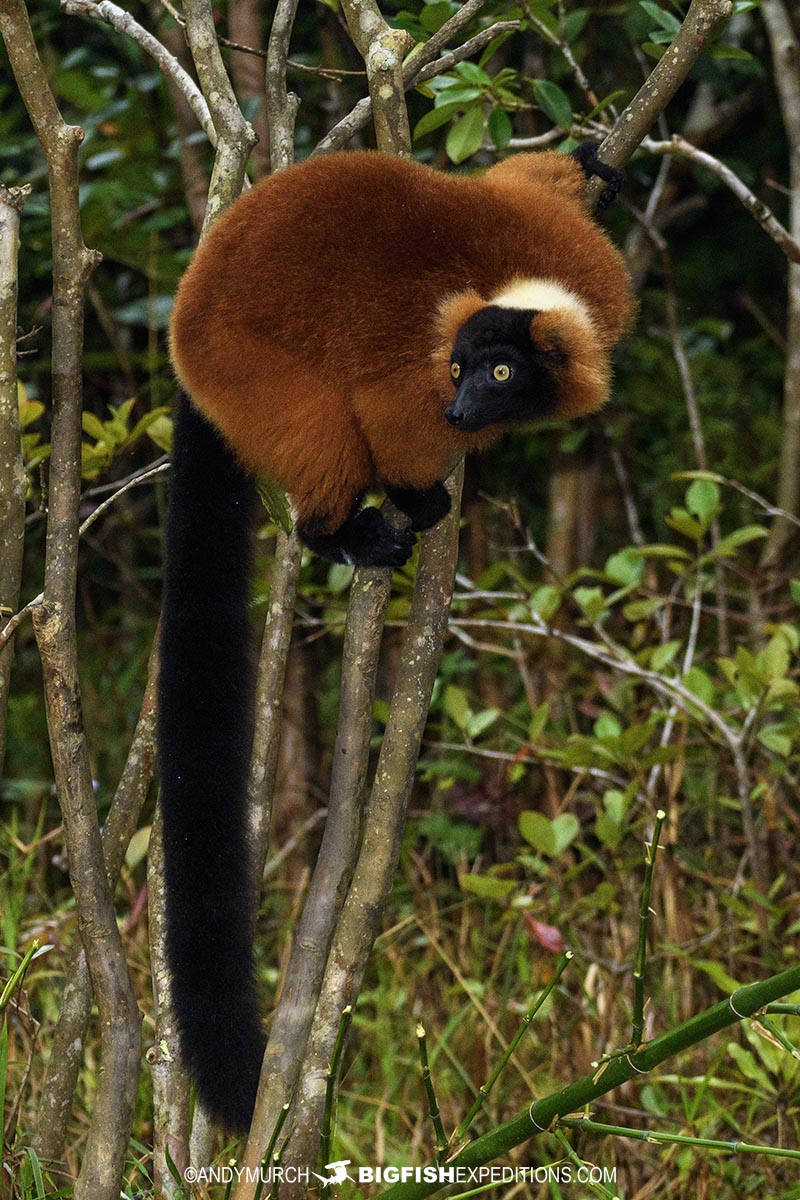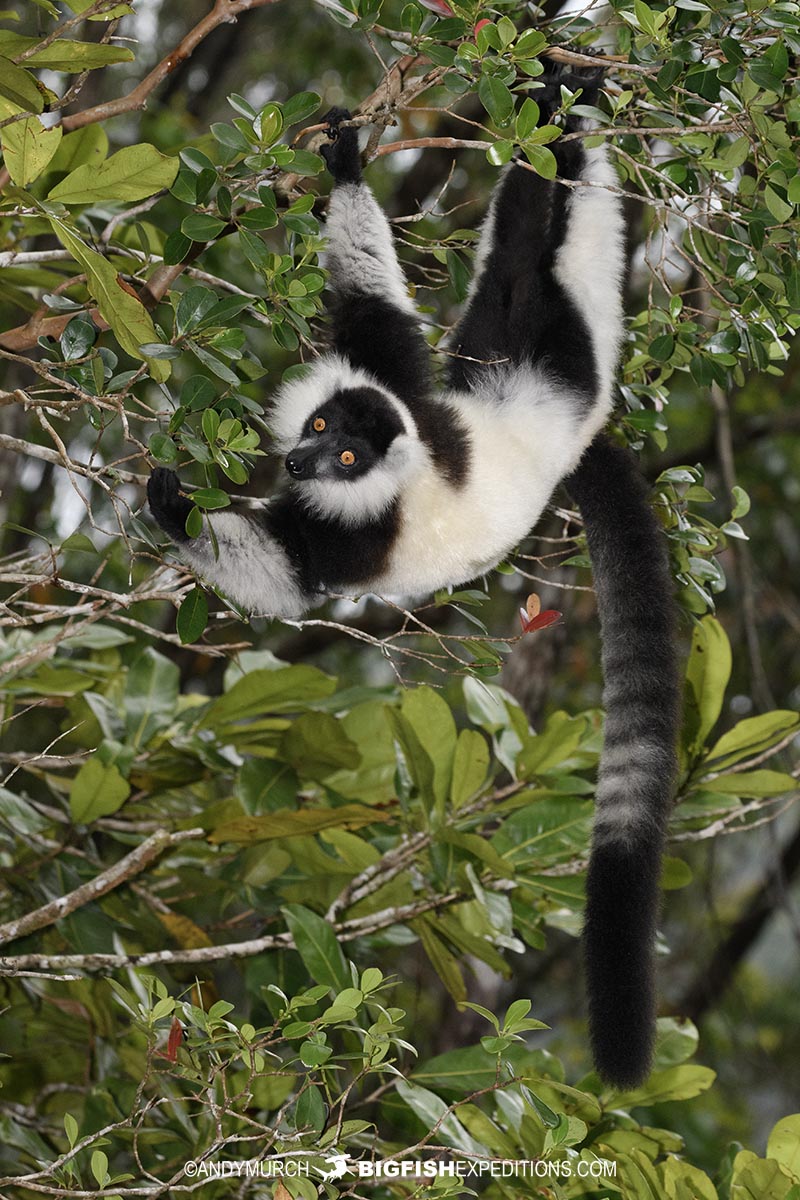 THE WESTERN LOWLANDS
On the Road to Kirindi
After lunch we left the central mountains for the long run to the western lowlands. This involved an overnight stop in Ansiribe and a low drive across hot arid scrubland until we finally reached the west coast.
On route our bus blew a front bearing which involved a lengthy wait in the desert while we waited for a change of vehicles. Not one to waste an opportunity, I wandered through the scrub until I located our first Oustalet's Chameleon walking across the hot desert floor.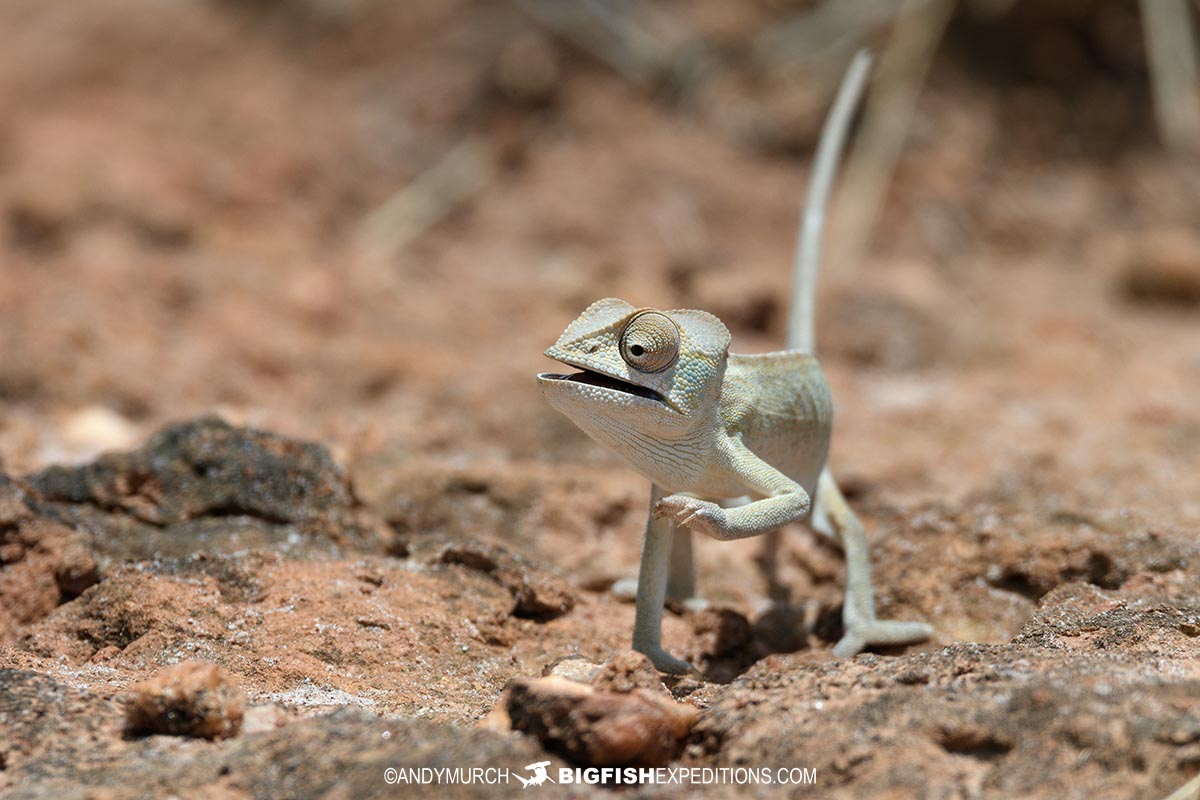 Night walk at Hankiba
It was late by the time we reached the lowland forest. We had hired two AWD SUVs to take our group into Kirindi Forest Lodge. Some guests opted to head straight to the lodge, but the diehards joined me on a late evening hike to look for nocturnal forest residents.
We found all three species of mouse lemurs within the first 30 monutes of the walk including Grey Mouse Lemurs, Grey-brown Mouse Lemurs (a species soon to be split from the GBMLs found further south, apparently) and Madame Berte's Mouse Lemur; the smallest Primate in the world!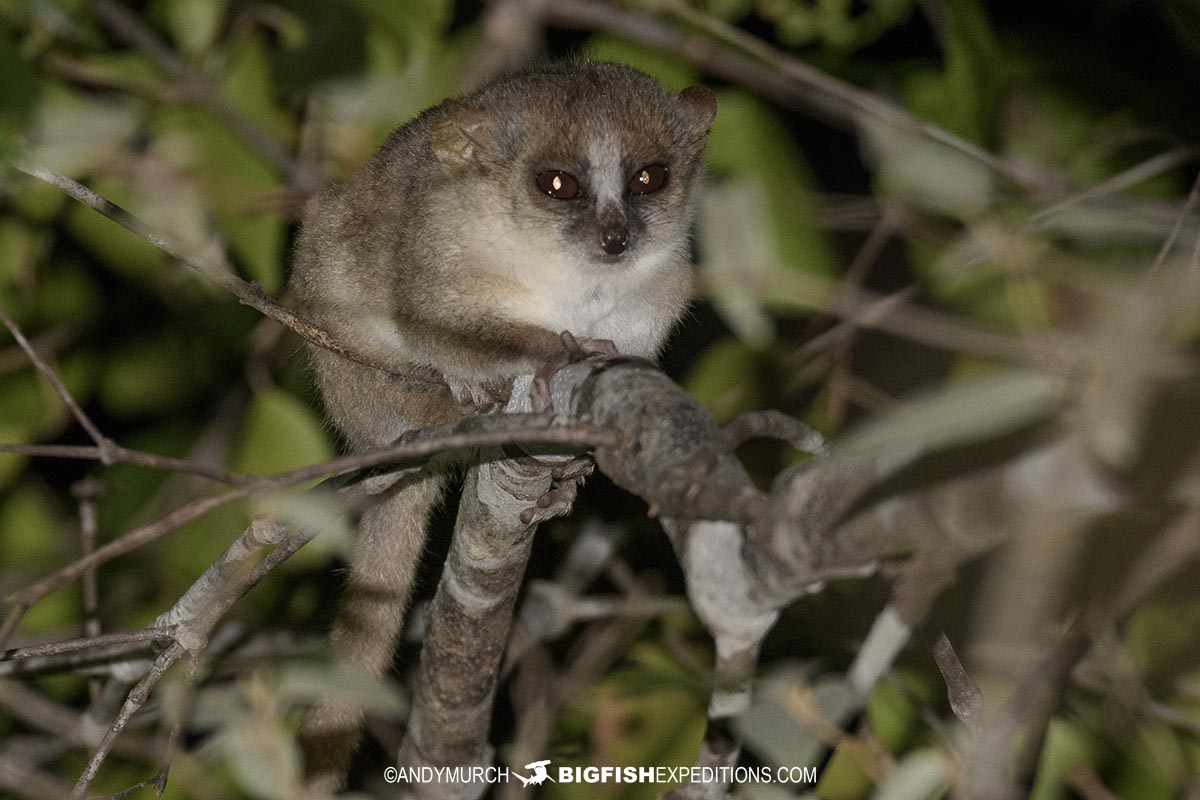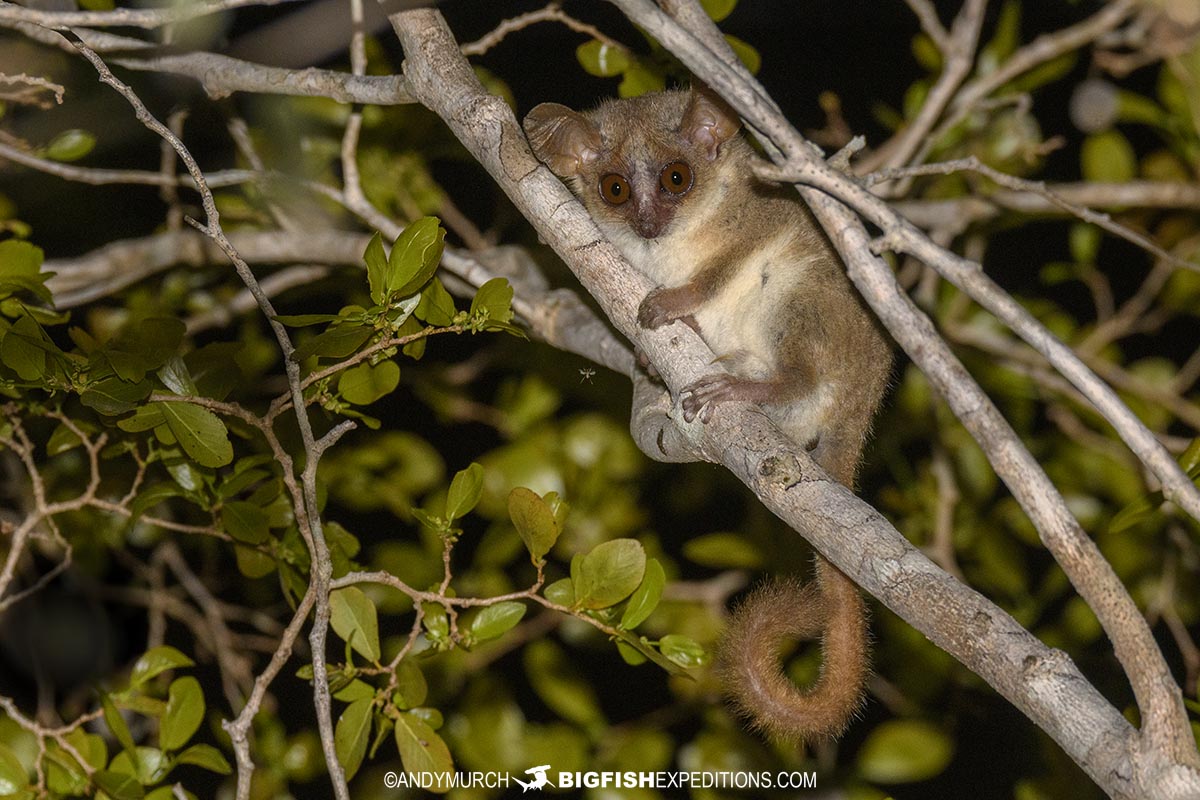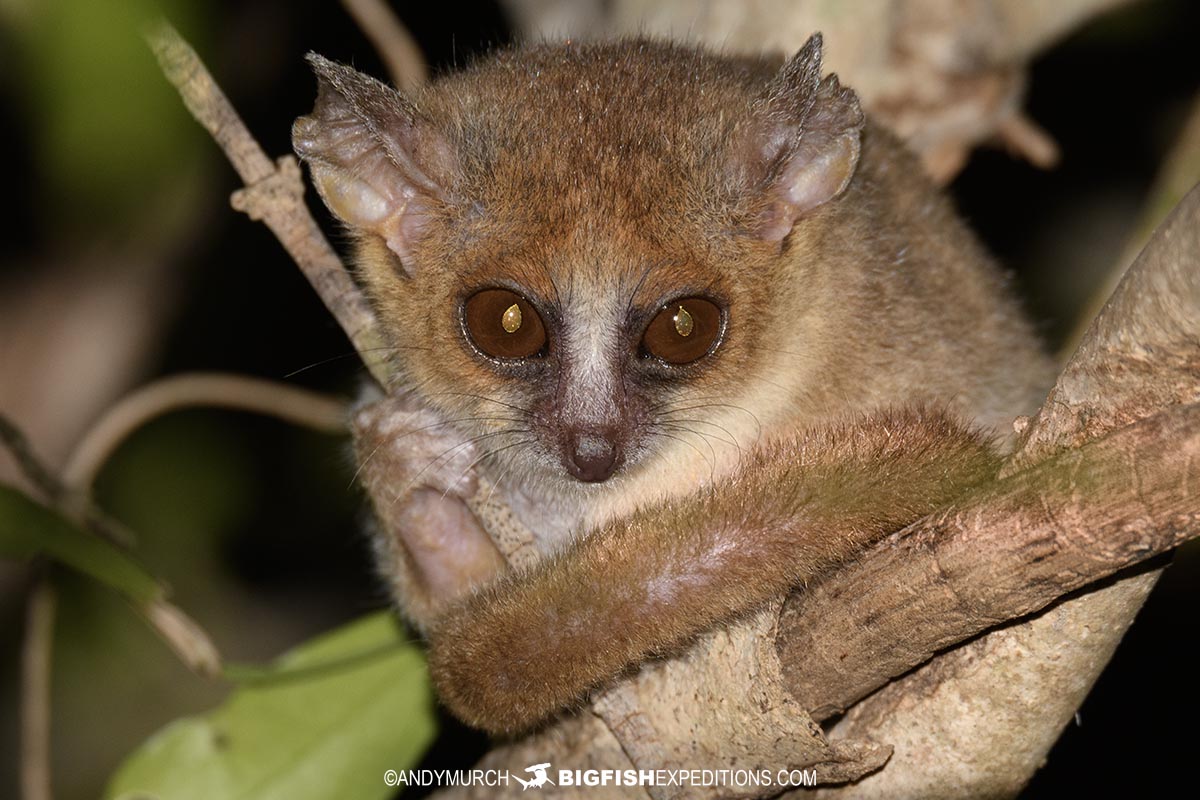 Kirindi National Park
The next morning we hiked in Kirindi National Park. It was a hot morning but the lowland dry forest is very flat terrain so the going was pretty easy.
After stopping to photograph spiny-tailed lizards and a curious Madagascan flat-tailed tortoise (endemic to Kirindi), we soon found our first family of Vereaux's Sifakas and some Red-fronted Brown Lemurs.
Kirindi is also a good spot to see endemic birds such as Sickle-billed Vangas.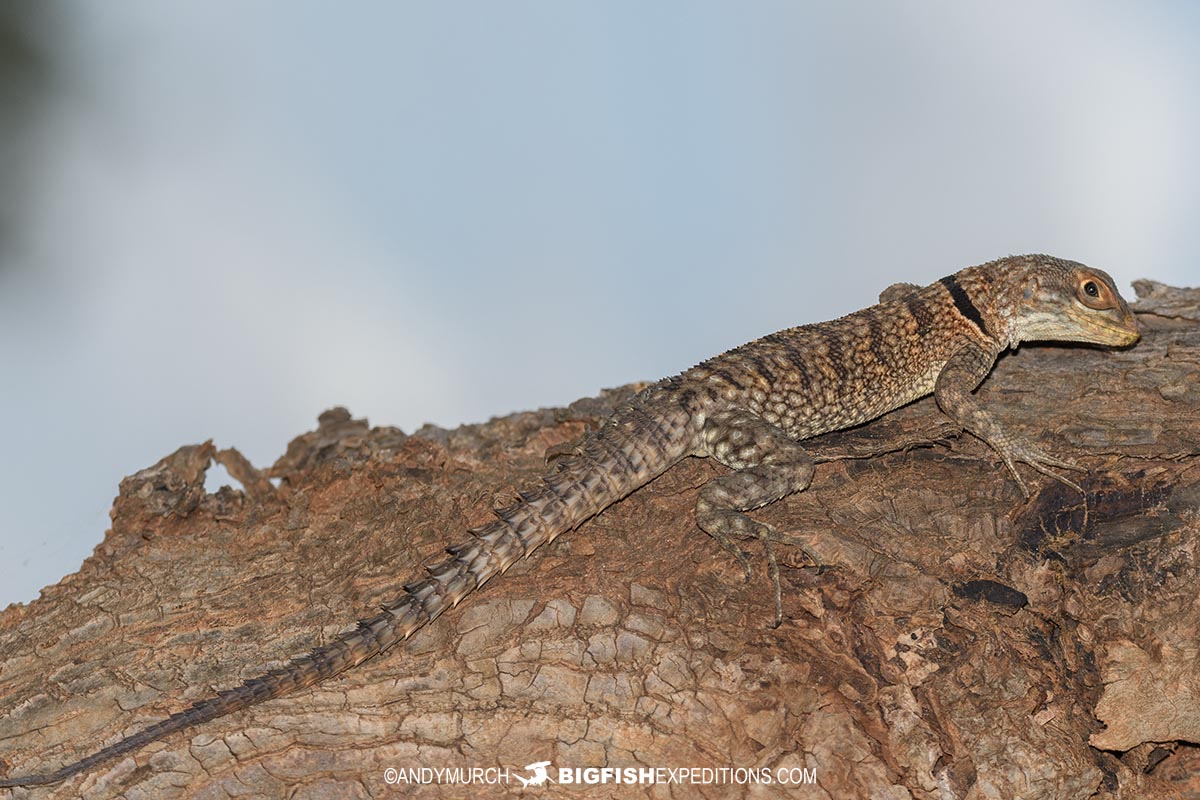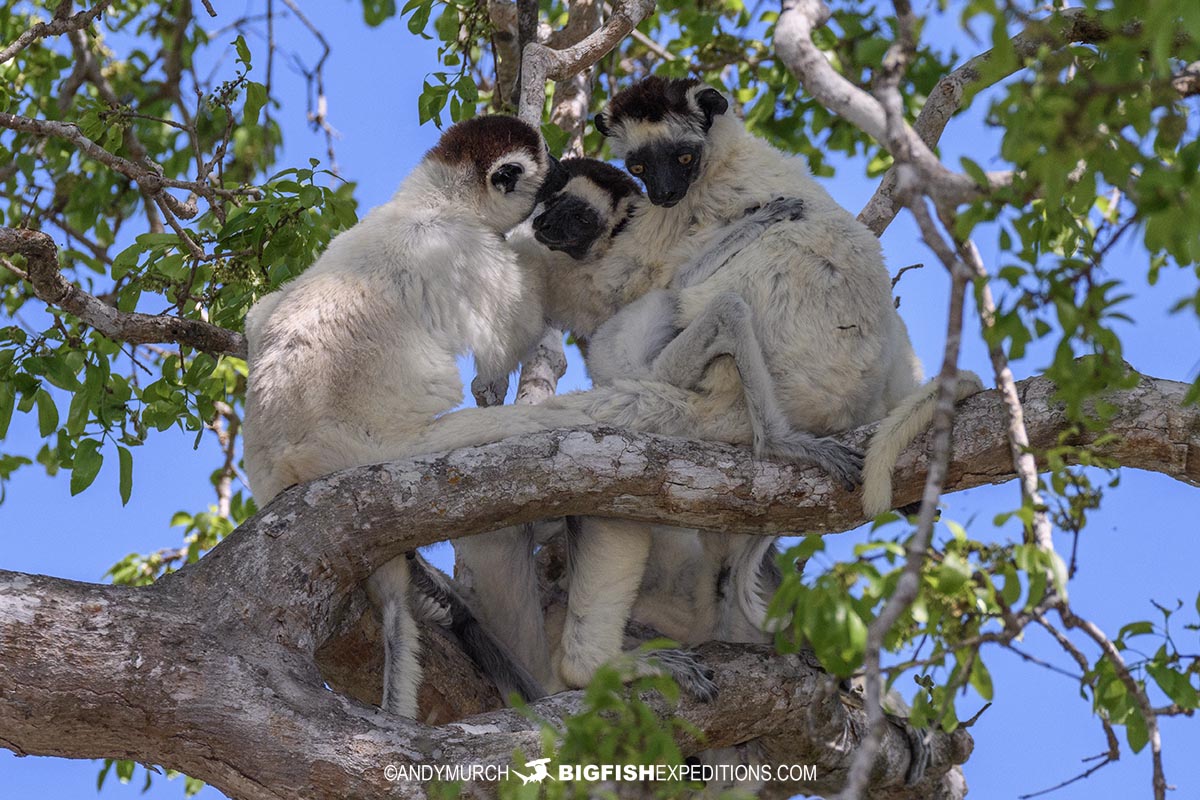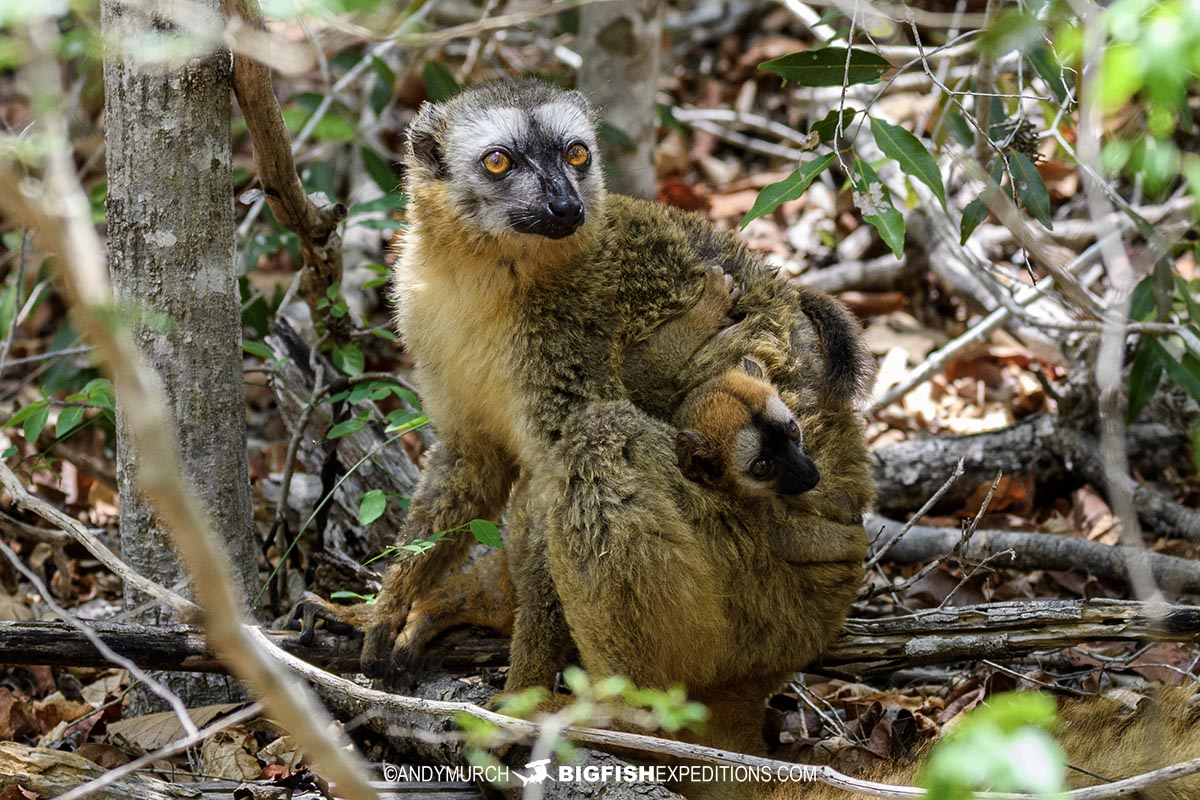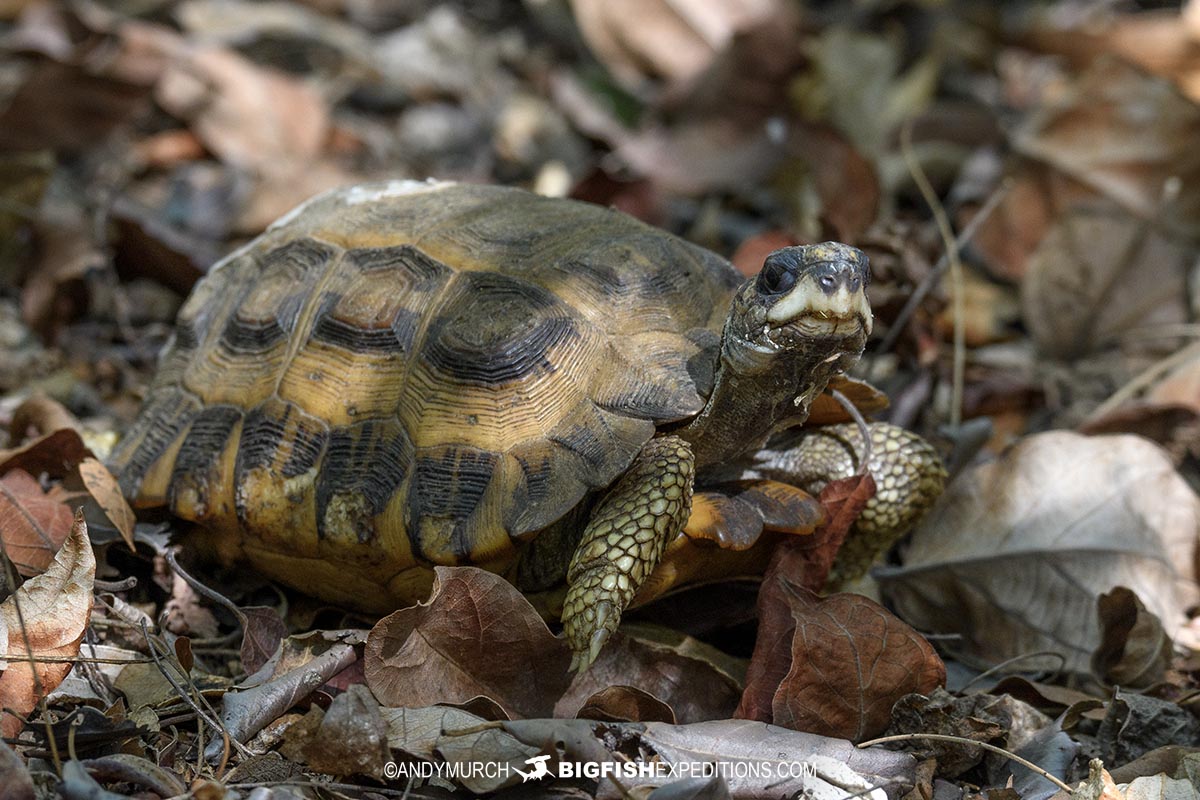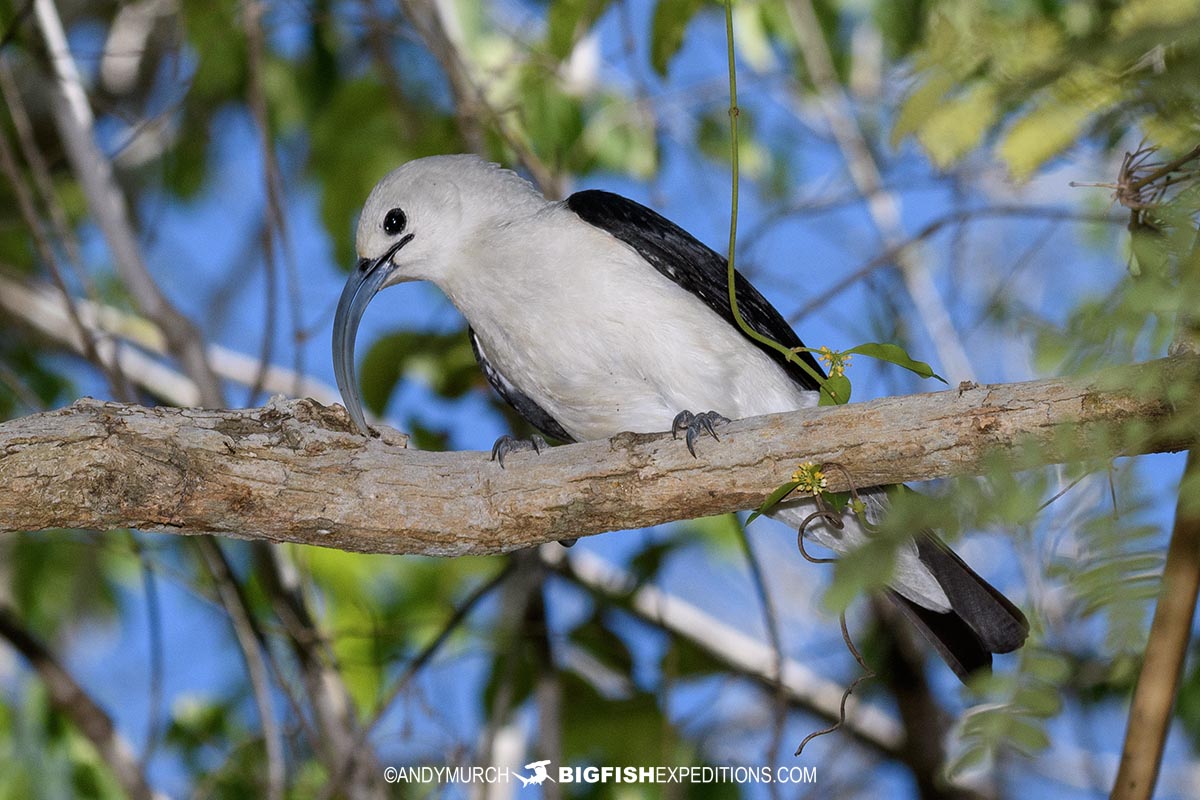 Baobabs
We spent the afternoon enjoying cold drinks around the pool of our lodge until the sun lost some of its intensity. Then we went went in search of sunset images of the majestic Baobab Trees that pepper the barren landscape outside the forest.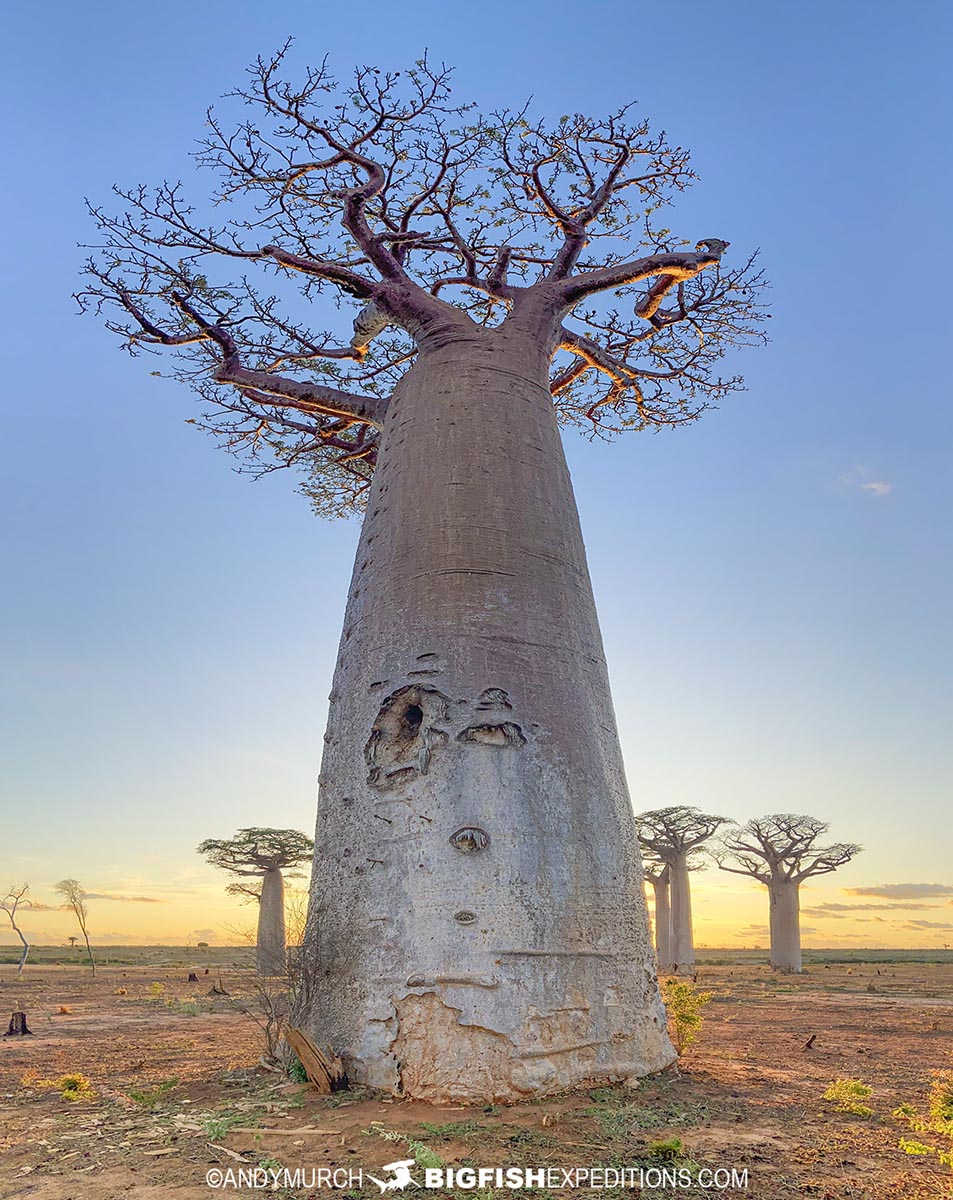 Night Walk in Kirindi Forest
After dinner we returned to Kirindi Forest for a night walk to look for more nocturnal lemurs. We ran into many more mouse lemurs but we also found a Pale Fork-marked Lemur and five Redtailed Sportive Lemurs.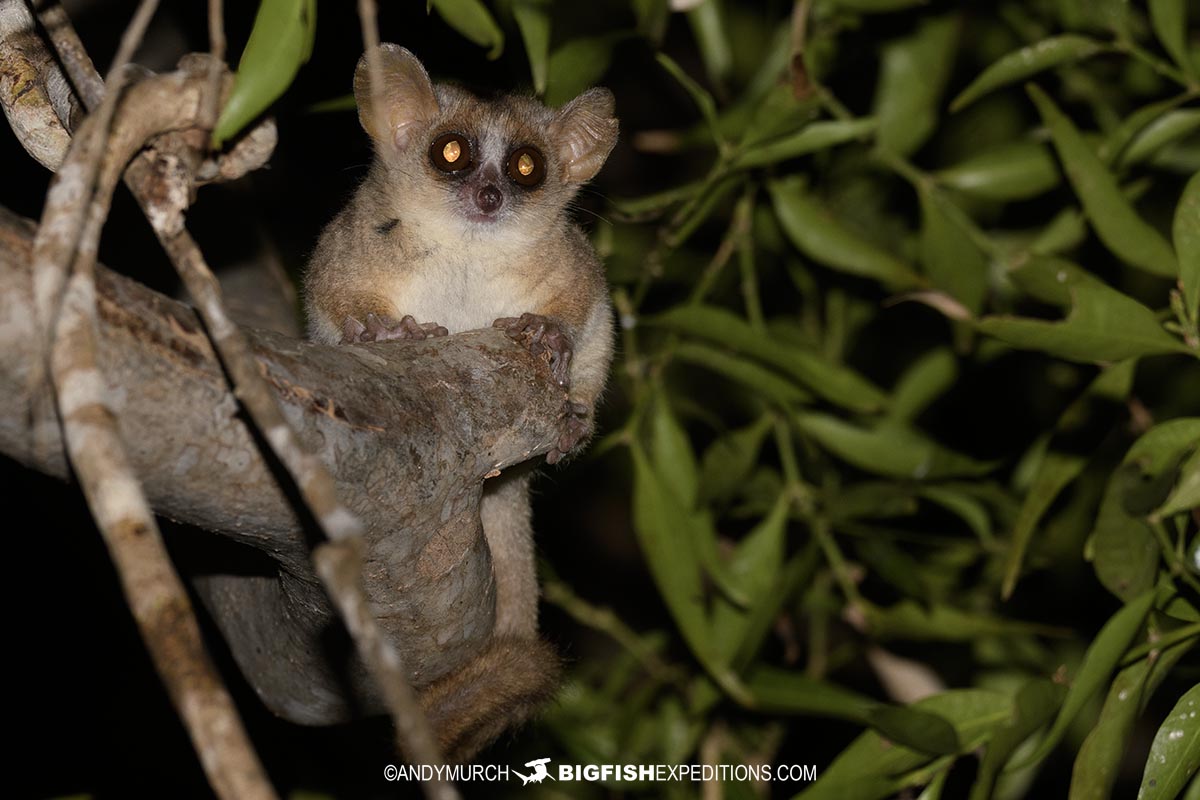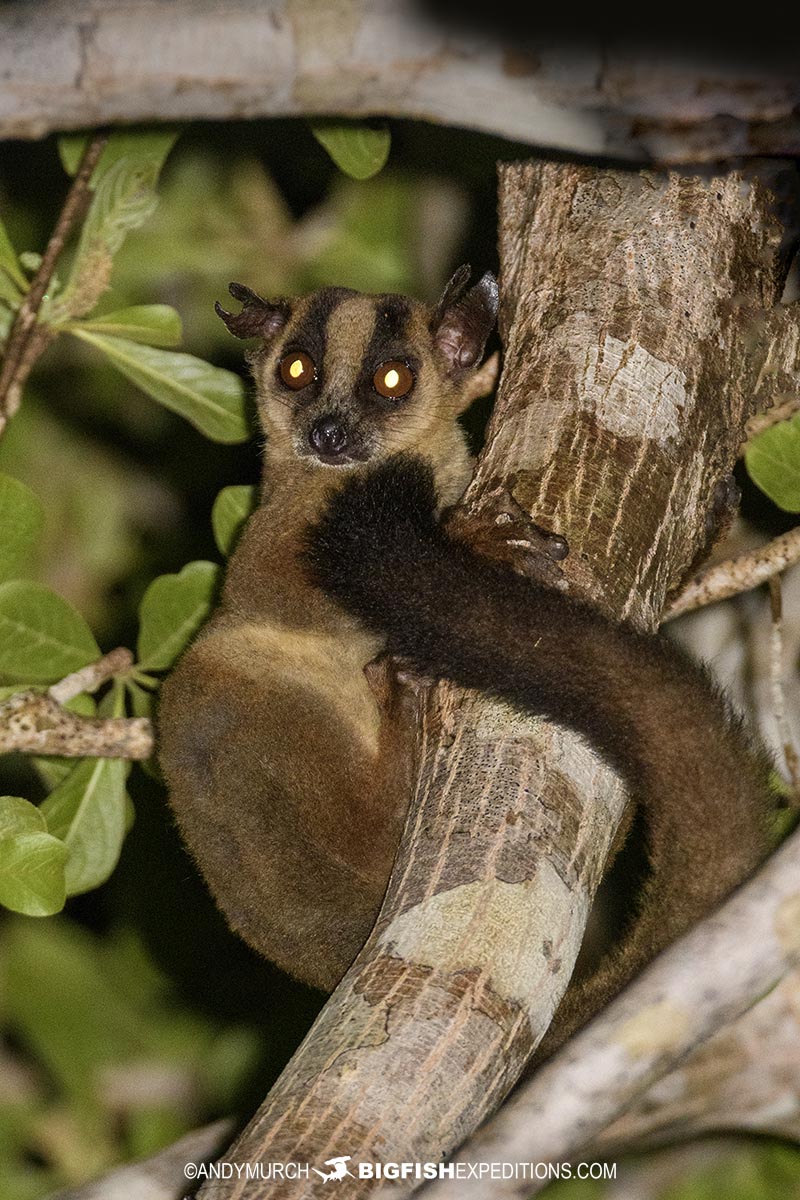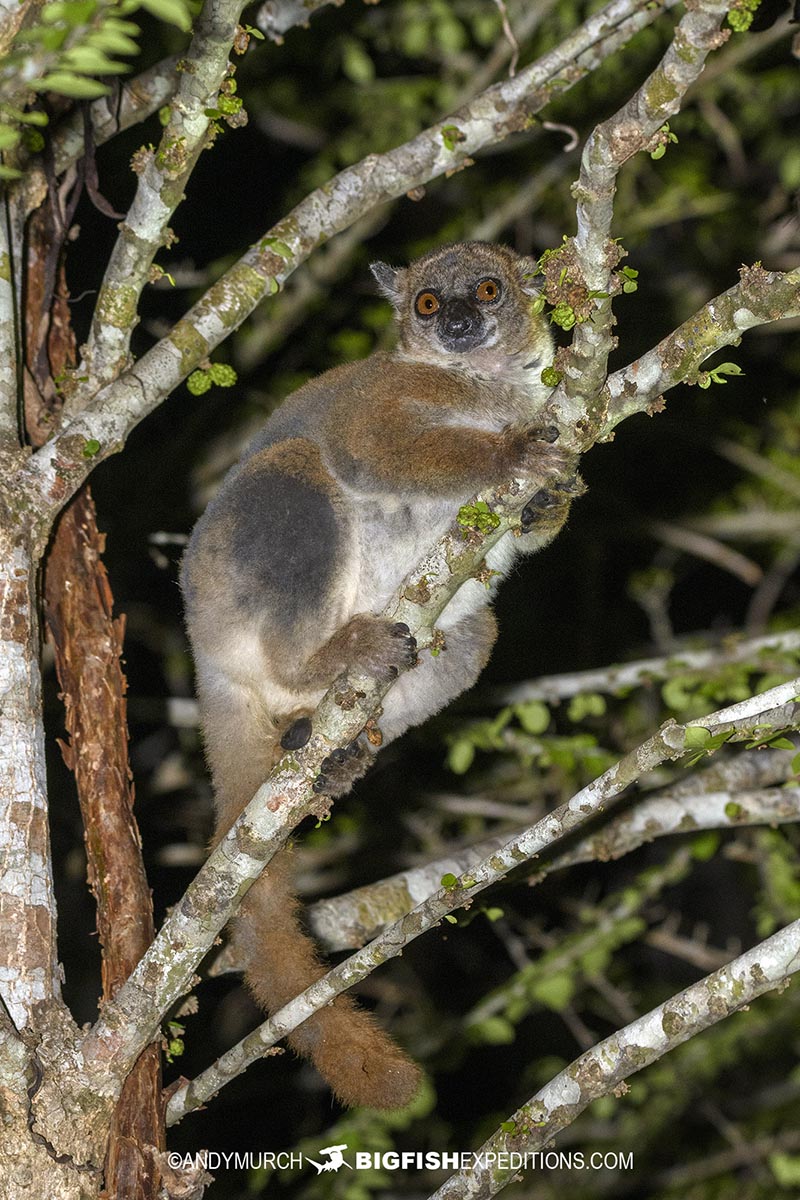 Amazing Encounters with Vereaux's Sifakas
The next morning we trekked in a different section of Kirindi. The highlight of the walk was a troop of rambunctious Vereaux's Sifakas that chased each other through the trees around us for a good half an hour while we snapped away or took videos of their antics.
Later we found a tiny Madame Berte's Mouse Lemur peering out of its nest in a tree, a sleepy little Malagasy Cat-eyed Snake, and a couple of huge Oustalet's Chameleons.
The Baobabs in the forest are a different species from those out in the more arid zone. One by the park headquarters made a nice backdrop for a group photo.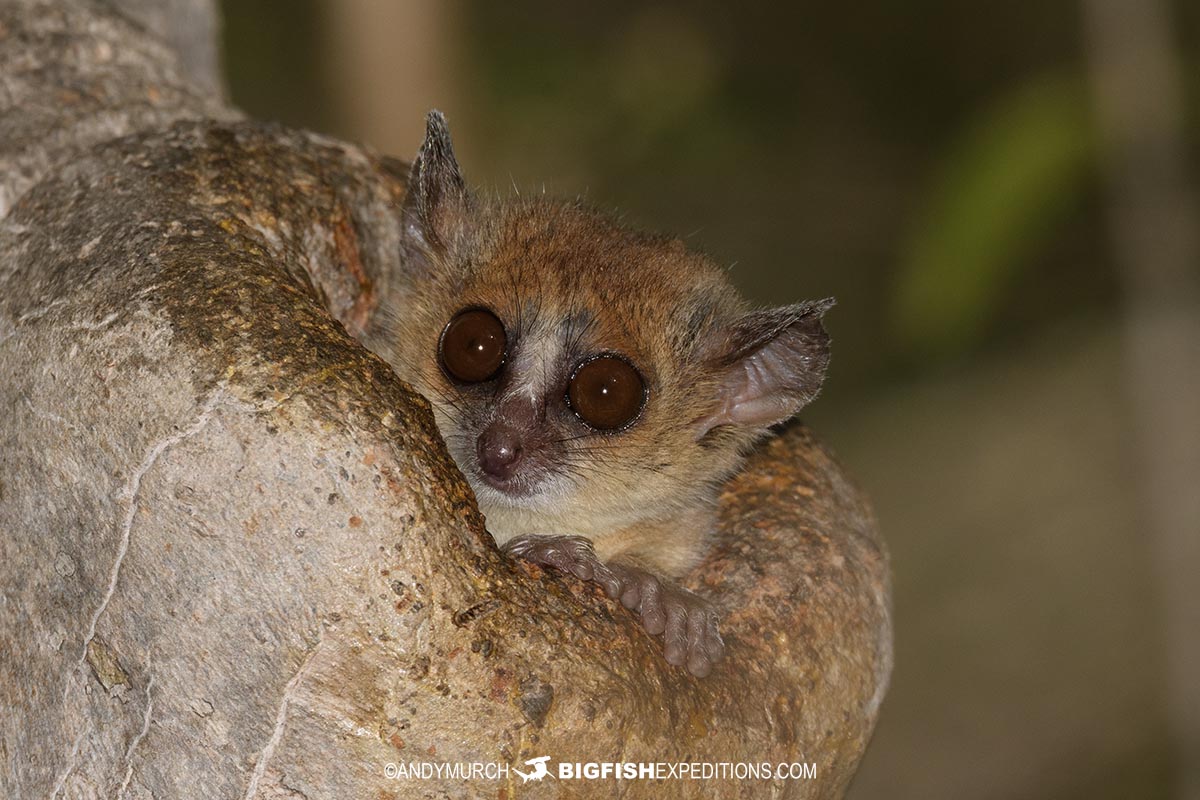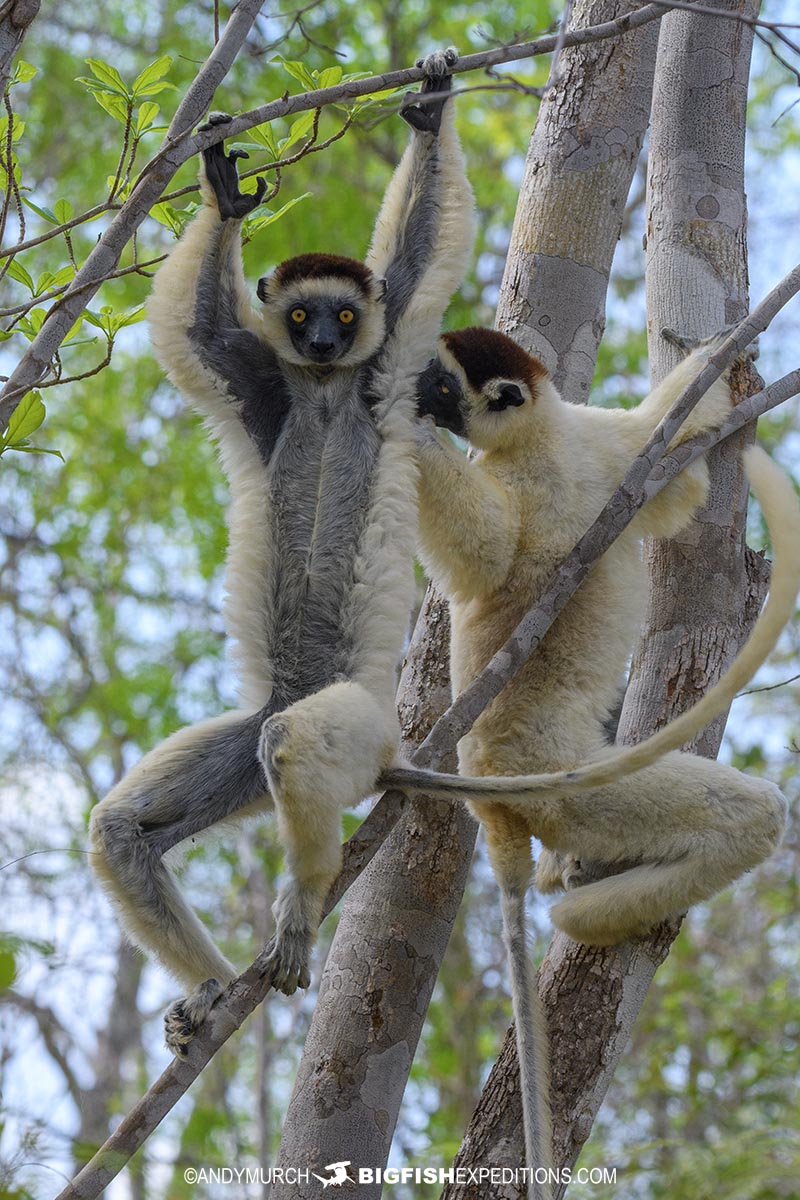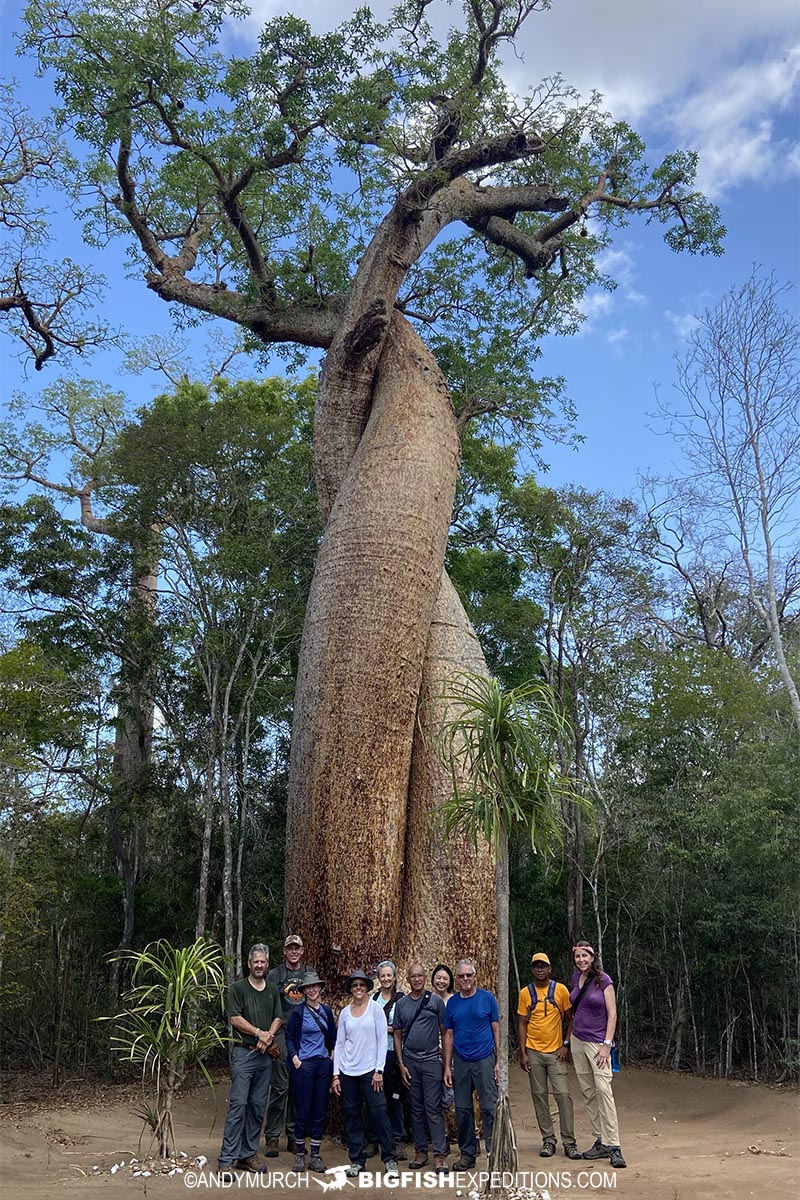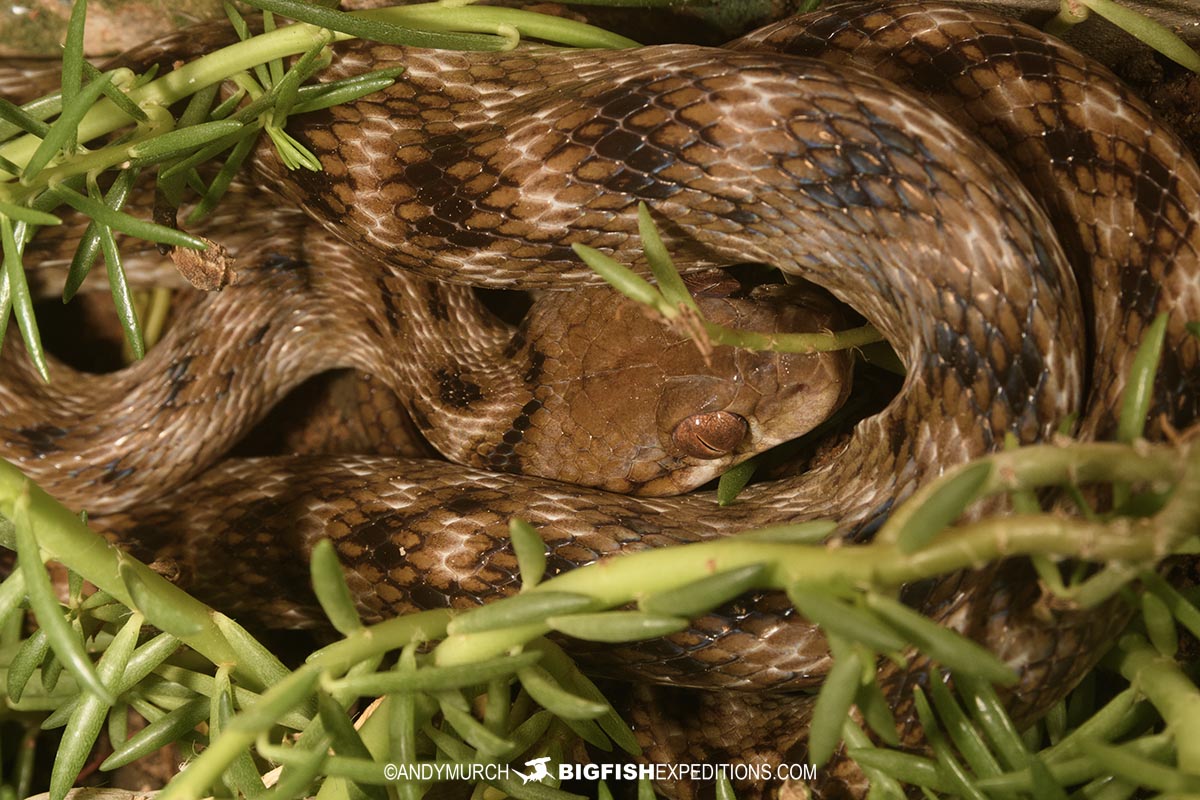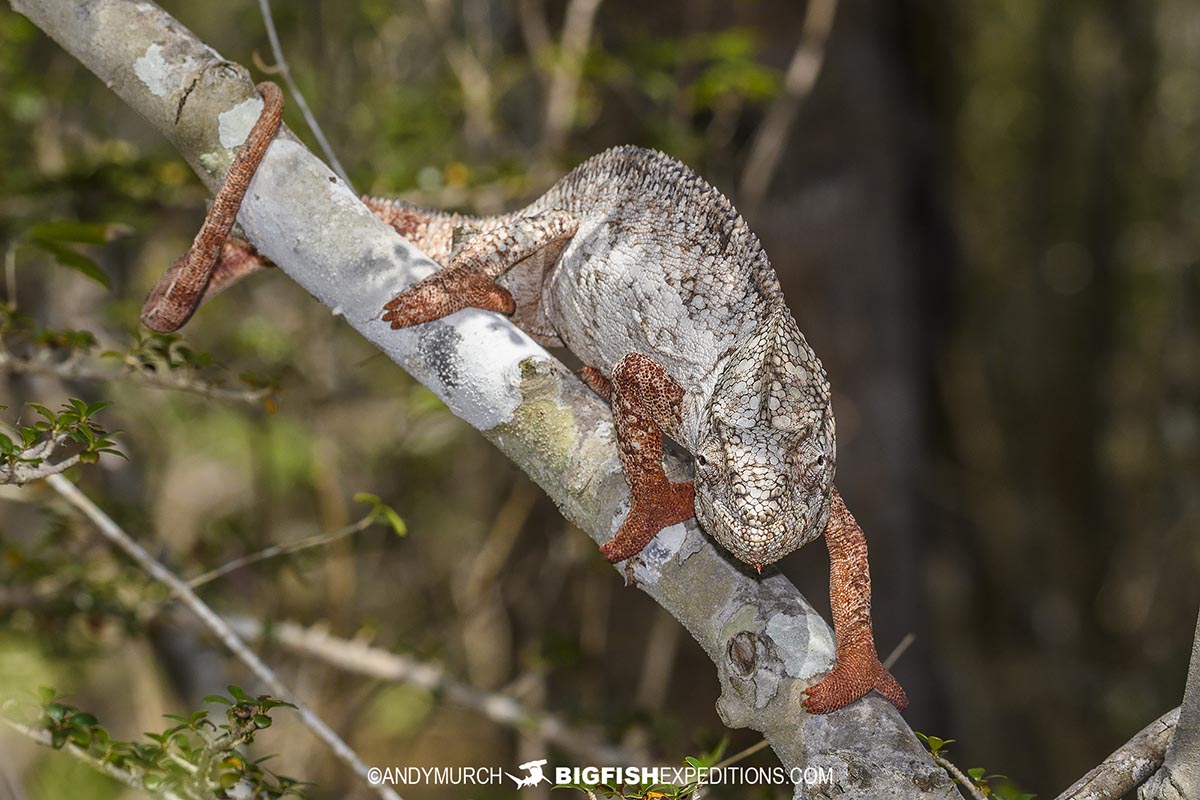 Avenue of the Baobabs
Heading south out of the park, we stopped for a sunset drinks and a photoshoot at the famous Avenue of the Baobabs. Arriving before sunset, we were able to get a nice variety of images as the sun sank below the horizon.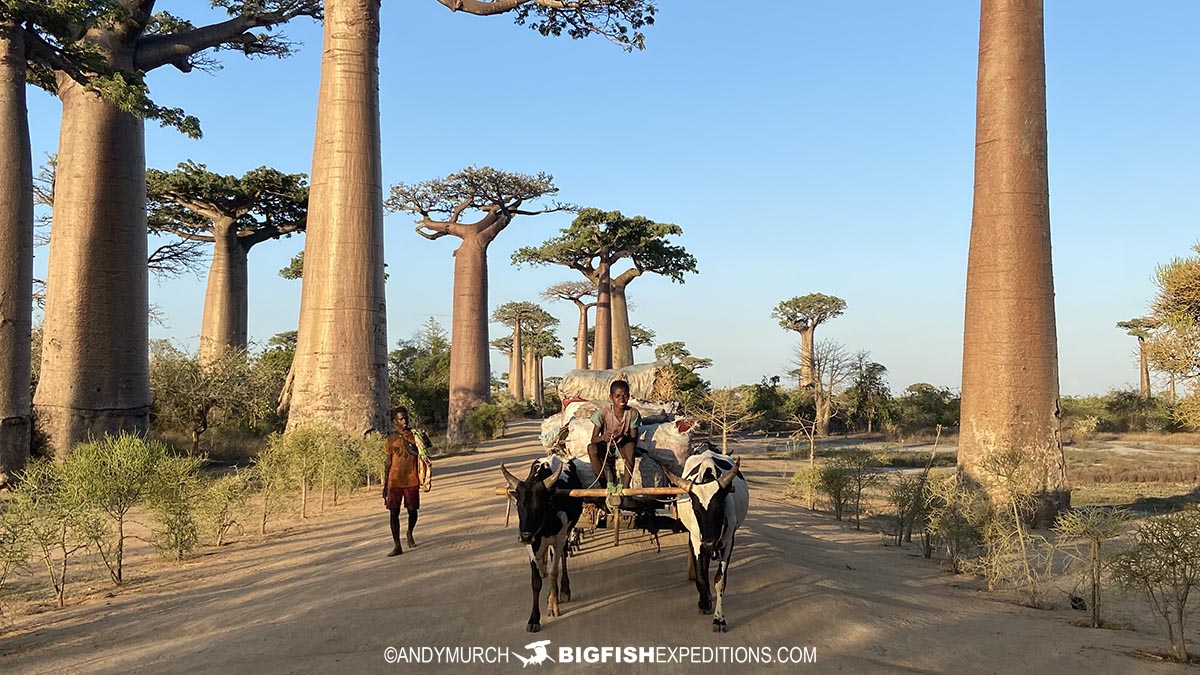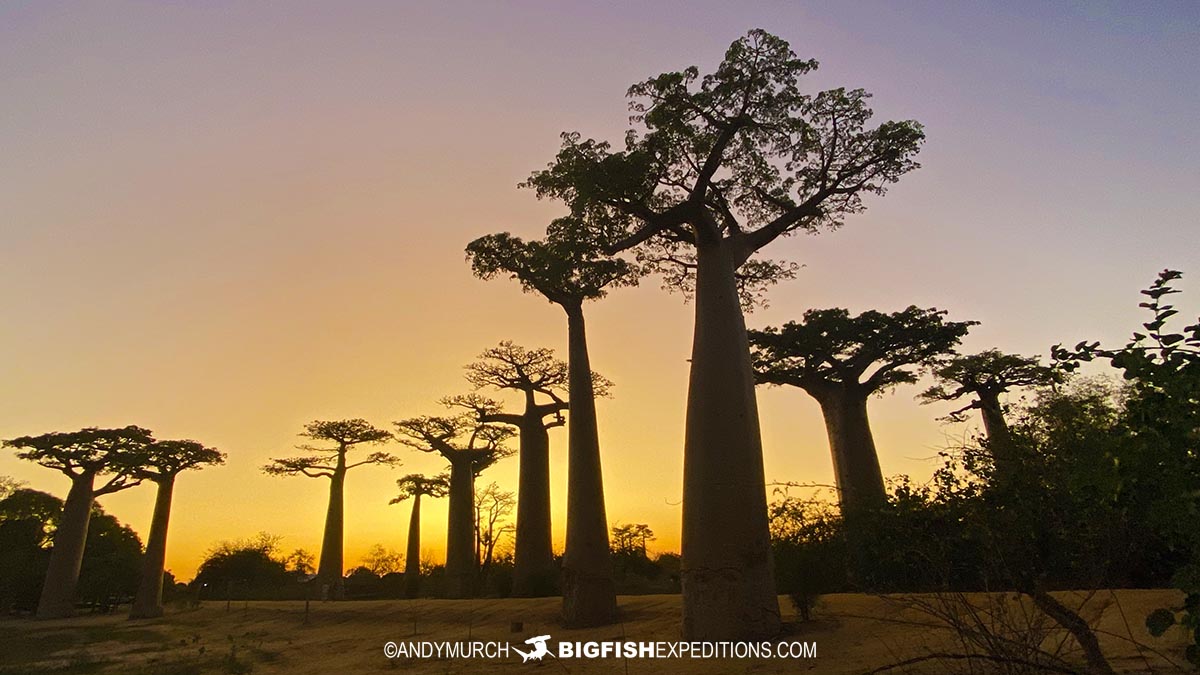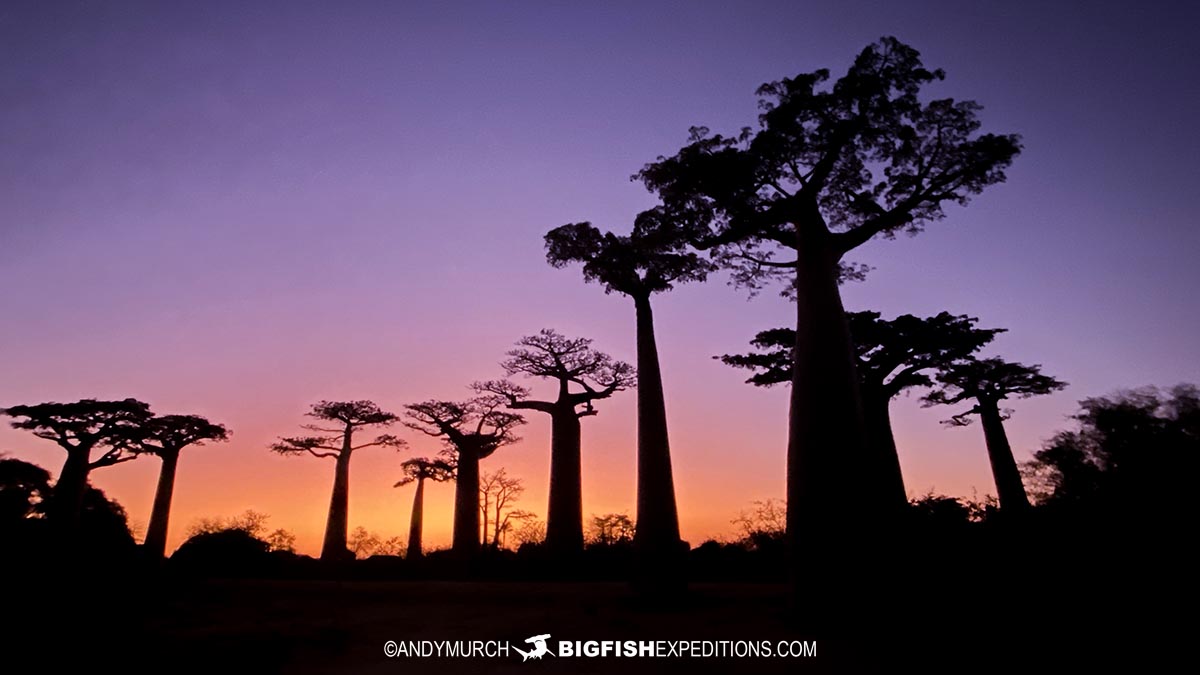 RANOMAFANA RAINFOREST
Afternoon Walk in the Rainforest
After another overnight in Ansiribe, we made our way south and climbed up into the hills surrounding Ranomafana National Park; one of the lushest tracts of primary forest in the world. After checking in to the lodge, we immediately headed up into the forest to look for new lemurs. The lower reaches of Ranomafana are dominated by bamboo, so it was not surprising that we found all three species of Bamboo Lemurs: greater, Golden, and Ranomafa Grey; a subspecies of grey bamboo lemur confined to this region.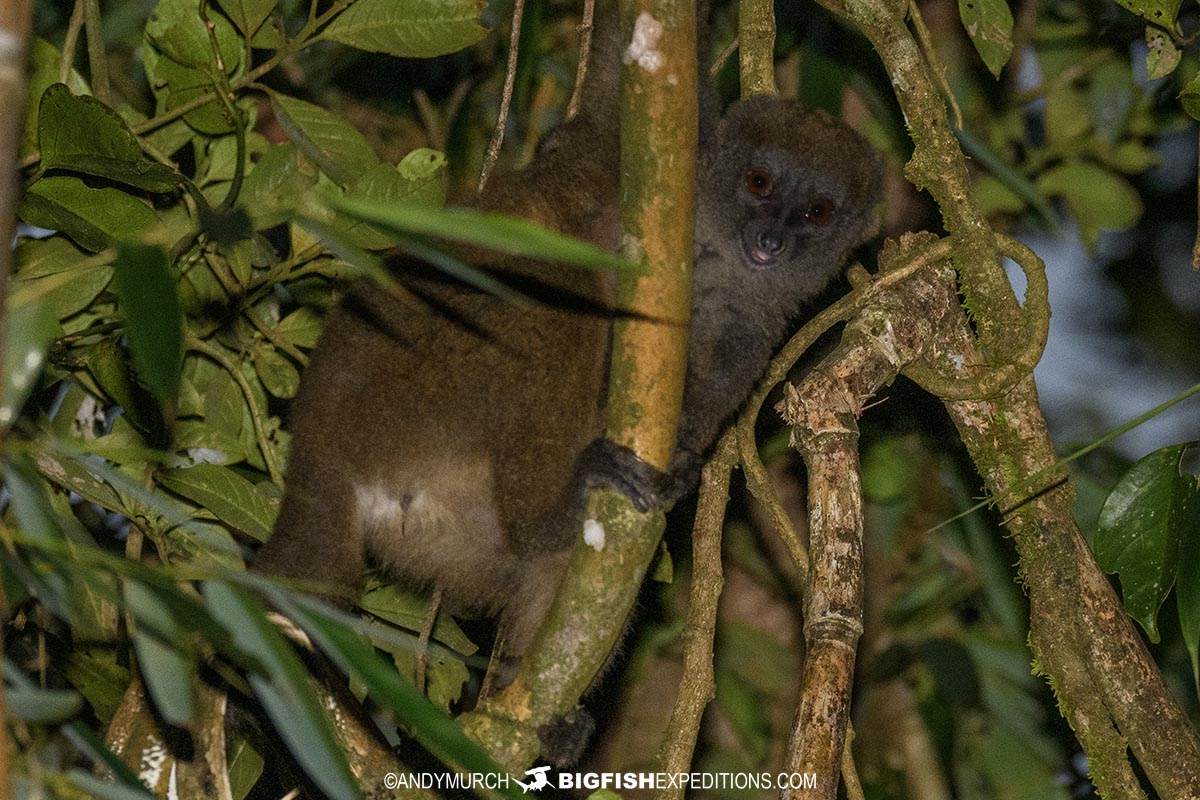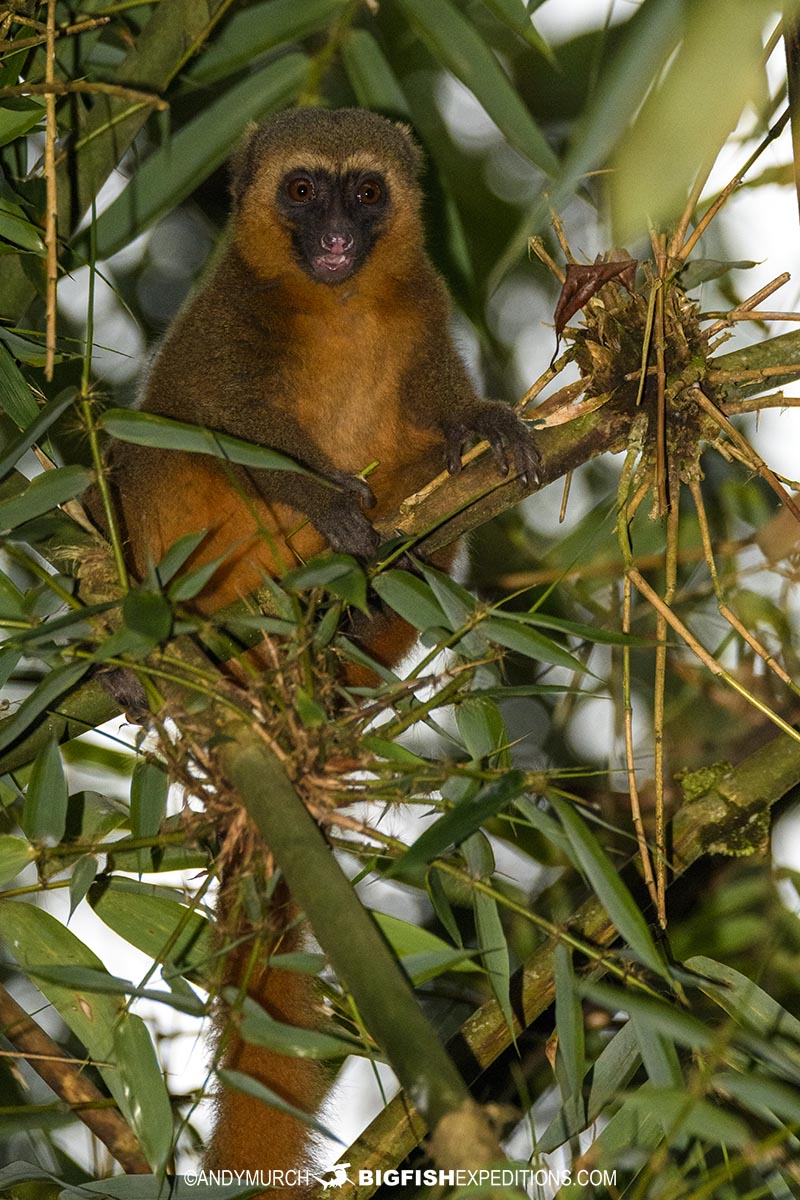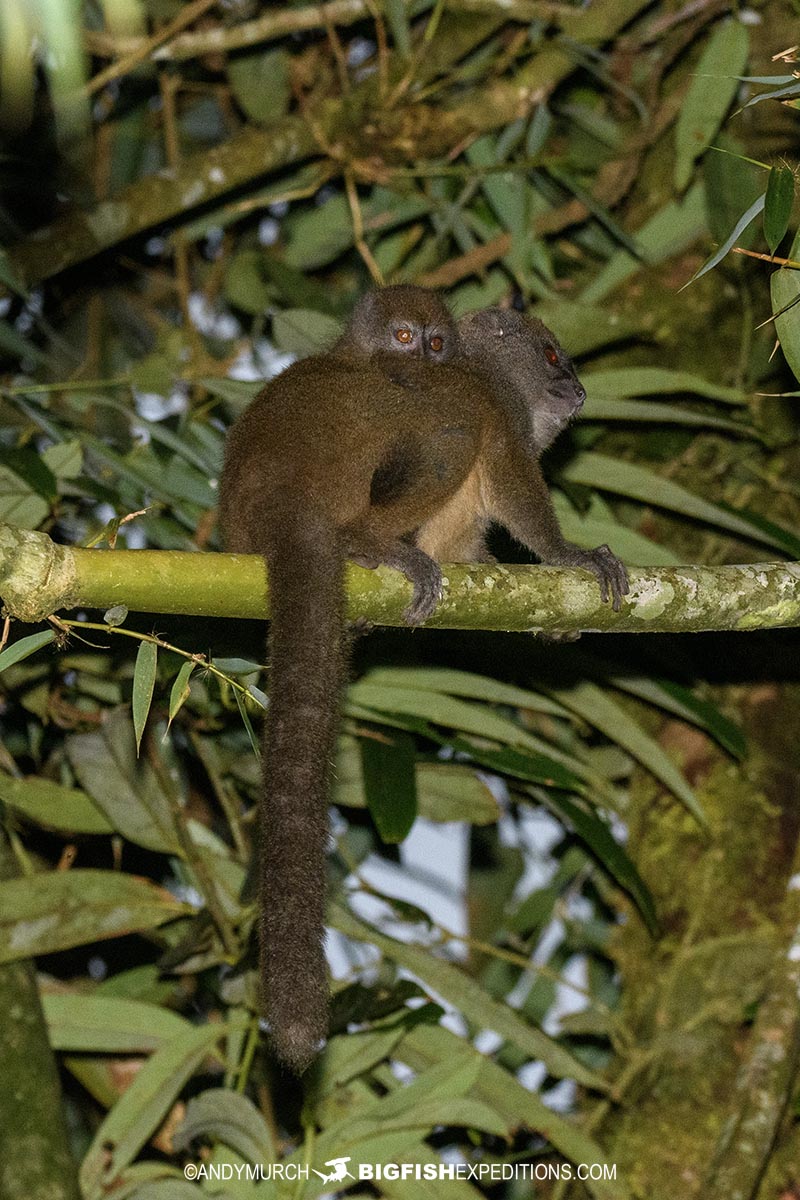 Night Walk
Entry into Ranomafana NP at night is not permitted. So shortly after sunset, we left the park and drove to a quiet stretch of road where the forest encroaches right up to the tarmac. This is actually a very productive way to find critters after dark in this region.
The undergrowth was full of chameleons! Among the most abundant were Blue-legged Chameleons and the double nosed Oshaughnessy's Chameleons, but we also saw a few tiny Short-nosed Chameleons, and Malagasy Side-striped Chameleons. There may well have been others in the mix but chameleons can be tricky to identify.
Through the fog, I also managed a snap of a Rufous Mouse Lemur for our lemur list.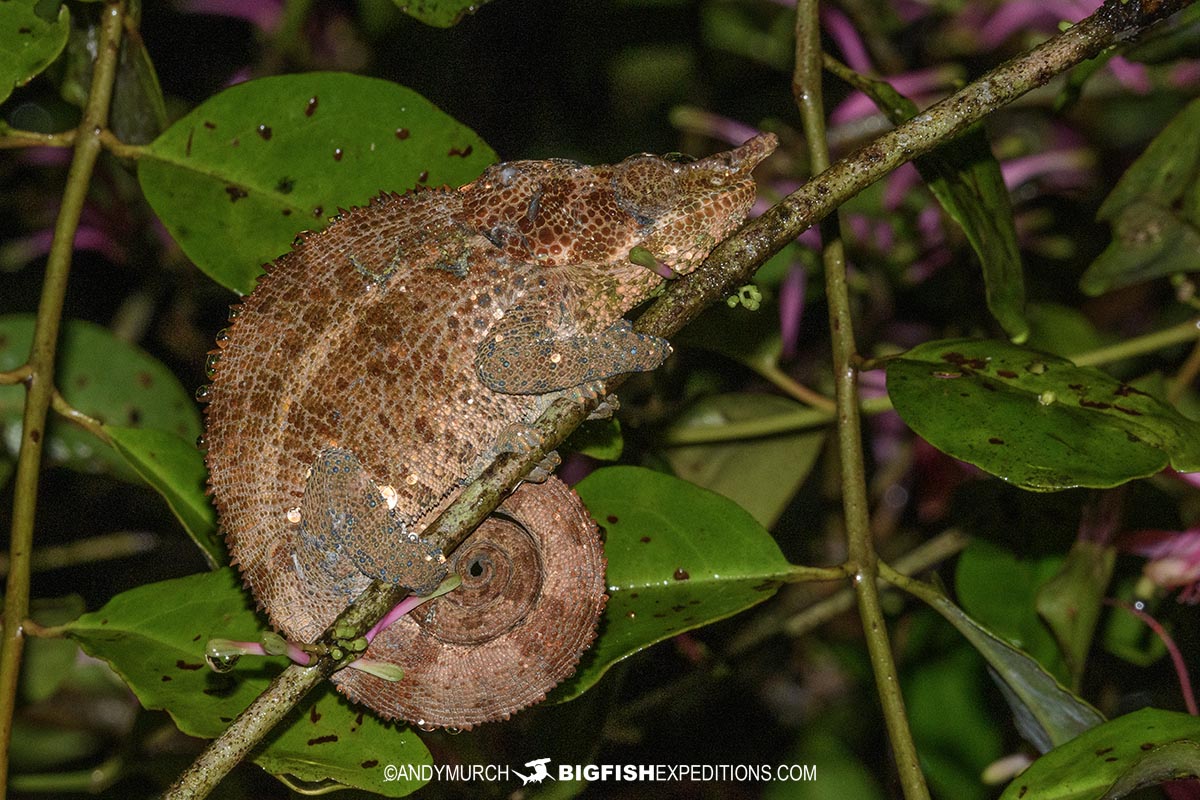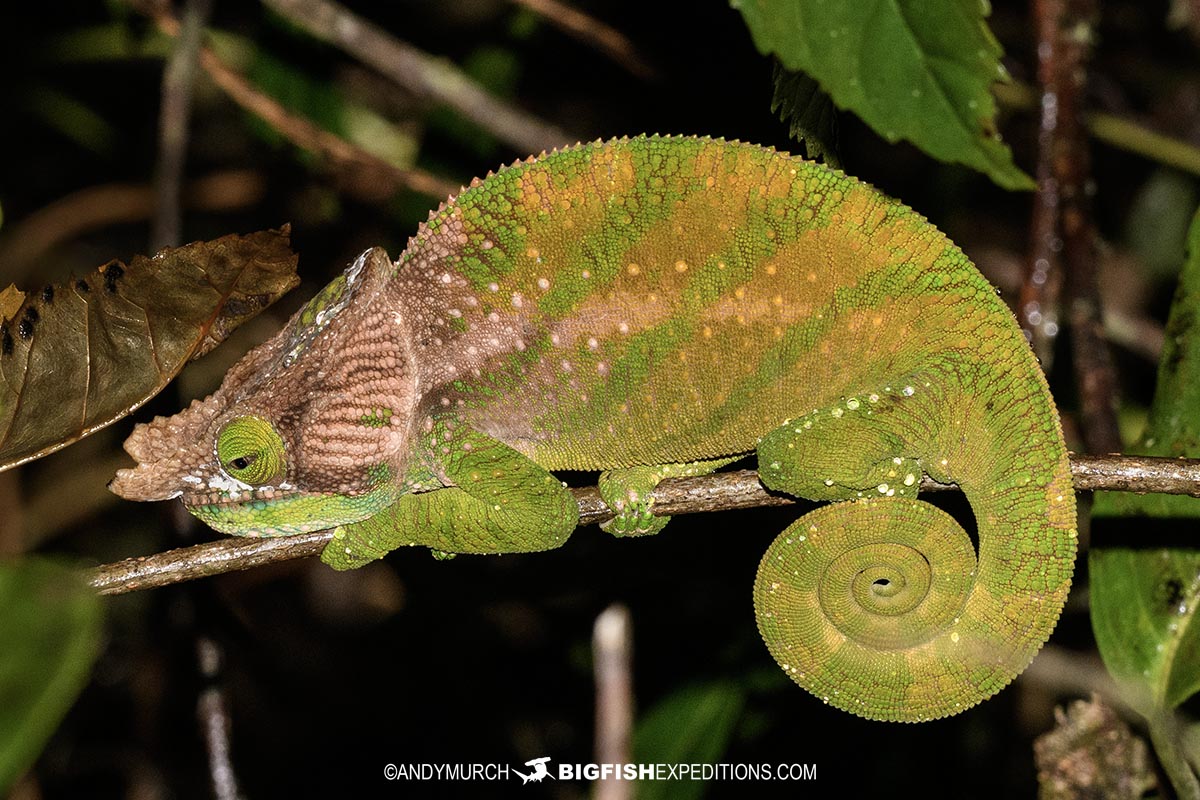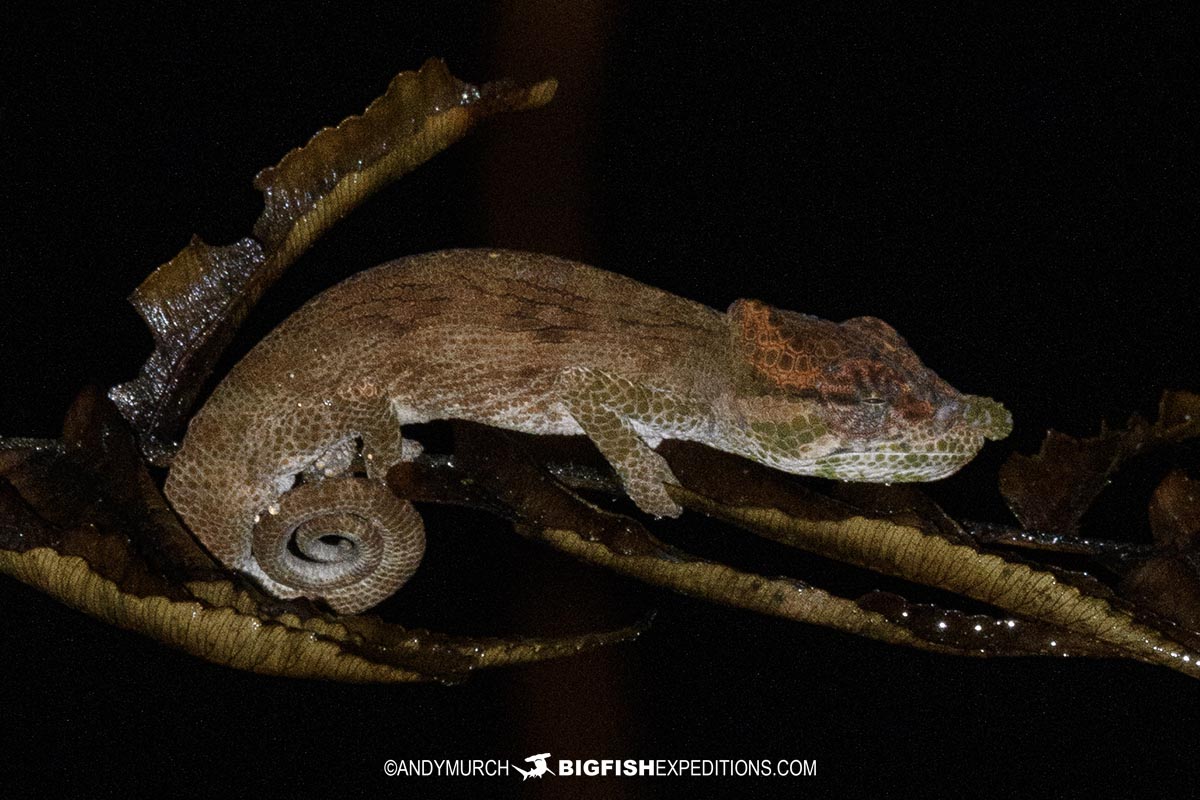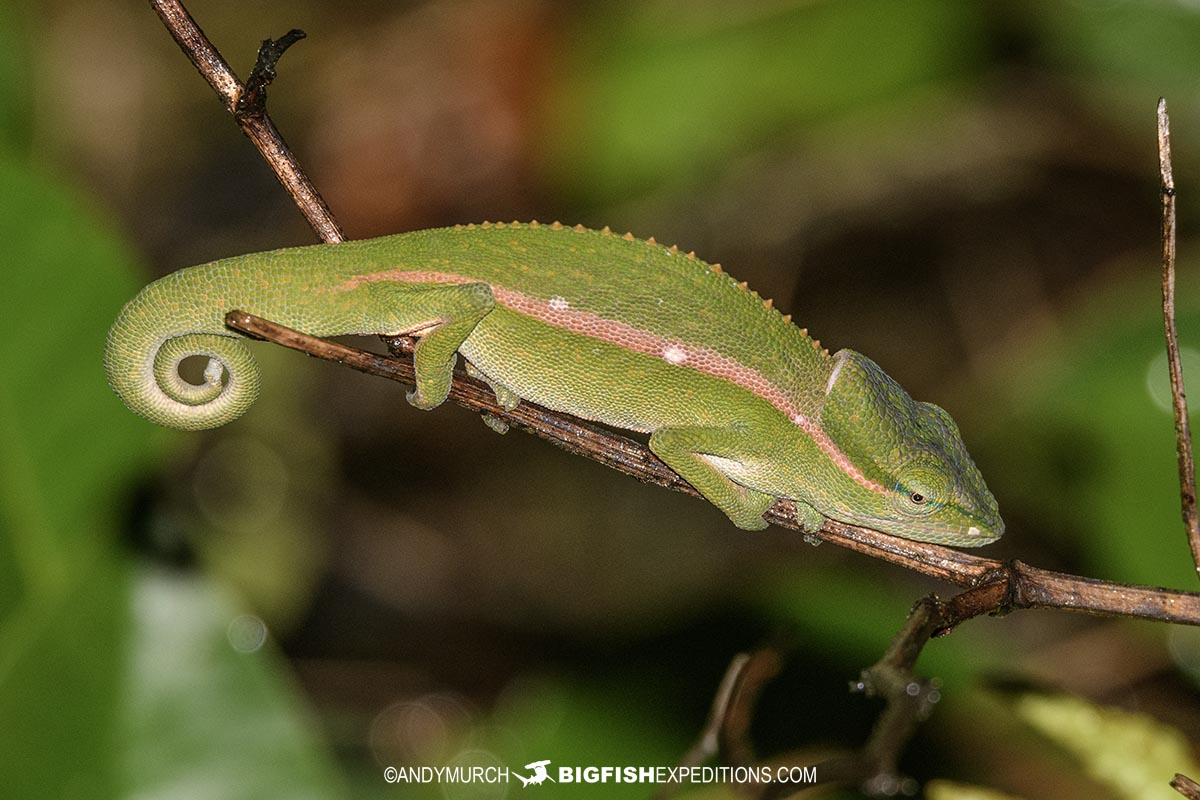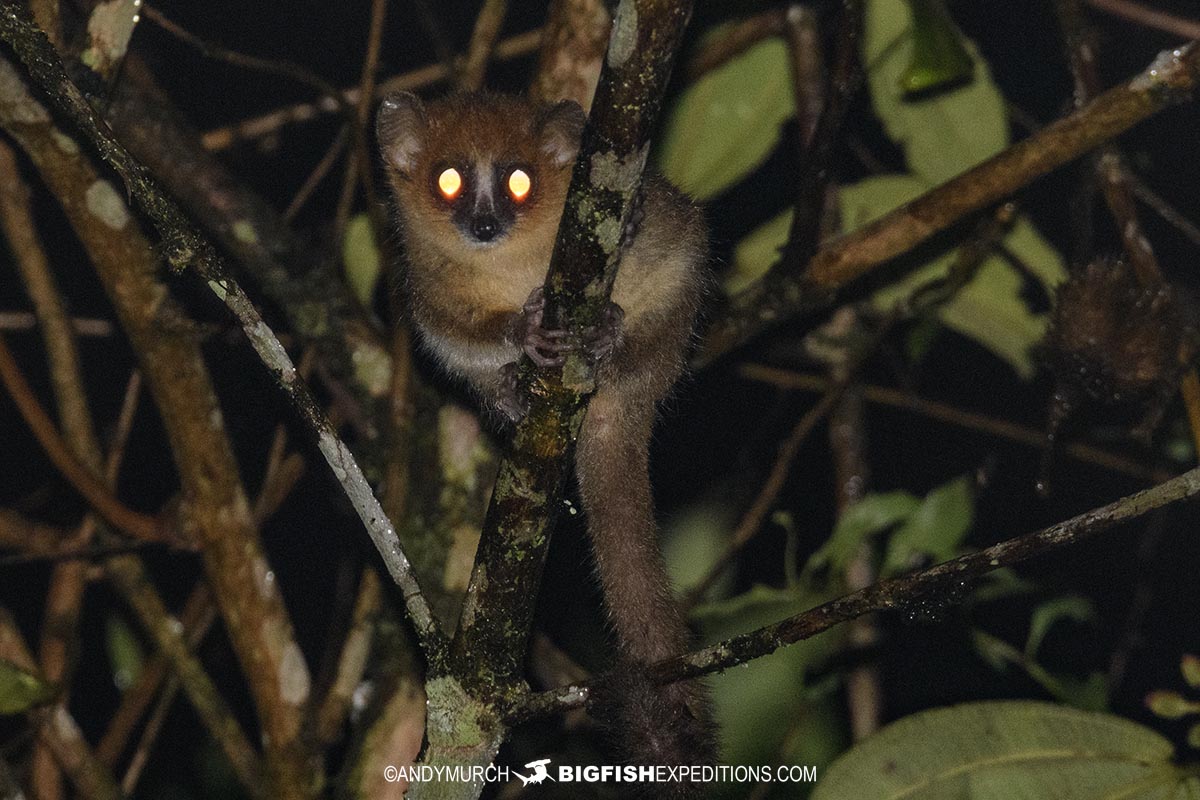 Hike deep into Ranomafana
The next day I was a bit under the weather so I skipped our day hike into the forest. Sadly that means I have no images of Milne Edwards Sifakas or Red-bellied Lemurs to share. The guests tell me it was a strenuous slog up relentless inclines so it was a good thing I didn't attempt it.
By nightfall, I was feeling better and joined the guests on another night hike. I counted 23 chameleons, and lots of new Boophis frogs, but I have no doubt we missed more than we saw.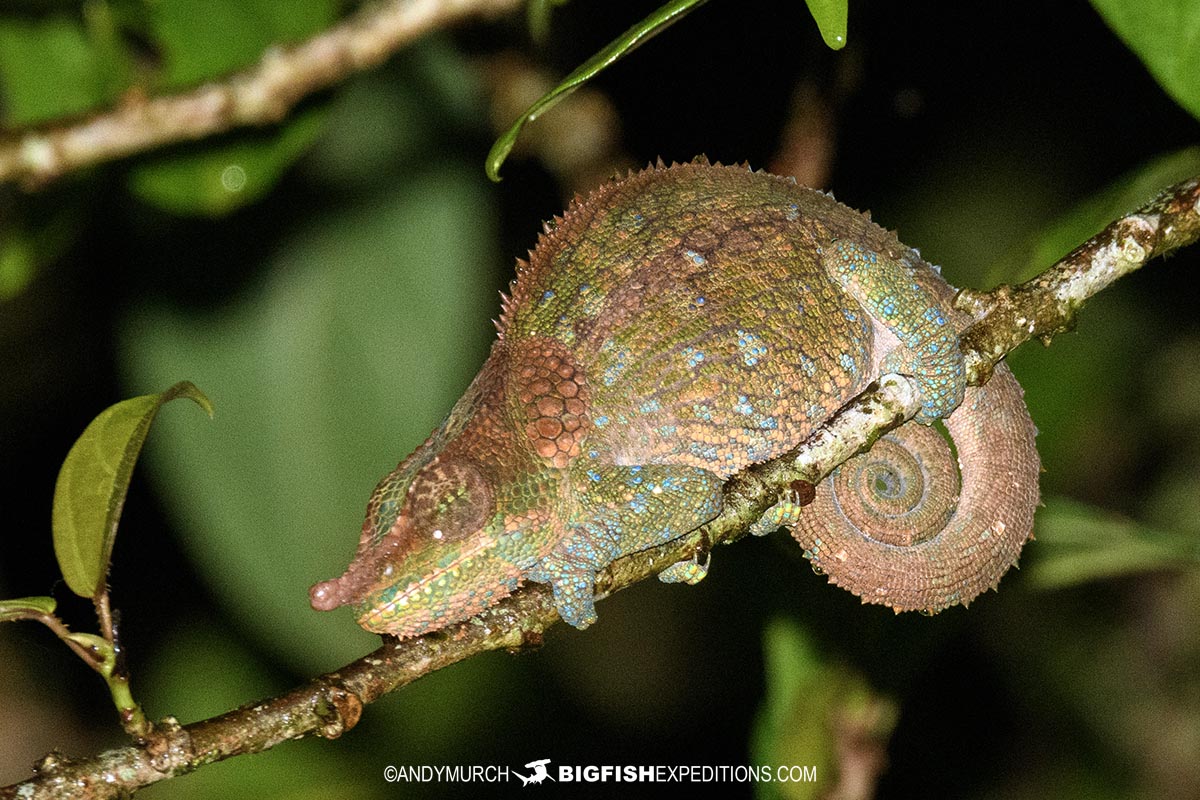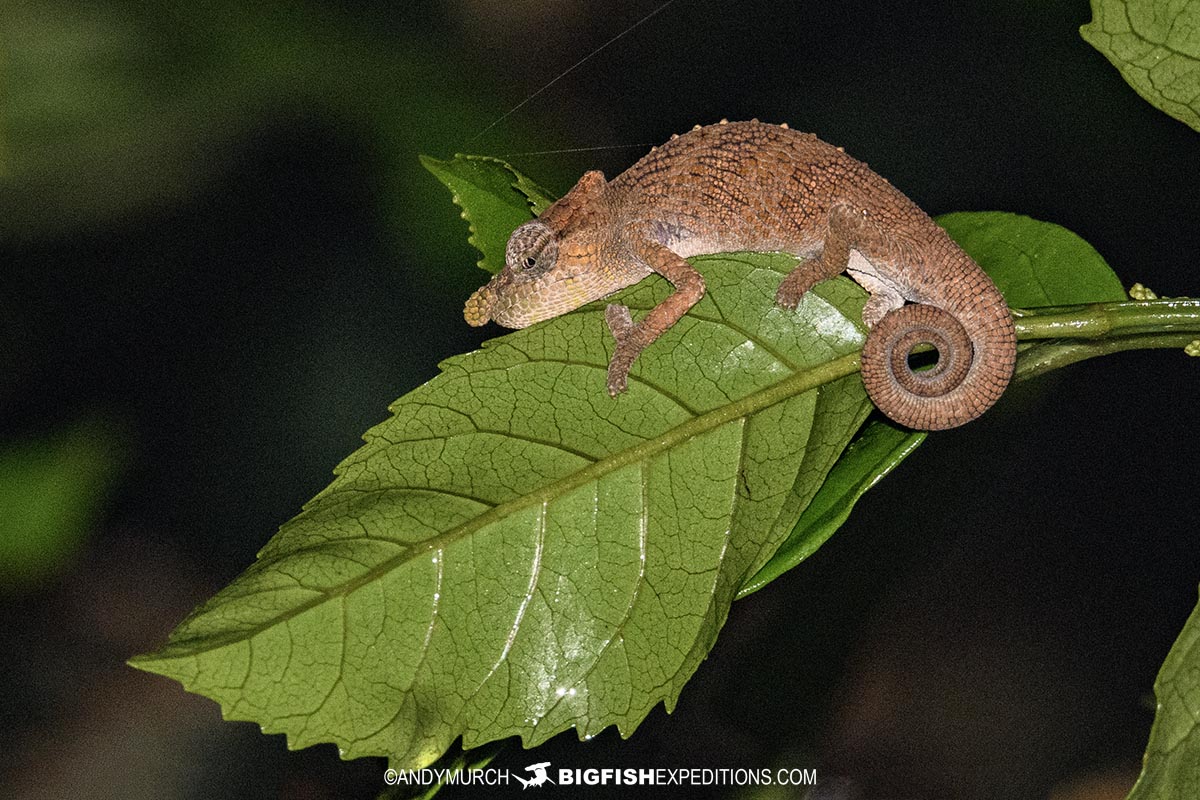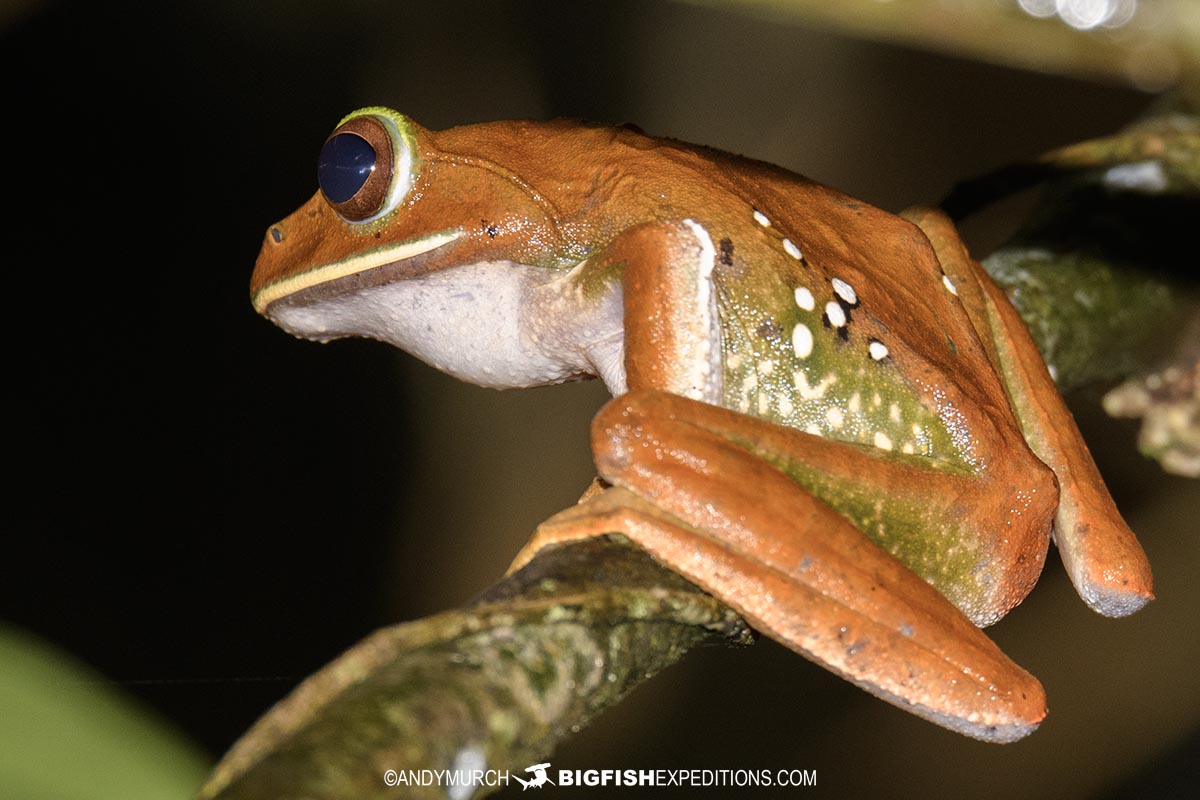 THE SOUTHERN DESERT
Ringtail Lemurs of Anja
The next morning we wound our way down out of the hills to the hot southern plain. Most of the terrain here is scrubby dry forest sprinkled with regions of barren desert. Perhaps not as lush as the rainforest we had just left, but with its own charm none the less.
Our first stop was at Anja Reserve to see the ringtail lemurs. In the mornings, these iconic lemurs spend their time at the base of the hill, so locating them is relatively easy.
They live in a large troop containing many mothers with newborns clinging to their backs.
We also watched an Oustalet's Chameleon feeding on bugs, and found a tiny Bruno's Leaf Chameleon (endemic to Anja) walking through the leaf litter.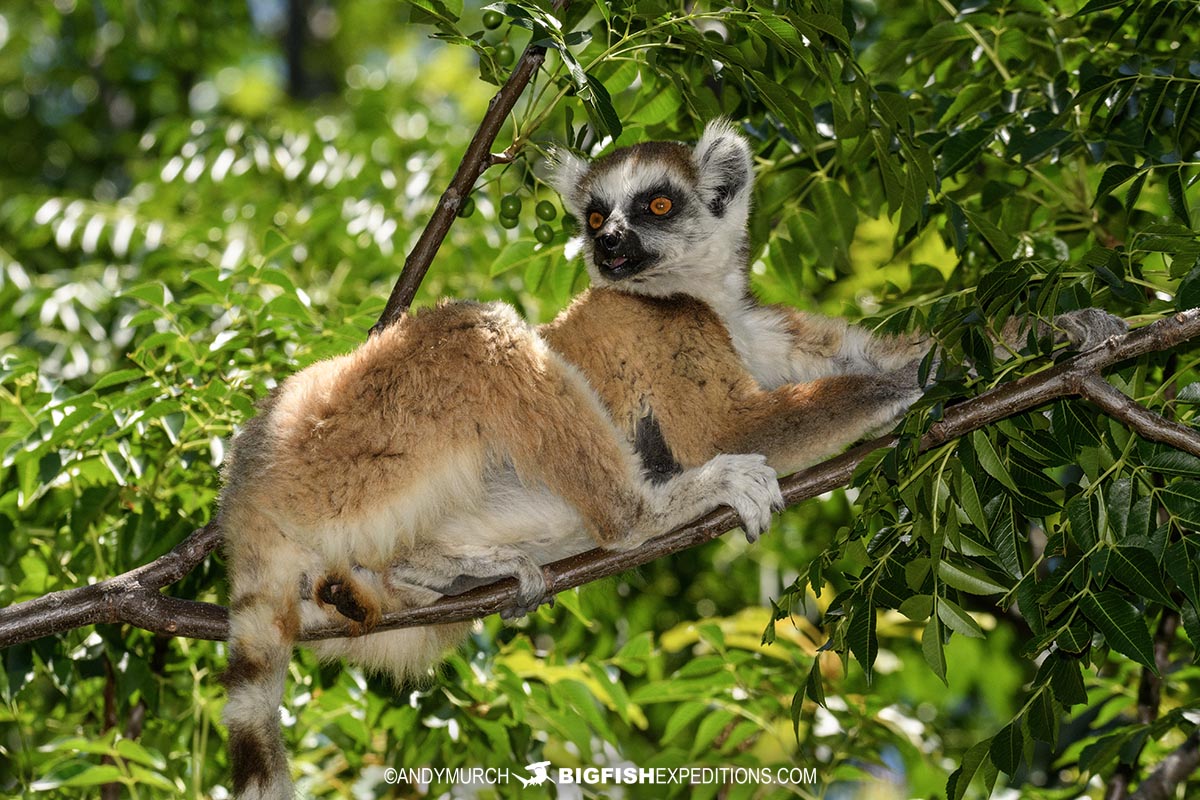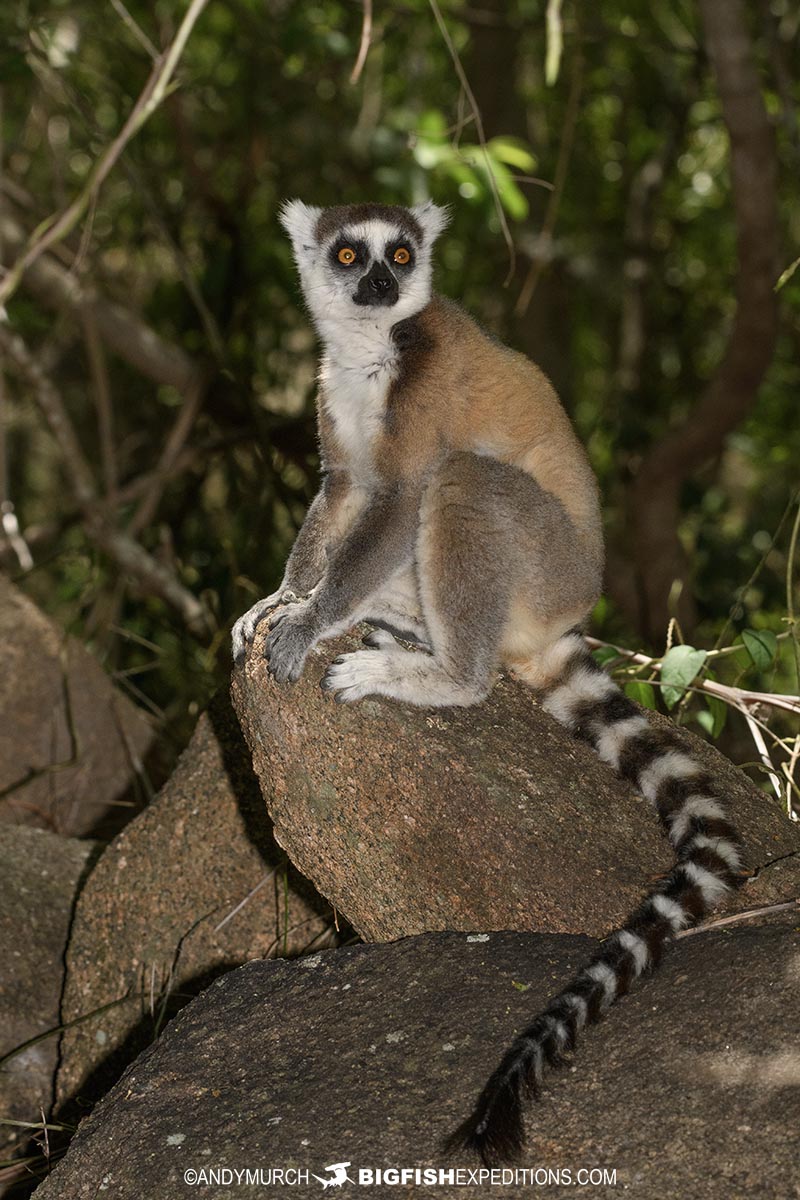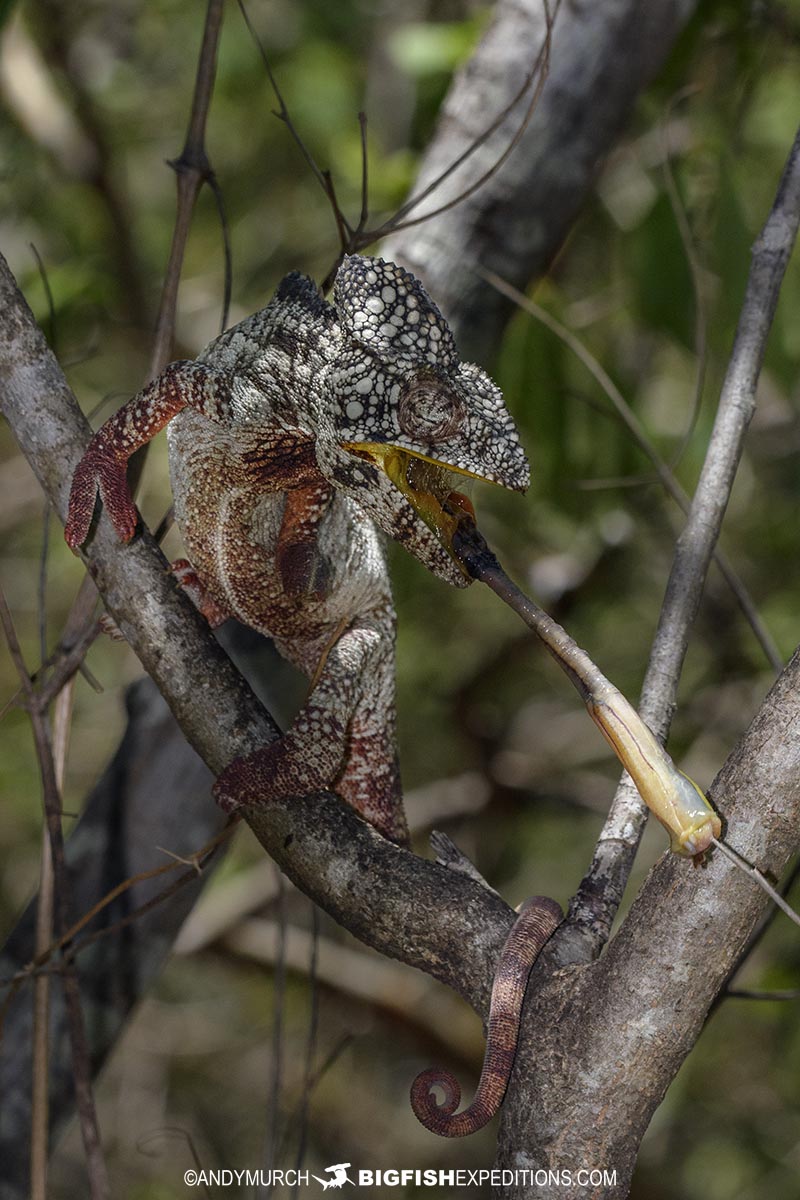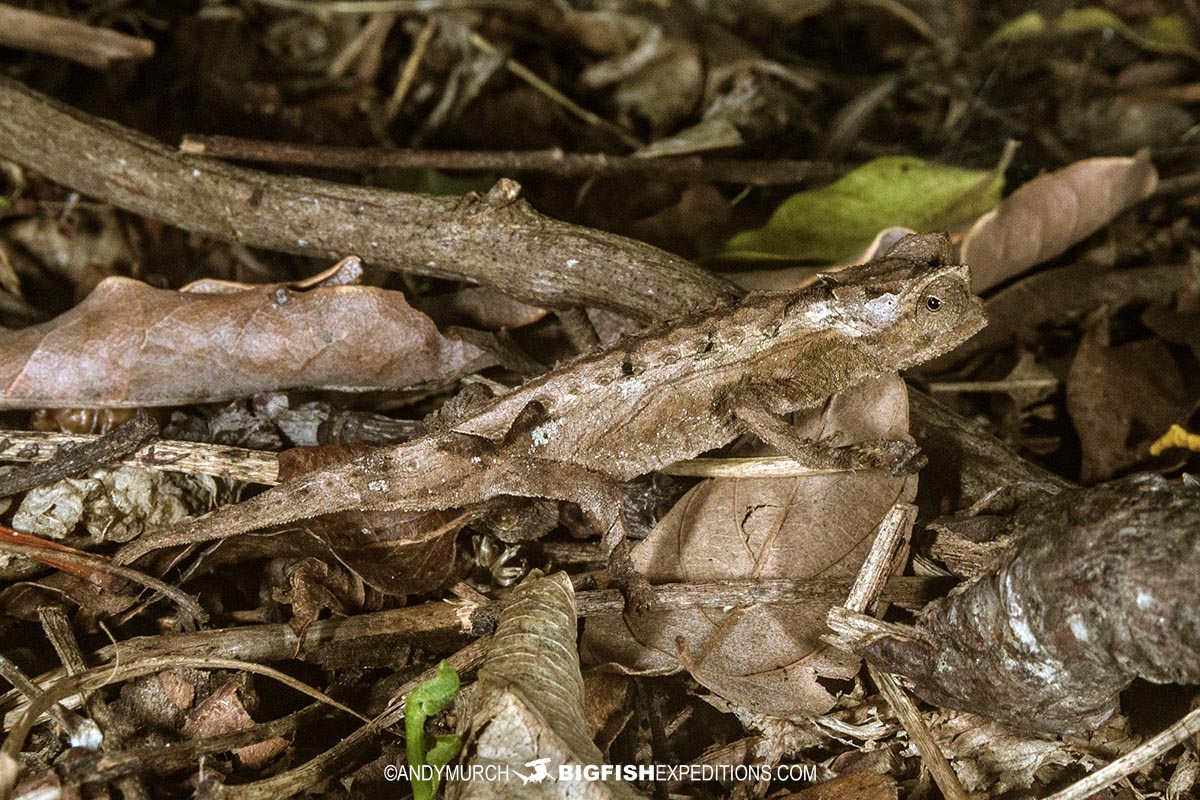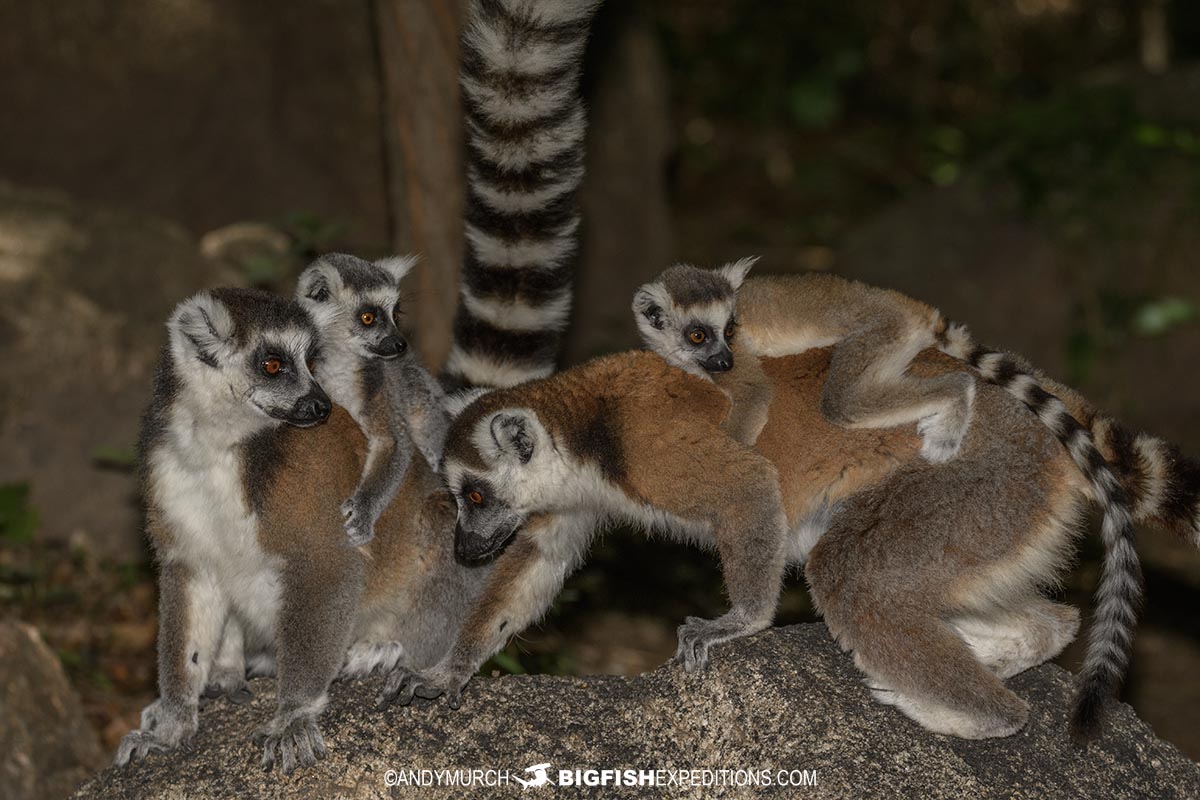 Isalo Desert National Park
Leaving Anja behind, we moved onward through rocky terrain until we reached the otherworldly desert landscape of Isalo National Park. Rather than lemurs, here we were greeted by lizards and geckos walking between stunted caudiciform trees that store water in their bulbous trunks.
Some of us awoke early to hike through the desert before breakfast. We were rewarded with some great views of a White Browed Owl resting right next to the trail.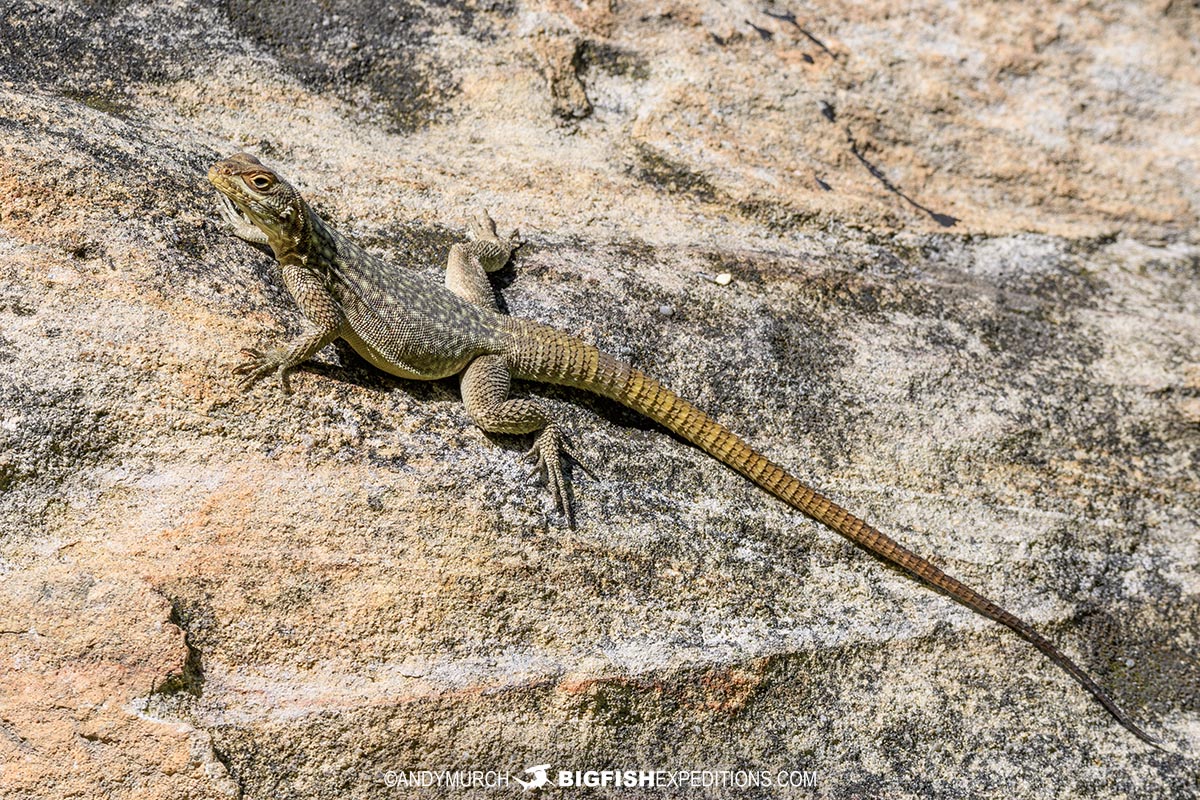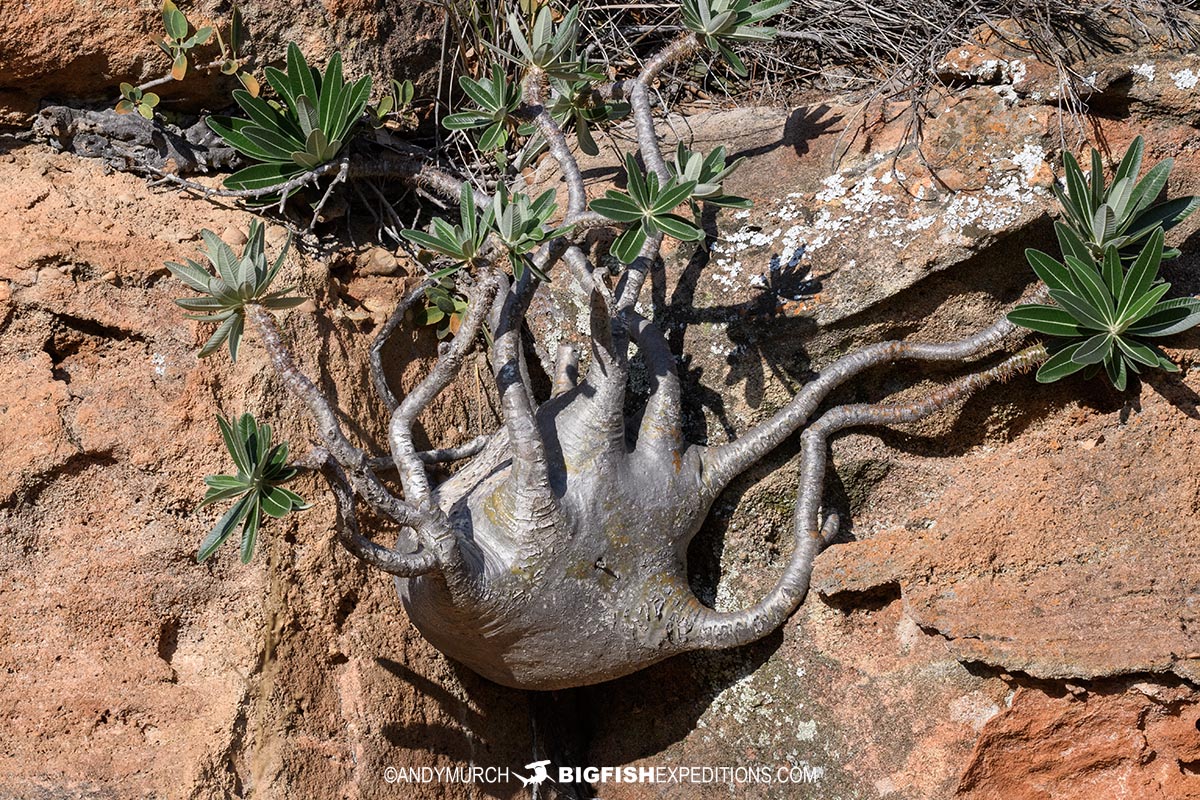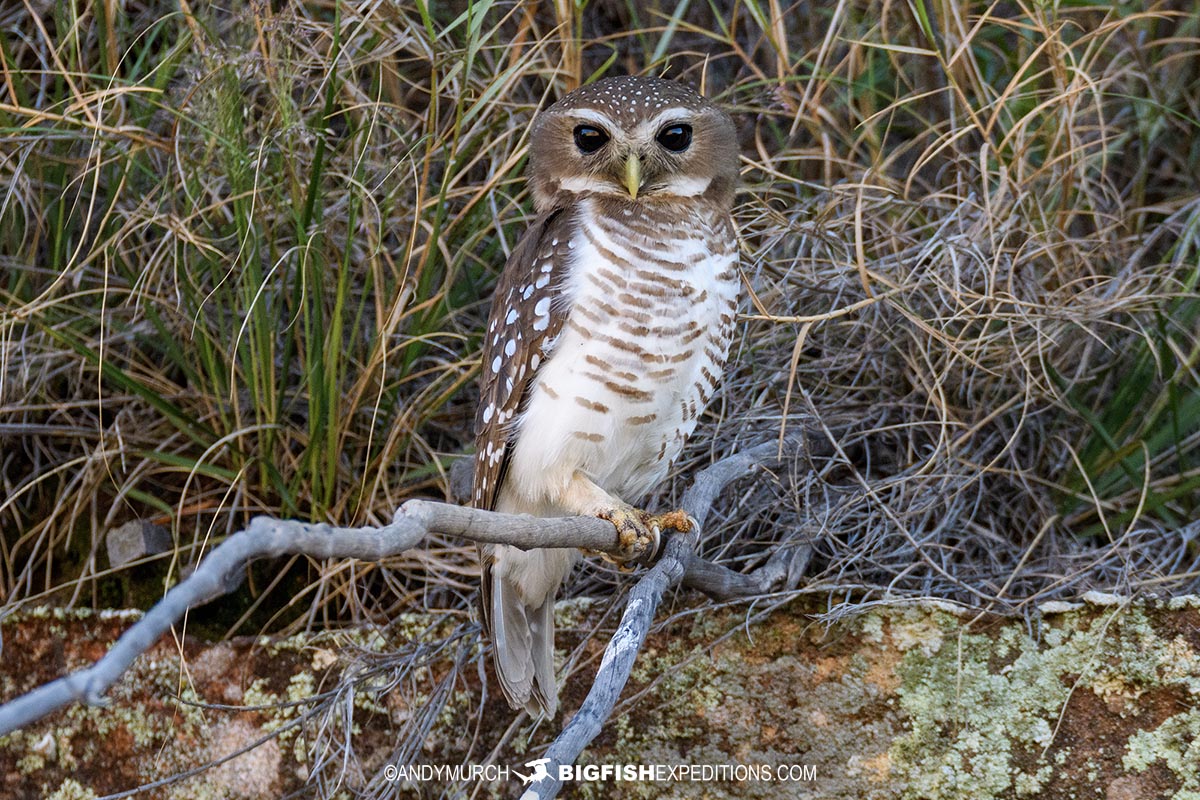 Zombitse National Park
After breakfast we continued south to Zombitse National Park, one of very few remaining tracts of dry forest in this part of Madagascar. The park contains a darker form of Vereaux's Sifakas and the endemic Zombitse Sportive Lemur. The latter is a nocturnal lemur that sleeps in hollow trees by day.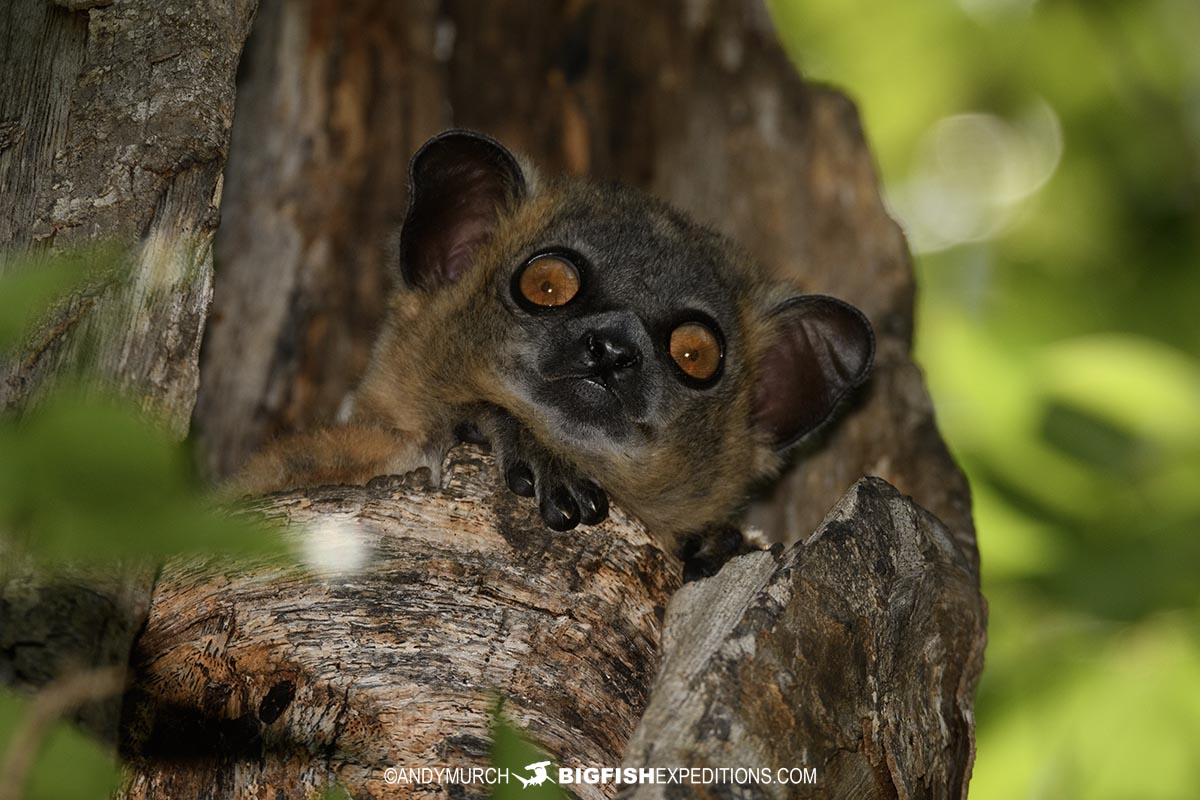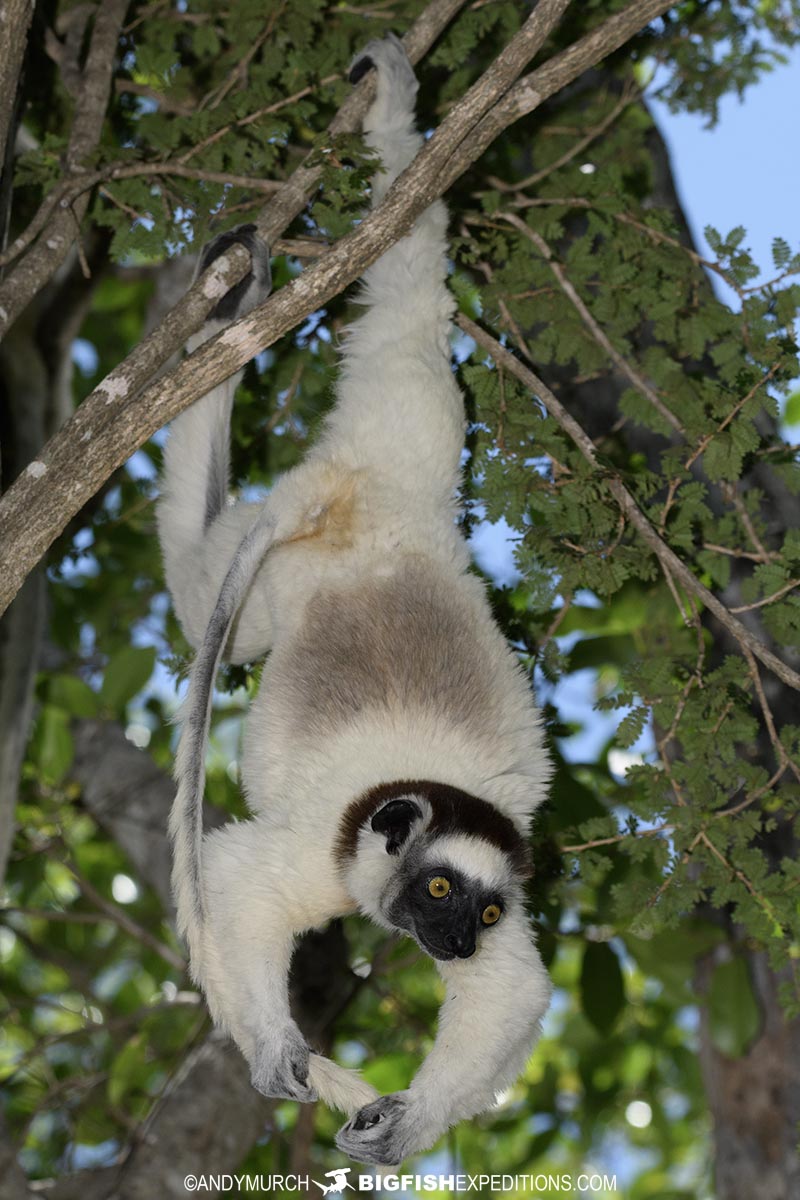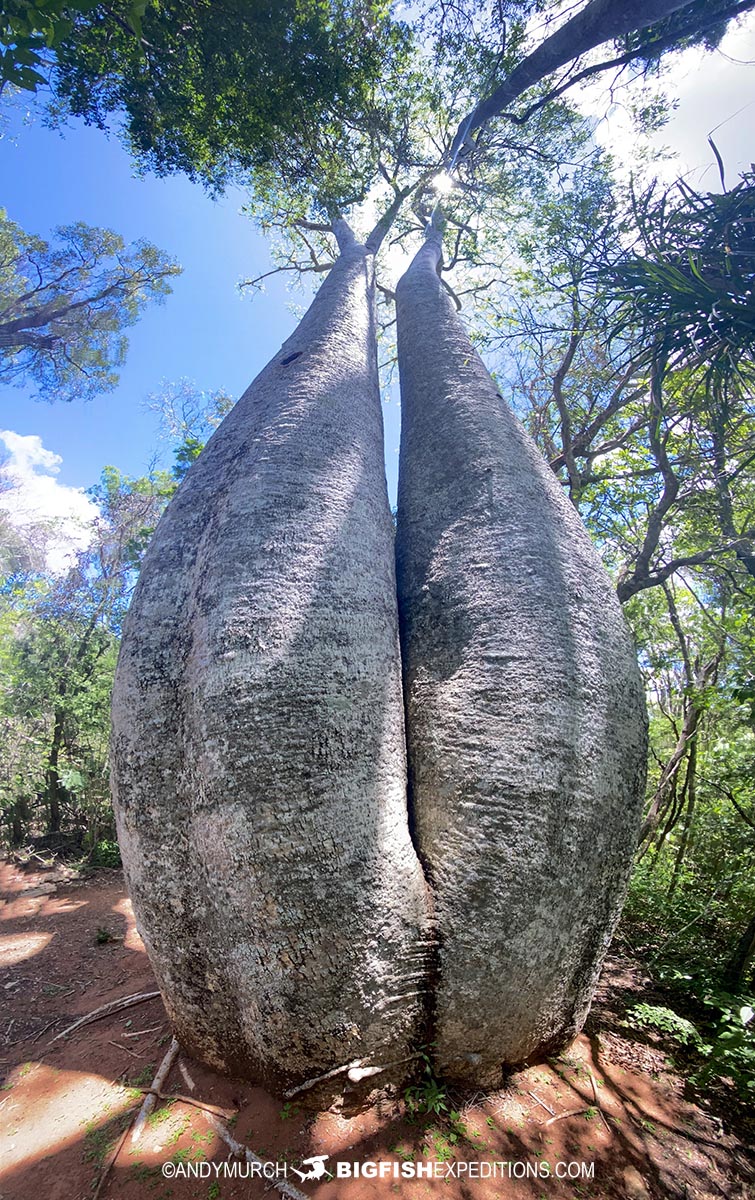 Journey's end at Antsokay Arboretum
After enjoying the lemurs of Zombitse, we continued onward to our final stop, Antsokay Arboretum near Tulear. After settling in, we explored the grounds in search of colourful birds and lizards.
When night fell, we gathered for our final night walk. Some of the highlights where the southern form of the Grey-brown Mouse Lemur, a beautifully banded Ocelot Gecko, and a rather difficult to photograph Warty Chameleon.
The next morning, elated and exhausted, we fly back to Antananarivo and said our goodbyes. It was an epic trip that I cannot wait to lead again!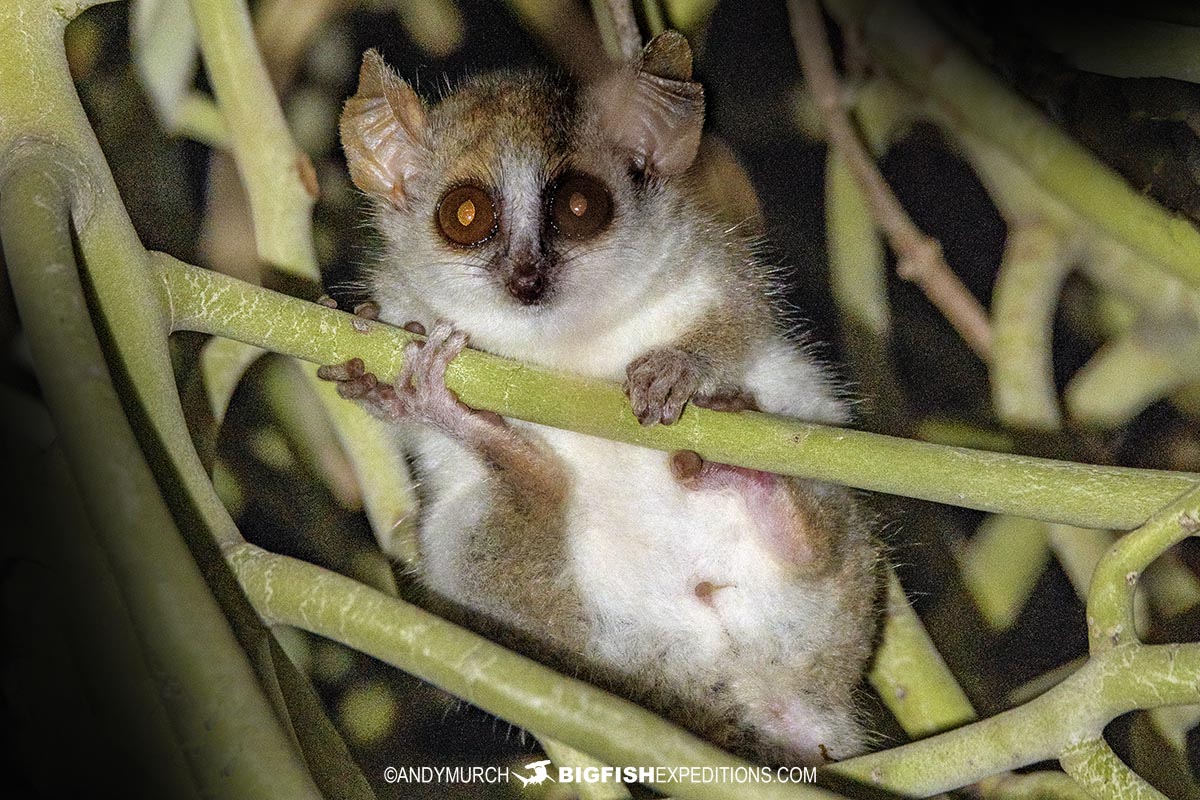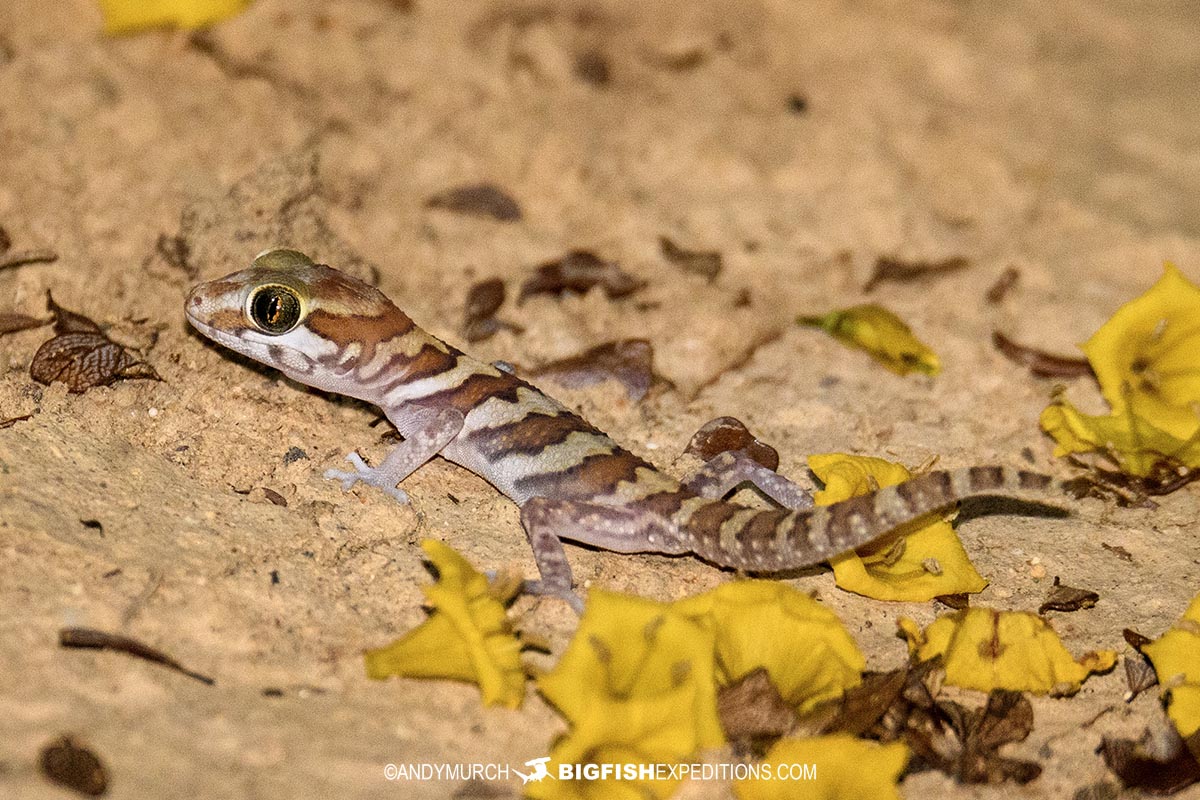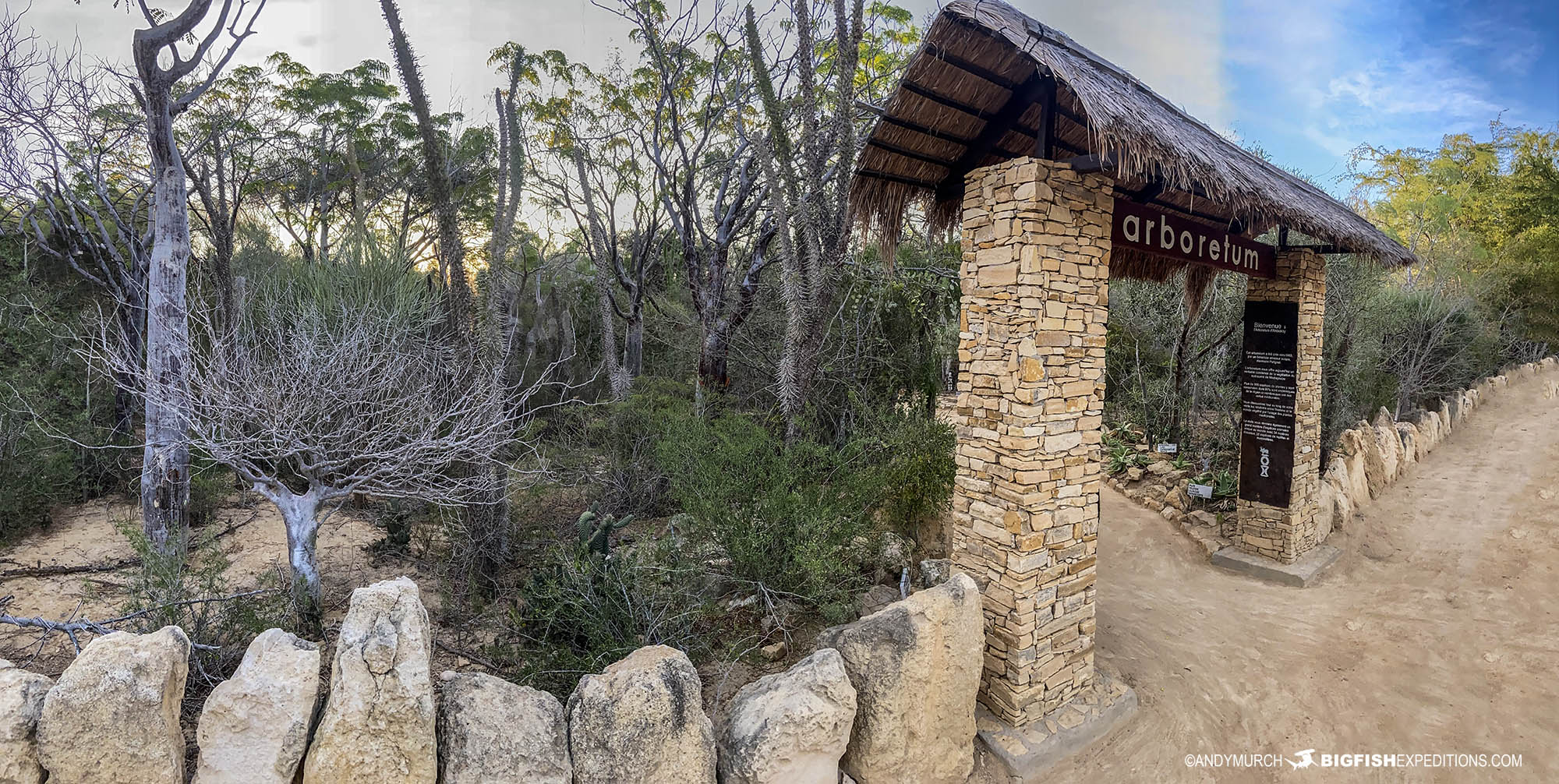 2024 Wild Madagascar Photography Expedition
Madagascar is one of the most exotic and diverse biospheres on our planet. Filled with loveable lemurs, cryptic chameleons, and many other bizarre creatures, Madagascar is an unforgettable adventure!
Join me in October 2024 for our next Wild Madagascar Photography Tour.