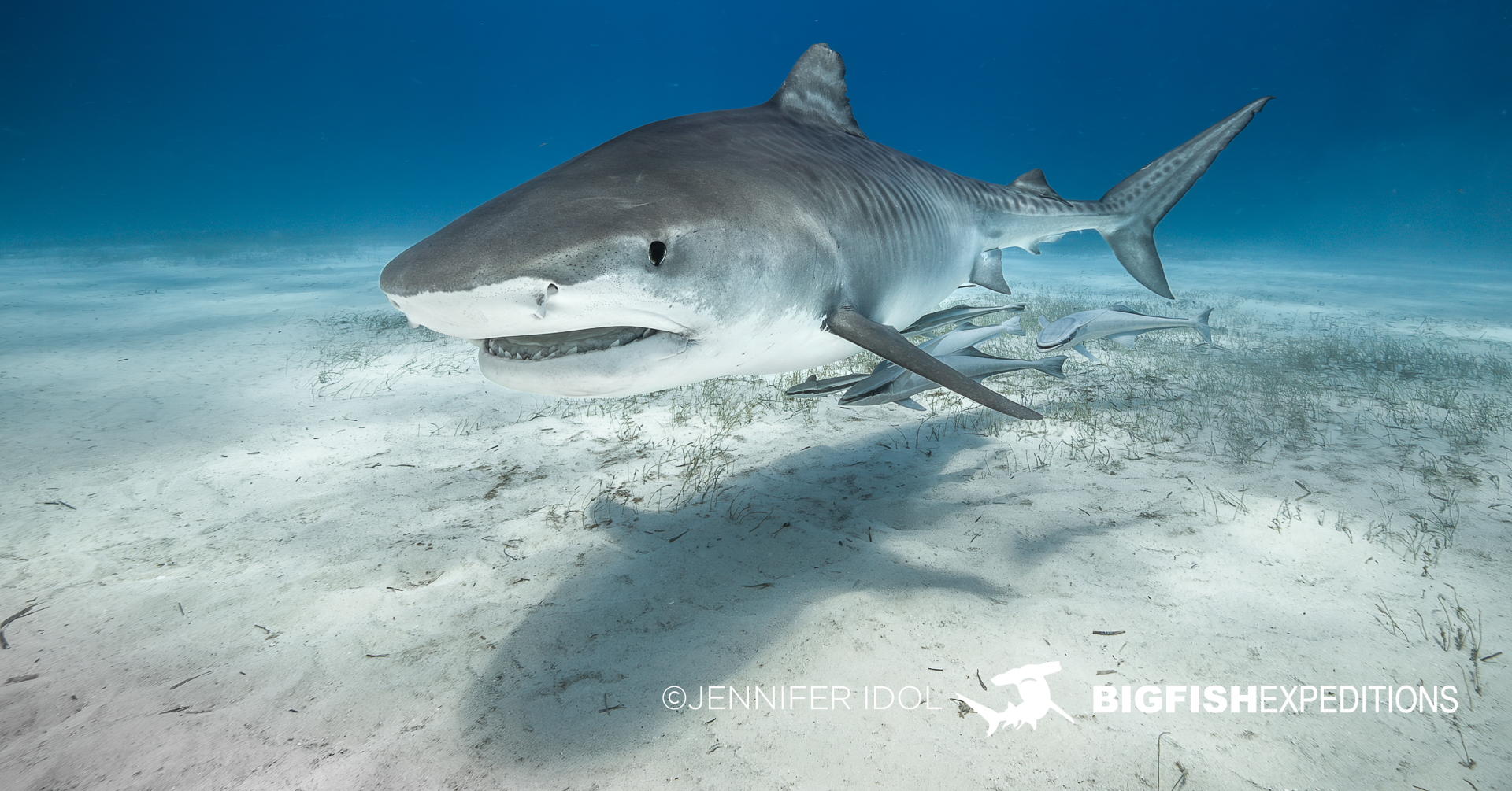 The wild side of Tiger Beach
Since Tiger Beach is a popular and known destination where sharks are numerous, it can be easy to underestimate the wild side of the Bahamas, but it's there. You never know exactly what you'll see or what the seas will be like, so the opportunity for dynamic and different shots prevails.
It is a great destination to dive into photography and videography. From ample shooting opportunities for both to editing tips, it is an opportunity for everyone aboard to improve their skills and an easy addiction to achieve that perfect shot.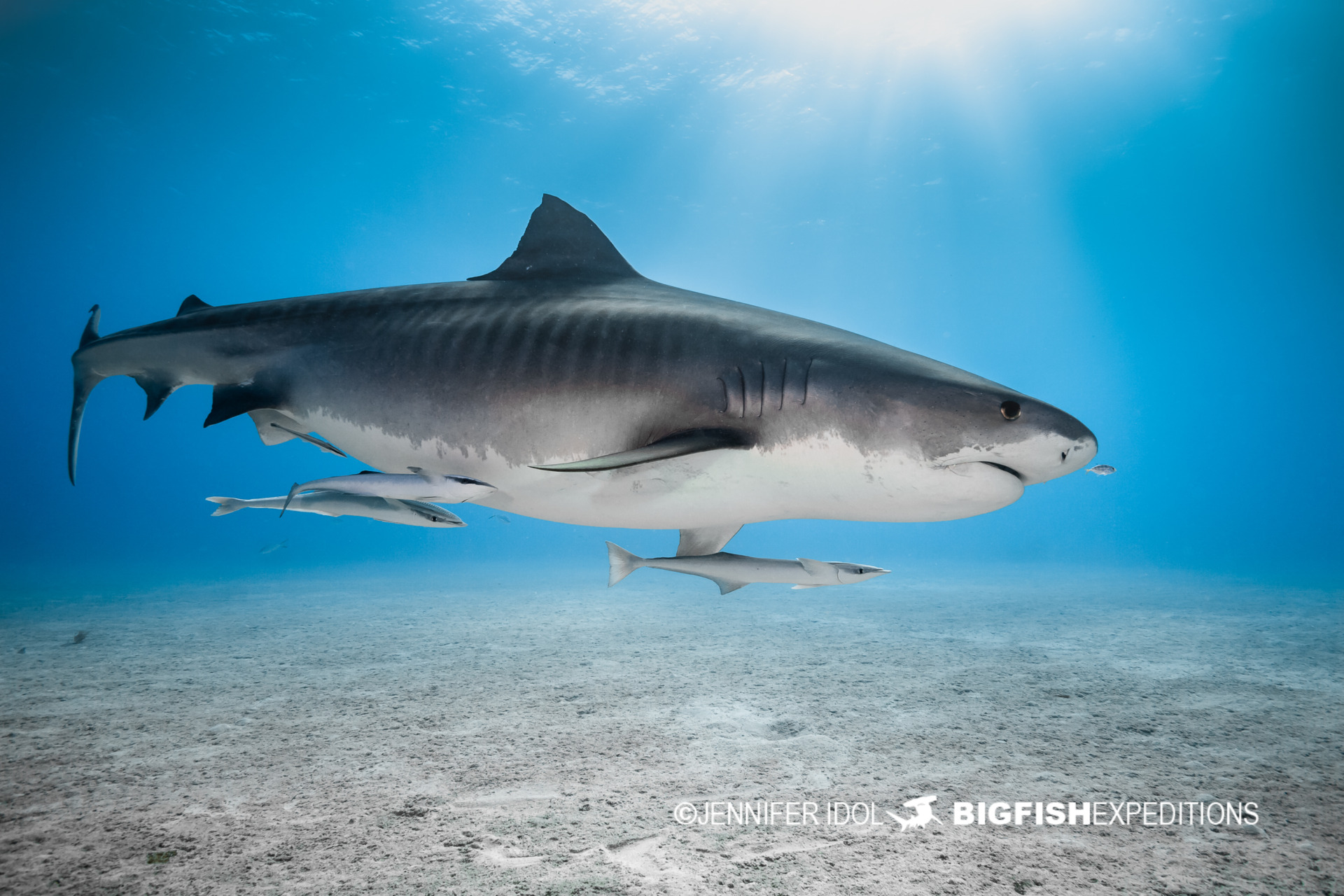 Expect the unexpected
We anticipated tough weather this year when the week's forecast predicted high winds and rain. However, the Bahamas is a wild place and you never know what to expect. We begin on a shallow reef with tropical subjects to ensure everyone was comfortable in the water with their equipment before heading to Fish Tails to find some tiger sharks. When we arrived at Tiger Beach, we saw seven tigers waiting for us!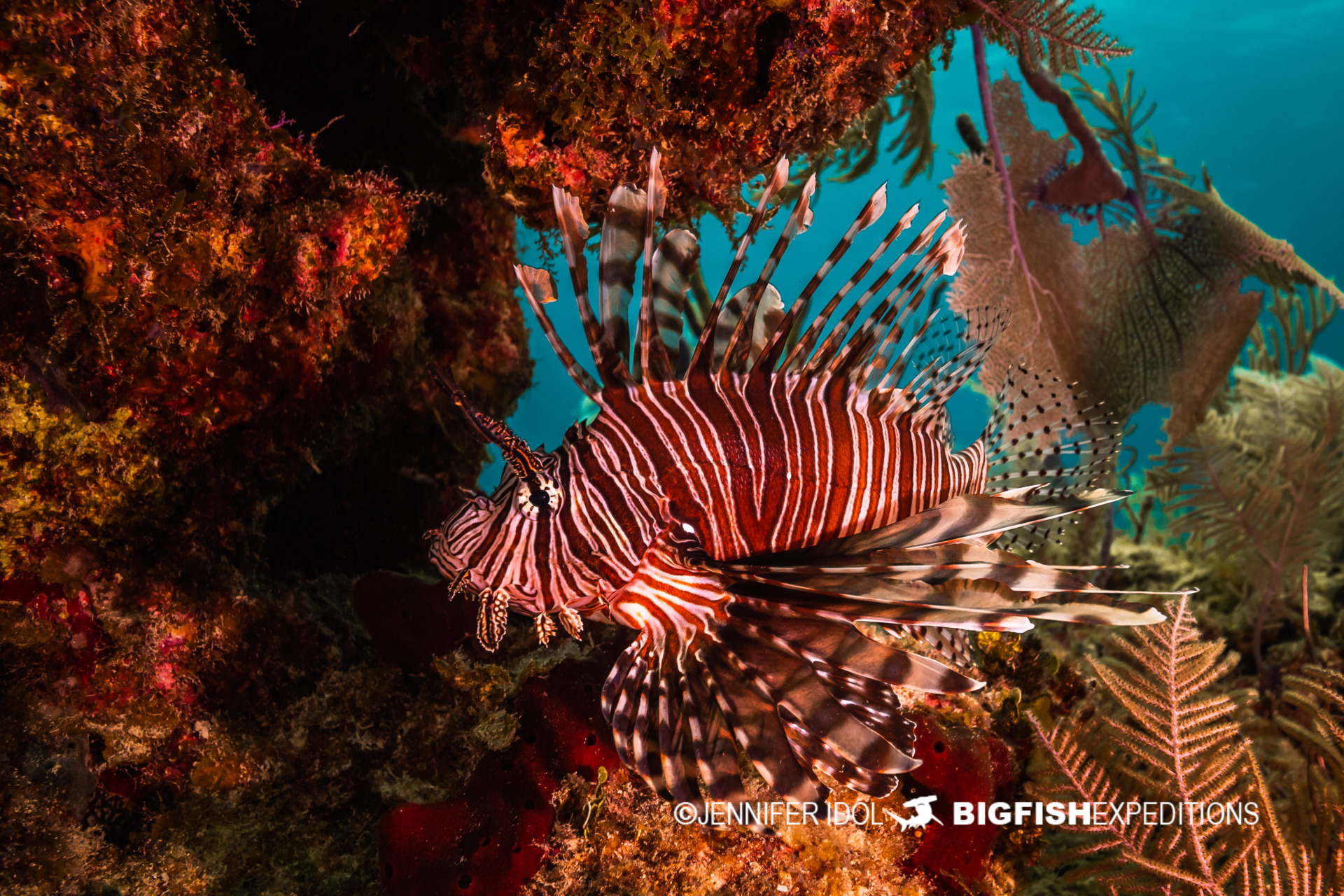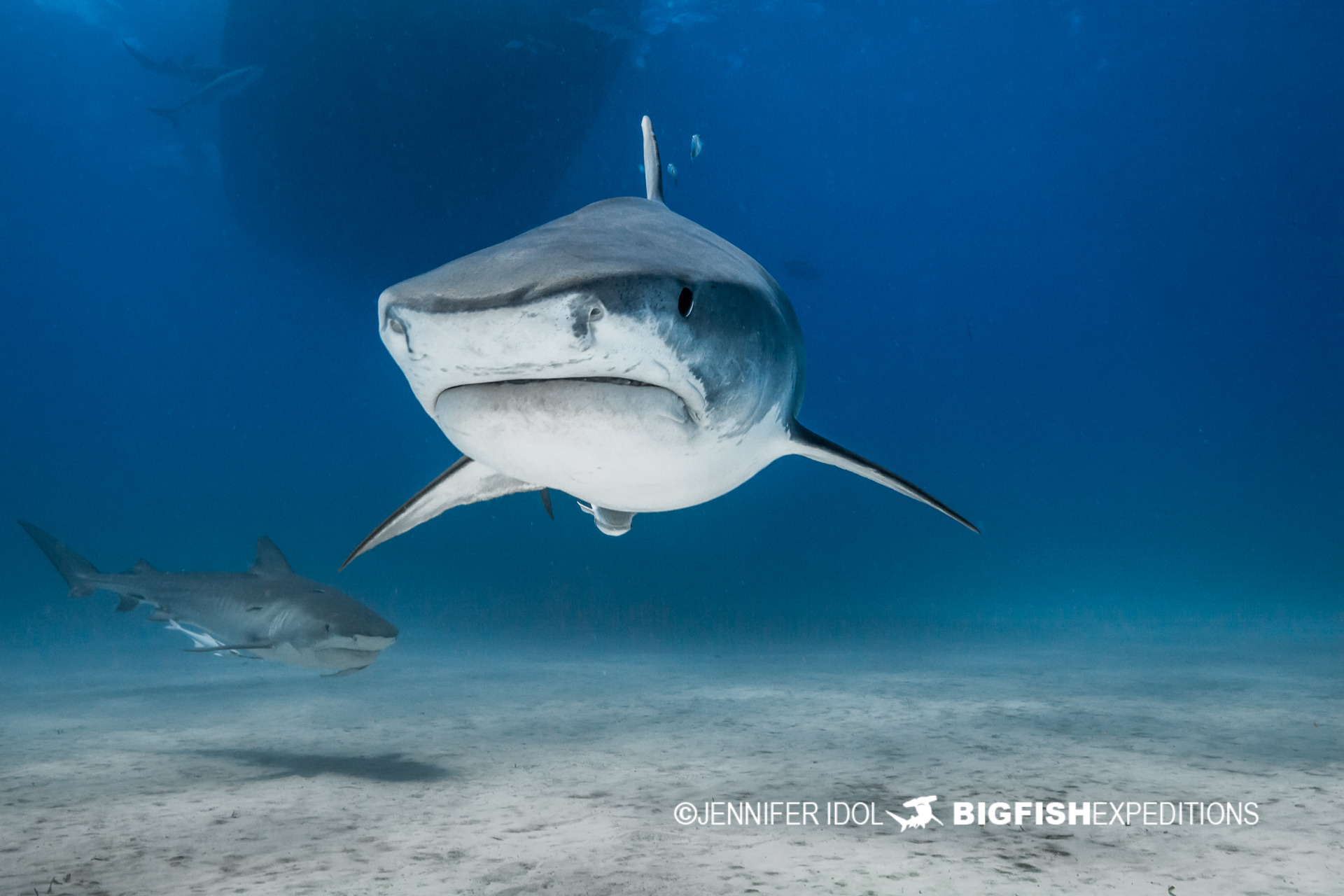 There are other sharks too
It's possible to see up to six species of sharks on our tiger shark trips. Tiger sharks are the reason we come, but the lemon and reef sharks make for ample photographic opportunities. They behave differently and are still exciting sharks to swim with. Nurse sharks are nearly always present and challenging to get close to. Bull sharks and hammerhead sharks are the rarest of the species on the reef, but exciting when we can see them. With the reduced visibility from the weather on a few of our dives, we had the opportunity to get very close to some of these other shark species and take some less common shots.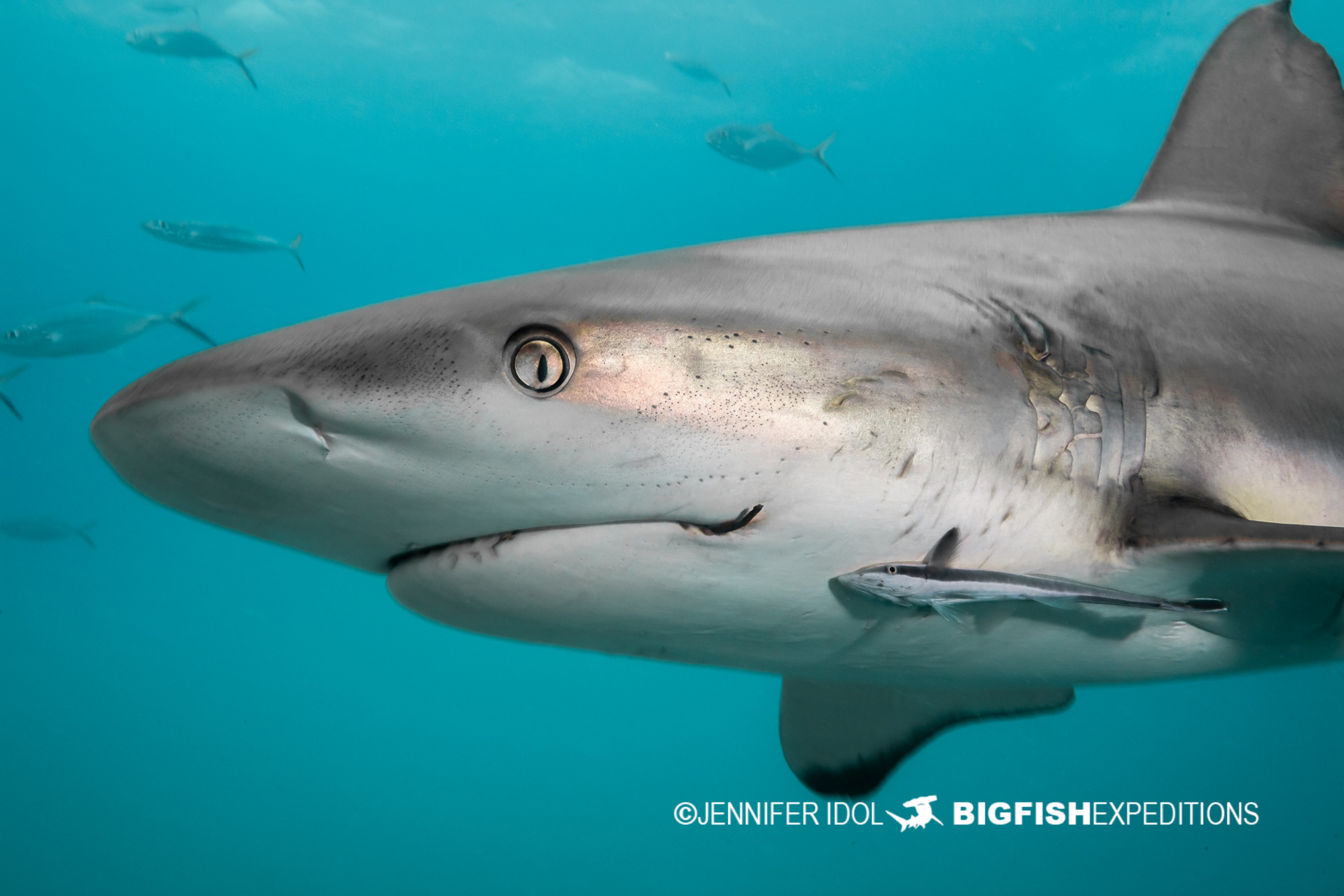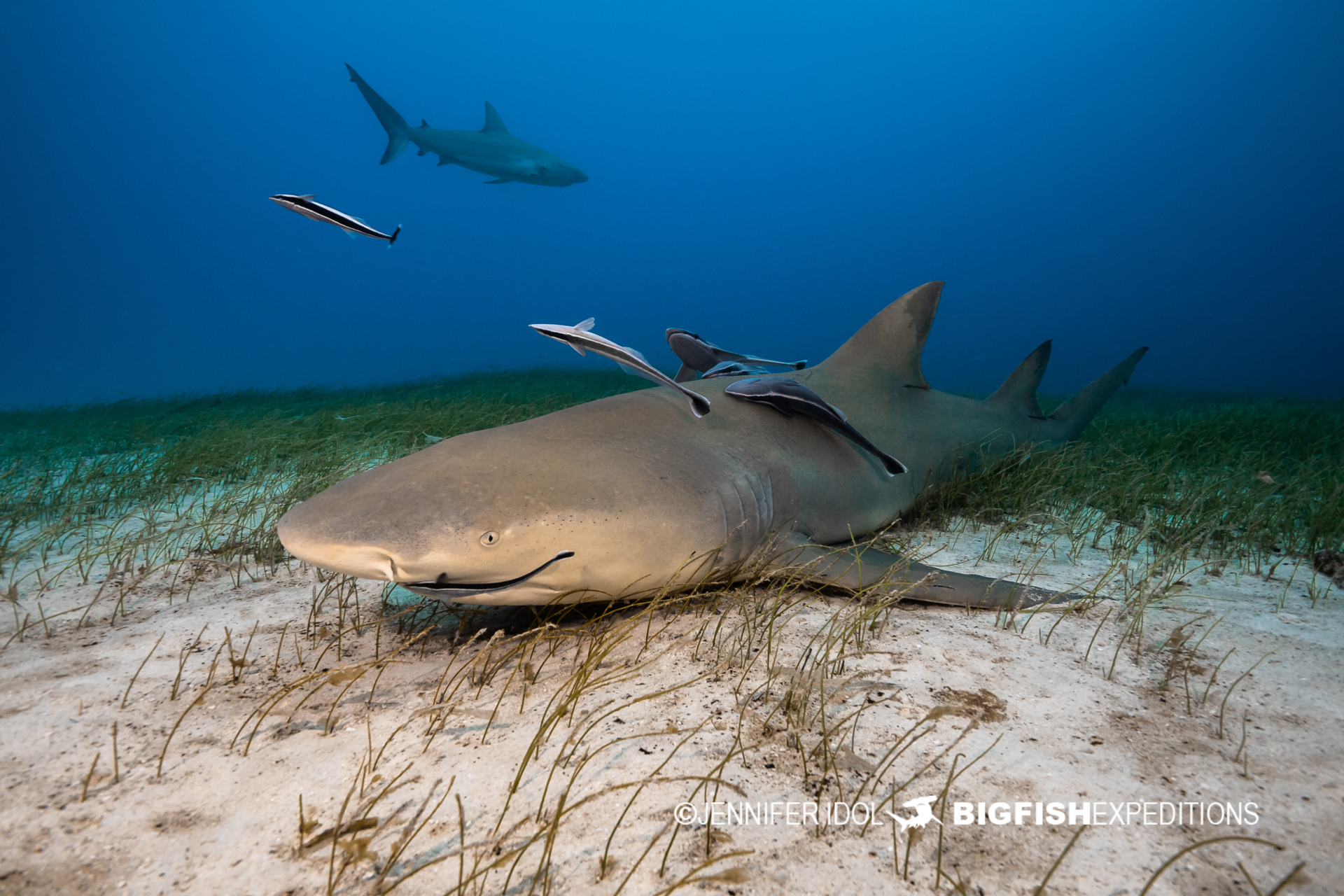 The tiger shark family
Most tiger sharks are named and identified at Tiger Beach. However, we did see a few new sharks that were yet to be identified. In addition to these, we saw ten known sharks. All of them are female and many of them pregnant and ready to give birth within the month. Tiger sharks gestate for 12 months. On our trip we saw Maui, Daisy, Cindy, Jitterbug, Emma, Freckles, Tequila, Kelly, Kim, and Kathi. The team at Dolphin Dream Team helped us identify the tiger sharks.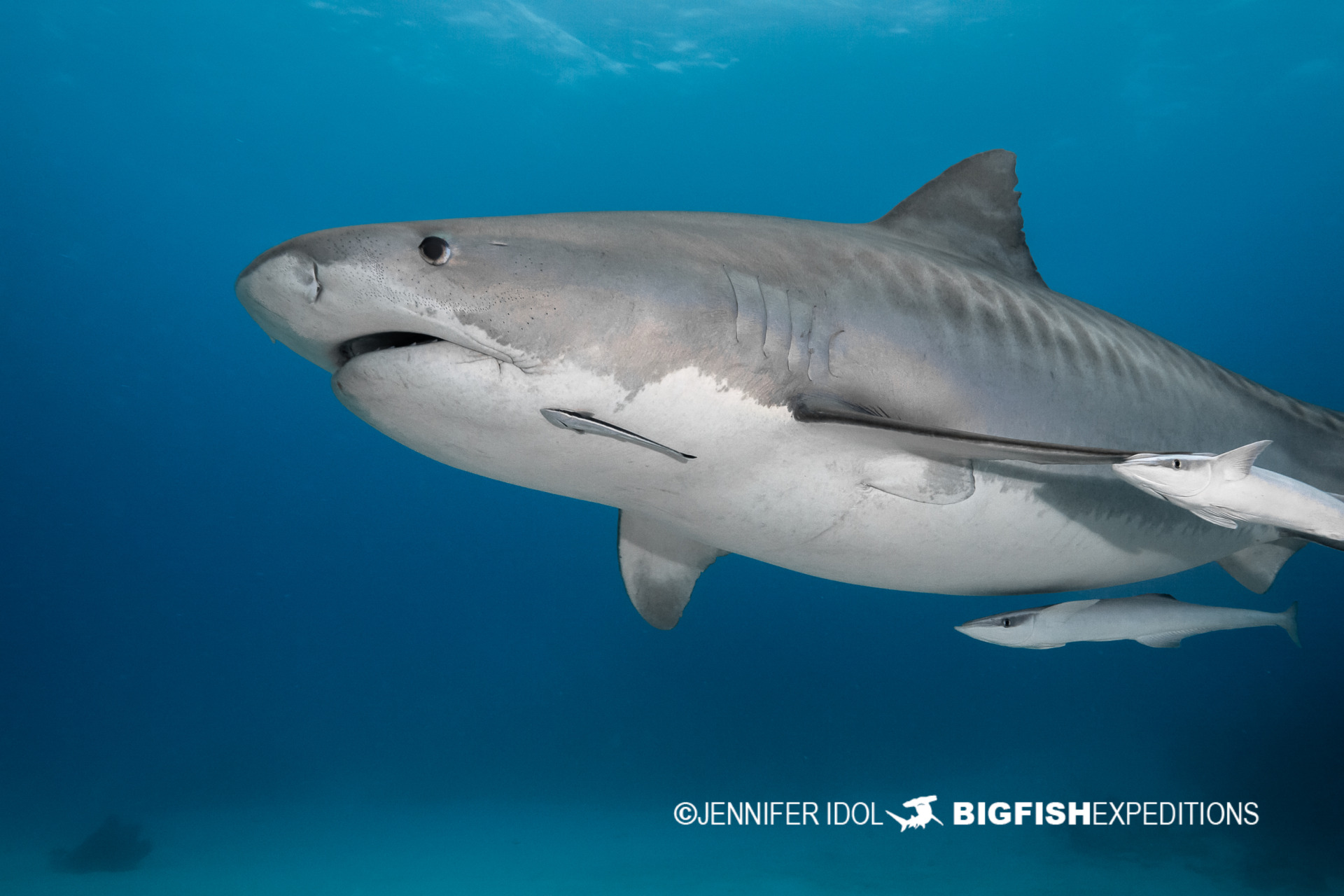 Taking the shots
Video is as prevalent as photography on this trip and many of our divers experimented with lots of shooting styles. We have a video we're editing to share of the action at Tiger Beach. Photos are quicker to edit and get out, but the video tells more of the story. From iPhones to GoPros, this was a diverse group of shooters with all capturing more footage than they can edit.
We gave some individual tips and tutorials to divers on the boats for photos and videos using Adobe software. We even helped troubleshoot some camera challenges from housings to the cameras themselves.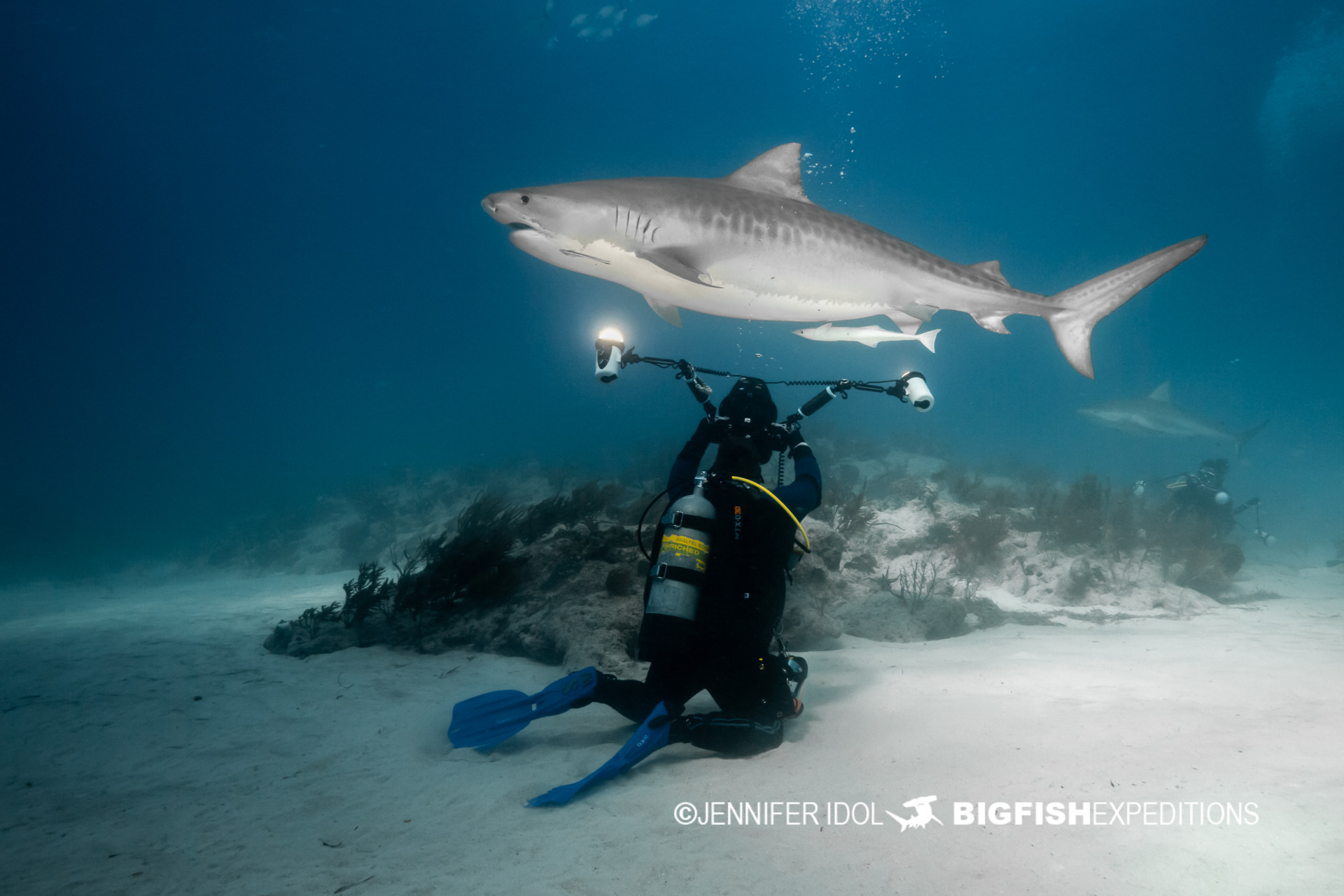 Shark feeds
Trained handlers feed the sharks to keep them in the shallow area of Tiger Beach. When they are not being fed, the tiger sharks go over the ledge to deeper waters to hunt at night. The feeds are necessary to keep the sharks in the area, but they use targeted fish as bait and do not chum excessively. When we're not engaged in a feed, we are able to dive freely around the reef and see free swimming sharks.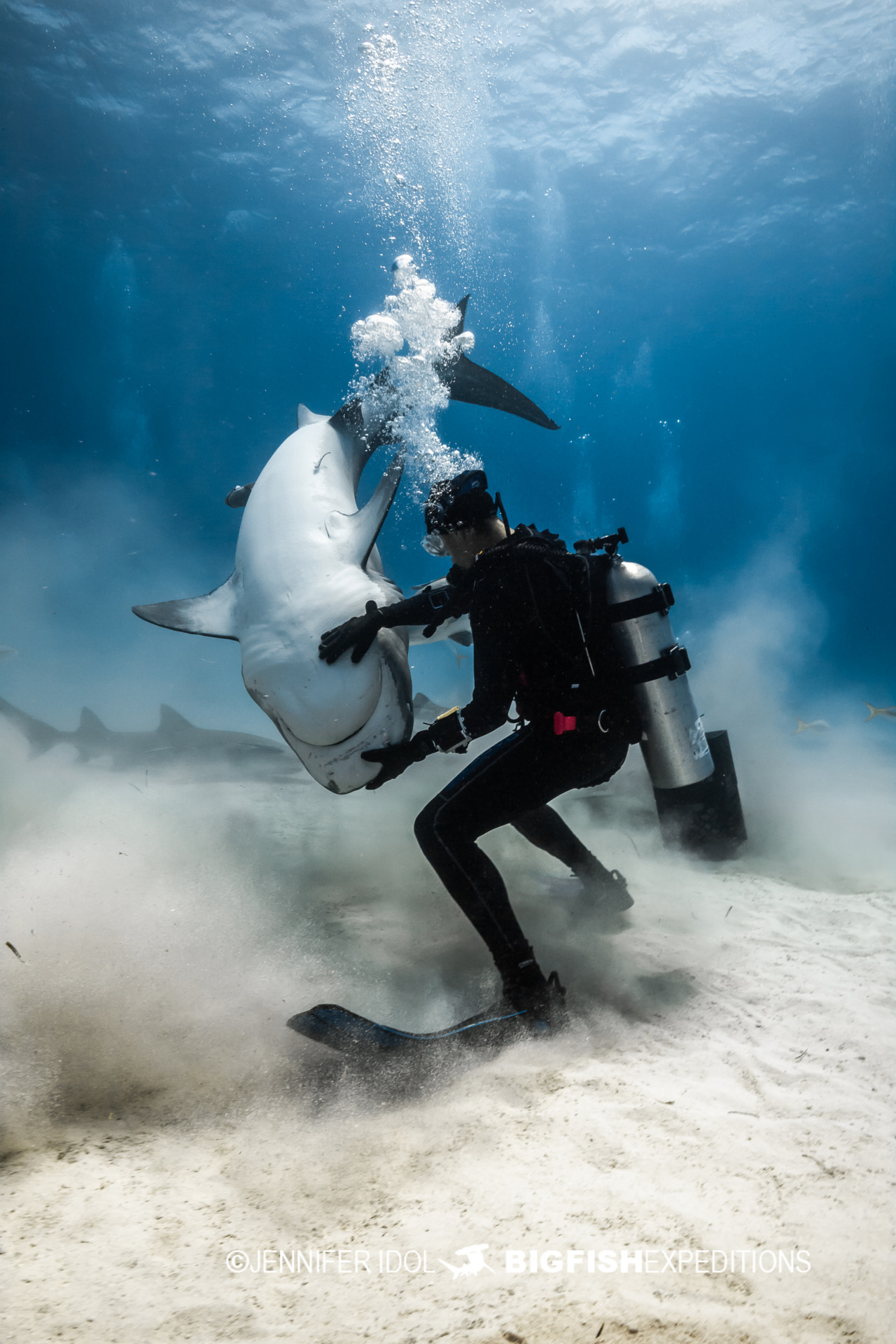 Sunny days
It takes a sunny day to cast a shadow onto the sand from tiger sharks. On the first and last day of our trip, we had ideal weather to bring out the sunny Bahamian waters traditionally seen in photography from Tiger Beach. It was exciting to see the tiger sharks coming across the reef from a distance.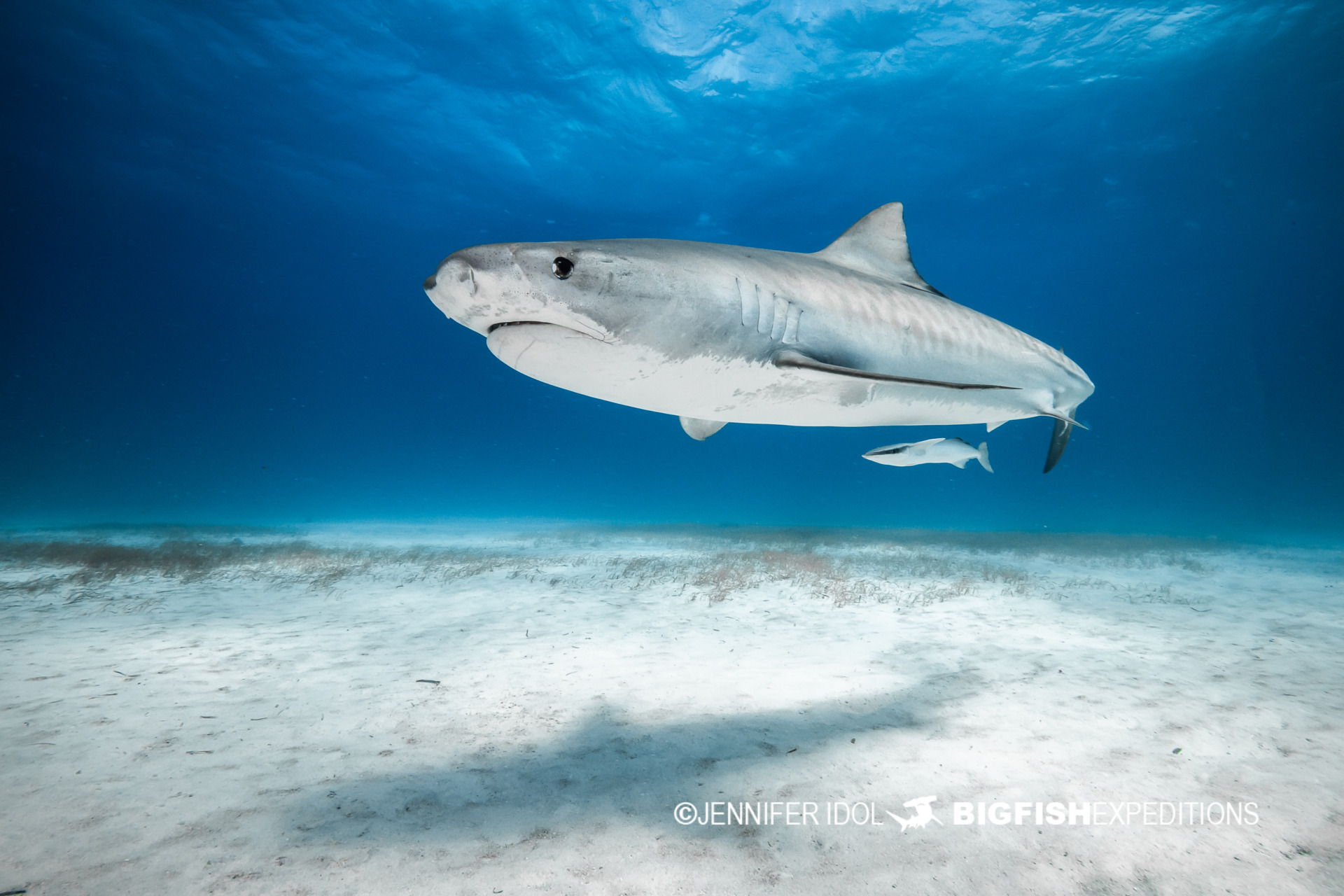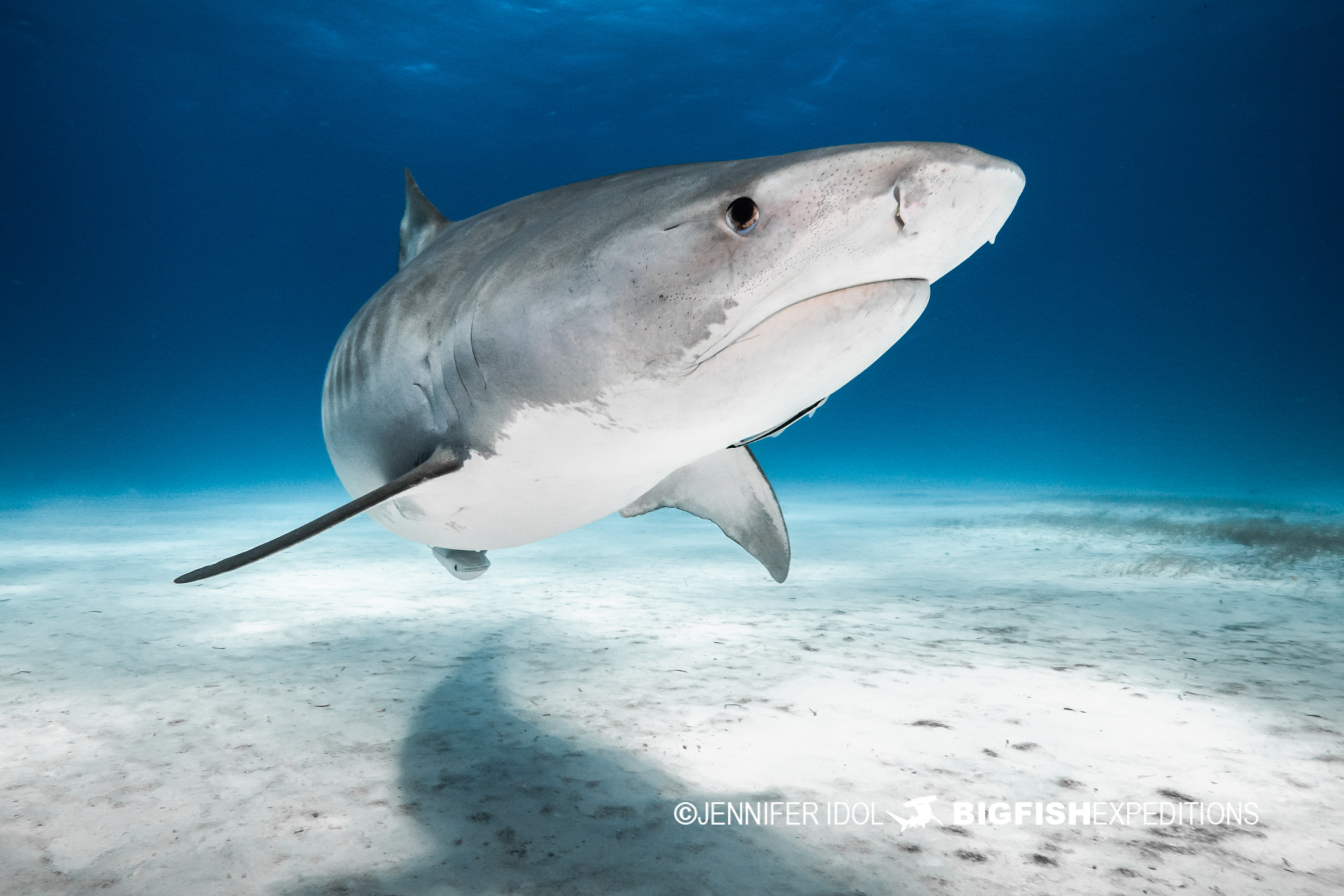 2024
We'll be back at Tiger Beach at the same time next year for more sharky action with more exciting opportunities for photo and video.
Join us there:
Tiger Beach 2024 Liveaboard