Location: San Carlos, Baja, Mexico
Striped Marlin Snorkeling
Free diving with striped marlin and bait balls on the Mexican Sardine Run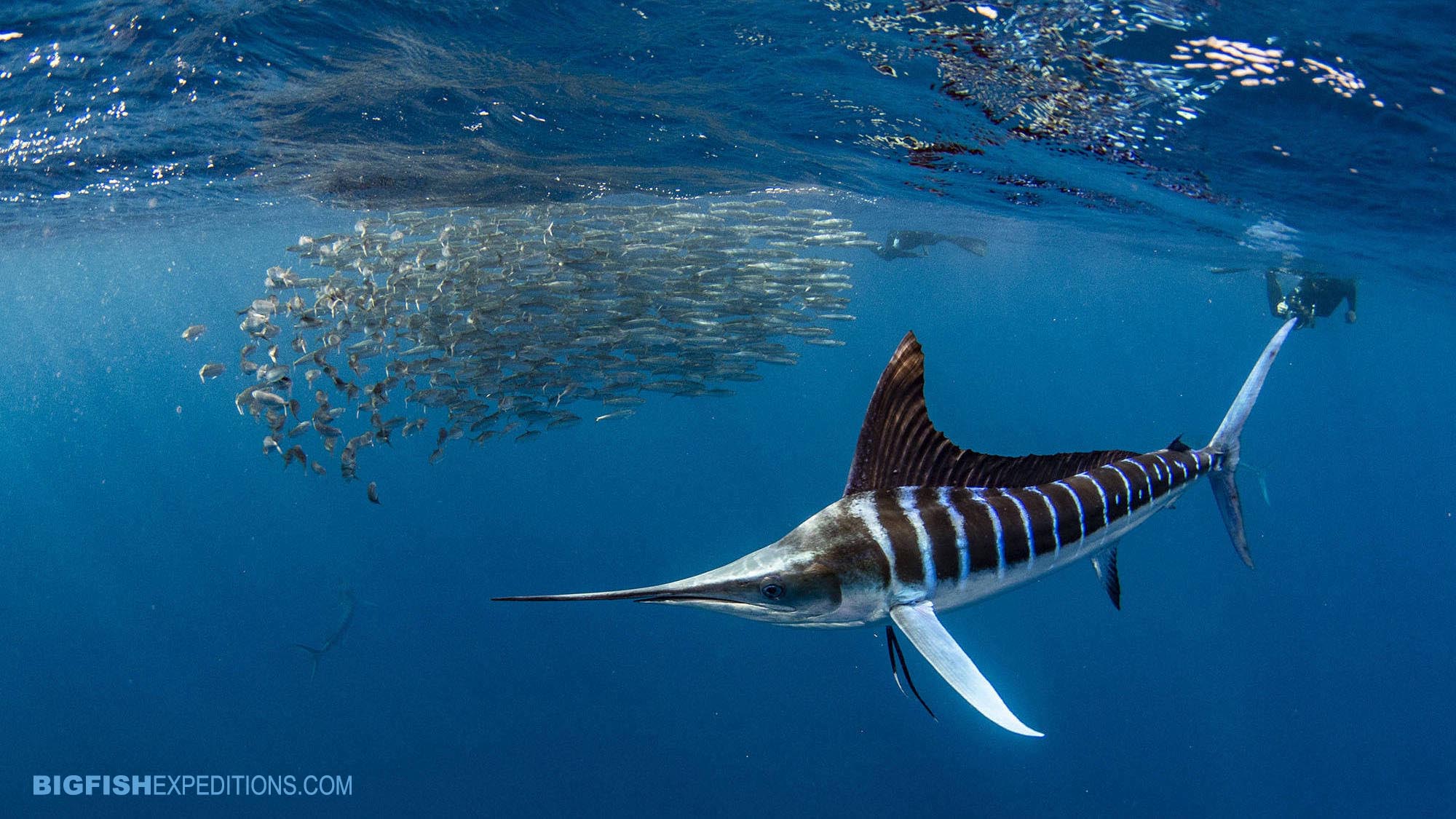 Snorkel with Striped Marlins!
In October and November each year, a river of sardines migrate along the Pacific coast of Baja. The sardine migration provides a feast for thousands of predators including marlins, tuna, sharks, dolphins and sea birds.
Sleek, fast and deadly (if you're a sardine), striped marlins are the Ferraris of the sea. This is your chance to enter the ocean with scores of marlins as they rocket through bait balls, picking off sardines with every lunge.
Before long, the entire bait ball is nothing more than fish scales glittering in the sunlight. Once the sardines are devoured, the marlins head back into the depths to round up the next course.
What to Expect
Each morning we head to sea in fast chase boats; shaded Mexican pangas. Once we reach the marlin's feeding grounds, we start scanning the horizon for bird activity. Once we spot a gathering of frigate birds, we will race to that area while our guests don masks and fins. As you get close, you will see the ocean boiling with activity as the marlins chip away at the bait ball of helpless sardines.
Immediately, we jump in and enjoy the marlin mayhem. The initial jump requires courage but the spear-nosed super predators are extremely accurate, making close passes but never coming into contact with the spectators. Within minutes the bait ball is completely consumed and we regroup in the boat and go in search of the next ball.
DATE
November 10-16 1 SPOT AVAILABLE
PRICE (USD)
$2,995 per person double occupancy
---
$3,495 per person single occupancy
LEADER
N/A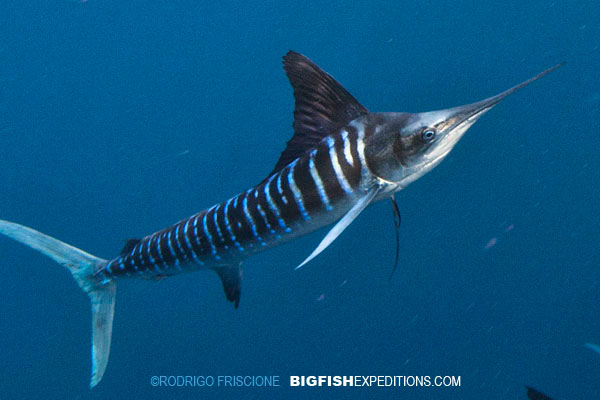 DATE
November 29-December 5 5 SPOTS AVAILABLE
PRICE (USD)
$3,395 per person double occupancy
---
$4,395 per person single occupancy
LEADER
N/A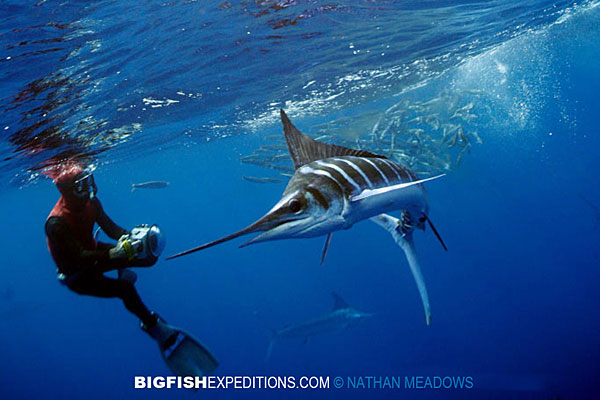 DATE
TBA 5 SPOTS AVAILABLE
PRICE (USD)
$TBA per person double occupancy
---
$TBA per person single occupancy
LEADER
N/A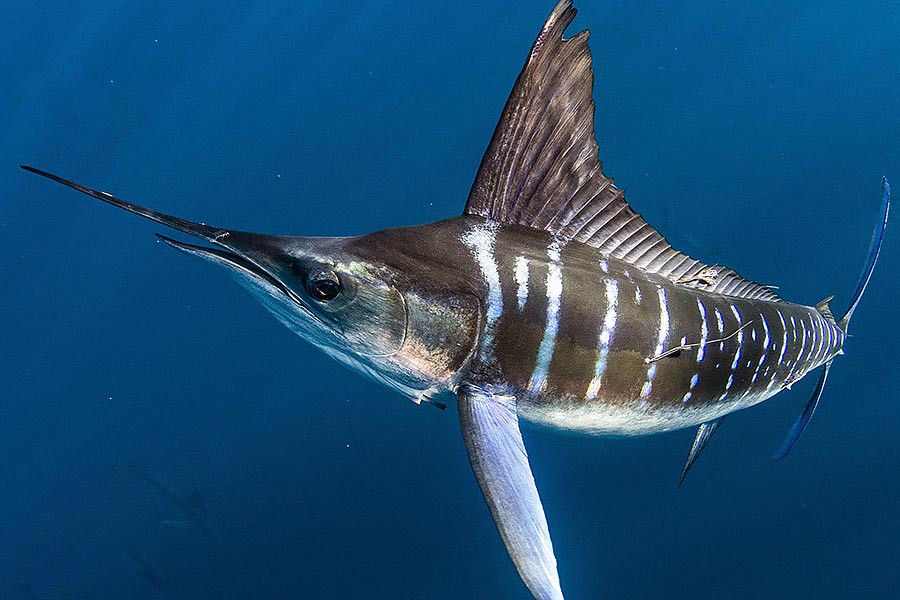 ACCOMMODATION
Brennan Hotel. San Carlos, Southern Baja, Mexico.
EXPERIENCE LEVEL
Snorkeling experience only
WHAT'S INCLUDED
6 nights hotel accommodation in San Carlos (Magdalena Bay).
5 days at sea (8 hours each day) snorkeling with striped marlin and other Pacific predators.
Transfers from/to Cabo San Lucas (approx 5hrs each way).
Breakfast at the hotel plus snacks and pack lunches while at sea.
Weights and weight belts.
Mask, snorkel and fins if needed.
Experienced Guide.
Marine Biologist onboard.
Photoshoot with feeding pelicans.
NOT INCLUDED
Flights
Dinners / Alcohol
Crew gratuities
Hotel in Cabo San Lucas before and after the trip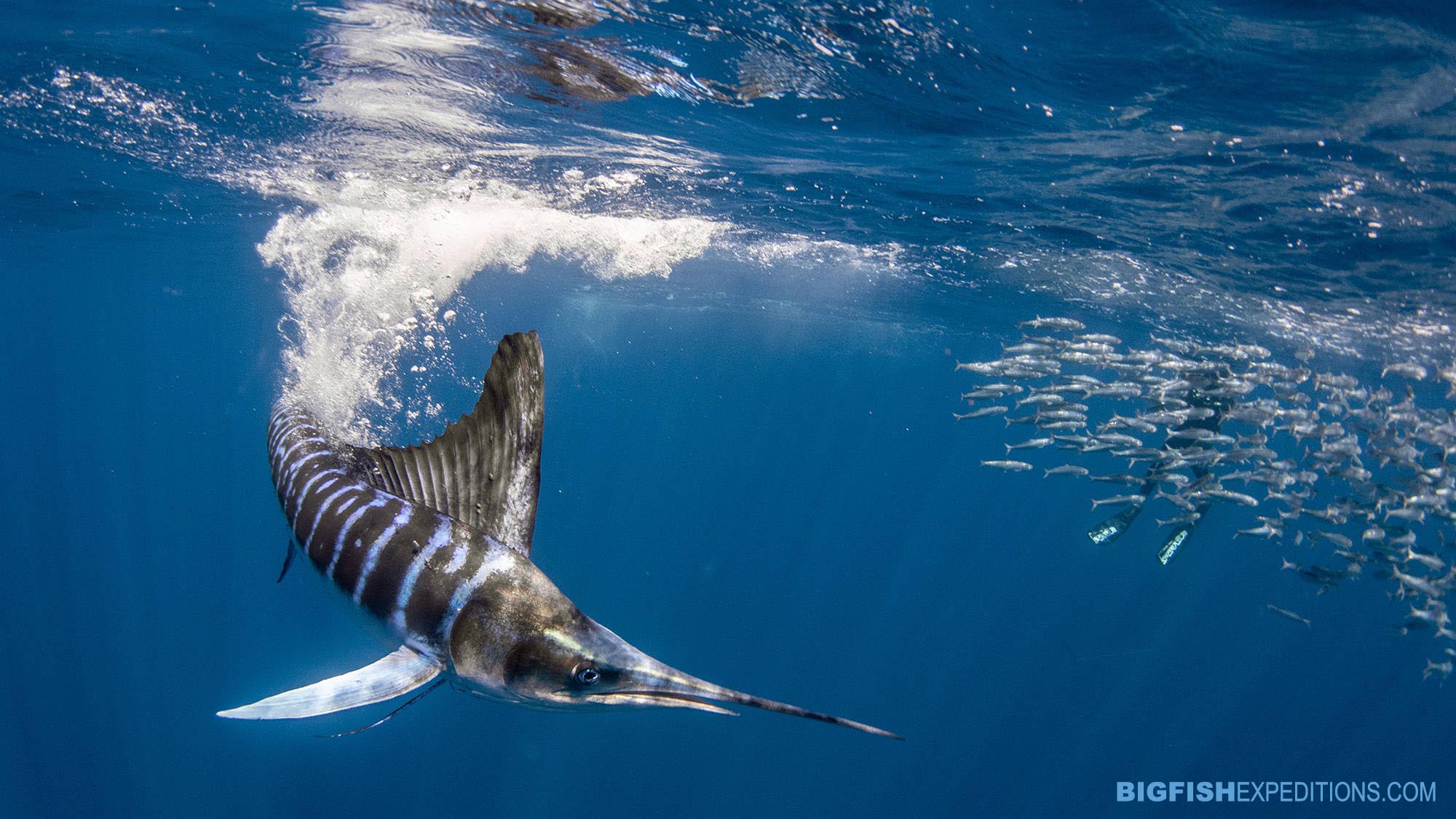 STRIPED MARLINS AND SO MUCH MORE
Although snorkeling with striped marlin is the focus of the expedition, there is a very good chance you will see other predators feeding on the bait balls that the marlins work so hard to create. Other fish, mammals and bird species you may see include: yellow fin tuna, dorado (Mahi mahi), Wahoo, common dolphins, California sea lions, brown pelicans, Sabine's gulls, Heerman's Gulls, blue-footed boobies, magnificent frigate birds, pink-footed shearwaters, black-vented shearwaters, Laysan albatrosses and black-footed albatrosses.
Meanwhile, other species that we may find in the area that are not feeding on the same bait balls include mobulas, humpback whales, orcas, blue whales, pilot whales, and five species of turtles. The Pacific coast of Baja is a raw, predator filled ocean that is full of surprises!
PHOTOGRAPHING FEEDING BROWN PELICANS
Although this is a small part of the overall adventure, some of our guests especially enjoy photographing pelicans underwater. Consequently, during your trip, we always include one or two pelican photo-shoots.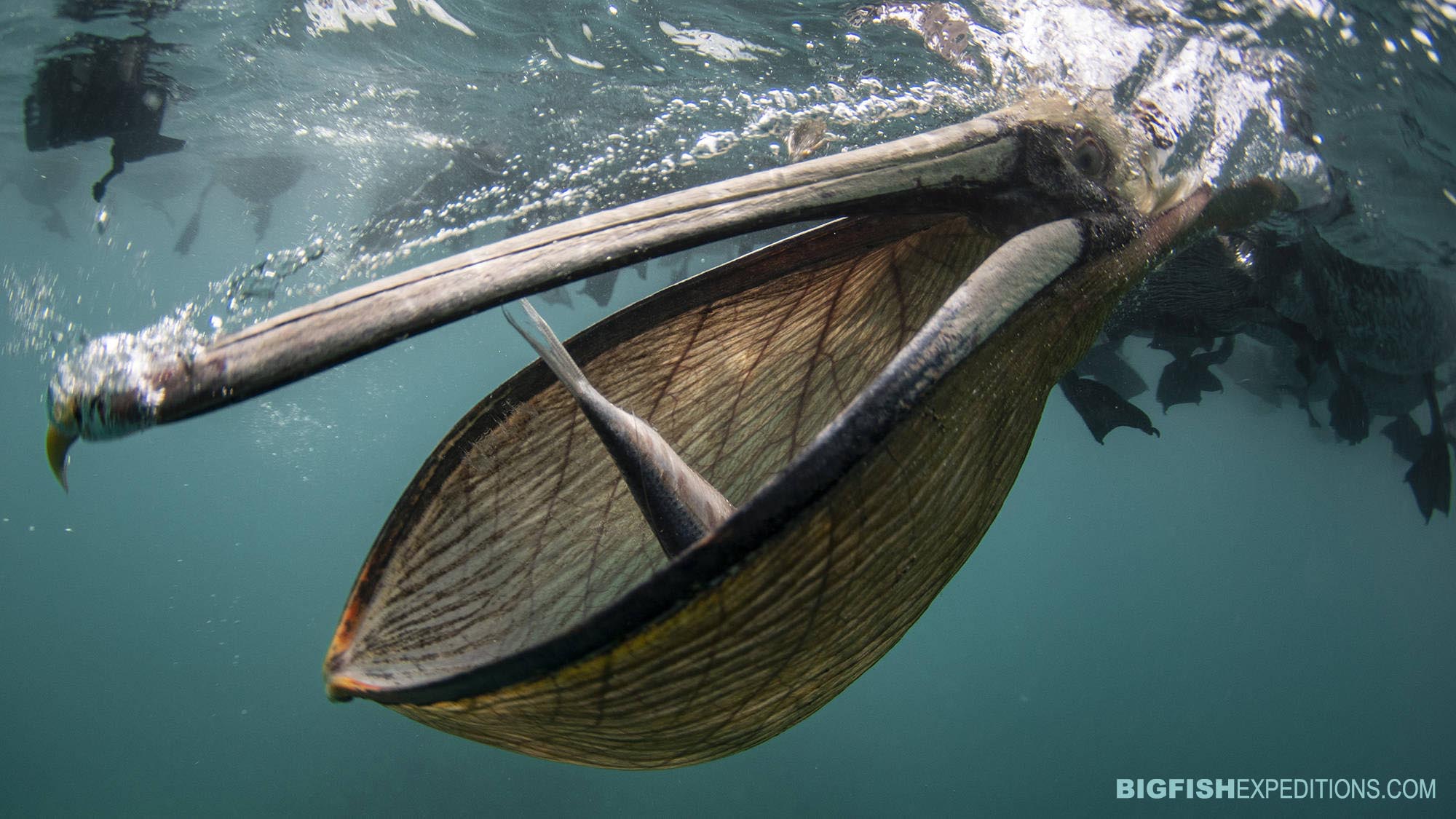 Day 1
10 a.m. pick-up at the Tesoro Los Cabos in Cabo San Lucas. We will then take you north across the Baja desert to San Carlos at the north end of Magdalena Bay. This will be your home for the next six nights.
Days 2-6
After a tasty breakfast, we will head to the boat and set out to sea to snorkel with striped marlins and any other pelagic animals that we encounter. A pack lunch will be served on the boat.
We will return to shore in the late afternoon, leaving plenty of time to download images and relax before heading into San Carlos for dinner.
Day 7
After a relaxed start, we will retrace our steps to Cabo San Lucas. We expect to have you back in Cabo around 2pm but we advise guests to book an evening return flight or book a night at the Tesoro in Cabo San Lucas, in case of delays on route.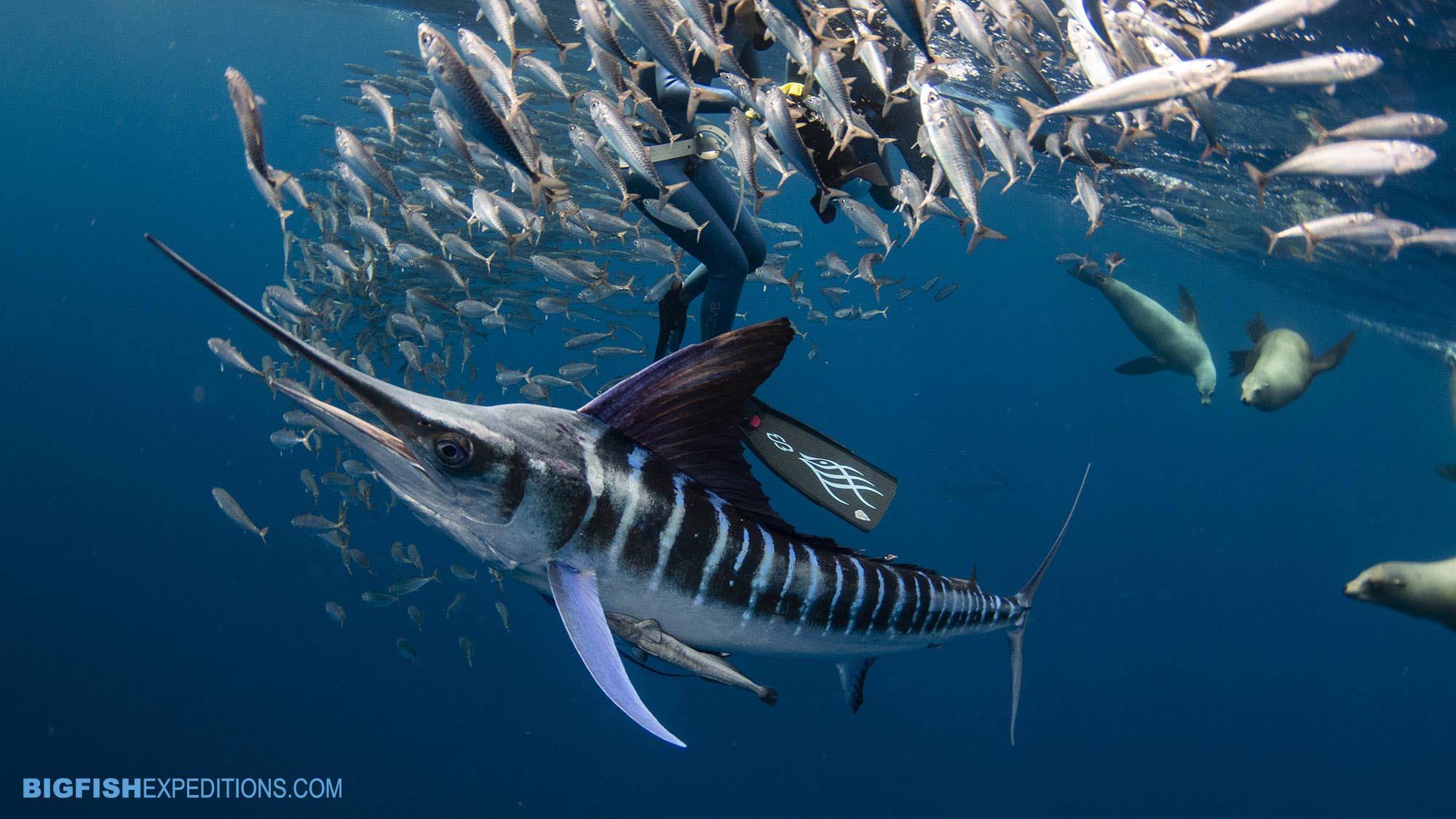 Ready to sign up or have a question about this trip?
Contact Big Fish about this Expedition