A Big Fish Expeditions Trip Report
As always, the sharks were waiting for us as soon as we arrived at Tiger Beach. This was my seventh season at this notorious sand bar and I have never had to wait more than a few minutes for the sharks to show up to the boat.
We spent our first morning chumming up beefy lemon sharks (and hoping for a tiger or two to show up). Once everyone had gotten their fill of the omnipresent lemons we headed off to Fish Tales which is only about a km away. Fish Tales is my favorite spot in the Tiger Beach area because it gets just as much action as Tiger Beach itself but there are healthy reefs there (as opposed to the scrubby sand at TB) so the backdrop for images is far more interesting:
As I expected, some of the lemon sharks followed us to Fish Tales where they were joined by about 25 Caribbean reef sharks and a large resident nurse shark that spent most of the week nonchalantly laying next to the bait crate trying to suck scraps through the bars.
Our first tiger showed up on the second morning. Although they are huge animals that you would expect to be very bold, tiger sharks are quite shy until they get used to divers. This one was a large female looking very pregnant. Its always nice to see that there is another generation of tiger sharks on the way!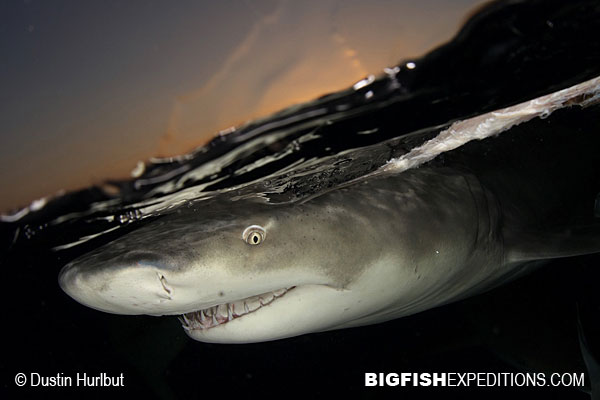 She swum around the perimeter of the reef searching for the source of the delicious scent and then disappeared into the blue only to return repeatedly throughout the day.
The shark action on Fish Tales Reef was excellent. The swim deck of the Dolphin Dream soon became a revolving door of divers jumping in and out of the water. The nice thing about Fish Tales and Tiger Beach is that the water is so shallow that you can stay in virtually all day without having to worry about decompression. Having said that, somehow I managed to stay down so long on this trip that I ended up with a 7 minute deco stop from a 35ft dive 🙂
At sunset we crowded onto the large swim platform on the stern of the Dolphin Dream and shot 'lemon snaps' which is a very unique form of photography where the sharks are wrangled right up to the camera to get over under shots.
This trip was officially a shark photography workshop, so each evening I ran through a presentation on one aspect of shark photography or another. Its always tricky when coaching shooters that range from beginner to expert but I think everyone got something out of the class. I always look for something new to play with too. This year I played around with spotlighting sharks at night. No Photoshop here, just creative strobe placement:
The real highlight for me this year was the Atlantic spotted dolphins which I have not incorporated into my Tiger Beach trips before. From now on, they'll be a fixture of every trip!
Kicking after dolphins was not easy because the dolphins quickly got bored of our pathetic swimming and free diving skills. Fortunately the crew of the Dolphin Dream know exactly how to keep them interested. The Dive Master jumps in with a scooter and spins and pirouettes underwater to the delight of the dolhins then like the Pied Piper he leads them back to the exhausted divers. Its a great sytem that gave us lots of great photo ops. Here is Travis leading a pod of dolphins into the frame of one of our guests: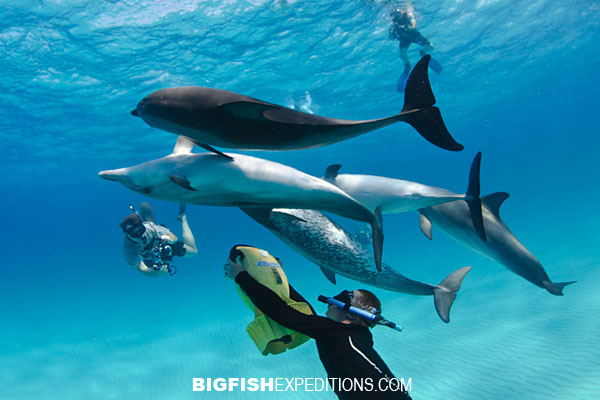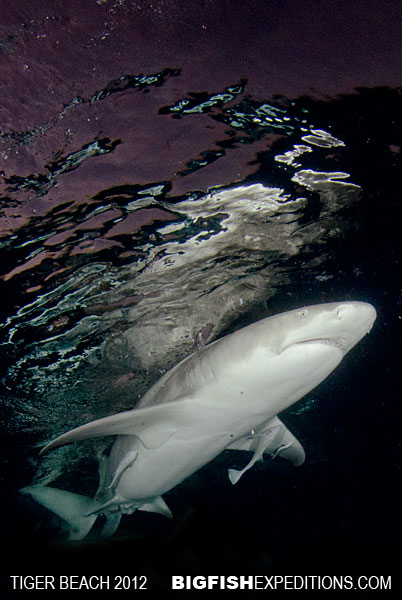 We also played with spotted dolphins at night. This is a very different and much easier way to shoot Atlantic spotted dolphins because at night they come right up to the boat in order to feed on flying fish which are attracted to the boat's underwater lights. It was a great photo op!
All in all it was an awesome week at Tiger Beach: dolphins, lemon sharks, tigers, Caribbean reef sharks, nurse sharks and even a couple of great hammerhead fly-bys although no one managed to catch them on film.
Cruising back into West Palm Beach after a week at Tiger Beach I could see a lot of happy tired faces on the boat. I was tired too (especially from the dolphins) but life is short! After a day of rest two of the guests flew with me to Cat Island which is just a 40 minute flight away. After all, how better to wind down from a shark filled week at Tiger Beach than to spend a week diving with oceanic whitetip sharks!
Join me at Tiger Beach in 2013 Tiger Beach Shark Safari and Photo Workshop