A Big Fish Expeditions Trip Report
This year's trip to Tiger Beach did not disappoint! We spent day one playing with the lemons at Tiger Beach itself and then cruised over to a site that we call Fish Tales on day 2. The tiger action at Fish Tales was pretty solid with two tigers cruising past the group and chomping on the baitbox.
On day three we spent the morning looking in vain for spotted dolphins. In the afternoon we checked out a sandbar nearby in order to do a little shark chumming and the dolphins found us! Normally dolphin encounters are fleeting and involve a lot of kicking and spinning to keep them interested. On this occasion, a pod of around 20 spotted and bottlenose decided to hunt for eels and other food under the sand, right around our boat. They stayed and played with us for hours.
Eventually everyone got their fill of dolphins and drifted back to the boat in time to enjoy an epic dive with two big tigers that cruised in to see what all the fuss was about.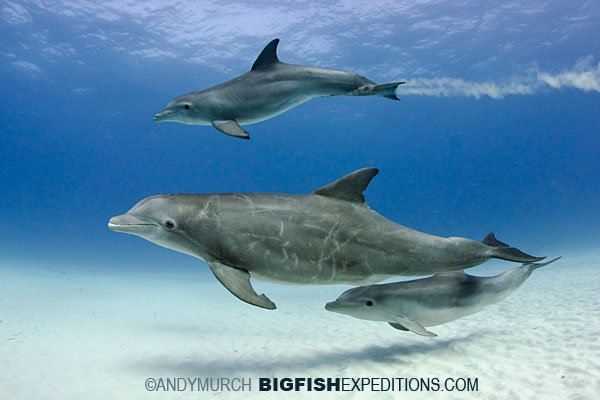 This was a great photo shoot with lots of close passes and tigers taking the bait from the feeder. I definitely want to try this spot again on our next trip because it is also supposed to be good for great hammerheads at the right time of year.
We finished the trip back at Tiger Beach and Fish Tales. The tigers came in to play soon after we arrived and by the end of the fourth day we had four big tigers cruising around the feed and probably 30 or more lemon sharks. A couple of nurse sharks tried to muscle in whenever there was room for them to reach the bait boxes and even a little reef shark showed up at Tiger Beach for a while but he was soon scared away by the marauding lemons and tigers.