Cat Island Oceanic Whitetip Shark Diving Expedition 2017 in a Nutshell
Short and sweet. We lost a day to weather but overall it was a great trip with non-stop shark action and a really fun group of shark divers. As soon as we arrived at our favorite oceanic whitetip spot, the sharks started gathering…
I'll keep this report short because this was a mini add-on trip scheduled back-to-back with our April Tiger Beach trip to allow guests traveling from far away to enjoy more great Bahamian shark diving before they left North America.
We booked four nights at the super friendly Greenwood Beach Resort on the south end of Cat Island. It was our first time at Greenwood and we were very impressed by the beautiful location and relaxed atmosphere. The staff are avid kite boarders so on our windy day, some of our guests took lessons and returned in the evening exhausted but elated by the experience. But of course, we were there for sharks and fortunately, the next day the winds abated enough for us to head out to sea.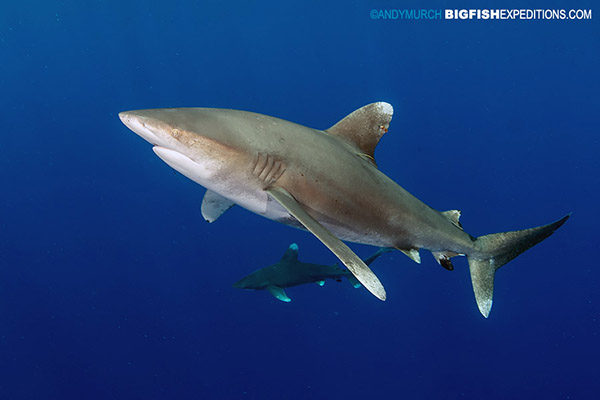 Although you occasionally see other species at cat island such as silkies and dusky sharks, oceanic whitetips dominate the show. This year was no exception. We had one quite large silky that was brave enough to mingle with the oceanics but no other species showed up. This is one reason why we keep this particular trip relatively short; as fun as it is to get up close and personal with oceanic whitetips, all but the most fanatical shark photographers have taken enough images by the end of the second day. These sharks make it almost too easy to get the shot 🙂
Most of the sharks we saw were females. A few looked very pregnant. Some had tags from previous seasons at Cat Island. Others were brand new sharks that none of us had seen before.
Studies conducted by Dr Ed Brooks and other shark researchers have shown that after the oceanic whitetip sharks leave Cat Island some go north and some go south. Some sharks tagged at Cat Island have traveled northward half way up the eastern seaboard of the USA while others have gone as far south as Brazil!
If there was one thing that our guests quickly learned, it was that oceanic whitetip sharks are definitely not shy! They were more than happy to swim right up to divers and give them a little nudge, like this one that bumped my camera as this shot was taken 🙂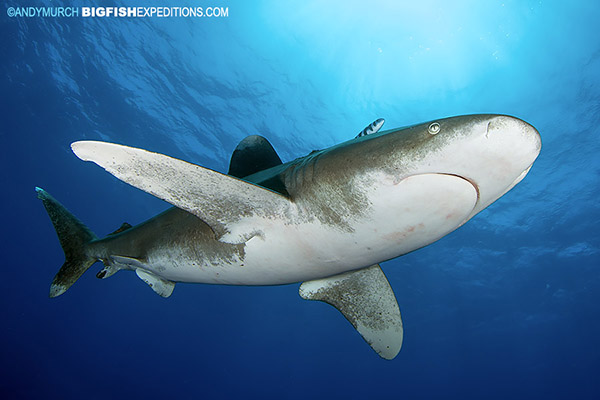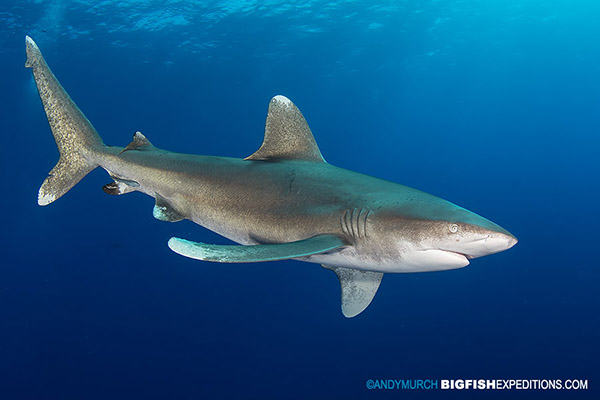 By the end of the last day I was having trouble keeping count of all the sharks. I know there were at least a dozen beefy whitetips swimming around us. Perhaps even more. Its always nice to see lots of sharks and it feels like you can never have enough but on this occasion, I can't help thinking that we had exactly the right number. Any more sharks and it would have felt like a reenactment of the Indianapolis disaster where scores of oceanic whitetip sharks started circling the shipwrecked sailors. Twelve or so was the perfect number.
Not surprisingly, we're heading back to Cat Island next year. It'll be another 4 night trip and will again coincide with our April Tiger Beach trip. If you're keen to see these boisterous, beautiful sharks, this is your opportunity! Join me in 2018: Oceanic Whitetip Shark Expedition
Andy Murch
Andy is a professional photographer, author and the founder of Big Fish Expeditions.