Cat Island Oceanic Whitetip Shark Diving Expedition 2018 in a Nutshell
Windy for the first couple of days but it didn't stop us from chasing oceanic whitetips! Oceanic action on every dive!
Easy Pickings
If there is one thing I love about Cat Island, it is the predictability of the sharks. The Oceanic Whitetips that inhabit this deepwater region of the Bahamas have become a menace for sport fishermen that are trying to land their fish. As soon as the sharks hear a fishing boat engine, they race in and steal the struggling tuna before it can be hauled out of the water.
Consequently, once we reach our favorite shark spot, all we have to do is chum and rev the engines of the dive boat as if we have a fish on. the sharks show up like clockwork 🙂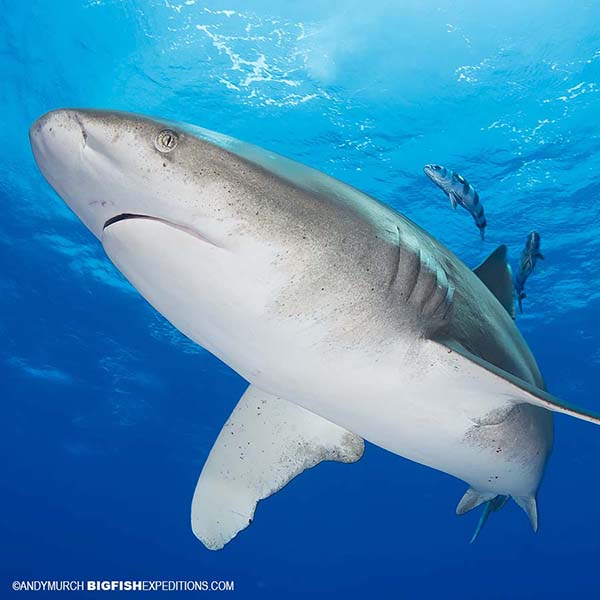 This year the oceanic whitetip sharks appeared even earlier than before. Only 5 or 6 on our first day but that was enough. They were also accompanied by a large satellite-tagged silky shark that was surprisingly unintimidated by its beefier cousins.
On our second day, we could not reach the spot we prefer because the choppy seas were too big for even our large dive boat. However, we still attracted 6 whitetips which stayed with us until we drifted into shallow water. Although oceanics prefer bottomless seas, two stayed with us for the whole day even once the seafloor rose to 20m and we started attracting Caribbean reef sharks.
I am pretty saw I saw a good sized dusky shark too but I have no pictures to prove and we like to joke in the shark diving world that if you didn't get a picture, you didn't see it 🙂
On our third and final day the wind finally abated and we were able to reach the perfect spot where more oceanics occur. I was hoping for double digits but 9 oceanic whitetips was more than enough for us to enjoy. The same big silky showed up too as well as some mahi-mahi that did a couple of fly-bys.