A Big Fish Expeditions Trip Report
This year's trip to Cat Island was off the hook! Cat Island is the place for oceanic whitetip shark encounters but I had no idea how good it could be!
For this year's trip I chartered one of Stuart Cove's large dive boats. While myself and 8 guests flew in to the island and settled into Hawks Nest Resort, the crew battled strong winds all the way from Grand Bahama to meet us on the island.
Our first day on the water was very windy but underwater nobody cared because we had 12 oceanics swimming around our group in 3000ft of clear blue Bahamian water. That was an experience that I will never forget! Having a few oceanic whitetips swimming around a group of divers is one thing, but having 12 oceanics surrounding 6 or 7 divers is completely different. They were very bold but not particularly aggressive. While the dive boat circled and dropped a small but steady rain of chum to keep the sharks interested, we got busy with our cameras and video and shot the circling sharks from virtually every direction. What a fantastic experience!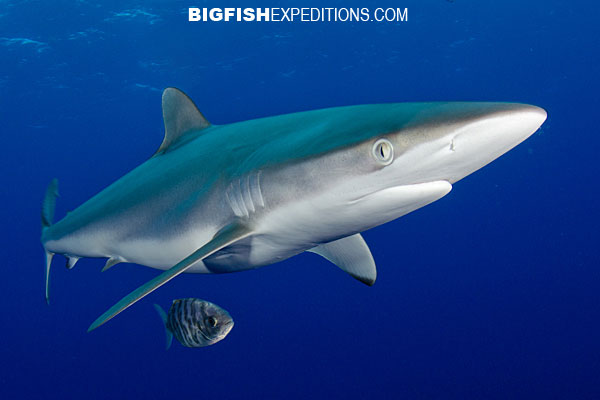 Although the wind continued to make surface conditions difficult, we were able to dive on all five days and we had oceanics with us every day.
On a couple of days we came into more sheltered water in the late afternoon and explored Cat Islands pristine reefs. Not that many big fish or sharks but the reefs themselves were beautiful.
Usually we went out to extremely deep water but one day we chummed on a shallower bank which still bought in 5 oceanic whitetips but we also had a bunch of silky sharks show up. Although they ran the risk of ending up as lunch for the oceanics they stuck around all day with their much bigger cousins.
On our third day, Film Maker Mark Rackley successfully put one of the oceanics into tonic immobility. This is a response that has been well documented with various reef sharks but I had never seen anyone manage it with an oceanic whitetip. I caught most of it on video but here is a still shot of what it looked like. The fisheye lens makes the shark look kinda small but in reality it was way bigger than Mark. As you can see, he prefers to free dive (we were all on scuba) and the weight of the limp shark started pulling him down.
To keep things interesting, we organized a little over/under shoot with the nurse sharks in the marina one evening. I've shot over/unders of lemons, tigers, reef sharks, blues and a few other big animals but this was a first. Great fun and definitely something that we'll do again next year!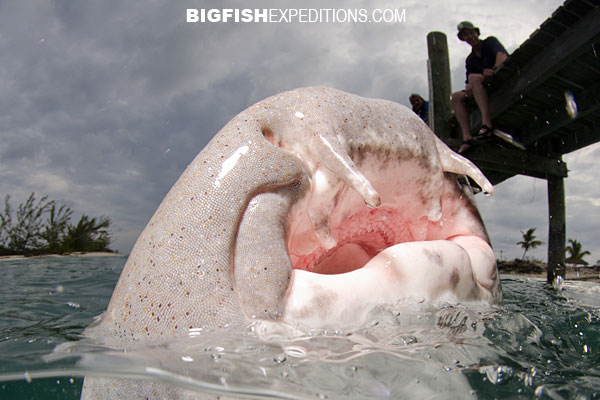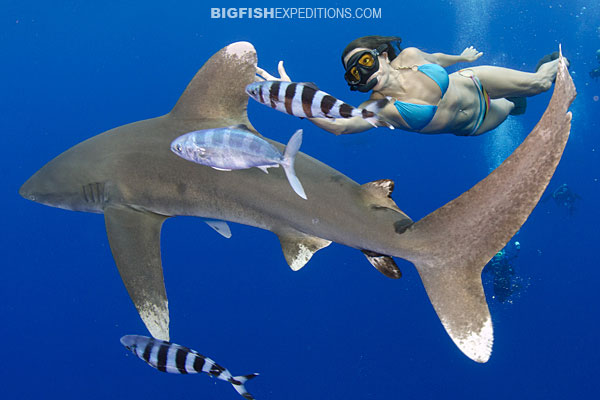 Between the fantastic oceanic whitetip action, the nurse shark shoot, the silkies, the occasional reef shark that randomly showed up and a fly by of a blue marlin two days in a row, it really was a spectacular trip which was made even better by a really great group. My thanks to everyone (all my guests and Stuart Cove and his crew) for making the trip what it was. Hopefully next year will be even better!
BTW, the boat is half full already. Join me if you can: Oceanic Whitetip Shark Expedition 2013