Trip Reports, Exciting New Expeditions and Last Minute Deals from Big Fish Expeditions
Wow, its May already and this is the first Big Fish Newsletter of 2016! In our defense, we've been running back-to-back expeditions since the new year and like all of you, we'd much rather be underwater or deep in the jungle, than tapping away at a keyboard 🙂
Enjoy the round up of trips so far and/or skip down to NEW TRIPS to see what we have just added.
AN EPIC START TO 2016 IN NORWAY
Terry Steeley led our first trip of the year to Norway to swim with orcas. I could not be more envious of the encounters that our guests had on that amazing trip! At one point they were snorkeling next to an enormous bait ball of herring that was being plowed into by dozens of orcas from all sides. If the encounters continue to be that good, I'm simply going to have to move to Norway! Some great images and the full story here: 2016 Orca Expedition Trip Report
BLUE WHALES AND POLITICS IN SRI LANKA
After Norway for orcas, our next stop was Mirissa in southern Sri Lanka to swim with blue whales. We did see blue whales and dolphins both from the surface and underwater but some of the whale watching boats in Mirissa were extremely hostile and made the encounters very difficult this year! After we left, we even heard of a whale watching boat ramming a snorkeling boat so that they didn't have to share the whales! Fortunately, the Aggressor Fleet has commissioned a brand new liveaboard for diving in Sri Lanka so, starting next spring, we will be able to enjoy relaxed interactions with the whales far beyond the area where the aggressive whale watchers operate.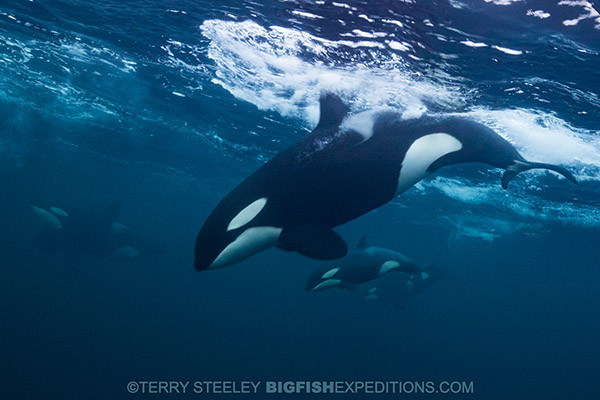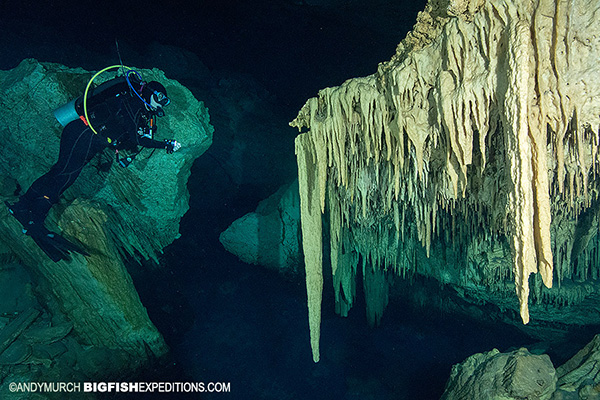 SAILFISH AND CENOTES
After Sri Lanka I flew straight to Mexico to enjoy our annual sailfish expedition. During the winter when the sailfish hunt sardines, it is usual to have to dodge storms so we always have a back up plan or two. This year, not only did we enjoy encounters with sailfish gorging themselves on bait fish, but on the windy days, we had a chance to explore some beautiful cenotes (submerges caverns) which everyone in our group really enjoyed. Read all about that adventure here: 2016 Sailfish and Cenotes
BACK TO BIMINI
Next stop was Bimini for two hugely successful back-to-back Great Hammerhead trips. From the moment we arrived until the day we left, the hammers didn't disappoint! On our best day we dove with eleven different great hammerheads, a handful of beefy bull sharks and enough nurse sharks to staff a small hospital 🙂
We also snuck in some dives with the hammers at night and to keep it interesting, we did a reef shark dive, a stingray feed and spent a morning with spotted dolphins. What a great way to spend a couple of weeks in the Bahamas! Read on: Great Hammerheads 2016
CLOSE ENCOUNTERS OF THE HUMPBACK KIND
I have swum or dove with humpbacks in a variety of countries around the world but nothing compares to the encounters that we enjoyed at the Silver Banks in the Dominican Republic this year. The action was intense and the encounters were dramatic. Numerous times I could have reached forward and touched the whales as they cavorted in front of me. An experience no one on that trip will ever forget! 2016 Humpback Whale Trip Report
DOWN TIME IN GUATEMALA
Between Humpbacks and Giant Mantas, I flew down to Guatemala to work with Fundacion Mundo Azul (FMA); a grass roots conservation movement that works with impoverished shark fishermen. FMA records shark landings and funds the education of the fishermen's families so that they can move into more sustainable careers. I went there specifically to document endangered sharks, both for FMA who need good images for their campaigns and for our own Predators in Peril Initiative which supplies free images to countless conservation groups around the world. It was a tough trip but the heart breaking images that I brought home will be very useful.
ONWARD TO SOCORRO
After Guatemala, I was looking forward to being immersed in a vibrant, healthy ocean again. Fortunately, it was time to sail out to Socorro and dive with sharks and giant mantas. I have never had a bad trip to Socorro. I'm not even sure how that would be possible! As usual, it was spectacular. Each trip to Socorro is slightly different. There were plenty of mantas but this trip was dominated by dolphins that wouldn't leave us alone. We also enjoyed some amazing shark encounters. Follow this link to see how good it really was!
TIGER BEACH
How do you adequately describe a shark dive with seven tiger sharks, a dozen or more lemon sharks, scores of Caribbean reef sharks, a nurse shark or two and a great hammerhead fly-by? Ecstasy underwater? Shark diving heaven? Whatever you want to call it, we were there and we have the pictures to prove it: Tiger Beach 2016 Trip Report
A LONG OVERDUE TRIP REPORT FROM THE SEA OF CORTEZ
Probably the most underrated and overlooked diving destination in North America. The Sea of Cortez is a great adventure filled with big animals, macro life and colourful reefs, but make sure you're on the right boat! Intrigued? Read on: Sea of Cortez 2015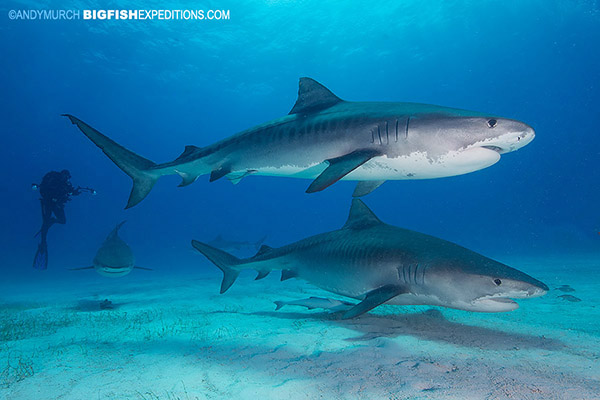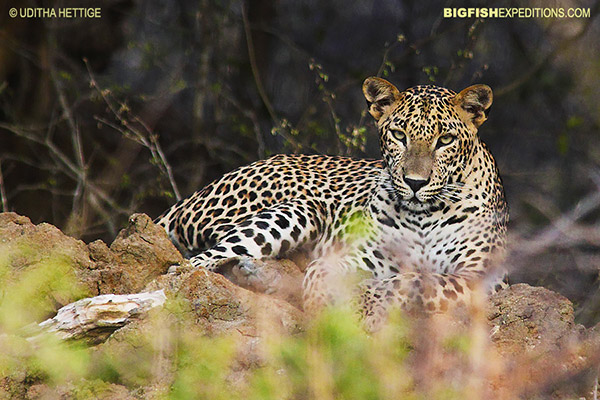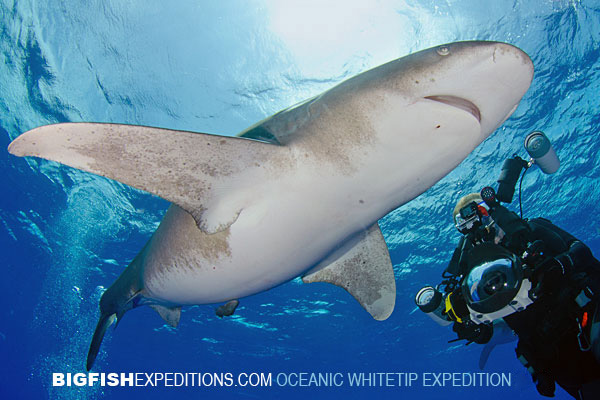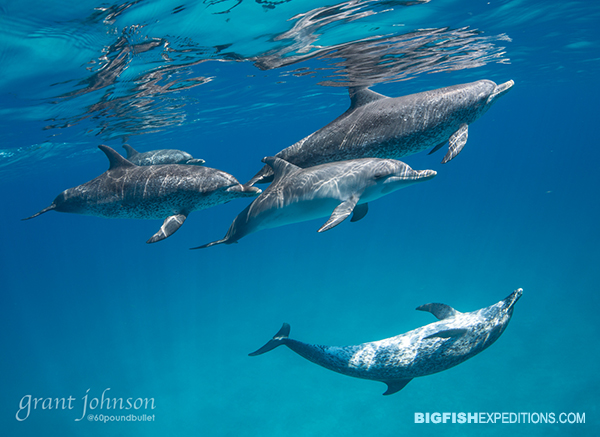 EXCITING NEW ADVENTURES
BIG CATS OF SRI LANKA
We have added some exciting new adventures over the last few months. Most are diving or snorkeling encounters but it doesn't make sense to fly all over the world and just explore the underwater world so we're pleased to announce our first exclusively land safari. While chasing blue whales in Sri Lanka I have had the chance to explore the surrounding jungles and mountains and I have to say that for its size, Sri Lanka has some of the best terrestrial big animal encounters I have ever seen!
We have timed our Sri Lankan Big Cat Safari to coincide perfectly with our yearly blue whale expedition. Here is a list of what you have a chance to see on this epic trip: Sri Lankan leopards, fishing cats, jungle cats, rusty-spotted cats, huge herds of elephants, troops of boisterous toque macaques, sloth bears, purple faced leaf-eater monkeys, bug eyed slender lorises, bear monkeys, herds of Indian chitals, sambar deer, water buffalo, ruddy mongooses and countless exotic birds and reptiles. You will also have time to explore ancient ruins and immerse yourself in Sri Lanka's rich and colorful culture. Don't miss this amazing trip: Sri Lankan Big Cat Safari
OCEANIC WHITETIP SHARKS OF CAT ISLAND
A few years ago, we ran some very successful oceanic whitetip shark expeditions on Cat Island in the Bahamas. Then we started diving further afield and Cat Island slipped off the calendar. Well, our Cat Island Oceanic Odyssey is back!!!
On Cat Island, large oceanic whitetip sharks are very easy to find. They show up each spring to feed on baitfish that run past the deep drop offs on the edge of the Bahamas chain. Now used to divers, the sharks generally arrive shortly after the boat does. On the first drop, you may feel intimidated by the presence of so many large oceanic predators but you'll soon realize that the sharks are very selective feeders that are only interested in the bait.
The close encounters and photographic opportunities at Cat Island are second to none!
Rather than spend a whole week diving in the bottomless blue ocean, we're running a short, affordable trip that coincides nicely with our yearly trip to Tiger Beach. Check out the details. We think you'll love this option! Oceanic Whitetip Shark Expedition
SNORKEL WITH PLAYFUL SPOTTED DOLPHINS
Another brand new Big Fish Expedition! Join us in Bimini next summer (2017) for a week among playful spotted dolphins. Rarely do wild dolphins act as friendly towards humans as those in the Bahamas. Spotted dolphins are a delight to snorkel with because once they start having fun, there is no stopping them. Blessed with an abundant amount of energy and free time, the dolphins around Bimini keep coming back for more 'people time'. Not surprisingly, it is usually the exhausted guests that call off the encounters each day and head back to Bimini for happy hour. If you are looking for a relaxed, fun vacation with big animals, you'll love this trip: Snorkel with Spotted Dolphins in the Bahamas
LAST MINUTE DEALS ON EXTRAORDINARY EXPEDITIONS
We're very fortunate that most of our trips fill far in advance, but inevitably, now and then we have last minute cancellations. If you have a flexible itinerary this is your opportunity to enjoy some word class adventures at a very competitive rate! To keep up to date on our last minute deals, please bookmark this page: Last Minute Deals on World Class Expeditions
FALSE BAY SHARK SAFARI
Enjoy an epic week of shark diving with up to 10 different species of sharks (including great whites) for just $2695. Sign up now!
2016 SOUTH AFRICAN SARDINE RUN
Nine days in the water. 10 nights accommodation, all meals and transfers to/from Durban Airport for just $3595. Now that's a great deal! Sign up now!
LOOKING AHEAD
Next up on the BFE schedule is Andros Island for our much anticipated Sawfish and Shark Safari. Watch out for a trip report sometime next month!
BASKING SHARKS IN BONNIE SCOTLAND
After an intensely sharky month in Africa we have our annual Basking Shark Expedition in bonnie Scotland. There is just one spot open on this fascinating trip snorkeling with gentle giants so please drop us a line if you would like to join.
SWIM WITH THE FRIENDLIEST WHALES IN THE SEA
After baskers we have two sold out trips to Hudson Bay to swim with beluga whales. Next year's trips are almost full too, so please sign up asap if you would like to join us!
WHALE SHARK AND MANTA VALLEY COMBO
In August we're back in Mexico for our Whale Sharks and Manta Valley Expedition. If you relish the thought of swimming with hundreds of the world's largest sharks and rays in the warm, clear waters of the Mexican Caribbean, sign up now! Whale Sharks and Manta Valley Combo
GREAT WHITES OF GUADALUPE!
Come October, the big girls of Guadalupe Island will be on the prowl. Early in the season male great white sharks patrol the shoreline around this protected Mexican island but in the fall, larger female great whites muscle their men out of the way. Expect encounters with 4, 5 and sometimes even 6+ meter long sharks. There is nowhere else on this planet with such reliable great white encounters in crystal clear water! Grab one of the last four available spots and witness this incredible yearly event for yourself: Guadalupe Island Great White Shark Expedition