Our 2018 Japanese Shark Safari in a Nutshell
Considering that Super-Typhoon Trami swept through Honshu the day before our Japanese Shark Safari was scheduled to start, I think the trip went rather well 🙂
We dove on all five days of the trip and enjoyed shark dives on four out of five days. Only once were the shark dives cancelled and even then we rebooked at a sheltered site where our guests were able to get in a couple of macro dives.
As often seems to happen, we got lucky!
First Stop Chiba
After a quick meet and greet in Tokyo, we drove down to Chiba and settled into our hotel. It was a windy drive but the seas were predicted to flatten out over night so I wasnèt too concerned about the next days shark diving.
Sure enough we awoke to flat conditions and drove to the dive shop.
Visibility was not great but the sharks were waiting and we got our first taste of Japanese endemic sharks.
The best visibility I have seen in Japan!
Our second day of diving went from good to great! By the end of the day the visibility was phenomenal and we made the most of the excellent conditions and abundant sharks.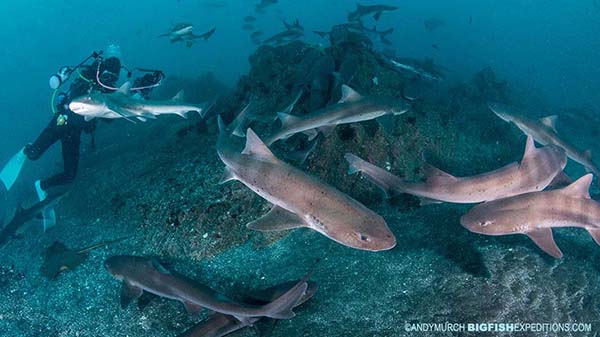 Banded Houndsharks
The shark feed is attended by hundreds of Banded Houndsharks. Although this species is also present along the coast of Korea and China, this is the only place where divers stand a chance of encountering one.
This is largely due to the patience of the dive shop owner who spent five years encouraging these timid sharks to come closer and closer until they were completely habituated to the presence of divers.
Red Stingrays
The other elasmobranch species that we always see in abundance are red stingrays. Hundreds of these large rays congregate in the area to gobble up any scraps that the houndsharks fail to notice.
Japanese Horn Shark
Also known as Japanese bullhead sharks, these reef dwellers live close to the area where the shark feeds take place so we were able to go visit them and snap a few images.
Second Stop Izu
After three days in Chiba we relocated to the town of Shimoda at the southern tip of the Izu Peninsula. It was a beautiful drive over the mountains but upon arrival in Shimoda we were disappointed to learn that the next dayès diving had been cancelled due to dangerous swells around Mikomoto Island; our intended spot for shark diving.
Undaunted, we drove over to the protected west coast of the peninsula and enjoyed two macro dives outside Tago Bay.
I was not really prepared for macro photography so my images leave a bit to be desired but here is pretty little anemone shrimp to give you an idea of what we saw.
On our other dive in Tago we dove to 30m to hunt for deepwater anthias; beautiful little reef fishes that usually live beyond recreational diving limits but come shallower in this one particular spot.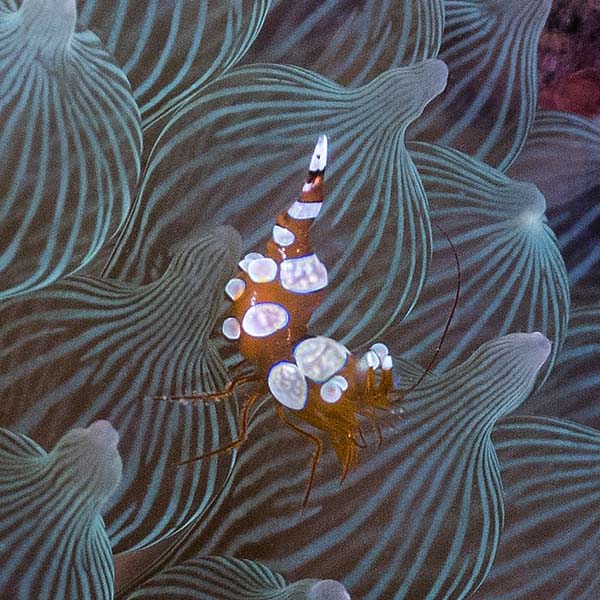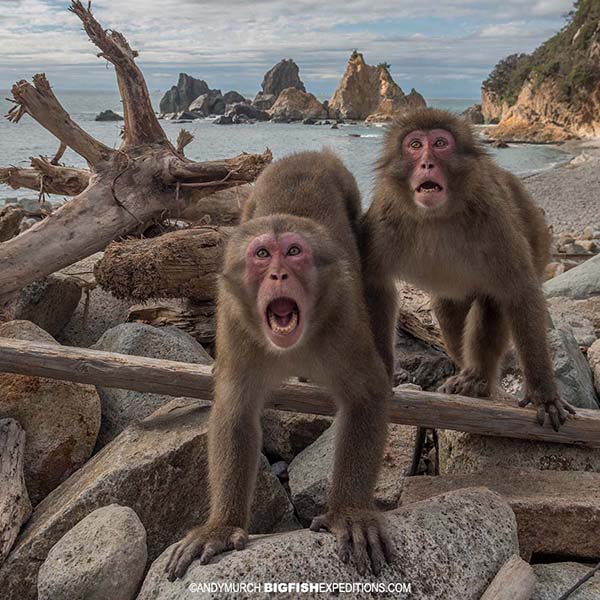 Snow Monkeys or Sea Monkeys
On the way back to Shimoda, we stopped at a beach where Japanese Macaques congregate to eat algae and crustaceans.
More commonly seen in the mountains where they are referred to as Snow Monkeys, these mischievous primates were a nice addition to the trip so we will definitely visit them again in future years.
Shark Diving Mikomoto Island
The local dive shop for Mikomoto Island told us that they expected the swells to die off over night so we prepped for a final day of shark diving.
Unfortunately, it was still bumpy close to shore so we couldnt search for Japanese wobbegong sharks but we were about to dive with schooling scalloped hammerheads.
We saw a school of around thirty hammerheads and a few grey reef sharks but try as I might, I could not get close enough to the hammers for good images. Proof of life will have to do!
Back to Tokyo
That night we celebrated a successful trip and packed for an early morning drive back to Tokyo. Upon arrival we wished farewell to some of the guests but most stayed on for our Giant Salamander Expedition; a mini snorkeling trip in the Gifu mountains that went extremely well but more about that in the next trip report.
All in all it was a really fun trip that we are looking forward to repeating next year. Join us in 2019 for our next: Japanese Shark Diving Safari