Just Awesome!
They really need to come up with more superlatives for awesome because my Socorro trip reports are all starting to sound the same 🙂 Our 2020 trip was as epic as always. We enjoyed excellent big animal action at each site we visited, including encounters with gigantic mantas, scalloped hammerheads, silvertip sharks, Galapagos sharks, silky sharks, whitetip reef sharks, oceanic blacktip sharks, diamond and longtail stingrays, and bottlenose dolphins.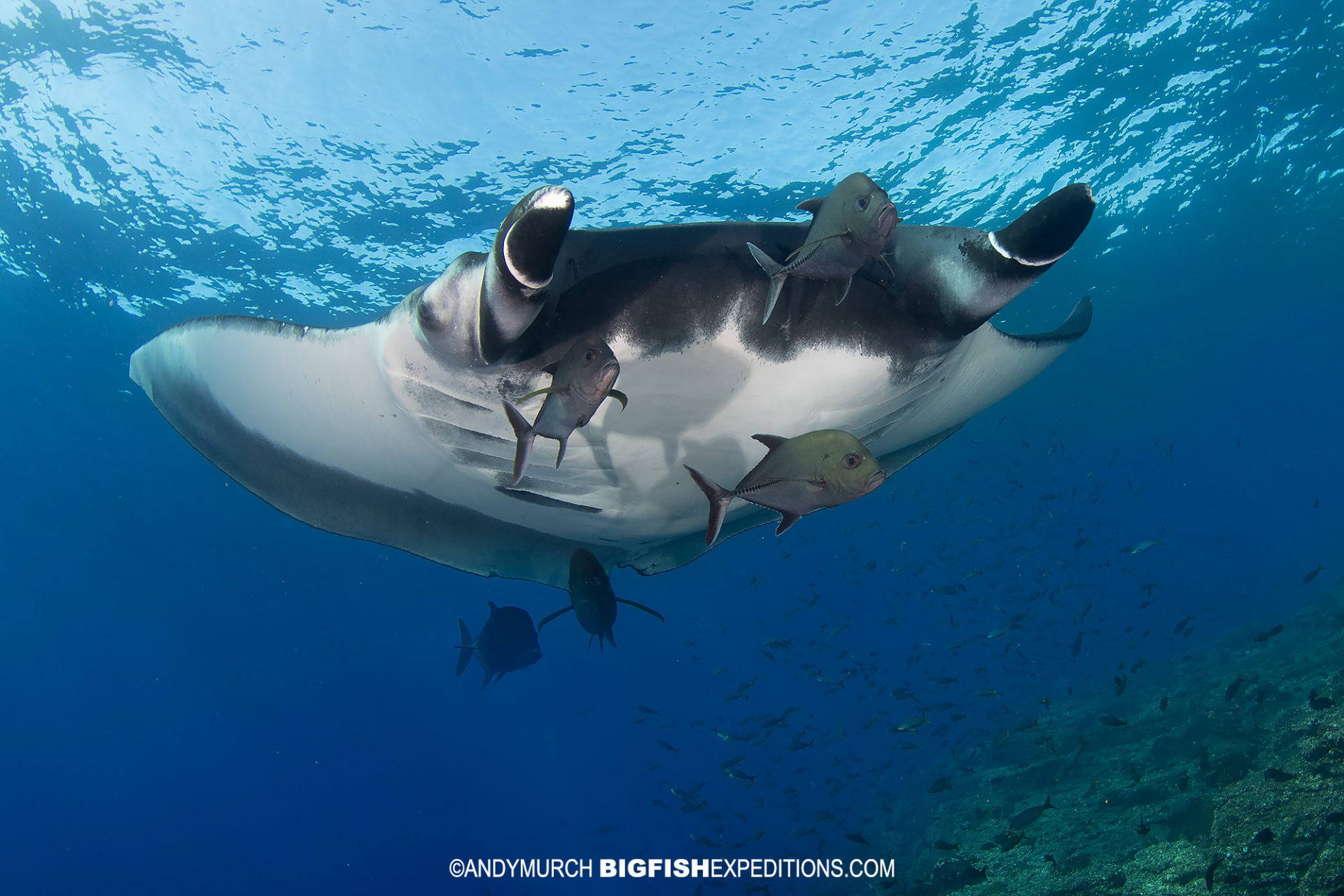 El Canyon
On our first day we dropped in at a popular site called The Canyon on the south side of San Benedicto. The checkout dive was a bit slow because we stayed in the shallows but even on that dive we ran into a few reef sharks. From that point on the dives beecame much sharkier!
At about 25m there is a shark cleaning station that attracts scalloped hammerheads, Galapagos sharks, lots of Silvertips, and recently, a few shy oceanic blacktip sharks; a species I have not seen at Socorro before. By far the most approachable species are the silvertips which have grown accustomed to divers and seem happy to mill around while divers compose images.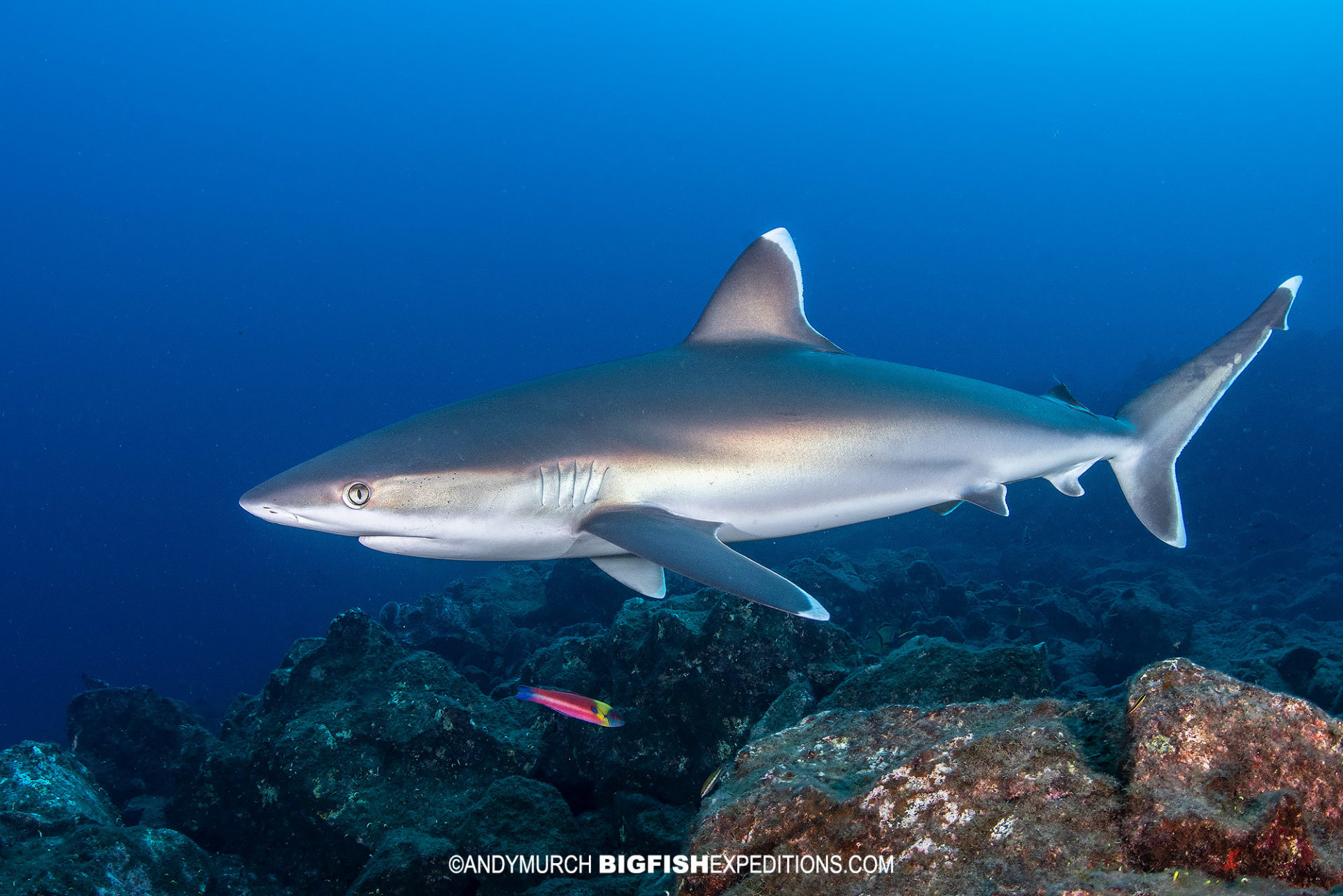 Silky Snorkel
Day one is always a bit short because we generally arrive around noon and there is no diving allowed anywhere within the park after sunset. So to add a little extra fun on the first day, we snorkeled off the back of the liveaboard as the sun was going down; an activity that always brings in a few curious silky sharks.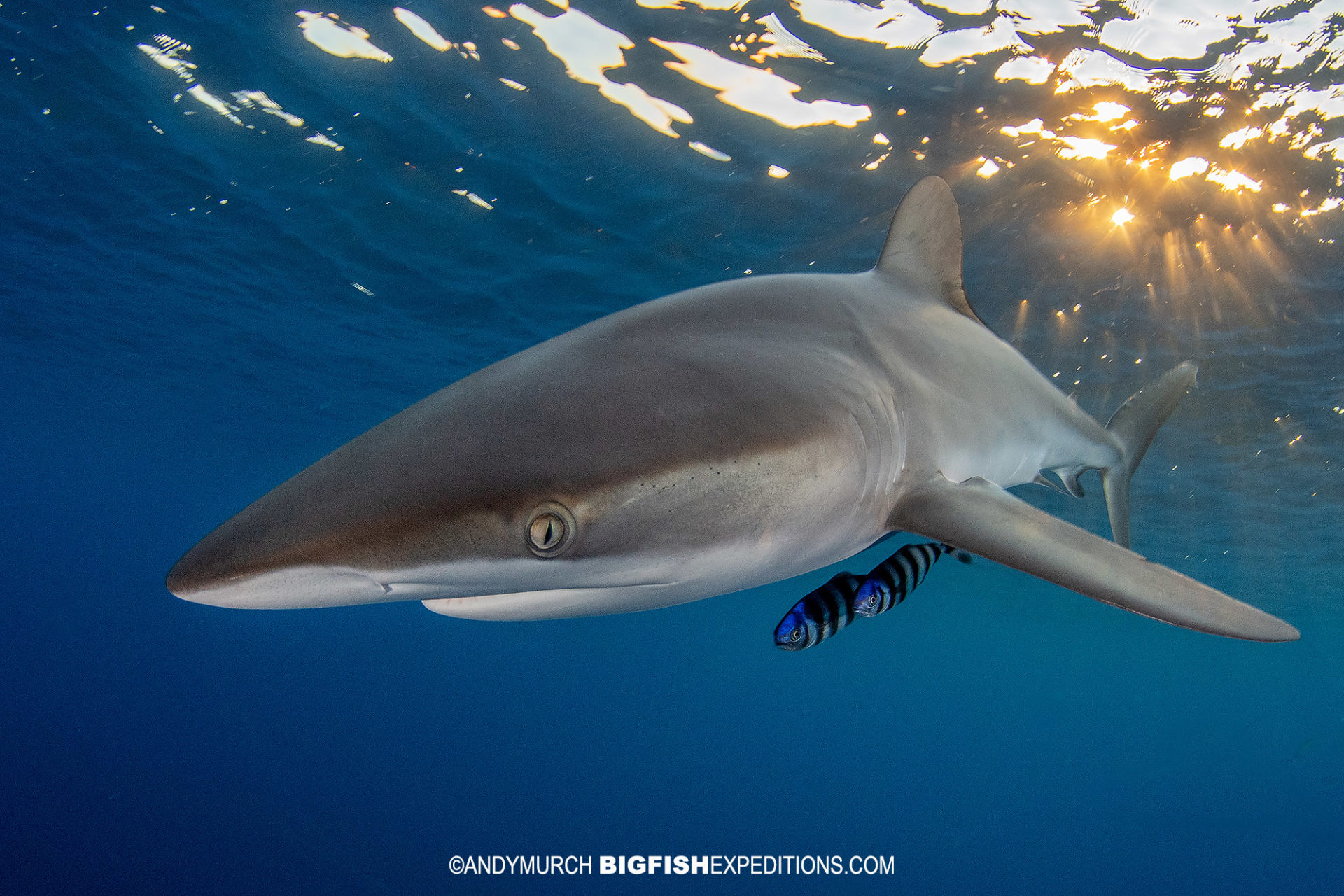 The Boiler
On our second day we re-anchored on the west side of San Benedicto at The Boiler; a world-famous dive site that is arguably the best place on the planet to interact with enormous oceanic manta rays. It is not just that mantas are reliably present in this spot, it's the fact that they actively seek out divers, apparently revelling in the feel of the diver's bubbles rolling over their bellies.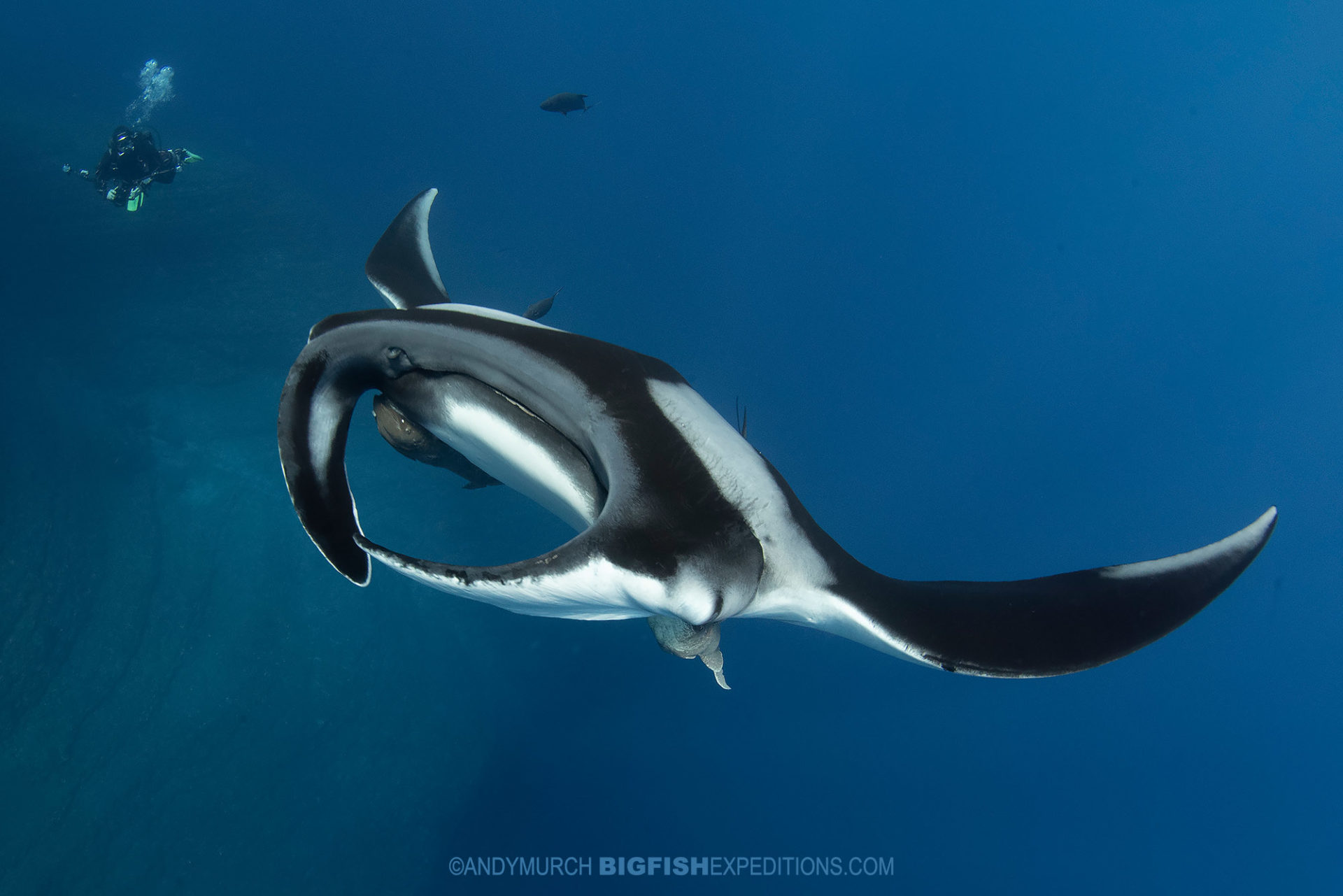 Manta Madness
We conducted four dives at the boiler which may seem like overkill but barely anyone skipped a drop. On each dive, multiple mantas kept us company. Plus, there were lots of whitetip sharks, schooling jacks, lobsters and thousands of fishes of all shapes and sizes. They were a fun distraction, but the other big animals could not keep us away from the mantas for very long.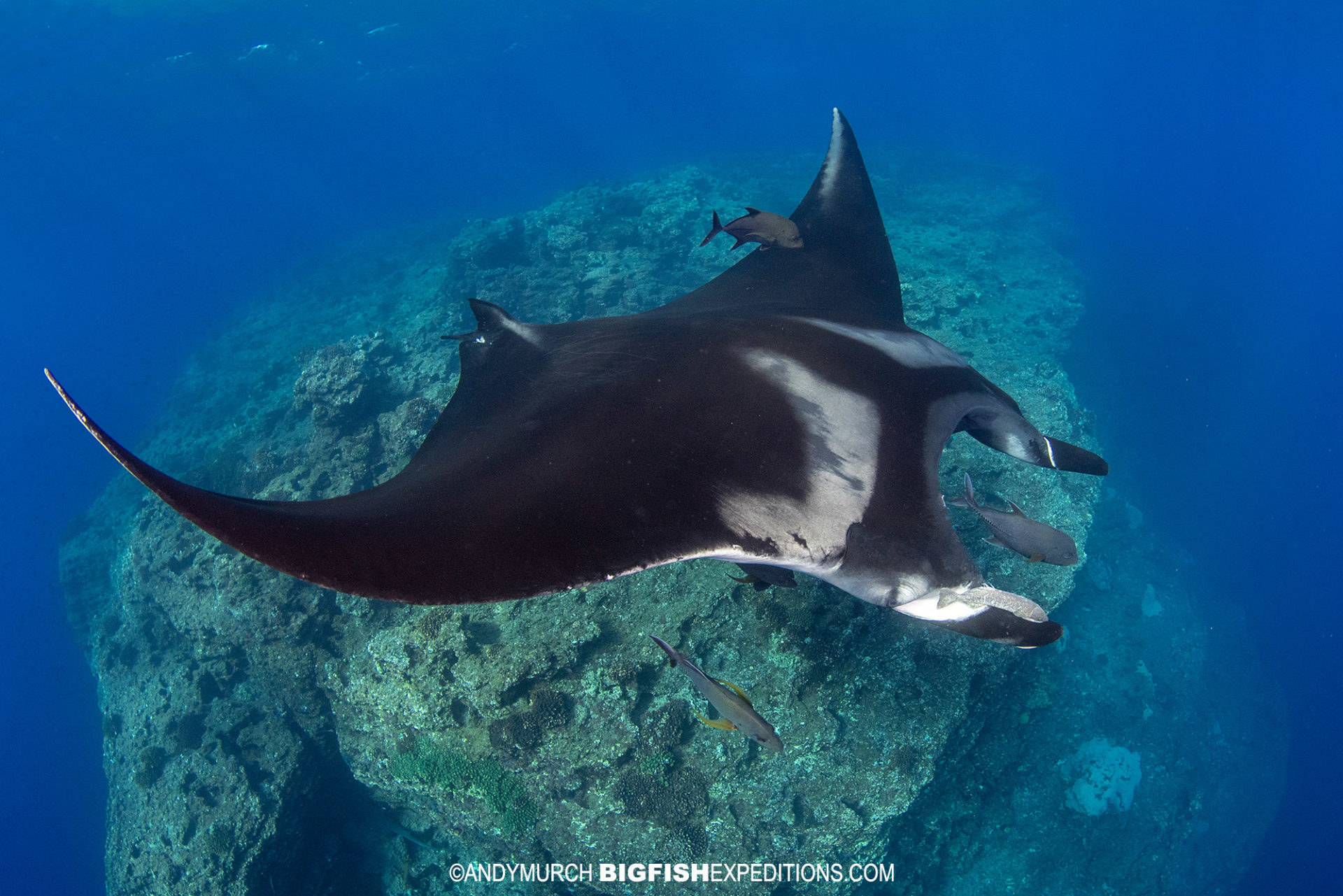 Back to the Canyon
We had planned to move to Socorro Island on day three but 20-30kt winds kept us hunkered down on the protected side of San Benedicto. Fortunately, the canyon was right there so we conducted three great dives in the company of many more sharks.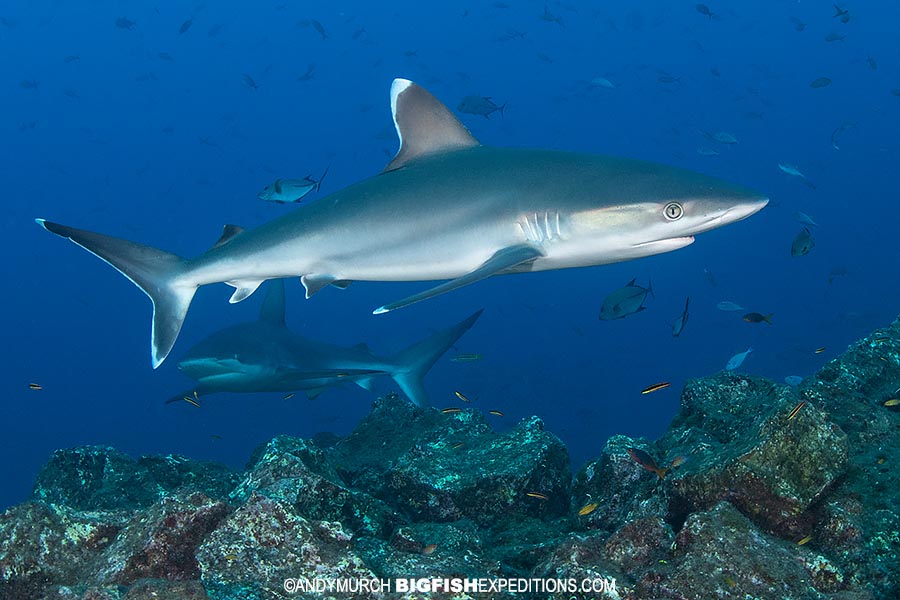 Massive Stingrays
On one of the dives at the canyon, I wandered off by myself and ran into a huge diamond stingray foraging on the sand. It is impossible to convey it's size without a diver in the shot for scale, but it was a truly monstrous animal.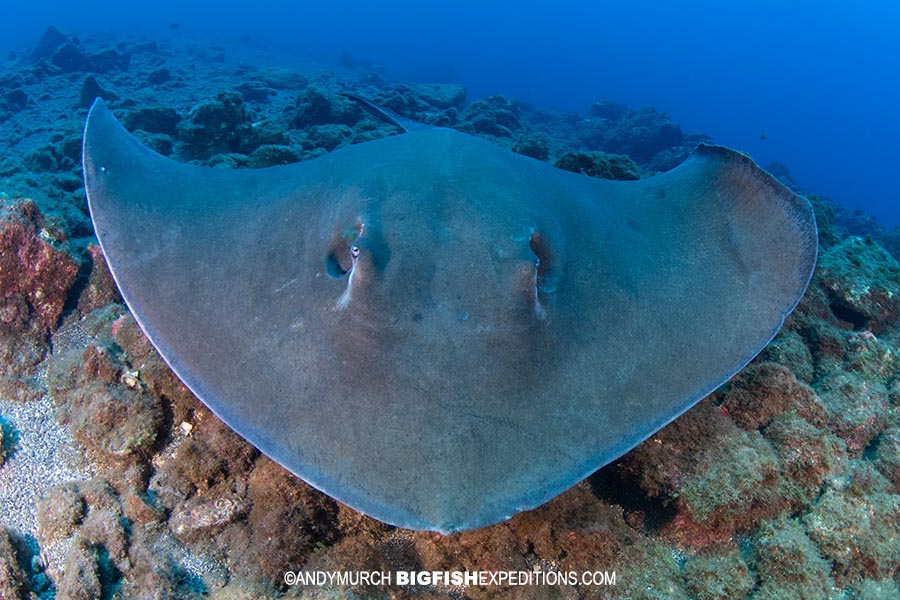 Cabo Pierce
That night we enjoyed a surprisingly smooth crossing to Socorro Island and dropped anchor at a spot called Cabo Pierce; an exposed ridge where giant mantas go to be cleaned by clarion angelfish.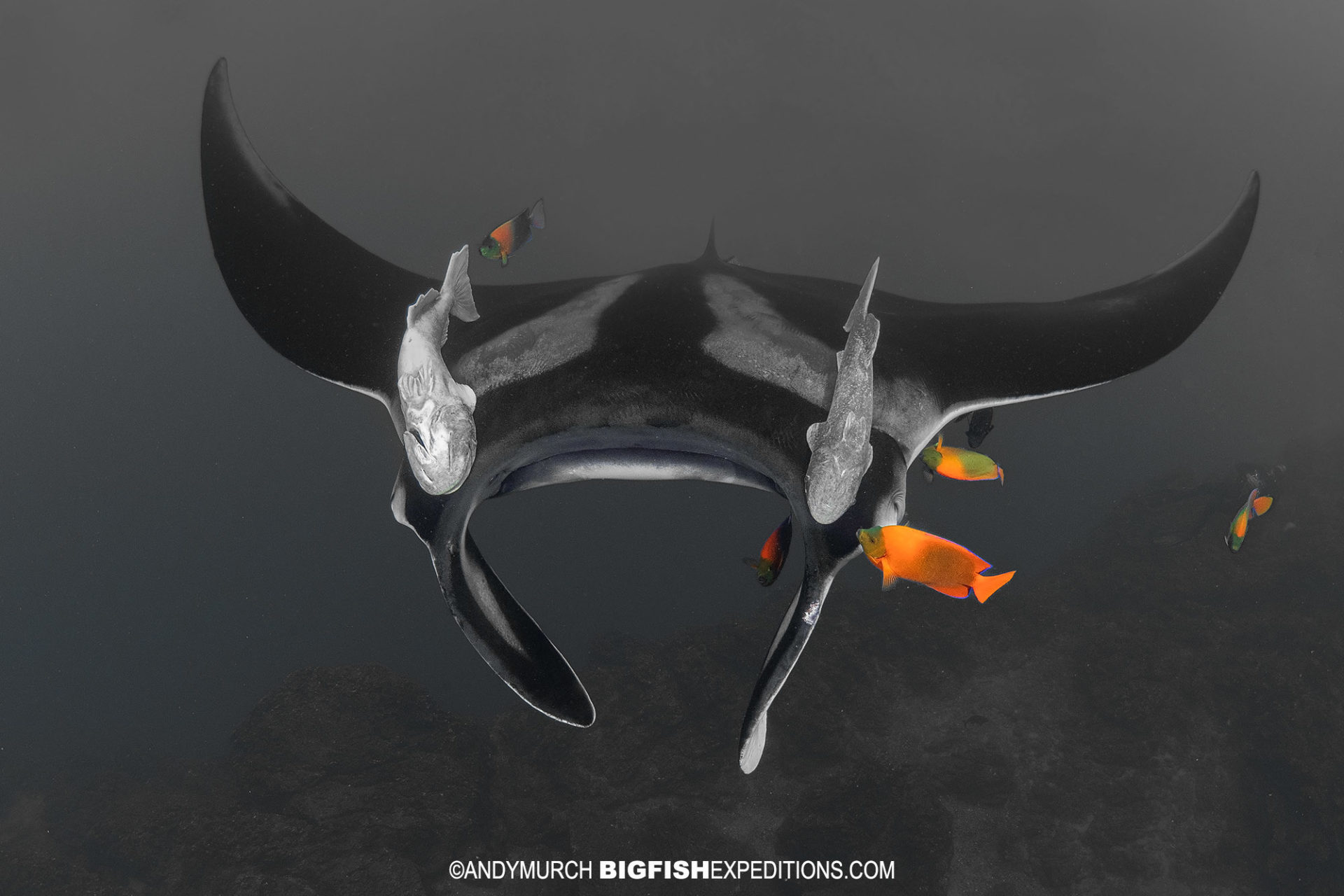 Bored Bottlenose Dolphins?
While there, we were buzzed by a rambunctious family of bottlenose dolphins. Like the mantas, the dolphins in Socorro have become extremely accustomed to divers. Dolphins have a lot of free time, so they treat each visiting dive group as their daily entertainment.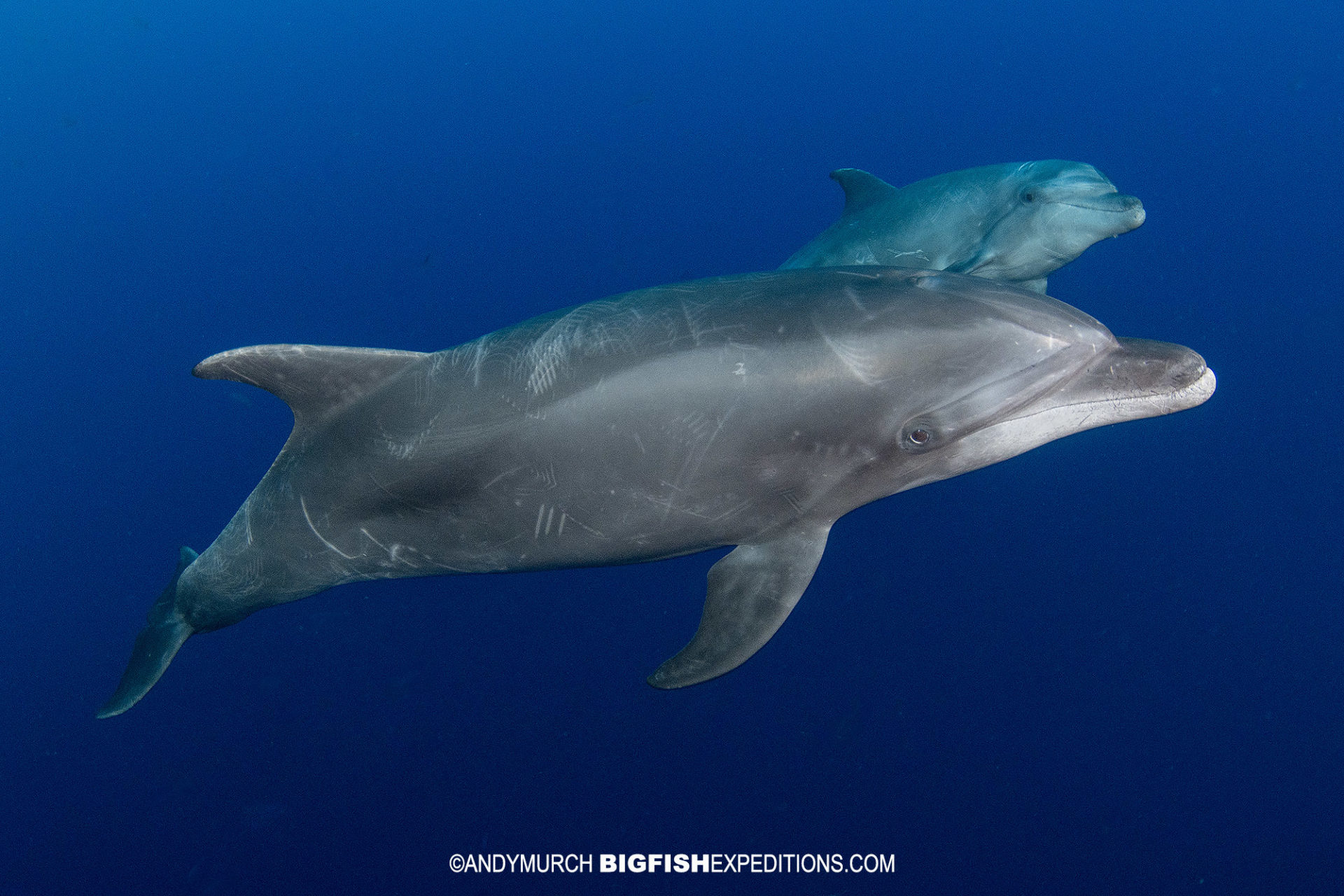 Punta Tosca
The next day our group dove at Punta Tosca. The viz wasn't great so I skipped a couple of drops. There were reports of encounters with mantas, whitetips and a shy tiger shark but all in poor conditions, so I didn't feel as though I had missed much. On the final dive of the day we dropped right next to the liveaboard and played with the omnipresent silky sharks, some of which were almost too friendly!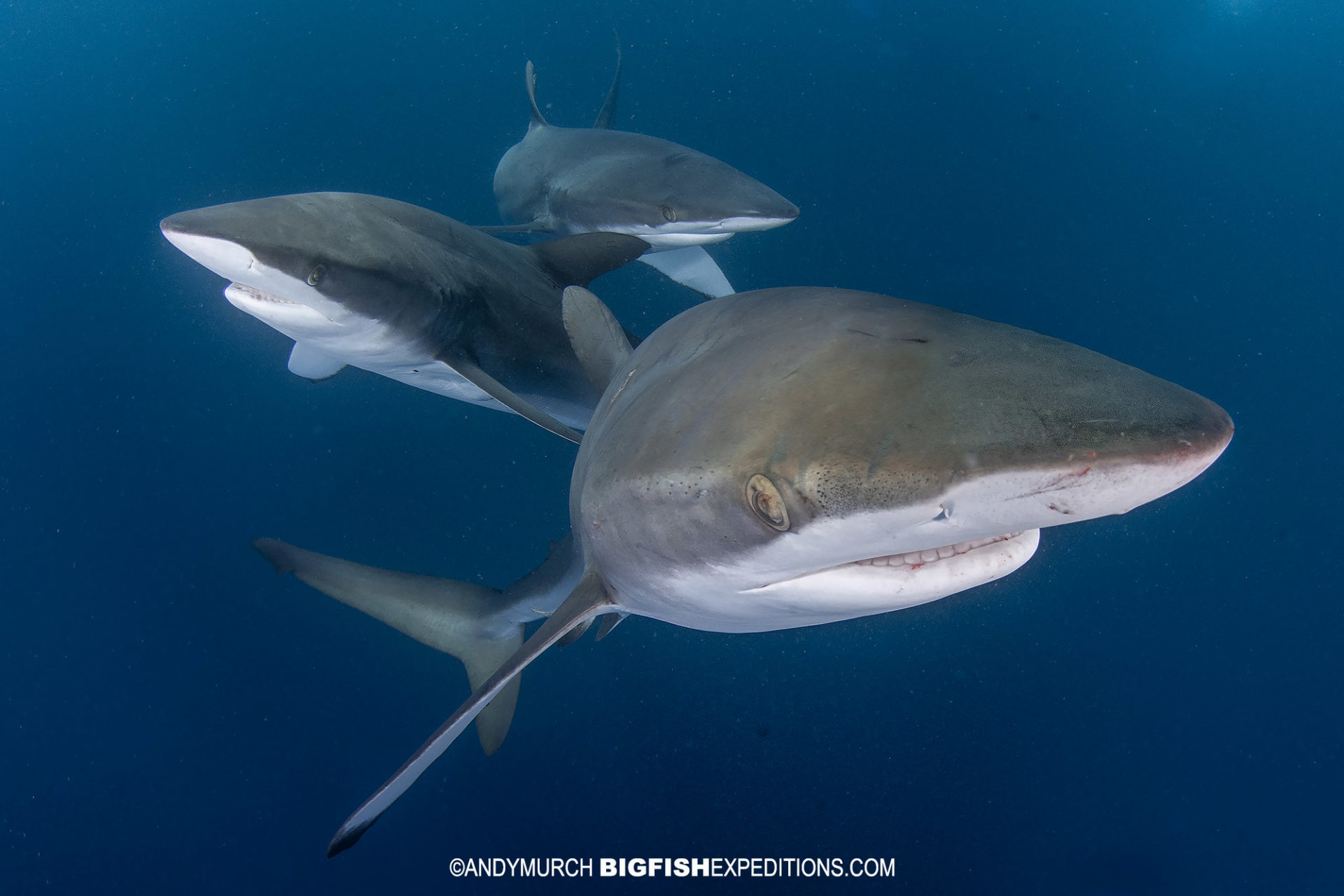 Roca Partida (Finally)
That night the winds abated, so we were finally able to make the crossing to Roca Partida; an exposed pinnacle of volcanic rock, sixty miles from any other islands in the archipelago. The 80m deep monolith is actually the core of a long-extinct volcano. Once the slopes eroded away, all that was left was the once molten, vertical core.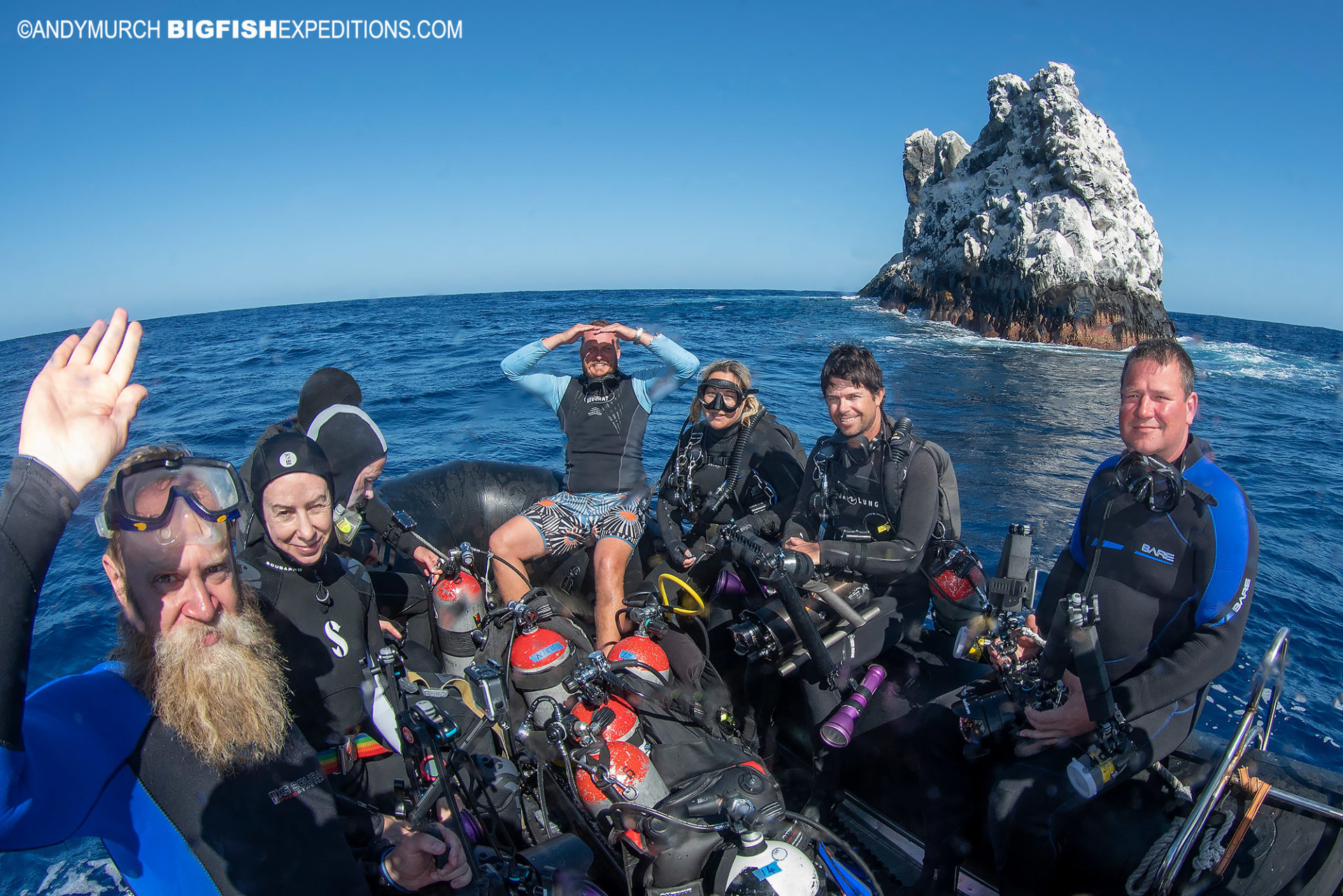 Megafauna
More importantly, Roca P. is a mecca for pelagic megafauna and this visit lived up to everyone's expectations. Among the players were Galapagos sharks, scalloped hammerheads, oceanic blacktips and a handful of giant mantas.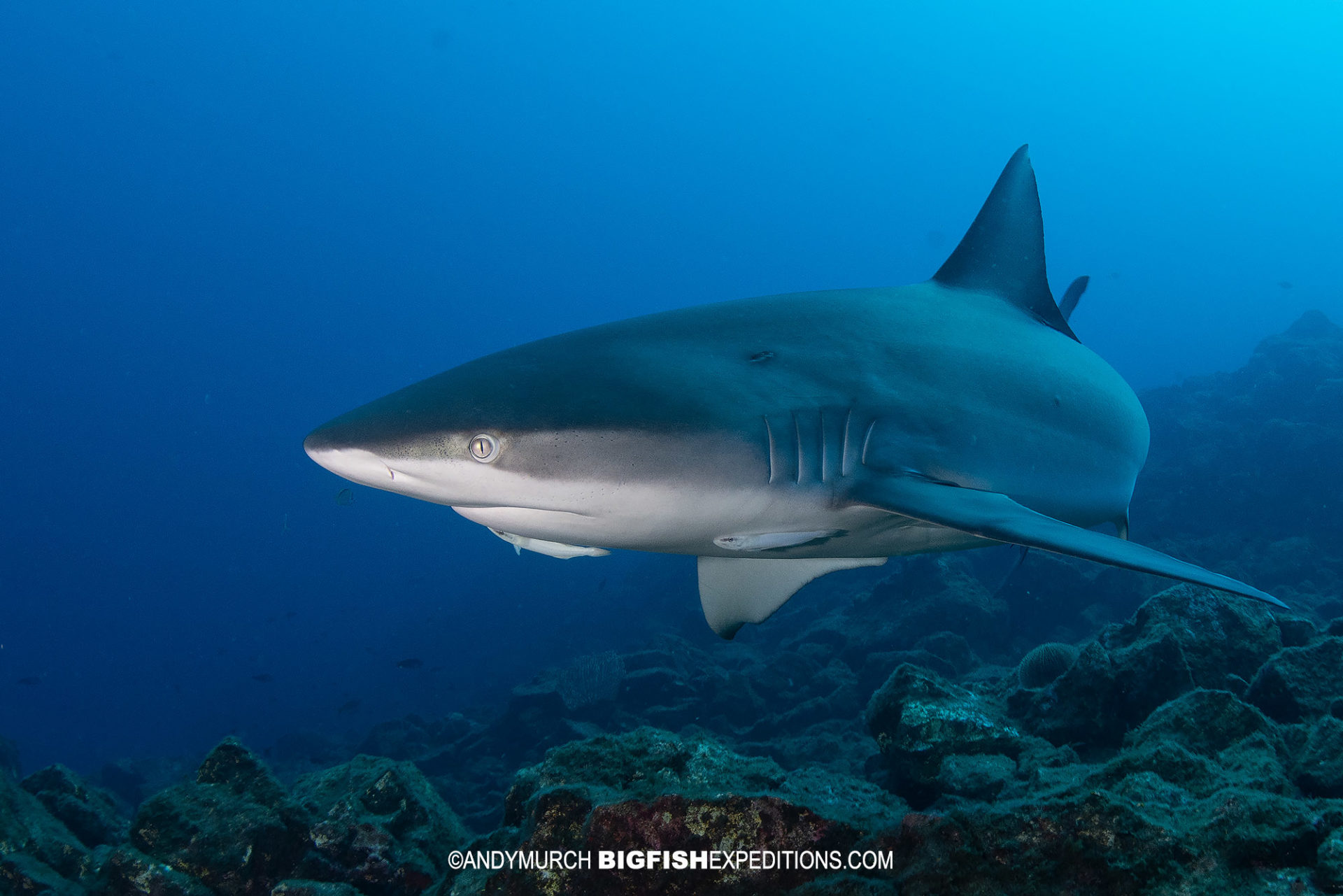 Shark Ledges
My favorite aspect of this dive site is the shallow shark ledges where dozens of whitetip reef sharks crowd together to rest. Why they like the ledges is unclear but I suspect it is safer for them than sleeping on the bottom where the larger predators reside.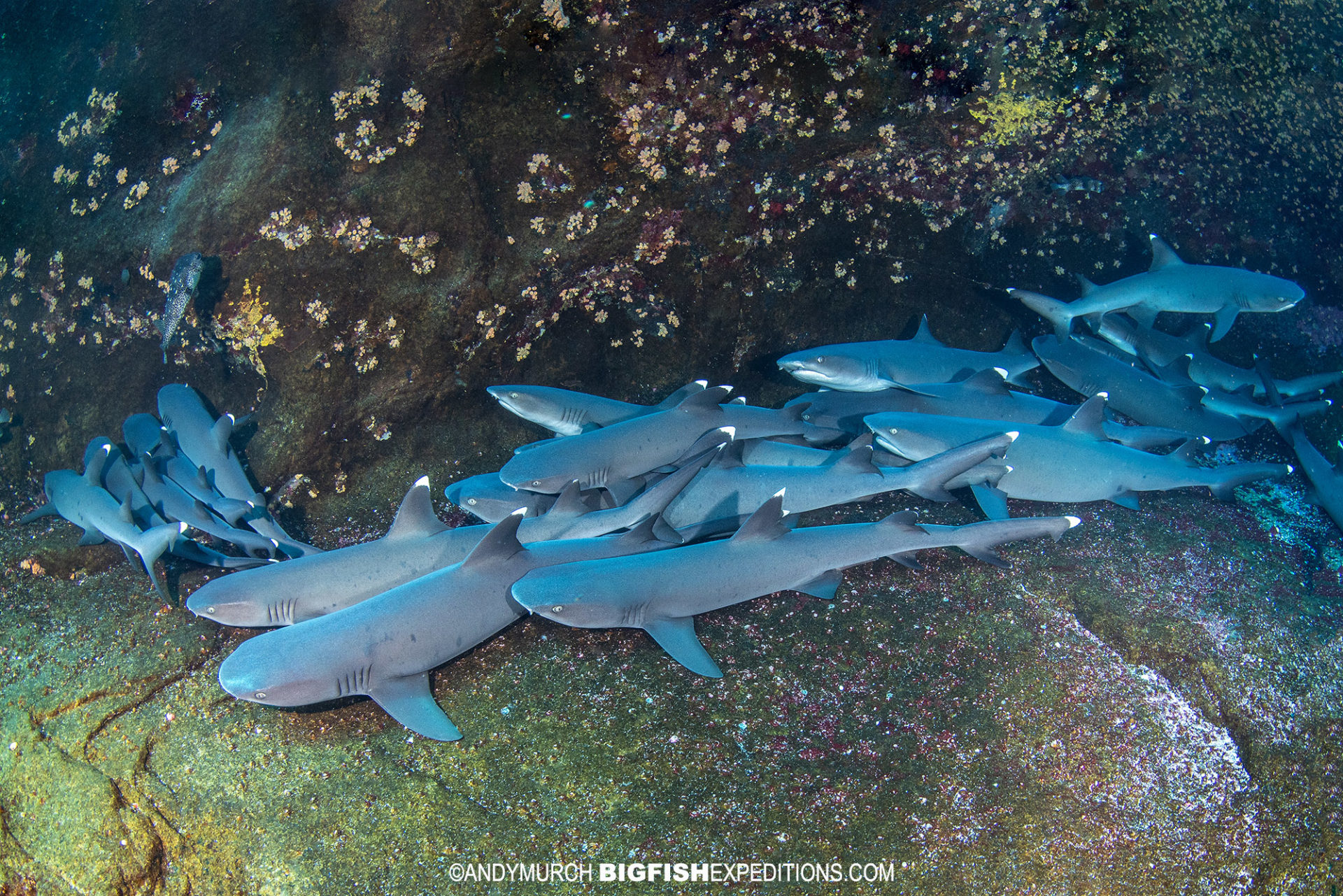 Return Visit
After four dives at the rock, it was time to call it a day and begin the long journey back to Cabo. Overall, it was phenomenal trip that we look forward to repeating!