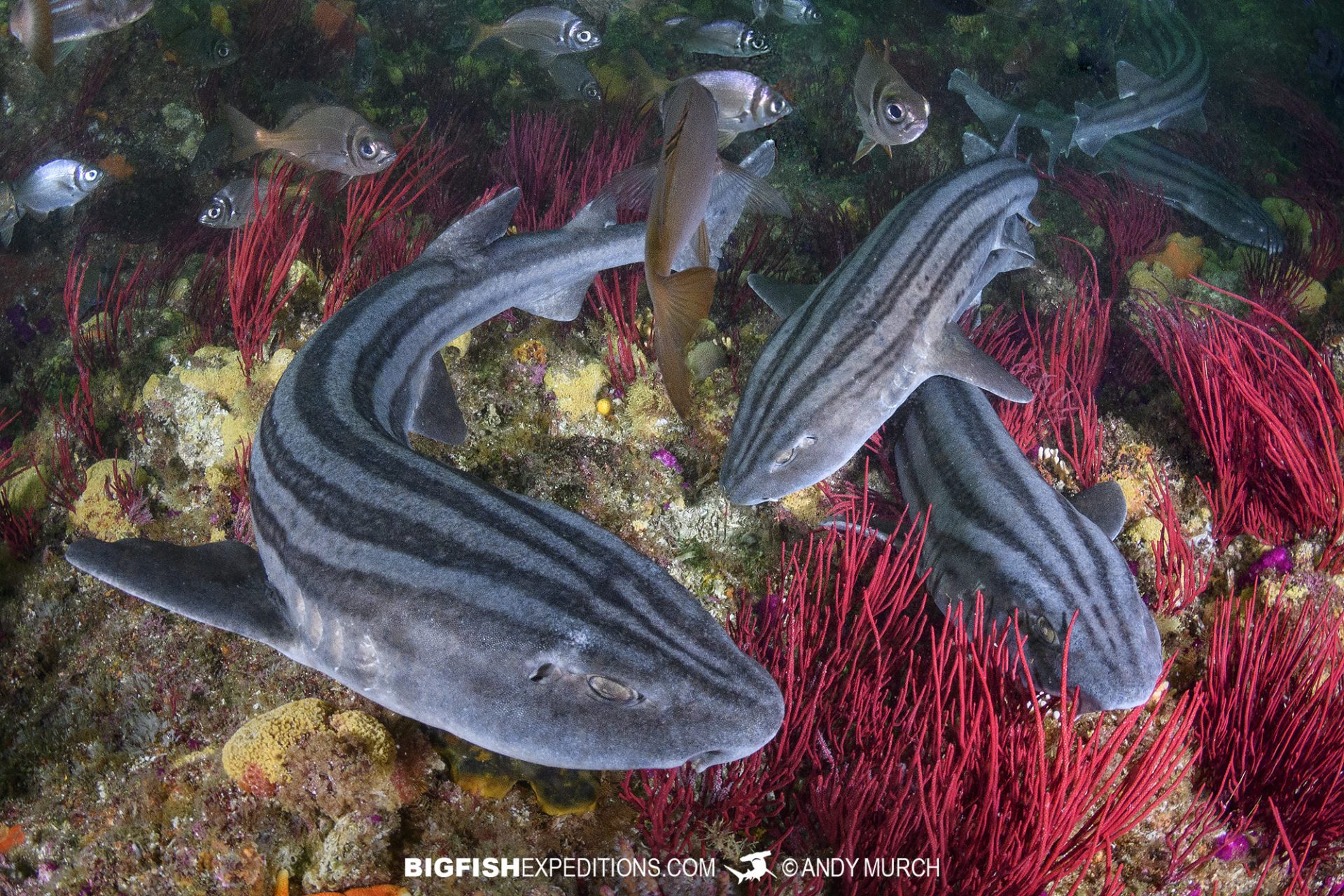 South African Endemic Shark Diving Safari 2022
An absolutely epic adventure with eight species of sharks (10 if you count the species we saw on the after-trip) in five fantastic diving destinations.
The species we saw include Puffadder Shysharks, Dark Shysharks, Brown Shysharks, Leopard Catsharks, Pyjama Catsharks, Raggedtooth Sharks (aka Sandtiger Sharks), Soupfin Sharks (aka Tope Sharks), and Oceanic Blacktip Sharks.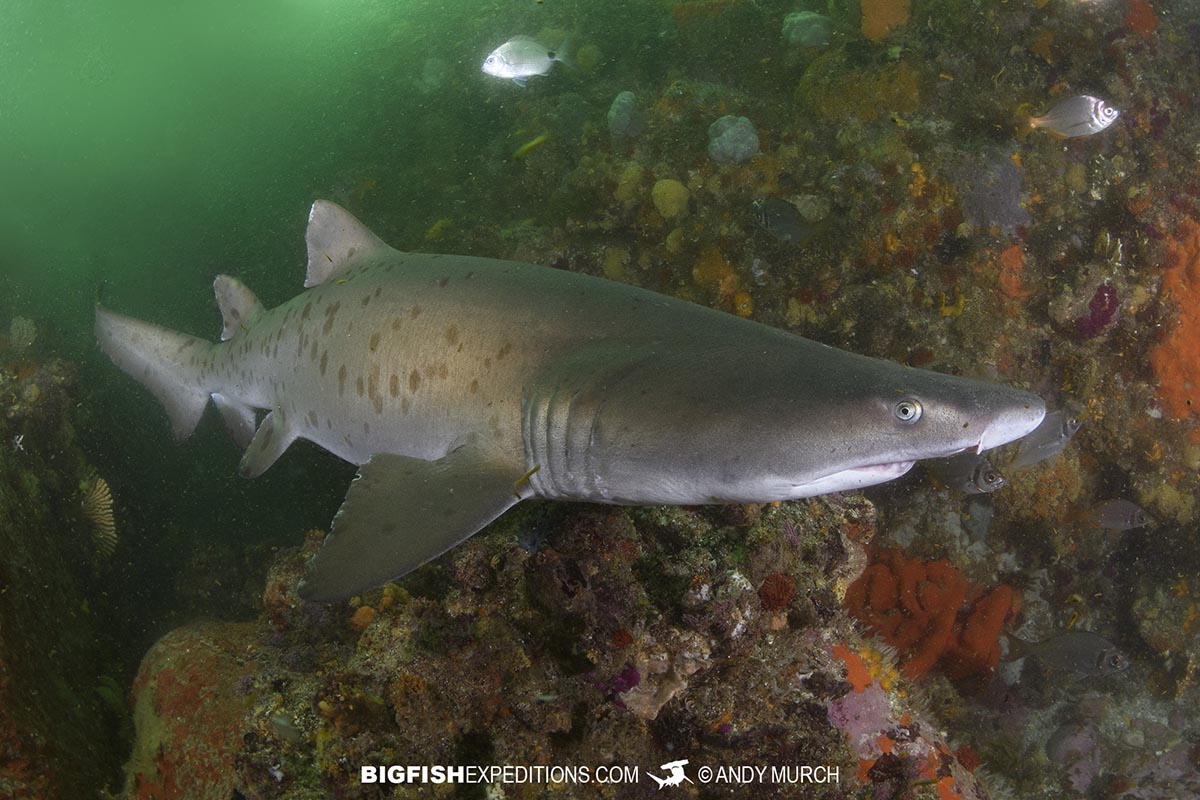 A great start in False Bay
South African shark diving is second to none. not just because there is such a wide variety of species, but also because the reef-scapes where the sharks live are absolutely spectacular.
False Bay is particularly good, because it supports four species of easy-to-see catsharks, plus occasional encounters with sevengill sharks and spotted gully sharks, and the potential of a few other rarer shark sightings.
On our first dive, we dropped in at a site called Pinnacles. As we were descending down the reef to the spot where we intended to attract catsharks, I ran into an enormous shorttail stingray swimming uncharacteristically swimming in midwater.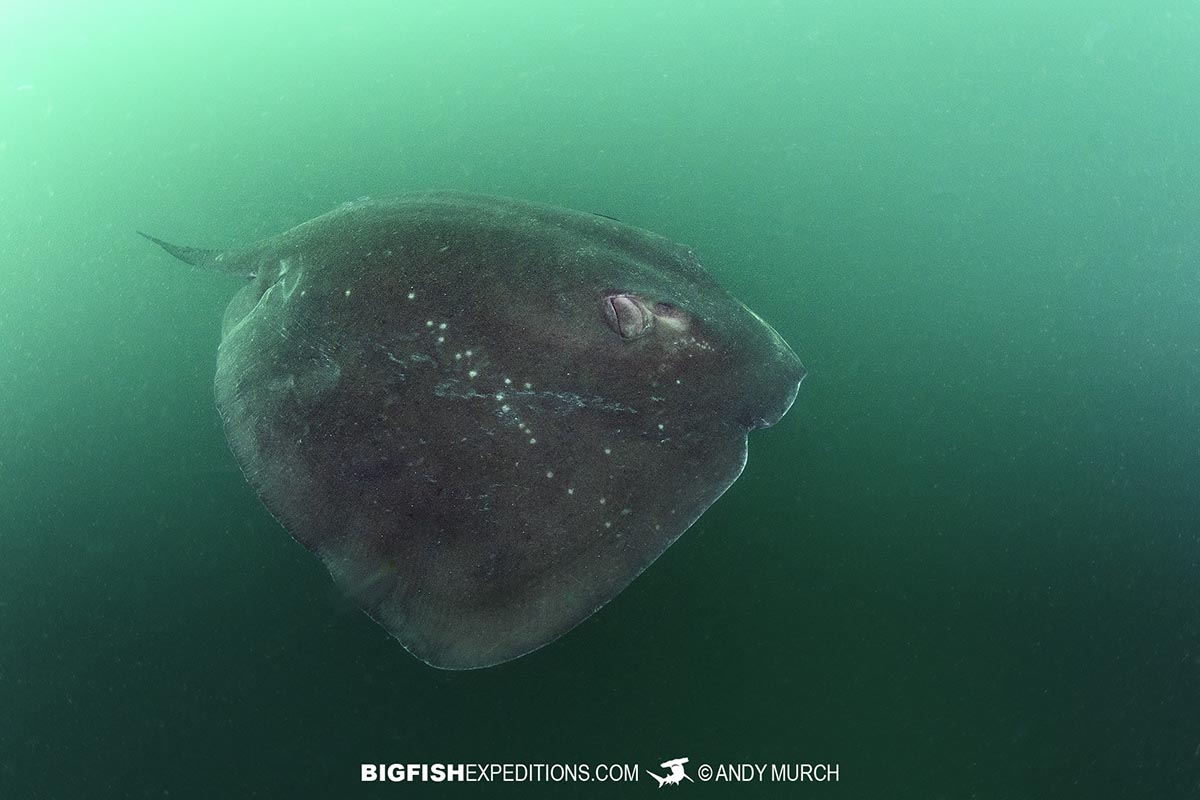 Attracting Catsharks
Once we reached the bottom, our guide Ernest (who dove with us at every destination) broke up a few little mackerel to bring in the catsharks. You can see them without bait but if you bring a little mackeral, they arrive much more quickly and come very close for better images. On that dive alone, we saw at least a dozen sharks including 5-6 leopard catsharks, 4-5 dark shysharks, and 2 pyjama catsharks.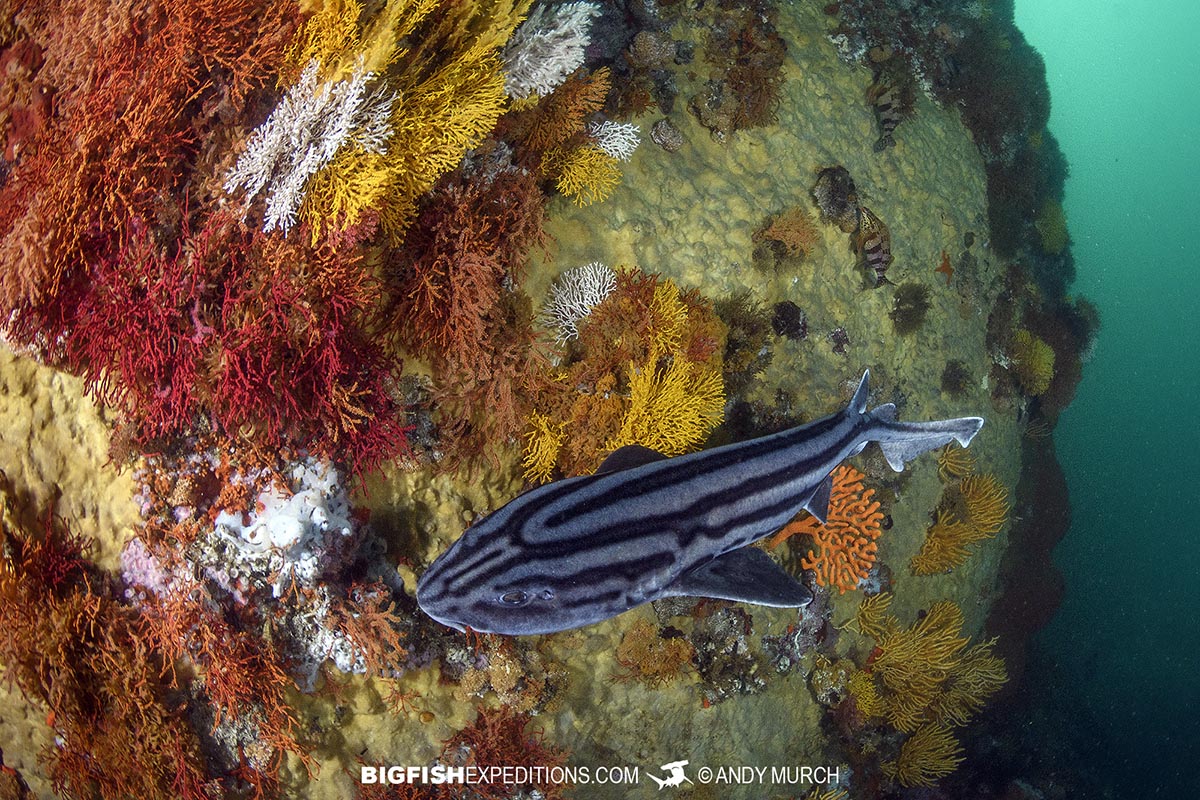 Searching for Tiger Catsharks
Our next dive was at Smith Winkle Bay. I have visited False Bay many times but I had not been to this off the beaten path spot before. We picked this site because Tiger Catsharks had been recorded here on a BRUV; a baited camera that had scientists leave in on the bottom to see what species show up.
We did not see this elusive species but we did attract a handful of pyjama catsharks and about a dozen Puffadder Sharks; the smallest member of the genus and one of the prettiest.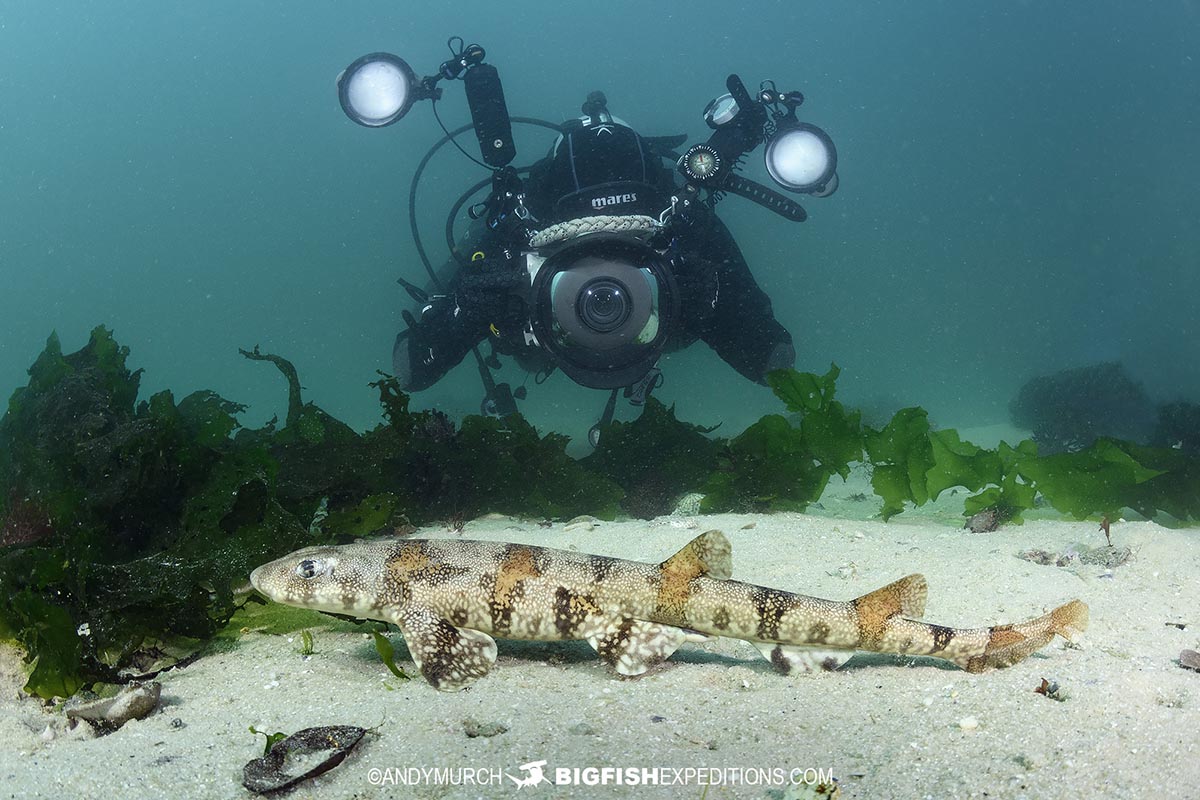 Millers Point
The next morning we headed for Miller's Point; a False Bay classic dive where all four catshark species are easy to encounter. I knew that we would be heading out of Dark Shyshark range as we headed east so I concentrated on getting some representative shots of this species.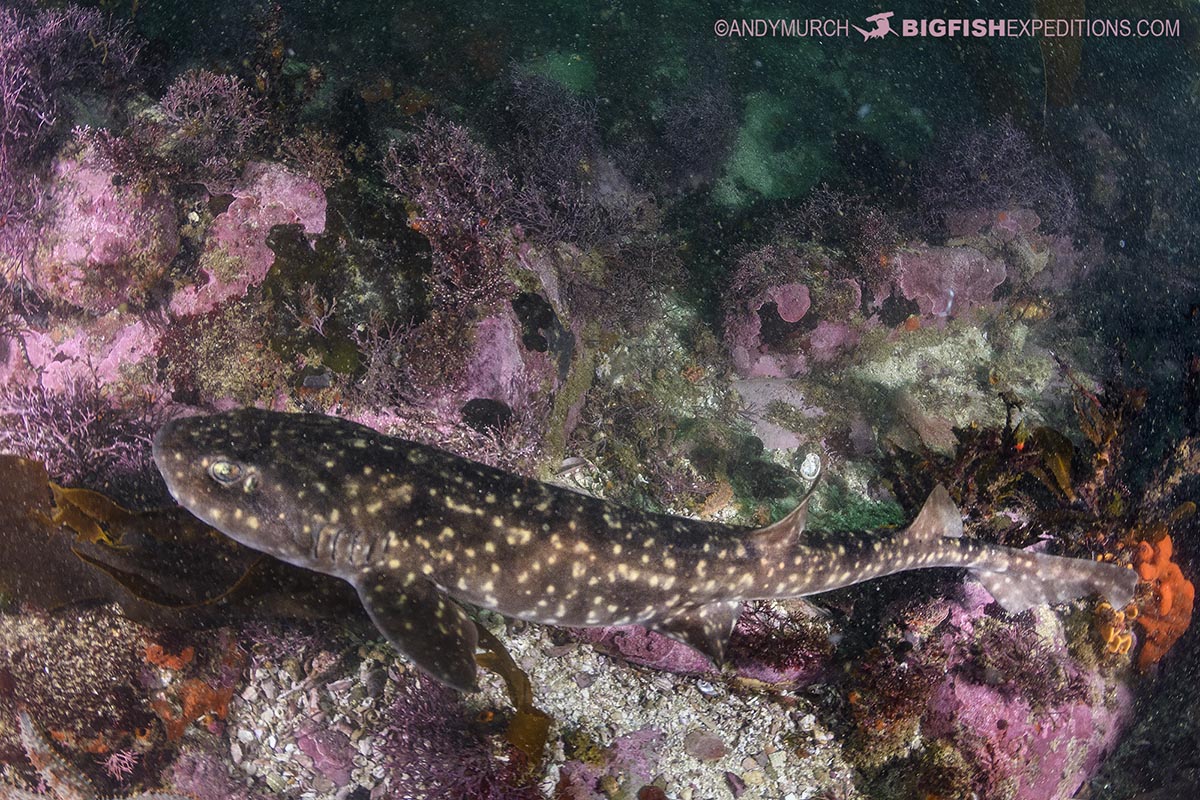 Simonstown Harbour
That afternoon the wind picked up enough to make reef diving out in the bay uncomfortable, so we tucked behind the harbour wall and did a quick shark dive there. The harbour sometimes has sevengills, but none showed up on this dive. The harbour wall itself is quite an interesting environment with lots of red gorgonian(?) corals. There were a few puffadders and darks swimming around, so I followed one around and pressed the shutter whenever it swam in front of something pretty.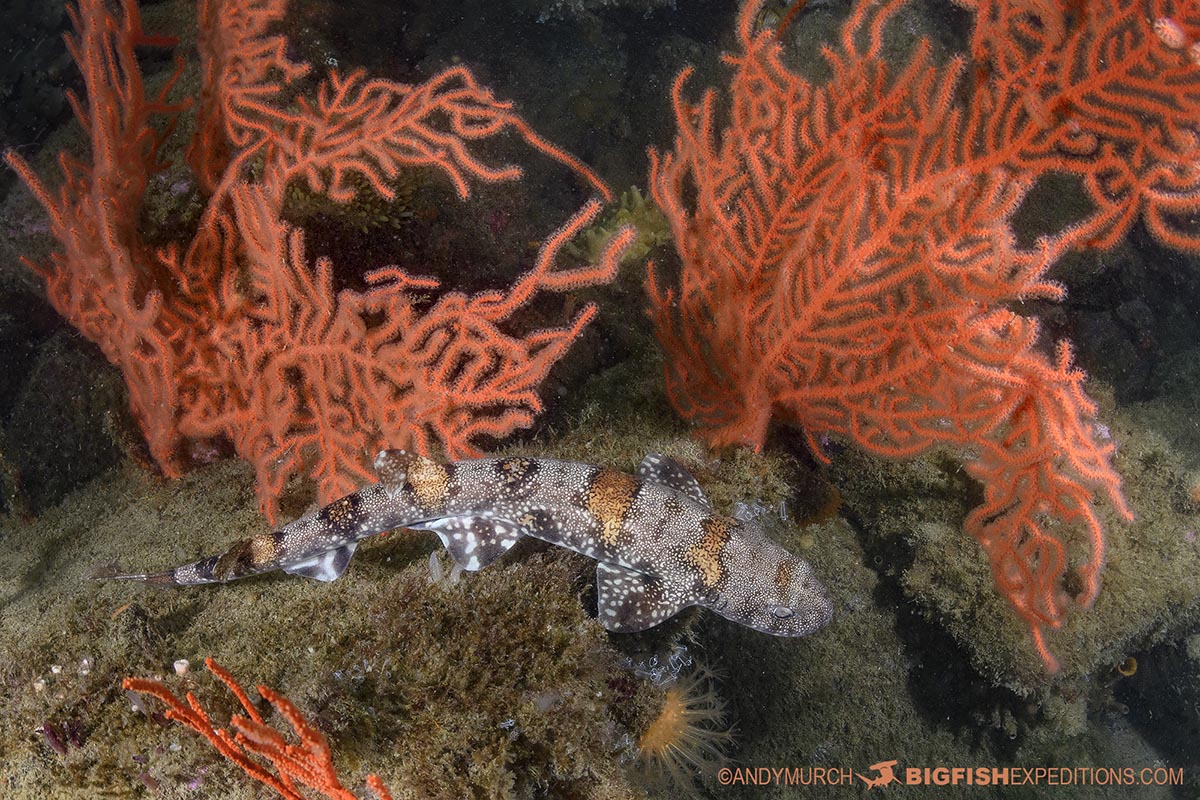 Plettenberg Bay
After our harbour dive we packed up our gear and drove from Simonstown to Plettenberg Bay, 200km to the northeast. Plettenberg is similar to False Bay but has different corals and potentially different sharks. Unfortunately, on our first day we experienced terrible visibility, so we dove in very shallow water in front of seal colony. Although we couldn't chase sharks that day, the guests had a great time playing with the seals, as they buzzed our cameras and nibbled on our fins.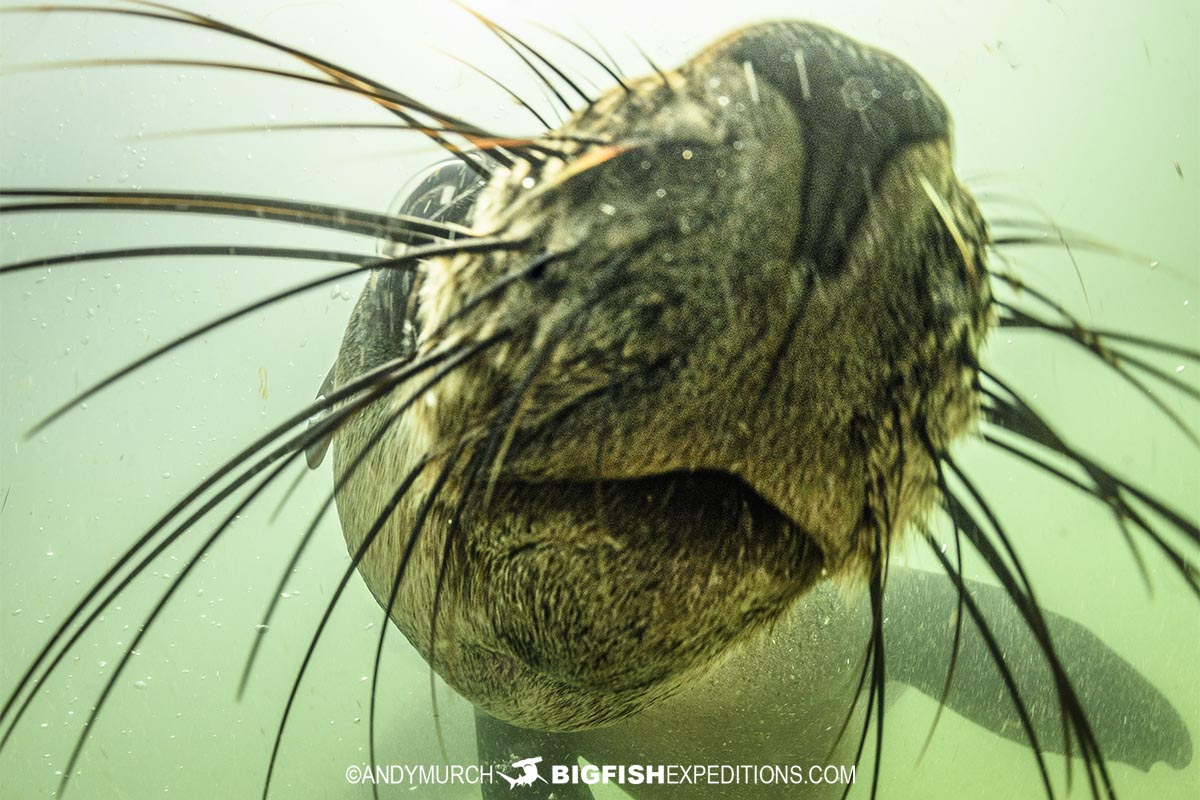 Better viz on a white coral reef
The following day, the viz was better, even if not by Plettenberg Bay standards. We dove a beautiful reef with unusual white corals, mixed with colourful sponges. Unlike tropical corals that turn white when the water is too warm, these were naturally that colour, which made for some very special panoramas.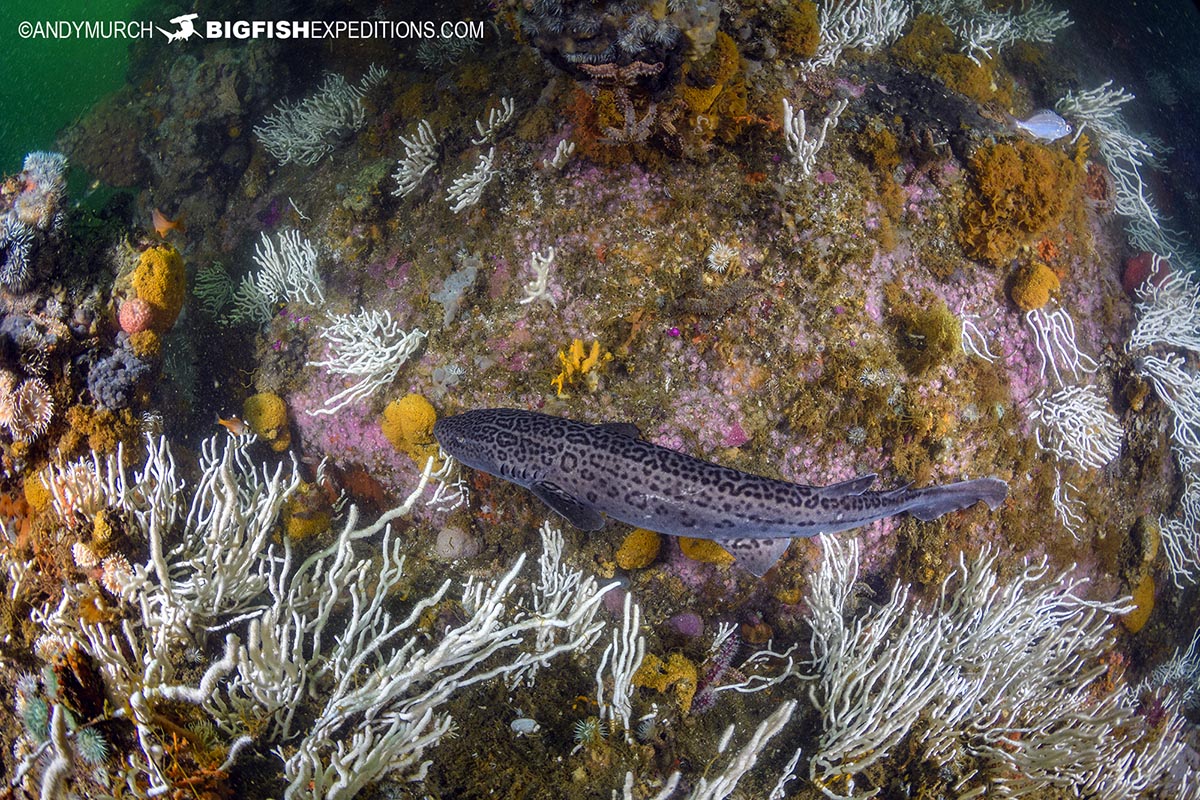 Gqeberha
As we continued up the Indian Ocean side of South Africa, our next stop was at Gqeberha; previously known as Port Elizabeth. We dropped in at Evan's Peak; an incredibly beautiful dive site, covered in every colour of whip coral you could imagine.
The reef was alive with photogenic pyjama catsharks, but I think my favorite shots are of the reef itself.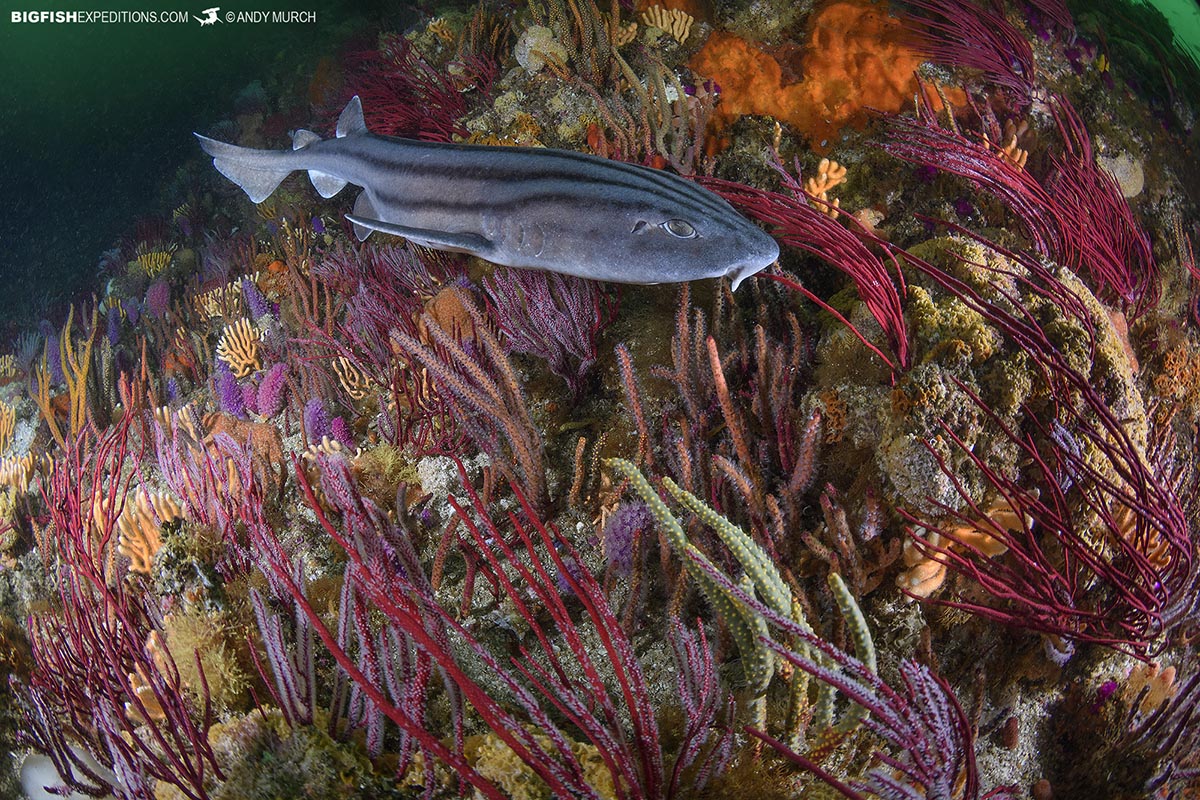 Reticulated Leopard Catsharks
Our second dive spot in Port Elizabeth really delivered! The site was called Riy Banks; well known among local divers its deep drop offs and shark activity.
Our first exciting find was a new regional variant of Leopard Catshark with exquisite reticulations over its entire body. Of the three Leopard Catsharks that we saw on the dive, two had the same intricate pattern, while the third looked like Leopard Catsharks from further west. I have no idea why they were so distinct from each other. It would be interesting to see if their DNA was significantly different. Regardless, they were stunning.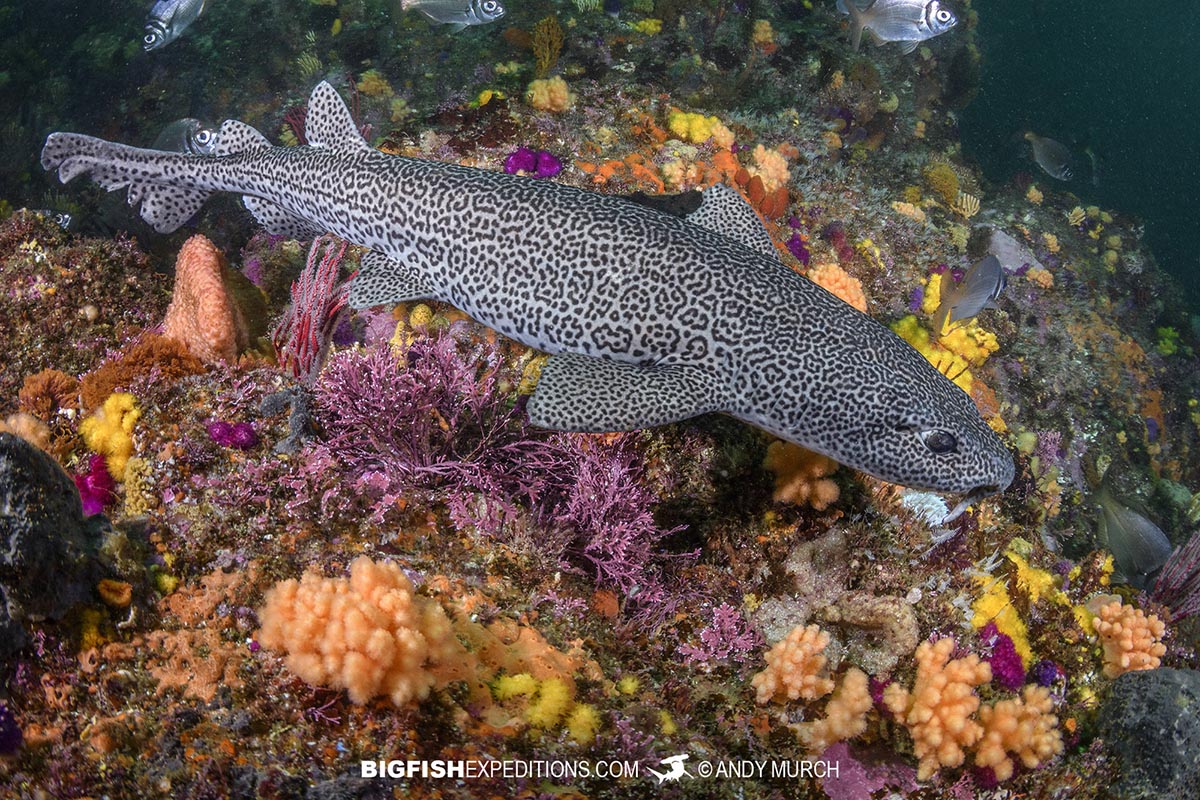 Soupfin Sharks and Sandtigers
While I was busy photographing the interesting Leopard Catshark variants, a large Raggedtooth Shark showed up to take a look at what we were doing. I did not have time to get a shot of it, so from that point on, I kept one eye on the blue, or in this case, the green. I am glad that I did, because soon afterwards, two soupfin sharks appeared. Soupfins are also known as topes or school sharks.
Although topes are usually quite shy, these ones stuck around long enough for me to take a few images; probably the best ones I have of this species.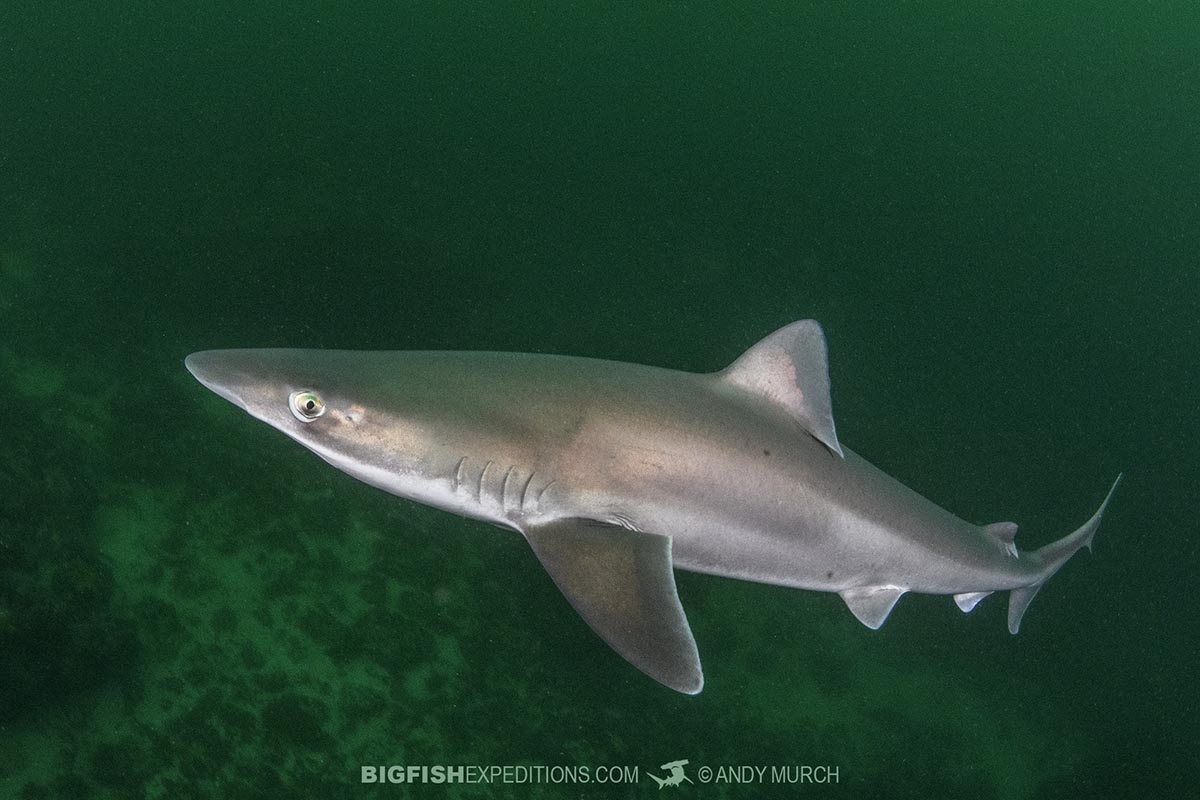 Shyshark Reef
The next day we dove at a promising spot called Shyshark Reef. Oddly enough, we did not see any shysharks there, but we did see another reticulated Leopard Catshark and a few Pyjama Catsharks. However, the stars of the show were the raggedtooth sharks that cruised back and forth in the sand gullies between the reef fingers.
There was quite a bit of surge at this shallow site which made it difficult to line up shots, but we still managed some respectable images.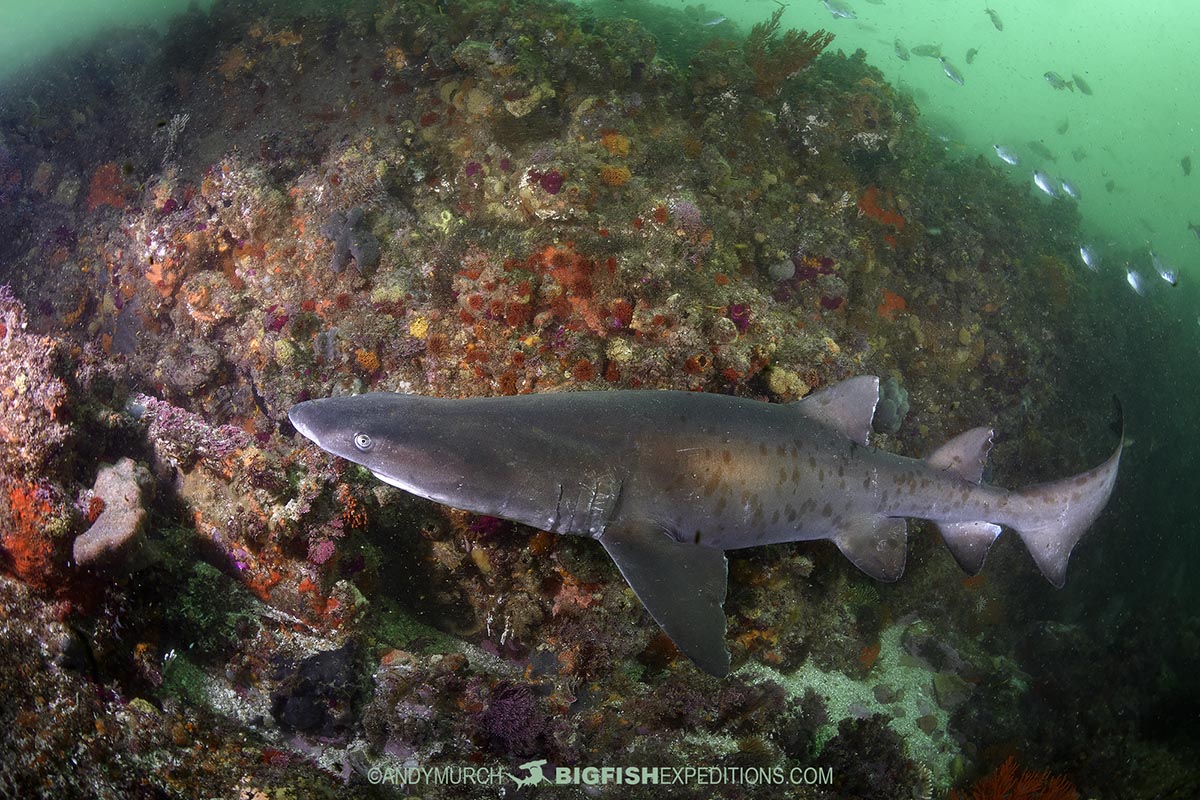 East London
Our fourth stop on the tour was at East London; another spot with colourful temperate reefs. Unfortunately, EL has notoriously bad viz, so we found ourselves chumming for catsharks in conditions that might deter all but the most stalwart shark enthusiasts. However, during our first dive we were very glad that we tried it, because as well as the usual suspects, we were visited by at least two, very rare Brown Shysharks!
This was my first new species in quite a while, so I was particularly thrilled, regardless of the photography challenges presented by the low visibility.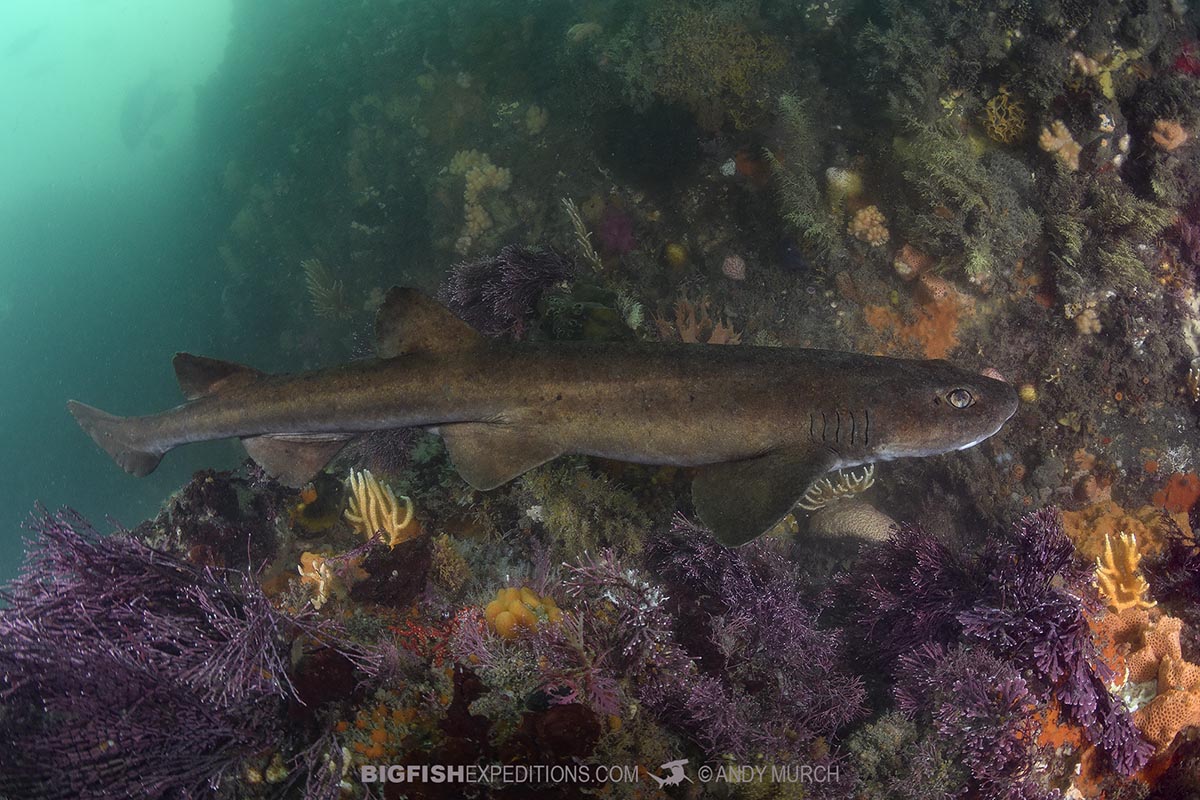 More Leopard Variants
During our dives in East London, we also encountered lots of Pyjama Catsharks and a few Leopard Catsharks but no large sharks, even though we knew there were raggedtooth sharks in the area. Considering the poor vis, it is probably a good thing that no larger species came to investigate.
Here too, the leopard catsharks looked very different, with thick black rings from nose to tail.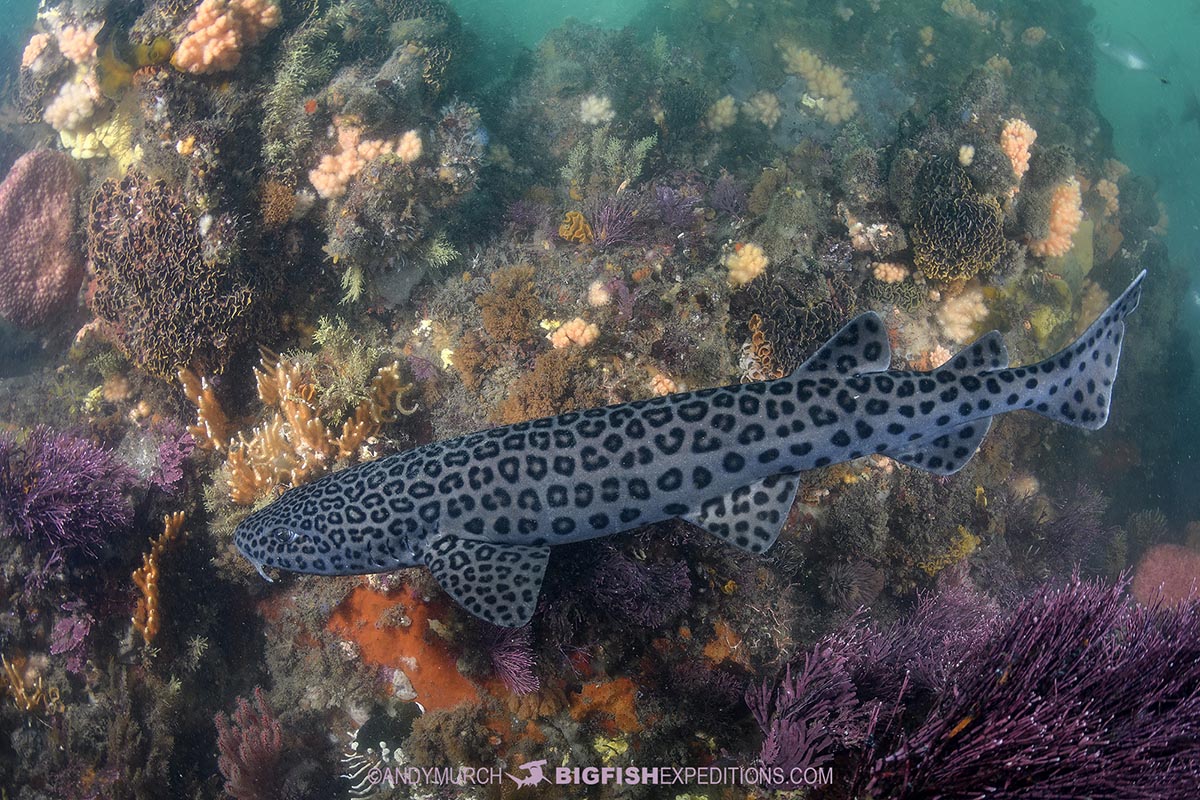 North to the Tropics
The next day we drove all day because there is very little infrastructure between East London and Umkomaas, near Durban. After 9hrs on the road, we settled into our last lodge, and prepared for some much anticipated warm water diving. We had crossed into South Africa's tropical zone, where green water and colourful temperate reefs populated by catsharks, give way to clear blue water and monochrome hard coral reefs populated by turtles and pelagic sharks.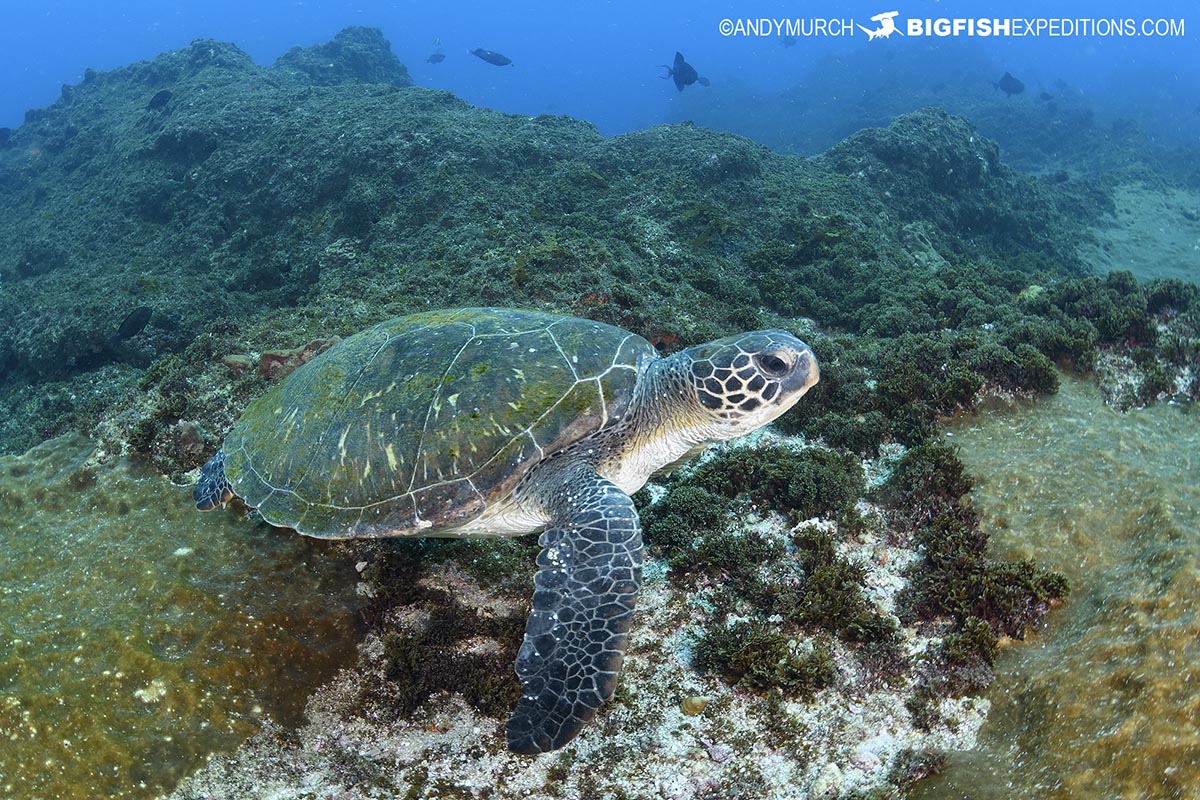 Oceanic Blacktip Sharks
Our final shark encounter was fantastic. We did an organized blue water shark feed with Oceanic Blacktip Sharks near Aliwal Shoal. Blacktips occur all over the tropics and warm temperate oceans of the world but they are usually quite shy and difficult to get close to. Off Umkomaas they are extremely bold; swimming between divers and bumping the bait drum to dislodge scraps of fish.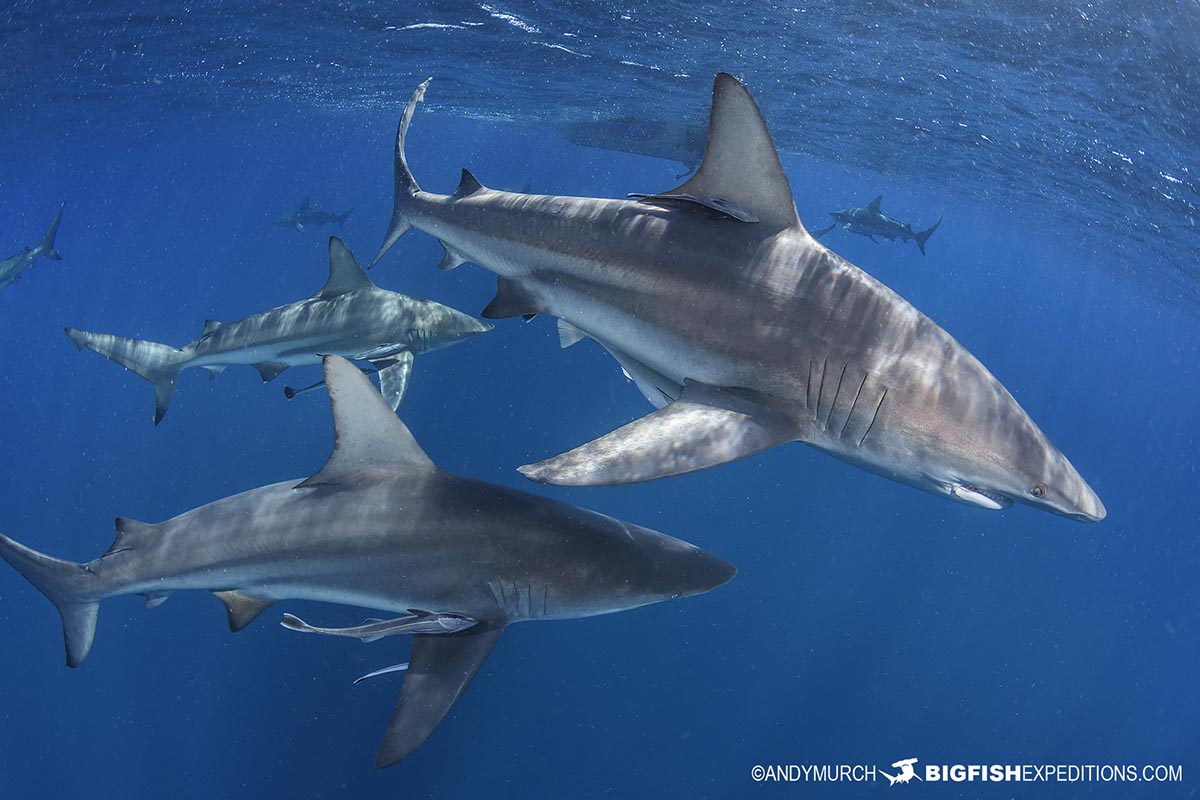 The 'After Trip'
After 13 days on the road, it was time to say goodbye to our awesome group of shark fanatics. Most had to fly home but one guest was able to stay for another week and join me for even more fantastic South African shark diving.
Tiger Catshark!
I would like to stress that the following account was not part of the official trip, but it is well worth mentioning. First we drove up to Sodwana Bay near the Mozambique border for six days of diving on spectacular tropical reefs. Then we flew back to Simonstown where it all began, for three more days of diving to see if we could track down the species we had missed.
Sure enough, while chumming out on the sand, along came a rarely seen Tiger Catshark!!! This was a species I have wanted to photograph for many years, so I was absolutely thrilled to finally see one. I think I have the logistics figured out now, so hopefully I can introduce everyone to this species on our next trip.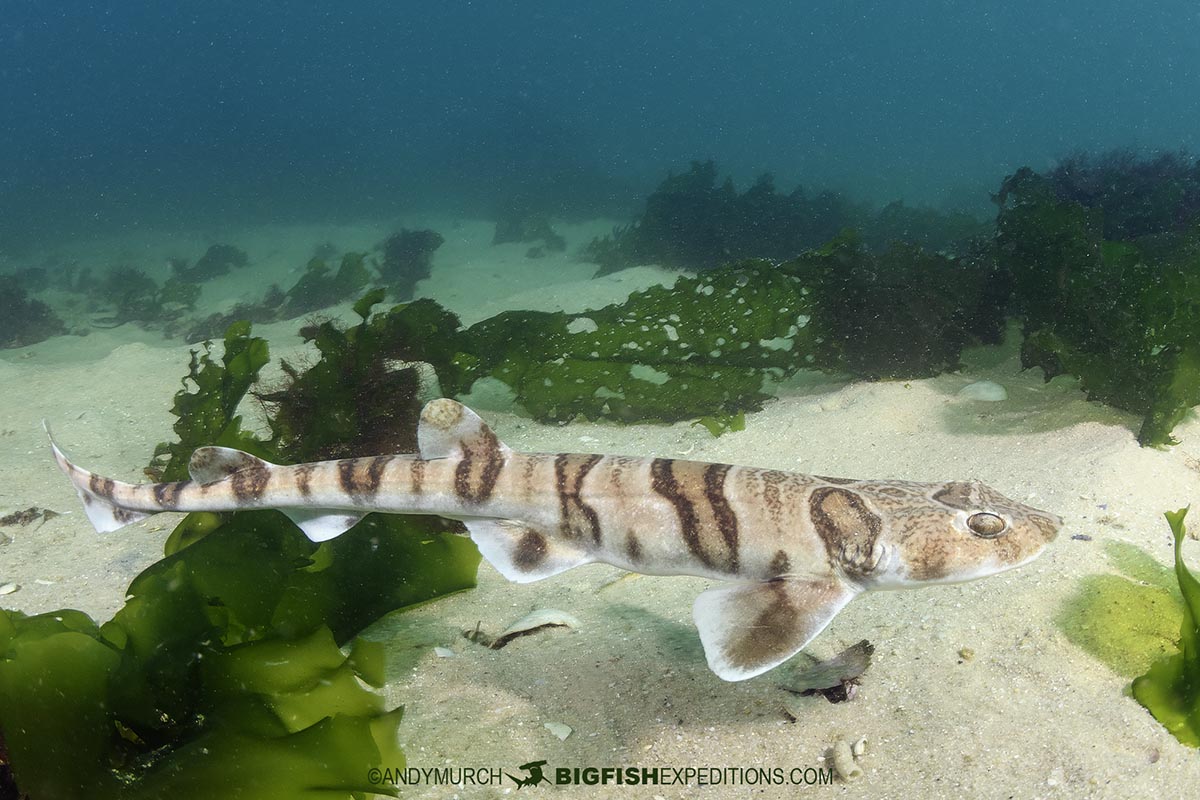 Sevengill Sharks!
On our final day we dove in Simonstown Harbour for another crack at the sevengill sharks. Sevengill encounters are hit and miss but this time we hit the mother load! Five beefy sevengills showed up to the feed. A fantastic finish to an epic month of South African shark diving.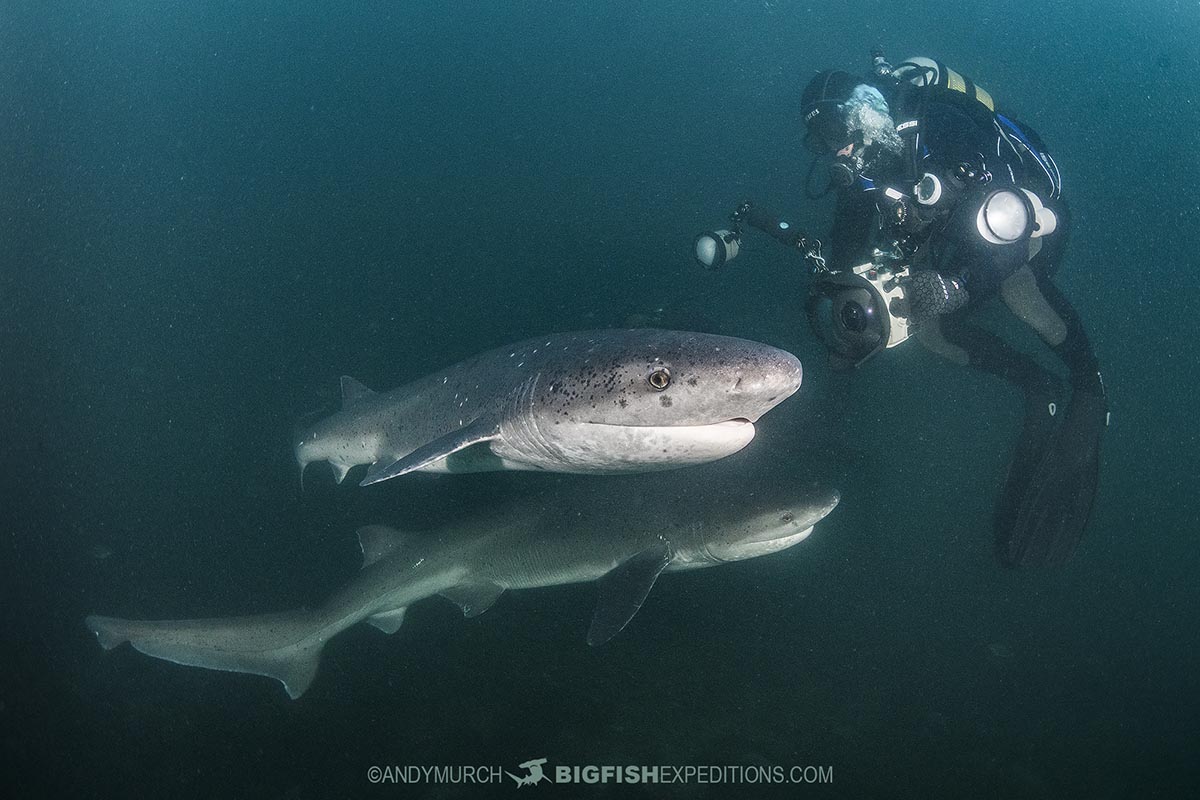 The Next South African Endemic Shark Safari
This was supposed to be a one-off adventure but it was so much fun that I am definitely doing it again! The next opportunity to come on this very special shark diving trip is in February 2024.
On the next trip, we're going to change a few things so that the encounters are even better. For starters, we're going to include four days of diving in False Bay instead of two. That will mean we have lots more time to look for sevengills, and we'll have time to do a blue and mako dive off Cape Point; probably the best place in the world to see lots of blue sharks. I have seen between 5 and 100 on a single dive.
Another change that I am really excited about, towards the end of the trip, we're going to head up the wild west coast of South Africa for some exploratory South Atlantic shark diving. Reports suggest this is the best area to see sevengills inside the kelp forest, plus we will see many of our regular catshark species and have a chance to encounter yellowspotted catsharks; another South African endemic shark species that divers practically never have a chance to photograph.
I can only bring seven divers and three spots have filled already, so if you're keen to join a very special adventure, please let me know as soon as possible! South African Endemic Shark Diving Safari 2024